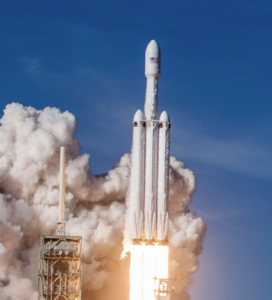 2018 has been yet another wild ride in the world of mobile internet!
The undeniable biggest story of the year was the surprise release of an actual (mostly) unlimited mobile hotspot data plan from Verizon, once again making Verizon an obvious Top Pick for anyone with serious mobile data needs.
But there were plenty of other stories, plans, and products making a splash in the news this year as well - ranging from the first 5G cellular devices to the slow emergence of a whole new category of smart and connected RVs.
And there are some major changes on the horizon too as we look forward into 2019 - with 5G networks just starting to come online, Sprint and T-Mobile very likely merging, and a whole new generation of satellite internet options slated to launch.
Overall there has never been a better time for connectivity on the go - and things just keep getting better.
Stay in the Know, Keep Learning!

---

This article assumes you have a basic understanding of mobile internet options (cellular, Wi-Fi, satellite, signal enhancing, routers, etc).

To get a primer on these basics, we recommend first reading through our free Overview of Mobile Internet Options guide.

---

This year end wrap up, like all of our news articles & basic guides on this site, is made possible by the support of our premium members - our Mobile Internet Aficionados and Library Card Holders.

You won't find 3rd party advertising, we're not sponsored and nor are we dependent on trying to sell you stuff.

Our funding comes almost exclusively from memberships - and they get a lot of additional perks for their support.

Membership options start at just $59/year - less than a fancy cup of coffee a month.

Thank you members for your support all year long that allows us to keep super focused on this niche topic, so you can keep focused on what drives you.

We couldn't do this without you!!
Table Of Contents:
---
Video Recap
If you prefer, here's a video overview of this article:

(Like video? Be sure to subscribe to our YouTube Channel!)
---
Cellular Internet - 2018 in Review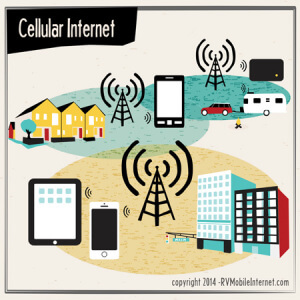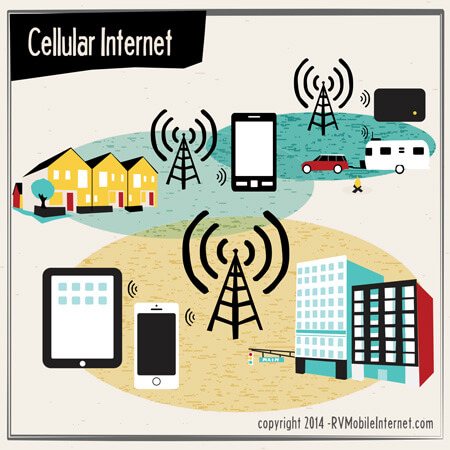 There is no avoiding the fact that cellular remains the core technology that most mobile users rely on for connectivity.
Wi-Fi may cost less (or nothing at all!) and satellite may (at least theoretically) work everywhere - but when you combine coverage, speed, cost, and convenience cellular is unrivaled.
And it is also a headache!
Plans change all the time, the hidden limits lurking behind "unlimited" plans are infuriating, and the pace of technological change in the cellular world is fast enough to make anyone's head spin!
Here are some of the bigger stories and trends from this past year, and some looks forward into the year ahead:
The Constantly Shifting World of "Unlimited Data"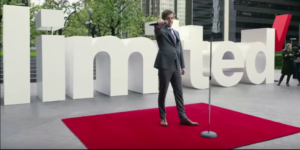 The carriers have taken several surprise twists and turns this past year with their (so called) "unlimited" data options.
It is amazing how many actual limits tend to lurk in the fine print of these plans - particularly when it comes to hotspot data!
Some carriers have discontinued once popular plans, while others have made some surprising new offerings.
It is a constant challenge to keep on top of these perpetually perplexing permutations.
Here are a few of the biggest changes this past year:
Unlimited Verizon Data Returns!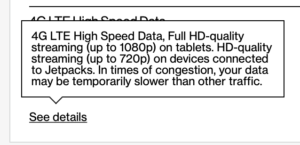 For the longest time legacy truly unlimited hotspot-capable plans on Verizon have been the holy grail of mobile internet.
These grandfathered plans that worked in mobile hotspot devices have become harder to get every year and continue to get shut down. In the past internet aficionados have gone to great lengths (and expense) to try and secure ongoing access to unlimited data on Verizon's network.
So when Verizon quietly unveiled a new prepaid Jetpack plan in November (our story) that made getting unlimited hotspot data easy, we could hardly believe it. Unlike Jetpacks on the postpaid Beyond Unlimited plan that have an annoying hard 15GB high speed cap, this new prepaid plan has no throttling.
Was it a mistake? A miracle?
Whatever it was - there is no contest that Verizon's pUDP (our shorthand for the this prepaid unlimited data plan) is reasonable alternative to true gUDP (grandfathered original unlimited data plan) - without needing to jump through hoops or rent a line on the shady gray market.
Sure there are still some limitations to be aware of, like always on network management and lower priority than postpaid plans that may make the option not workable when traveling in very congested markets.
But for those that need ample data on the go it is amazing to once again have an affordable option directly from Verizon.
AT&T Drops Unlimited Hotspot Offerings, and Introduces New Ones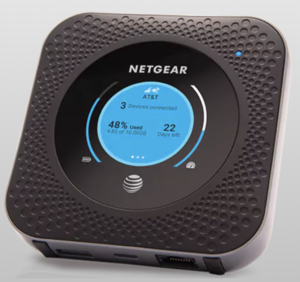 While the year ended with Verizon bringing back an option for unlimited hotspot data, it began with AT&T announcing its ridiculously named "Unlimited Enhanced" plans in March - with one "enhancement" being the elimination of the ability to add a mobile hotspot device as a line of service on an unlimited plan.
Fortunately we had ample warning about this change - and we sent out numerous alerts to warn people to GET GRANDFATHERED and lock in a plan with an unlimited hotspot line.
AT&T finally eliminated the ability to add additional lines of hotspot service to grandfathered plan in May.
As 2018 comes to a close - it seems AT&T is beginning to notify business plan customers with grandfathered unlimited lines that they will be forced to migrate to a new plan in February (our story), with an increase in price required to keep the unlimited hotspot lines active.
We fear that AT&T will bring the same forced migration policy to grandfathered consumer plans at some point in 2019 too.
It's interesting to note that as AT&T has dropped support for unlimited data on traditional mobile hotspots, they have been rolling out new unlimited hotspot options for integrated systems in Airstreams (our story) and for connected car use for $30/month (our story).
We will be tracking these developments closely.
T-Mobile Kills One+ International, and Quietly Brings Back Global Plus 15GB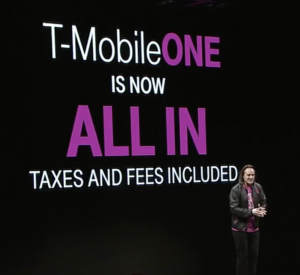 In August - T-Mobile retired the fabulous One+ International plan (our story), which at the time was the ONLY remaining high-speed hotpot data plan offered directly from a major carrier.
The $20/mo One+ International add-on for T-Mobile One plans made for a fabulous and affordable upgrade for anyone who needed to get more than just a smartphone online.
One+ International required using a phone acting as a hotspot to share data and it had some (seemingly rarely enforced) usage limits behind the scenes, but it was overall a great plan.
Fortunately, T-Mobile has held true to its pledge of locking in prices and grandfathering existing plans.
In late November, T-Mobile quietly rolled out a new international plan as a $50/mo add-on option called Global Plus 15GB - and brought back unlimited hotspot domestically.
But Global Plus 15GB's higher price and international usage limits make it a less attractive substitute for the canceled One+ International plan.
Sprint Cranks Up Hotspot Limits, and Adds Other Perks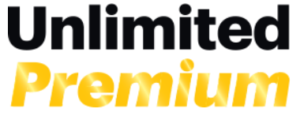 Throughout 2018 Sprint has been piling on the perks to try and attract new customers and keep current customers from defecting.
Most recently - Sprint launched a new "Unlimited Premium Plan" in September that includes 100GB of high speed hotspot data, Amazon Prime, Hulu and Tidal streaming subscriptions, Uber ride credits, and more.
Sprint's new "VIP" level Unlimited Premium plan does pack in a ton of potentially useful features for a price that is very competitive.
Sprint sweetened the pot even further for customers, and also increased hotspot limits to 50-100GB on many legacy unlimited data plans too (our story).
The only downside - being tied to Sprint's fourth place network.
But if the merger with T-Mobile goes through in 2019, these Sprint plans will likely be grandfathered in, so they may actually prove to be a smart investment down the road.
And even if the deal fails to go through - the contracted terms of the merger give Sprint the right to use T-Mobile's network for roaming coverage long into the future, potentially vastly improving on Sprint's weak rural coverage map in one fell swoop.
Cellular Plan Names Get Even More Absurd!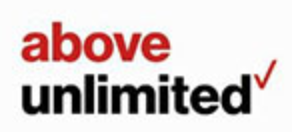 How can you entice customers to pay more once you've already offered them an unlimited data plan?
To attempt to answer this - Verizon in June rolled out "Above Unlimited" (our story) to offer more than the existing "Beyond Unlimited" and the especially limited "Go Unlimited" plan.
But despite the name, "Above Unlimited" still comes equipped with a lot of frustrating limits - including only offering just 20GB of high-speed hotspot data per month.
Verizon wasn't the only carrier tacking additional superlatives onto its "unlimited" plans.
AT&T in June announced the already silly "Unlimited Enhanced" plans would be retired, replaced with the new AT&T "Unlimited &More" and "Unlimited &More Premium" plans (our story) that offer bundled premium video services.
And as we mentioned above, Sprint has been tacking VIP "Premium" bling onto its plans too.
We can only imagine how ridiculous plan names will get once 5G offerings come to market!
---
Cellular Industry Developments
In the world of cellular, the competitive landscape is in a state of constant flux.
Some big changes hit the industry in 2018, and the impacts in the years ahead will be substantial.
Here are a few of the major developments we have been tracking:
T-Mobile & Sprint: Engaged At Last!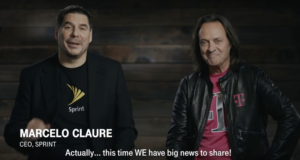 The on-again / off-again flirtation between Sprint & T-Mobile that has been a dramatic thread throughout the cellular world for years reached a major milestone in April (our story) when T-Mobile CEO John Legere and Sprint CEO Marcelo Claure announced they had come to terms and that the companies intended to merge.
They may not be married yet, but the wedding plans are being made.
This merger has been a long time coming, and is huge news for the entire mobile industry - and it will have significant impacts for residential broadband as well once the combined company begins to also take aim at entrenched cable monopolies.
If the deal is approved - according to current plans the merged company will be known as T-Mobile, and T-Mobile CEO John Legere will remain in charge.
Presumably the Sprint brand (and CEO) will both be retiring - though analysts expect it may take 3 or 4 years to fully combine the two companies into one at all levels.
If the merger completes - there will be three major nationwide cellular carriers left standing, instead of two giants (Verizon and AT&T) and two second-tier up-and-comers (Sprint and T-Mobile).
This will undoubtably change the competitive landscape dramatically, but will it be for the better?
So... Is This Merger A Good Thing?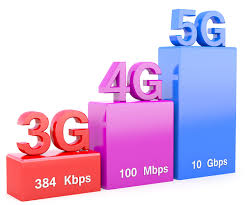 On paper, a combined T-Mobile and Sprint would be a formidable force.
T-Mobile has been building out low band nationwide coverage via LTE Band-12 and now 600MHz LTE Band-71, and has the potential to finally have a Verizon-rivaling nationwide coverage map as this rollout continues.
Meanwhile - Sprint owns massive amounts of shorter-range high band spectrum that it has been struggling to put to use. When combined with T-Mobile's network and engineering prowess, this spectrum may at last be unleashed.
T-Mobile claims that the combined company will be uniquely positioned to lead in the race to 5G - jumping way ahead of what Verizon and AT&T will be capable of.
But critics worry that the consolidation will lead to increased prices, and may weaken the ability for smaller regional carriers to compete in the market.
Though the merger is looking increasingly likely to be approved - it is still far from a sure thing, and both companies have spent much of the past year in limbo waiting for all the regulatory hurdles to be crossed.
But once the deal is final - expect things to start happening fast!
If things don't go through, Sprint has a roaming agreement with T-Mobile for the long term, and already customers are starting to see benefits from T-Mobile coverage on their Sprint devices in areas with no Sprint native coverage.
Further Information:
Google Fi Gets More Interesting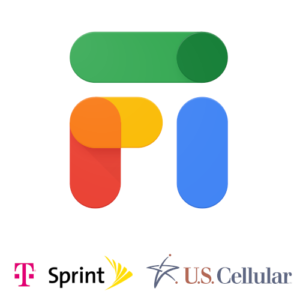 Google's "Project Fi" cellular service - which can utilize Sprint, T-Mobile and US Cellular all on one handset - has continued to get more compelling with every iteration.
Project Fi has always been a great way to get affordable phone service, especially for international travelers. But with data costing a hefty $10/GB, Project Fi was never appealing to heavy data users.
Google vastly improved the equation in January when the "Bill Protection Feature" (our story) put an $80/mo cap on Project Fi plans, meaning you'd pay the same whether you used 6GB or 15GB in a month.
After 15GB in a month, Project Fi usage would be unlimited but throttled to 256kbps - or customers could pay for additional high-speed data at $10/GB. The rates apply for both domestic and international usage, and include on device or tethering usage.
Then in November Google rebranded Project Fi as simply Google Fi (our story), taking it more mainstream by substantially expanding the number of phones that can be activated with Google Fi service - even including limited iPhone support for the first time!
With service costing as little as $20/mo and incredibly flexible international roaming options, this makes Google Fi an extremely interesting option.
And with Google seemingly fully committed to Fi now that it is no longer a just an experimental "project", we can only expect things to keep getting better in 2019.
Verizon Introduces Affordable "Visible" Phone Plan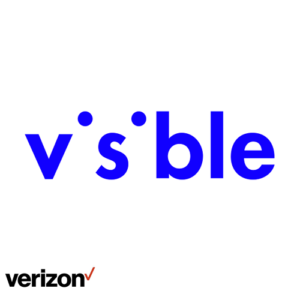 Verizon has been exploring offering an unusually affordable smartphone plan via its new prepaid subsidiary called Visible (our story) that they rolled out in May.
Though service is limited to recent iPhone devices, Visible offers unlimited voice and text service for $40/mo - and unlimited data (always throttled to 5Mbps) is included too.
Visible soon after added support for unlimited mobile hotspot use as an experiment, at no extra charge. They limit it to just one connected device at a time, but it's an enticing feature that they still offer as of the ending of this year.
For those who are fine with hotspotting from an iPhone with a 5Mbps speed cap, Visible is a potentially compelling option.
Cable & Cellular Competition Heats Up

In August 2017 cable giant Comcast launched Xfinity Mobile (our story) - its attempt at its own cellular service offering.
And as long-expected, the nations other monster cable company Spectrum Communications (formerly known as Charter) joined the fray in July of 2018 by launching Spectrum Mobile (our story).
Thanks to some legacy contracts, both of these cellular upstarts are able to take advantage of Verizon's network behind the scenes - allowing them to launch with access to Verizon's unrivaled nationwide coverage map.
But because they still need to pay Verizon wholesale rates for data, truly unlimited plan options have been lacking.
As we head into 2019 expect the cable companies to begin deploying their own cellular infrastructure to be less dependent on roaming onto a competitor.
Meanwhile - the cell carriers are taking aim at providing residential internet and TV service to start taking on the cable companies directly.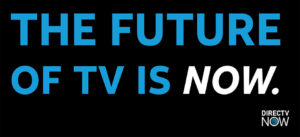 AT&T is already a media giant in its own right having purchased DirecTV and Time Warner - and AT&T has made it clear that it intends to leverage these resources to go after cable.
And while Verizon has backed away from the ill-fated Go90 media streaming service, Verizon's FIOS fiber offering is already a cable competitor and Verizon's initial 5G focus is on fixed residential installations that displace cable entirely.
And T-Mobile's outspoke CEO John Legere is already boasting that he intends T-Mobile to have the same disruptive impact on the traditional cable industry as T-Mobile had on the cellular world with its series of #uncarrier initiatives that rippled out and transformed the entire industry.
The line between cable companies, satellite TV companies, home internet companies, media companies, and cellular companies seems destined to get even blurrier in 2019.
We noticed this trend coming two years ago, and said at the time:
If competition heats up, it might bring about a price war that is good for consumers - particularly if you are willing to buy into bundles of services from a single provider.
But there is also a potential dark side to massive industry consolidation, and with bundles that ultimately take away choice and diminish competition.
With network neutrality rules now eliminated - carriers may even make it prohibitively expensive to access unlimited HD video outside of an officially sanctioned bundle deal.
One thing is certain - a LOT of changes are coming in 2019!
Mobile Internet Resource Center Survey Results
In November, we ran a survey of our readers asking them about how they utilize the four major US carriers.
With all of the shuffle of unlimited data plans in 2017 and 2018, we suspected that AT&T may have moved up in the race to being a top carrier for RVers and cruisers.
Here is a glimpse at the results: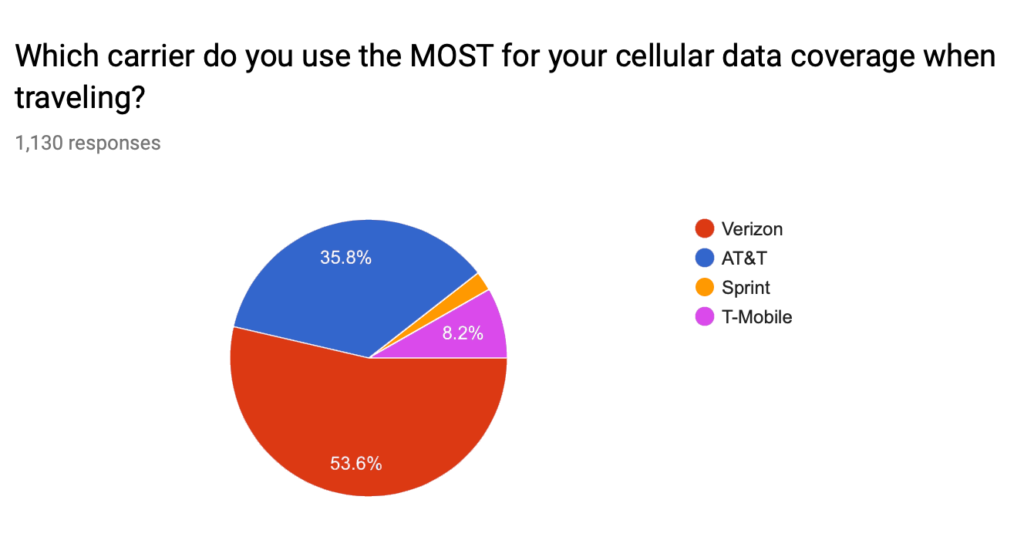 While there was a lot of interesting data collected that we still need to sift through, we immediately confirmed that Verizon still has a solid stronghold as being the favorite carrier for nomads.
AT&T definitely is showing itself to be a viable primary option for RVers and cruisers, and a worthy secondary carrier - with T-Mobile and Sprint retaining their back-up carrier status.
Verizon very likely sealed the deal as a favorite in our survey results by launching their new prepaid unlimited plan just days after our survey went live.
---
The End of Network Neutrality?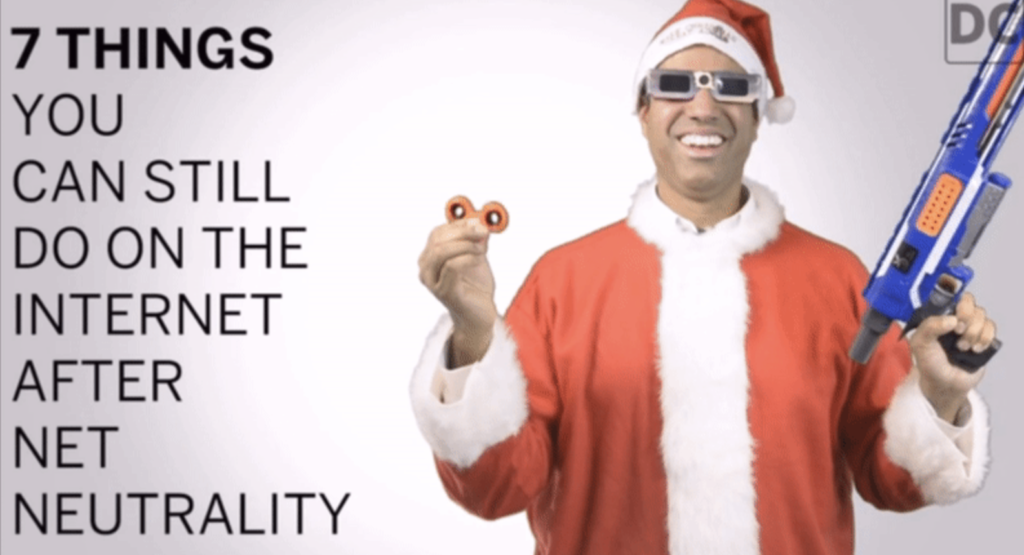 In December of 2017 the FCC voted to roll back the "Network Neutrality" rules that had first gone into effect in 2015 during the Obama administration.
With the FCC majority now under the control of a Republican Chairman (and former Verizon lawyer) Ajit Pai - this rule change was considered inevitable despite record public opposition.
Despite some last minute congressional wrangling to slam on the brakes, FCC Chairman Ajit Pai's "Restoring Internet Freedom Order" went into effect in June of 2018.
This brought an official end to the FCC's Network Neutrality rules.
But what does this mean, and what is actually changing?
What are the potential impacts coming for mobile users?
Network Neutrality - Is This Really It?
Despite being dead at the federal level, the fight for network neutrality has continued at the state level - and there are now several state-level network neutrality laws and policies that are being fought over.
The courts will now need to decide where the FCC's authority ends and the state's begins - and this will likely be tied up in the courts for a long while, leaving the ultimate fate of network neutrality rules in limbo.
This long messy fight is far from over.
We'll continue to track the FCC closely to keep an eye on how all the upcoming changes in policy will end up impacting all of us who rely on cellular data connectivity.
Depending on how aggressively bold the carriers get in taking advantage of their newfound freedoms, the changes we see may prove to be dramatic - or barely noticeable.
---
LTE Technology Advancements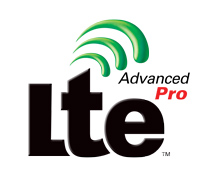 Though upcoming 5G technologies are generating the most hype, there have been some very exciting new developments in the 4G/LTE world this past year.
Gigabit LTE Goes Mainstream
Many of the flagship cellular phones introduced in 2018 incorporate internal LTE modems theoretically capable of amazingly fast gigabit speeds using technologies such as 4x4 MIMO (four cellular antennas!), LTE-LAA, 256QAM, and Carrier Aggregation to combine together multiple LTE bands.
More and more cell towers are being upgraded to take advantage of these technologies, and real-world download speeds well over 100Mbps are starting to become commonly reported in some areas.
We've even actually witnessed upload speeds pushing over 50Mbps!
Unfortunately - demands on cellular networks are increasing even more rapidly than theoretical peak speeds, and actual real world performance is often limited by overall network congestion even in areas with upgraded towers and ideal signal strength.
New LTE Bands Coming Online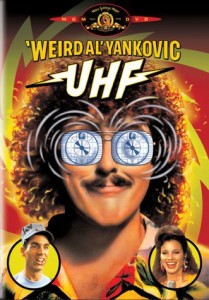 To try and keep ahead of the insatiable demand for cellular data, the carriers are all working to broadcast over more spectrum to add more capacity.
But spectrum is a finite resource, and repurposing spectrum for cellular use is a slow process that takes years.
Think of it like building a new highway, and needing to tear down an existing neighborhood to do it.
Only the latest devices will have cellular radios that are compatible with these newly built express lanes, so customers need to stay up to date if they want to be able to benefit from all this new development.
Here is an update on some of the new LTE bands being put to cellular use:
LTE Band 71 Update - T-Mobile's 600 MHz Spectrum
T-Mobile was the big winner in the FCC's 600MHz auction in 2017 that repurposed UHF channels 38-51 for cellular usage.
Ever since then - T-Mobile has been aggressively working with impacted TV stations to shut down or relocate their broadcasts, vastly speeding up the originally forecast timetable for being able to take advantage of this spectrum.
As of December 1st, T-Mobile has announced that 600MHz LTE Band 71 is live in 1,250 cities and towns, in 36 states (T-Mobile's List).
If you rely on T-Mobile, make sure that your devices are Band 71 compatible or you will be missing out on some vastly improved coverage - especially indoors and in rural areas.
T-Mobile will also be using this 600MHz spectrum for 5G service, so this will remain a chunk of spectrum to keep an eye on.
LTE Band 14 - AT&T's FirstNet


FirstNet is AT&T's federally-subsidized nationwide network that prioritizes public safety users on LTE Band 14.
AT&T has started to ramp up FirstNet deployments in 2018, and has been using the mandate to deploy FirstNet as an excuse to "climb every cell site" to undertake overall upgrades that AT&T claims will double LTE speeds for all customers.
AT&T coverage maps are starting to show some increases in coverage by the end of 2018, and we expect continued improvements going forward into 2019.
But though AT&T will be able to use FirstNet spectrum for regular customer too (at a lower priority), LTE Band 14 compatible devices are still extremely rare so be sure to keep your eye out to make sure you are B14 compatible.
New LTE Band 48 Coming: CBRS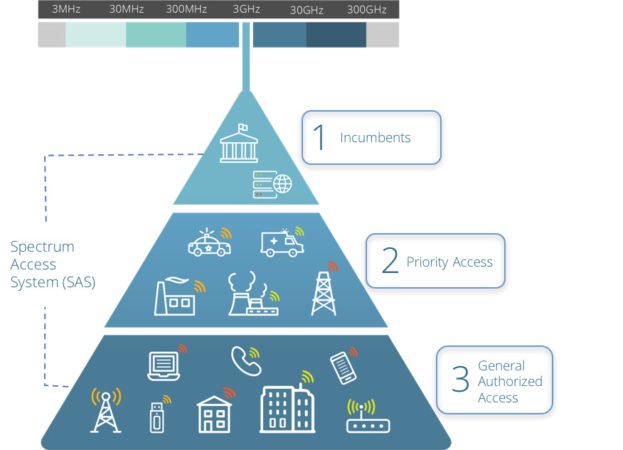 The Citizens Broadband Radio Service (CBRS) is a large chunk of 3.5GHz spectrum that the FCC has set aside for future use for 4G/LTE cellular, 5G, and other innovative uses.
When used for LTE, CBRS is defined as LTE Band 48.
CBRS is pioneering an innovative approach to sharing access to spectrum - with military radar and existing satellite operations grandfathered in while in use, then there is a second tier of Priority Access Licenses (PAL) that are being auctioned off to telecommunications companies for 5G and expanded LTE service.
Finally, there is a third tier of access that is open to anyone without a license - similar to Wi-Fi. Devices operating at this level will have to be a good neighbor with other nearby devices.
CBRS compatible devices will be designed to check in with a central server to see if a channel in their area is already in use by a higher priority user, and if not they will be able to establish a communications link until someone else needs it.
The auction for second tier of CBRS licenses is expected to conclude in 2019, and CBRS will likely become an important cellular band in 2020 in beyond - though some carriers (particularly Verizon) are already experimenting with CBRS deployments and Verizon's new 8800L hotspot is already listed as being CBRS compatible.
CBRS is definitely something to keep an eye on, and if the spectrum sharing scheme ends up working out it might open the door to vast swaths of other spectrum being put under shared access control for added cellular capacity.
Dual-SIM & eSIM Emerge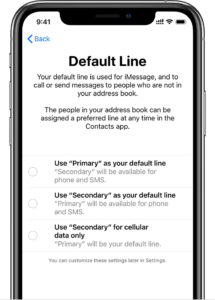 One of the best ways to deal with a congested network is to switch to a backup plan - and that is a LOT easier to do if your cellular device supports dual SIM cards.
Apple is taking this formerly rare feature mainstream with the Fall 2018 iPhone models (our story), which for the first time add support for having two cellular plans active at once.
Apple has enabled this feature by pioneering eSIM (embedded SIM) technology that allows you to use one traditional physical SIM card, and one virtual eSIM installed by means of using an app or scanning a QR code.
This eSIM could be a second line on your primary carrier, or it could let you have service from two different carriers active simultaneously in one phone.
Perhaps best of all - an eSIM eliminates the hassle of needing to get a physical SIM card, theoretically making it easy to sign up for a new line of service when you need one without worrying about visiting a store or waiting for a mailed SIM to reach you.
As we end 2018 eSIM is only supported by a handful of devices and carriers, but expect eSIM to become widely supported by Android devices and other carriers in 2019.
---
New Cellular Gear
Mobile Hotspots
Only one particularly interesting flagship 4G/LTE hotspot launched in 2018 - though we expect things to get more interesting in 2019 once 5G devices start to emerge.
Verizon Jetpack 8800L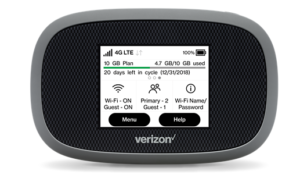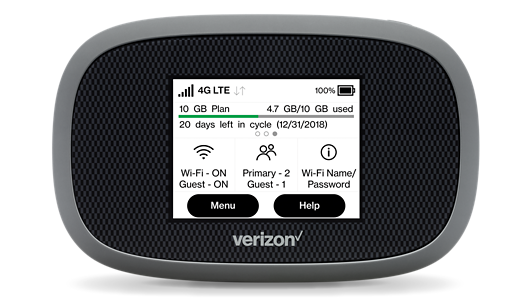 Verizon last released a new flagship high-performance mobile hotspot way back in January 2017, when the MiFi 7730L (our review) first came to market.
The 7730L has been an admirable performer, but this nearly two-year-old design has been unable to take advantage of the latest LTE technology advancements.
We had begun to wonder if perhaps Verizon was waiting until the 5G era to release a new truly next-generation hotspot.
But in October the new MiFi 8800L was released (our story) - and on paper it is a beast.
But in our hands-on testing (our review) we've discovered some troubling reliability issues with the 8800L - and we are closely tracking these and are working with Inseego to help diagnose them.
We hope that there is a fix soon, and this hotspot will become a solid Top Pick.
Boosters & Antennas
Cellular signal boosters remain useful tools to have in a mobile connectivity arsenal, but standalone antennas can often deliver even better performance for a fraction of the cost.
Here are some of our top stories from 2018 on the topic of boosters and antennas: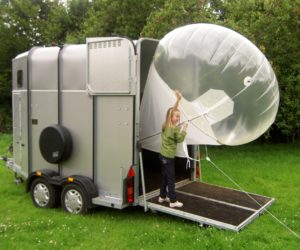 We have been actively testing many of the current models of boosters and antennas in our Testing Lab, where our members can follow along with our field testing results. Our results are then compiled to become part of our in-depth reviews of each product.
And of course - don't forget our April 1st feature focused on the ultimate way to improve cellular reception:
But sometimes reality exceeds what we can dream up as a joke...
With perhaps the most bizarre story of the year, UK company Helikite is promising to double cellular range by hoisting your mobile hotspot hundreds of feet overhead by using a giant balloon for better reception (our Story).
---
A Cellular Look Towards 2019: 5G Is Coming!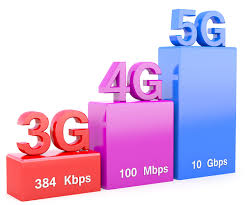 We've already discussed many of the stories that will have a huge impact in 2019.
But the hype surrounding the technological horse race to bring fifth generation (5G) cellular services to market has the potential to dominate everything else on the horizon.
Right now we are in what is essentially a race to the starting line, with every carrier jockeying to claim some bragging rights.
Verizon rushed to be "First On 5G" in October with an extremely limited fixed residential 5G rollout in just four cities.
And then in late December AT&T just barely met their long-boasted target of shipping the first Mobile 5G device by then end of 2018, though the real launch to real customers seems more likely to be targeting spring time.
But these 2018 offerings are just a preview - things will start to get much more interesting in 2019.
5G Reality Check: Beware The Bleeding Edge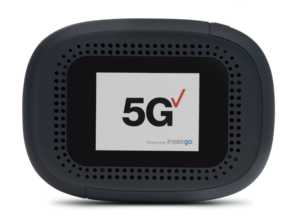 The first generation of real 5G devices will be amazing technological showcases.
But they will also be hopelessly obsolete almost immediately.
Just like when 4G/LTE first arrived on the scene, the first wave of 5G devices will be quickly replaced with second generation products that are much more mature - with more polish, features, and capability.
In particular - the 5G devices that make it to market in the first half of 2019 will lack support for 5G over lower frequency spectrum bands (essential for longer range and better coverage), and AT&T has already revealed that its second Samsung 5G phone model (due out late in 2019) will have low frequency capabilities that the first generation Samsung 5G phone will lack.
So unless you want bragging rights, or just love being on the bleeding edge, it is likely going to be smart to wait at least until the tail end of 2019 to worry about jumping on the 5G train.
And even late 2019 will be early.
Nationwide 5G will only really start to roll out widely in 2020, and it will take until 2024 before even the most aggressive roadmaps predict 5G coverage will rival existing 4G/LTE maps.
Keep in mind that 5G devices will be designed to fall back to 4G/LTE when necessary, and 4G/LTE will for a long time to come be the cellular technology that US based RVers and cruisers rely on.
Eventually 5G will be everywhere, and it will ultimately eclipse 4G the same way that 3G technologies are only just now fading off into oblivion.
But in the meantime, it will be fun to watch the exciting race as the carriers rush to one-up each other with ever more amazing speeds, ever improving coverage, and hopefully some amazing data plans too!
3G Network Shutdown Update

The carriers all have plans to bulldoze their legacy 3G networks to make way for 4G and 5G technologies that can make more efficient use of the spectrum, and older devices are soon going to be left behind in the dustbins of technological history.
Here is the latest news from each carrier:
Verizon - Verizon is still on track to shut down its 3G CDMA network on December 31st, 2019 - and as of July 2018 Verizon will no longer activate phones that do not have "Voice Over LTE" (VoLTE) support to help prepare for this day. Many Verizon LTE phones lack this critical feature and still depend on 3G for voice calls, so once the network shuts down those LTE devices will be unable to call or text anymore.
AT&T - Has not yet published their 3G shut down schedule. AT&T's 2G network shut down on January 1st, 2017.
T-Mobile - T-Mobile decided to try and capitalize on AT&T's 2G shutdown by delaying its own 2G sunset - instead, it's still promising to keep its 2G network live through at least 2020. But T-Mobile is only keeping a tiny sliver of their spectrum dedicated to 2G. Overall T-Mobile has been very aggressive in refarming its 2G, 3G, and now even HSPA+ "4G" networks to focus on LTE - and non-LTE devices are left with just scraps of bandwidth and reduced coverage even though they can still technically get online.
Sprint - Sprint's proposed merger with T-Mobile will leave T-Mobile the dominant partner, and if the deal goes through T-Mobile has made it clear that it intends to move to sunset Sprint's 3G CDMA network rapidly to focus on 5G.
At this point in time, any devices that are from the pre-LTE era are really overdue for retirement.
It will take a very long time before 4G/LTE networks are retired, but it you are still clinging to a favorite 3G flip-phone - its days of being able to get online are likely numbered!
---
Wi-Fi & Routers - 2018 in Review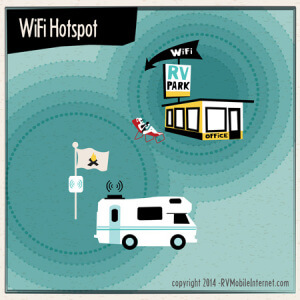 With cellular options getting ever faster and easier to come by, interest in dedicated long-range Wi-Fi hardware has continued to decrease throughout 2018.
On the other hand - integrated offerings that combine long-range Wi-Fi with roof-mounted cellular have begun to get much more interesting.
Meanwhile - we are hearing more and more reports of RV parks and marinas having actually decent Wi-Fi performance!
Wi-Fi & Router New Products
There weren't too many new product entries in 2019 to report on, but there were some developments of note. The biggest trend being more integration of roof mounted combined cellular and Wi-Fi options.
Here are some of the more interesting W-Fi related stories of the past year:
WiFiRanger Flirts With LTE & Promises AI Future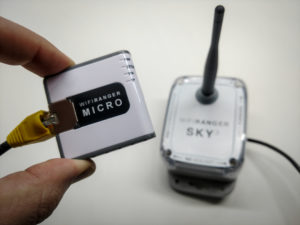 Last January WiFiRanger announced an aggressively priced Sky MicroLTE pack (our story) that would combine roof-mounted cellular and Wi-Fi with a very bare-bones indoor router - all for just $299, barely more than a basic mobile hotspot.
Unfortunately - WiFiRanger ran into production issues and ended up canceling the project.
Meanwhile - the long delayed SkyPro LTE did finally end up shipping in 2018, offered with a $70/mo Millenicom data plan with unlimited data on T-Mobile's network.
Though there have been few other new consumer products in the past year - WiFiRanger has been iterating their basic Sky roof-mounted router designed for installation by RV manufacturers, and is now shipping the Sky 4 with many under-the-hood improvements.
Looking to the future - WiFiRanger in September previewed the "Hey Ranger" AI Universal Assistant that will allow RV manufacturers to build in voice controls integrated into your RV systems.
If all goes according to plan, look for for further information about "Hey Ranger" in mid-2019.
What About WiFiRanger Passport?
Two years ago WiFiRanger announced an upcoming initiative called "Passport" with the ambitious goal of making fast campground Wi-Fi a lot easier to find and take advantage of.
Passport was supposed to start showing up in RV parks throughout 2017, but as yet another year rolls to a close WiFiRanger still has little to show.
Perhaps this ambitious project will finally bear fruit in 2019.
Winegard ConnecT 2.0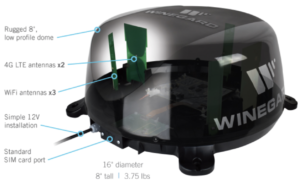 The original 2017 Winegard ConnecT was expensive, the cellular version was tied to a very limited and pricey data plan, and the physical unit was an ungainly beast that looked like an ugly inverted stool on your RV roof - seemingly destined for an inevitable disastrous encounter with a tree branch. (Read our review)
Winegard went back to the drawing board, and in February last year began shipping (our story) a completely redesigned ConnecT 2.0 model which was vastly cheaper, the integrated cellular version is no longer locked in to a single carrier and data plan, and the outdoor antennas are all now contained within a much sleeker plastic dome housing that would look right at home on an RV roof.
But the ConnecT 2.0 also gives up some of the original ConnecT's key features - meaning that for some potential customers, the ConnecT 2.0 may actually prove to be a significant step backwards.
But at $209 for the Wi-Fi only model and just $369 for the cellular integrated version, Winegard has a lot to offer.
For more on the ConnecT 2.0, see our review.
Mobile Routers & Wi-Fi Look Towards 2019
The trend towards cellular modems integrated with Wi-Fi routers looks likely to continue in 2018 - and we are especially intrigued to see more roof-mounted solutions that integrate in both Wi-Fi and cellular antennas into a complete package.
Here's some of the Wi-Fi related technologies we expect to see in the year ahead:
802.11ax "Wi-Fi 6" Is Coming


The next major evolution of the 802.11 Wi-Fi standards is slated to be finalized in 2019 as 802.11ax, and rather than unleash the confusion of explaining 802.11ax vs 802.11ac onto the world the Wi-Fi Alliance has instead decided to brand 802.11ax as "Wi-Fi 6".
And retroactively - the current 802.11ac will become known as "Wi-Fi 5" and the older but still common 802.11n will become "Wi-Fi 4".
The hope is that once this new naming becomes prevalent, it will make it easier for people to pick out the best gear - and the best Wi-Fi networks to connect to.
Six is better than five, and way better than four - right? Of course!
If you want to get geeky and dive into what makes Wi-Fi 6 so special, see our featured article: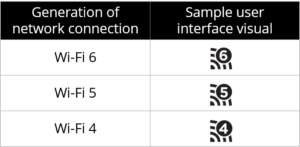 The major improvement Wi-Fi 6 will bring is an expected average 4x speed improvement over 802.11ac (now known as "Wi-Fi 5") wireless, and in congested areas the improvements will be even more dramatic.
If you are frequently in places with multiple competing Wi-Fi networks in range, keep Wi-Fi 6 upgrades in mind once the technology is widely available.
New Wi-Fi standards take a LONG time to become widespread in the market, but the very first "pre-standard" 802.11ax gear is already starting to peak onto the high-end market in late-2018, and once the standard is finalized in 2019 we expect to see Wi-Fi 6 compatibility grow increasingly common in performance-oriented routers.
By 2020, "Wi-Fi 6" should begin to go mainstream and will eventually be supported by most new laptops, phones, tablets, and hotspot models.
Better Wi-Fi Security With WPA3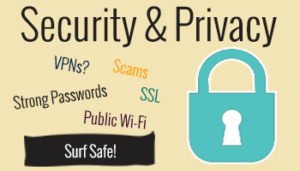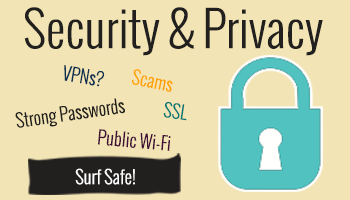 In addition to "Wi-Fi 6", another upcoming technology from the Wi-Fi Alliance to keep your eye out for is known as WPA3.
The "Wi-Fi Protected Access" WPA standards are what you are engaging with when you enter a password to connect to a Wi-Fi network. The second version of WPA, WPA2, has been required for all Wi-Fi certified devices since 2006 - replacing the older and obsolete original WPA and WEP security standards.
But after over a decade in service, there is room for improvement.
WPA3 is the first major security standards update for Wi-Fi networks in over a decade - and in particular it includes some important improvements for security on open public networks.
In addition to making private networks even more secure, WPA3 actually will allow users on open public networks to remain secure from eavesdropping as well - without ever needing a password.
This is fabulous news for nomads who are often sharing public networks, eliminating a lot of the risk that often accompanies connecting in public spaces.
WPA3 is a significant new technology, and it will eventually be as prevalent as WPA2 is today - working invisibly behind the scenes to protect password-protected Wi-Fi networks, and now even open networks too.
But it will take a LONG time for WPA3 to become widely available.
The standard was only finalized mid-2018, and WPA3 support is still rare and will likely only become widespread once Wi-Fi 6 devices catch on and older networking hardware is retired.
---
Satellite Internet - 2018 in Review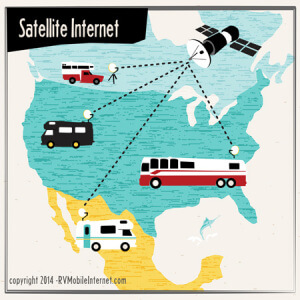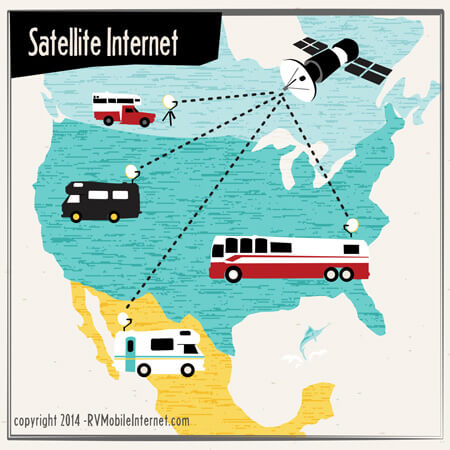 On one hand - not a lot happened in the satellite internet world in 2018.
There were no new offerings from HughesNet, and the Kymeta satellite antenna trials in Hymer RVs we wrote about last year still have not resulted in any products available for real customers - yet.
But behind the scenes, the entire satellite industry is ramping up towards an incredibly exciting future - and there are some really exciting next-generation systems in the works that have the potential to revolutionize global connectivity.
Here is a rundown of the top satellite stories of the year, and a look towards what has us excited for 2019 and beyond:
Satellite Messaging Options Proliferate
At the moment, satellite internet gear capable of broadband speeds is typically bulky, expensive, and requires precise aim to get online.
But if your primary concern is being able to keep connected for safety, trip coordination, weather, and basic textual hellos - many nomads would be willing to save the surfing and the streaming for later if they could have the core communication essentials with them all the time.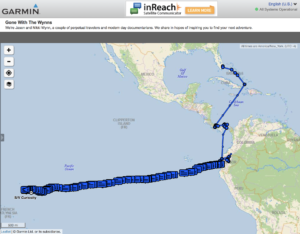 And with satellite messaging services, you can - in a device that fits in your pocket!
But you need to be willing to live with speeds that would make an old-school dial-up modem seem fast, and you need to be willing to trade web surfing for text messaging.
But if you learn to think a bit differently - it is amazing how far (literally) 160 characters of text can take you.
There are actually several affordable handheld satellite options that can keep you connected just about anywhere on earth - and several new options came to market in 2018.
The latest options include the Garmin inReach and inReach Mini, the Somewear Global Hotspot, the Globalstar Sat-Fi2, the SPOT X Two-Way Messenger, and Iridium.
Satellite Industry Updates
The upcoming satellite developments are exciting to track, but we're still a ways off before the next generation is accessible to consumers.
Here's what the major players are up to:
Iridium Next: One Launch Left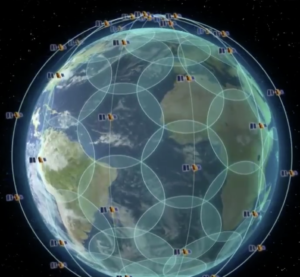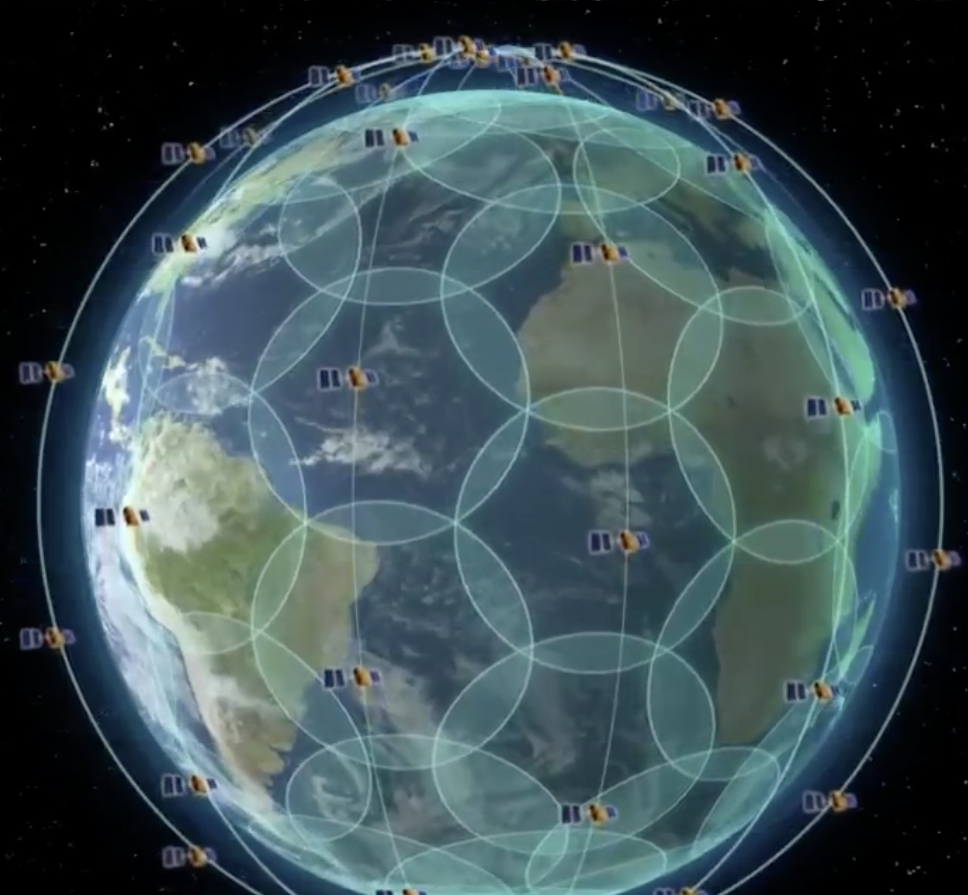 The Iridium satellite constellation that the Garmin inReach and Somewear (and many other devices) rely on is only one launch away from completing the years long upgrade project to replace every old satellite in the swarm with a new much more capable Iridium Next satellite, which should unlock several potential new services and capabilities once complete.
The current Iridium constellation was launched between 1997 and 2002, and is best known for enabling satellite telephones that work anywhere on the globe.
But despite the unrivaled global coverage, the Iridium system was only ever capable of providing extremely slow and very expensive data connections.
The new generation of Iridium Next satellites are more data-centric, and once the constellation is fully upgraded it will likely enable a whole new range of products and services.
The Iridium NEXT system will offer "speeds from 22 kbps and eventually all the way up to 1.4 Mbps once fully deployed" - painfully slow by LTE cellular standards, but much faster than what is possible with the current generation of affordable global coverage Iridium technology.
The final Iridium Next launch is currently scheduled for January 7th, 2019 - so stay tuned for news!
ViaSat: Still No Consumer Mobility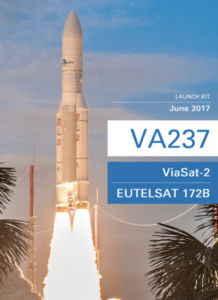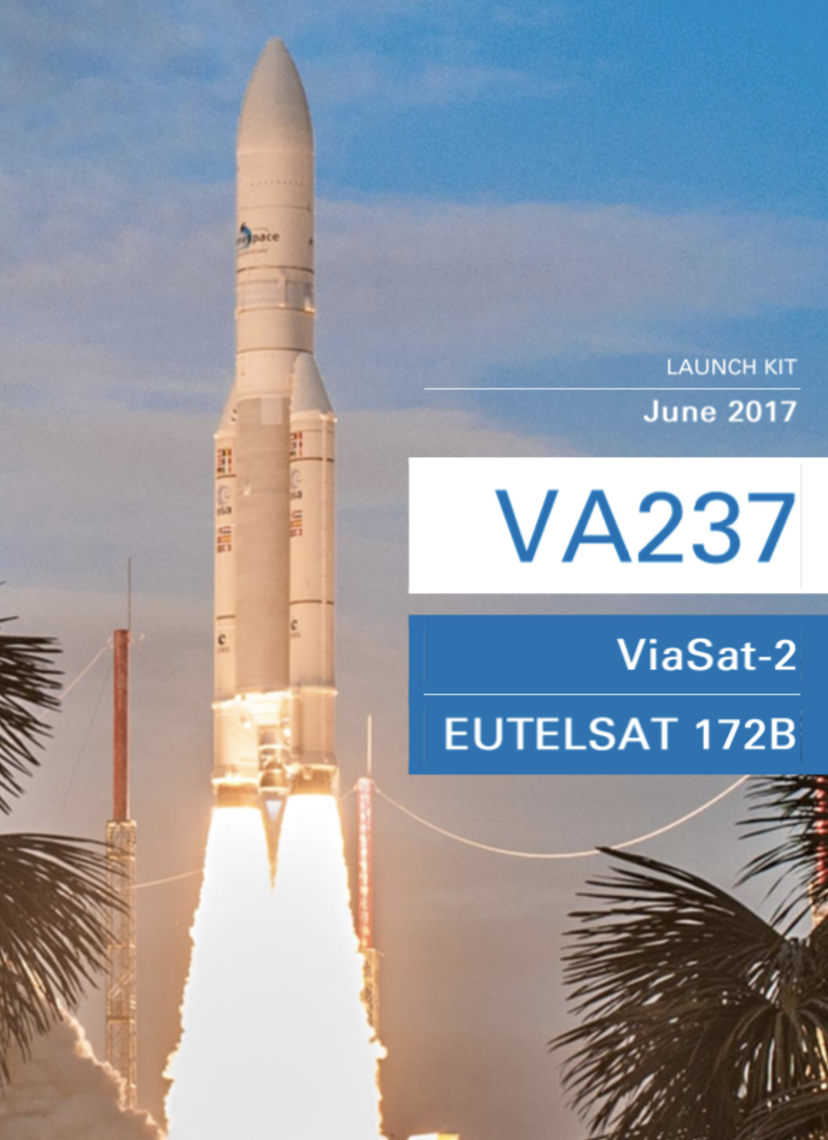 In June of 2017, ViaSat successfully launched ViaSat-2, the "world's highest capacity communications satellite" - and when this satellite came online in early 2018 it was used to enable fast and affordable satellite connectivity for homes and business "living outside the cable zone".
But unless you want to connect an airliner, TV news truck, or corporate jet - ViaSat still does not offer any support for mobile consumers.
If you take a residential ViaSat system and move it to a new location, it just will not work.
We have been told in the past that mobile users are on ViaSat's long-term radar, so hopefully this lack of support for consumer mobility will someday be addressed.
Meanwhile, progress on the massive ViaSat-3 satellites continues - and the first (of a planned three) is slated to launch no earlier than 2020.
We are eager to see whether ViaSat's massive geostationary satellites will be able to compete effectively with smaller and cheaper low-earth-orbit swarms that will soon be coming online.
SpaceX: Starlink Prototypes Launch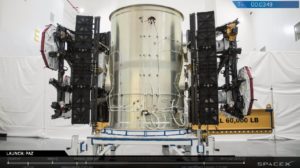 In addition to providing launch services to Iridium and others, SpaceX has also been working on building Starlink - a massive satellite communications network of its own.
And in this case, the word "massive" is an understatement.
SpaceX in March of 2018 received official FCC approval to:
"Construct, deploy, and operate a proposed non-geostationary orbit (NGSO) satellite system comprising 4,425 satellites for the provision of fixed-satellite service (FSS) around the world."
But the FCC refused to grant SpaceX's request for a waiver to allow SpaceX to focus on just the initial 1,600 satellites in the swarm, saying that SpaceX has a legal deadline of March 2024 to get half its system into orbit.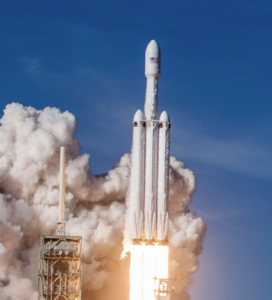 SpaceX claims that deploying the network in just six years "would require a launch cadence of more than 60 satellites per month", and that this "would be impractical" especially considering that SpaceX intends to be able to offer commercial service with just the first 800 satellites in orbit.
Even if SpaceX gets permission to focus on the just the first 800 or 1,600 satellites - it has a LOT of hardware to build, and the clock is now ticking.
And It Gets Even Crazier
The initial Starlink constellation is aiming to keep latencies down by having the satellites in a low orbit - just 340 miles above the surface.
But for even more capacity and capability, SpaceX is aiming to fill the sky with more satellites orbiting even lower.
In November of 2018 SpaceX received further FCC approval to expand the Starlink network with an additional 7,518 (!!!!) satellites orbiting barely over 200 miles above the surface.
This brings the total planned Starlink satellite count to 11,943 - over half of which needed to be launched within the next six years!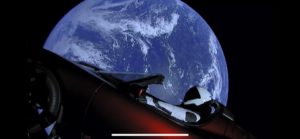 It sounds like an insane plan, but SpaceX makes its ambitions clear:
"Enabling the provision of high speed, high bandwidth, low latency broadband services that are truly competitive with terrestrial alternatives."
Amazing! But when?
SpaceX says that the two prototype Starlink satellites launched in January of 2018 have been performing well, and if all goes well the operational launch campaign would begin sometime in 2019 and will run in phases through 2024.
This means the earliest possible launch of consumer service is likely no sooner than sometime in 2020.
OneWeb: First Launch Imminent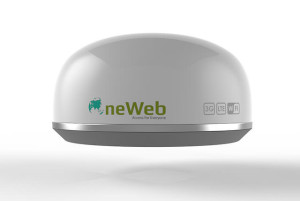 Though flashy SpaceX tends to hog the headlines, rival OneWeb is actually already ramping up full production of its planned 720 satellite swarm - and is aiming to begin launches by February 2019 with initial broadband satellite service coming first to Alaska perhaps as soon as the end of 2019.
OneWeb claims it will be able to support 50Mbs speeds, and 30ms latency - a huge improvement over the 600ms latencies common with geosynchronous satellite systems.
If all goes according to plan, the first 10 satellites in a long series of launches will be in orbit soon, and OneWeb will hopefully use the launch as an opportunity to share more details about its planned service.
Once the remainder of the swarm launches and comes online, OneWeb will be able to start offering services at lower latitudes than Alaska too.
The Current Options: HughesNet and RVDataSat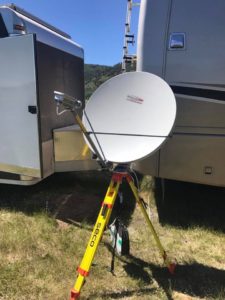 For those seeking internet from the sky today, there remains two viable consumer grade mobile options for RVers. Neither have had any major advancements in the past year.
HughesNet brought their Gen 5 satellites online in Spring 2017, and mobile authorized vendors can provision plans for consumers to move the service with them. We've gotten great reports from those who utilize the service, clocking in download speeds in the 15 - 40 mbps range. Truly impressive for satellite!
But the service requires a huge bulky dish that must be setup at each location, latency issues remain and mobile compatible data plans while generous, come with caps to contend with. This makes the service still only appealing to those who really want to go way off the grid.
RVDataSat is a roof mounted robotic option that is pricey to install - and while they offer unlimited data plans, speeds are capped to fairly slow by LTE-terms based on the plan you choose, and video service blocked without an extra subscription.
For marine, there remains no viable consumer-priced broadband internet service that can navigate the challenges of in-motion aiming and global access. But for those with super yacht or commercial level budgets, the options are out there.
---
Emerging Technology: Smart & Connected RVs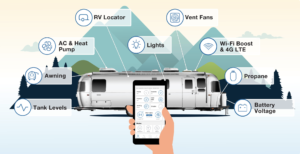 RV manufacturers seem to have at last woken up to the reality that customers are interested in the comforts of home when on the road:
Air conditioning, heat, hot water, ample AC power, and yes... perhaps most importantly for many - connectivity!
Over the past year we've seen an explosion of new RV-centric internet and smart-home systems, most targeted at RV manufacturers to start offering as options in the 2019 model year.
Will 2019 be the year of the smart and connected RV?
In August we covered the news that Airstream would be offering a year of truly unlimited AT&T data bundled as part of the integrated Smart Control Technology package coming standard on the flagship 2019 Airstream Classic model.
This integrated system will provide advanced remote control and monitoring features, and it also provides a long-range Wi-Fi system and integrated AT&T LTE modem.
But for those not willing to invest $149,900 in a big shiny hotspot, Airstream announced that the system and data plan they have worked out with AT&T will also be made available for "any Airstreamer" as part of a dealer-installed upgrade that will begin to be offered in the near future.
The "Unlimited Adventure" plan from AT&T will allow unlimited and unthrottled hotspot data for a full year for just $360. Or you can purchase data as needed in smaller chunks - 5GB at a time for $25.
Since Airstream is owned by RV-giant Thor Industries, we would not be surprised at all to see this system eventually percolate down to any of the 17 other Thor-owned brands.
Not Just Airstream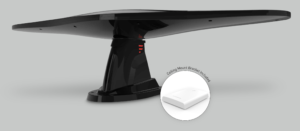 Airstream might have the flashiest system, and the most compelling data plan.
But a whole range of other manufacturers are working to provide RV manufacturers technology to help make RVs smarter and more connected. Here are a few:
And of course, there's the systems from WiFiRanger and Winegard we discussed earlier as well - all of which are being offered to RV manufacturers for factory-direct integration.
The Downside of Integrated Systems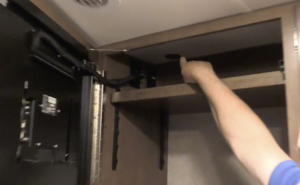 We love that RV manufacturers are exploring integrating in connectivity and the latest smart home technologies as factory options and even as standard features.
But - there is a downside to integrated systems!
Cellular and Wi-Fi technologies have been evolving at a furious pace over the past few years, and what is cutting edge technology in 2019 might be looking very dated by 2021. And by 2025, in a fully 5G world a current generation cellular system might start to feel as useful an 8-track based audio system is today.
We'll be looking closely at these systems as they come out to see how future proof they are designed to be.
In particular, will they offer any sort of upgrade path to new cellular technologies such as gigabit LTE and 5G? Will they be locked into limited and expensive data plans? Are there any provisions for future upgrades and expandability?
A smartly built integrated system designed with the future in mind has the potential to make a smart and connected RV feel magical.
But if any corners have been cut, we worry customers might find themselves wishing they had skipped the built in systems entirely.
---
The Mobile Internet Resource Center: 2019 & Beyond!

When we started this website back in 2014, we had no clue how much it would grow or how much of a following it would earn. We never thought we'd be able to make a career out of reporting on mobile internet specifically for nomads.
This past fall, we marked our 4th year of running this site.
We now have over 1,000 unique pages of content.
Our content has expanded and expanded, now offering a classroom, over 70 in-depth guides, product reviews, an active member forum, regular webinars, a glossary, field testing lab results, a YouTube channel and more.
And we could do none of this without the support of our premium members or our amazing staff.
Everything you see here is built with member support. From our time writing this overview (which took well over 80 hours), to our regular news stories, to constantly updating every guide as new options come and go, to fielding questions in our free Facebook group.
Want it in other formats too? Our Kindle, Print and iBooks versions are on sale too:
[easy-pricing-table id="15509"]
Complete Website Redesign Coming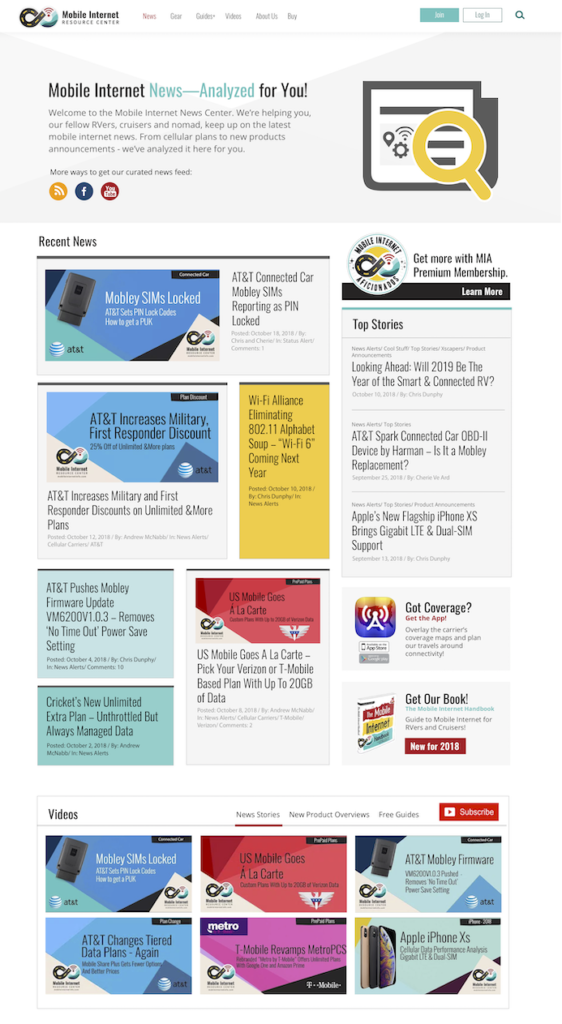 When we started this resource center, we had no idea what it would become.
We thought we'd just track an occasional news item, send out a newsletter and be available to our members to answer questions.
Our content has expanded to be a comprehensive library of guides in written and video format, offering not just a resource for keeping up to date - but a full on education in mobile internet connectivity so you can make informed choices.
Four years is a long time online, and it's time to upgrade this website to modern styling and technology to keep it current.
We're also taking the opportunity to re-think the way our content is structured and presented.
With over 1000 unique pages, it's become an organization nightmare for our staff to maintain and readers to navigate.
We have several exciting upgrades coming, including our new look and feel.
We aim to make our content easier to navigate, organized into comprehensive topics and provide more and more tools for our members to quickly find what they are looking for.
Our team has also been working behind the scenes all year long to better standardize our content to be prepared for the new format.
We hope to have the bulk of the new site up by February! This has been in the works for several months, and already some new features have been silently brought on line.
Thank You Members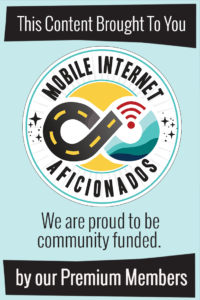 There is no way we could track this industry all year long and bring a resource like this together without funding.
Instead of seeking sponsorships and advertising, we choose to be community funded and remain accountable to our community.
Content like this extensive year end guide is brought to you by the generosity of our MIAs - our premium members. For their support, they get a bunch of extra perks like in-depth guides, reviews, Q&A forums, vendor discounts, the classroom, webinars and more.
We research the options, share our personal & professional experience, and analyze industry news... so you can focus on what drives you.
It is our honor to be able to bring this site to you, and a true joy to assist our members further.
Thank you for making it possible!