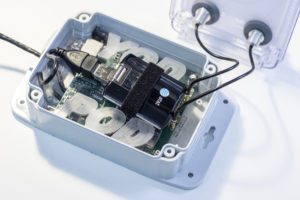 WiFiRanger this week has announced the SkyPro LTE that combines the current SkyPro roof-mounted Wi-Fi receiver with an integrated LTE modem and antennas.
Roof-mounted placement improves signal and performance by getting the cellular radio clear of obstructions and low-level clutter, while also eliminating any signal loss from long antenna cables running down into your RV.
WiFiRanger will begin to offer an LTE modem option going forward starting this month in both the consumer-focused Sky Pro LTE model, or the new lower-performance Sky 3 which is intended for factory integration by RV manufacturers.
Or, in a very unique twist - you will be able to actually install your own favorite hotspot (see update below) or USB modem on your RV roof instead of WiFiRanger's modem by using WiFiRanger's unique outdoor-rated YODPod.
Is semi-permanently mounting your mobile hotspot on the roof a crazy idea, or a bit of genius?
Or maybe a bit of both...
The YODPod - Cellular Modems On High
We've been suggesting to WiFiRanger for years that they should look into integrating cellular capabilities directly into their rooftop units, and a few months ago they let us know that the capability was at last under active development
But in a way that we never expected - with an outdoor rated "pod" to take your indoor cellular modem or hotspot outside.
WiFiRanger describes it this way in their press release:
For the direct to consumer market, WiFiRanger expanded its SkyPro product line to include their innovative YODPod. (Your Own Device, Pod)

The YODPod is an IP67 rated sealed enclosure within the WiFiRanger SkyPro allowing either the WiFiRanger LTE modem, or the customer's existing USB cellular device within, granting the advantages of outdoor reception and antennas, and improved speeds, all without another data plan or carrier to contend with.
In other words - the new SkyPro LTE will be available either with an integrated LTE modem provided by WiFiRanger, or you can install your own favorite modem or hotspot way up on the roof in the weatherproof enclosure instead.
Brave, or Crazy?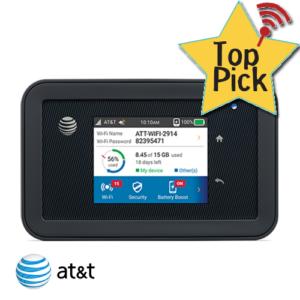 In general, a mobile hotspot or USB modem should perform great on the roof - at least at first.
But how well will indoor rated consumer gear handle being baked or frozen on the roof of an RV in a wide range of climates over time?
In particular, how well will integrated lithium batteries built into hotspots do over extended periods of rooftop abuse?
Only time will tell.
There are other potential downsides too. For example, changing SIM cards or rebooting a locked up hotspot may also end up requiring pulling out a ladder.
Will the potential benefits outweigh the frustrations?
Or does keeping a hotspot indoors and the antennas outdoors make more sense?
UPDATE: Mobile Hotspots NOT Recommended
WiFiRanger has clarified to us that while mobile hotspots will work in the YODPod, they are actually recommending USB cellular modems:
"We don't advocate putting "MiFi" types of devices in the YODPod. Most are unreliable to remotely rely upon without user interaction, thus our push to a try modem stick, or embedded module. We have the ability to power cycle the USB port, to unhang the device, but MiFi type devices with batteries can get hung up. Sticks also usually support -20-+60 degrees Celsius for handling temperatures."
Unfortunately – there currently aren't any flagship USB-stick type modems that we particularly recommend.
AT&T, Sprint, and T-Mobile all no longer offer USB modems directly - just hotspots.
And Verizon has only one current USB modem offering, and it is two tech-generations out of date now and has poor support for external antennas.
We've asked WiFiRanger if they will publish a list of USB cellular modem sticks they recommend – and we'll poke around to see if we can find any alternative USB modem options that might be a good fit for the YODPod.
WiFiRanger's LTE Modem
If you don't want to put your own cellular device on the roof in the YODPod, WiFiRanger will sell you an LTE modem integrated directly into the SkyPro.
The modem module WiFiRanger is using is the Quectel EC25.
This is a Cat-4 LTE modem, with NO support for LTE-Advanced carrier aggregation.
Here are the LTE bands supported:
EC25-V for Verizon - B4/B13
EC25-A for AT&T (and T-Mobile) - B2/B4/B12
There is no universal option - you are forced to choose between the default modem module which supports AT&T and T-Mobile, or you can request a change to a modem that works with Verizon instead.
We've been advising people for a while now to hold out for at least Cat-6 LTE-A devices with support for carrier aggregation and a broader range of LTE bands, and the modem offering from WiFiRanger is disappointingly behind the times.
Peplink, Cradlepoint, and even MoFi are all offering Cat-6 LTE support now, and the Quectel modem WiFiRanger is using looks dated in comparison.
Fortunately the SkyPro LTE uses standardized modems cards, and in the future hopefully WiFiRanger will have a more advanced and more future-proof LTE device to offer as an upgrade.
Or you can go the YODPod route, and put a Cat-9 three-way carrier aggregation capable AT&T Unite Explore or Verizon Jetpack 7730L on your roof instead - if you are up for risking your mobile hotspot up there.
Millenicom Partnership


The WiFiRanger cellular modem will be unlocked and you can use your own SIM card if you have a plan that you'd like to use from a compatible carrier.
But WiFiRanger is partnering with T-Mobile reseller and long-time RVer favorite Millenicom to offer easy-to-activate data plans too.
More from the press release:
WiFiRanger has also partnered with Millenicom, the leader in affordable Cellular data plans for the mobile lifestyle community, in order to provide customers with a turn-key, no contract WiFi and Cellular solution. The WiFiRanger LTE modem is integrated directly into the SkyPro LTE product with inactive SIM, allowing the end-consumer to activate their own Millenicom account as needed through a simple and easy-to-use web portal.

"Providing great value in Cellular data has always been the aim, and now having outdoor LTE connectivity combined with WiFi makes mobile internet entirely better and more reliable." -Dennis Castle, Director, Millenicom
We expect that Millenicom will be able to offer unlimited T-Mobile data to WiFiRanger Sky Pro LTE customers, but we are waiting to confirm the exact pricing details and limitations.
Getting The SkyPro LTE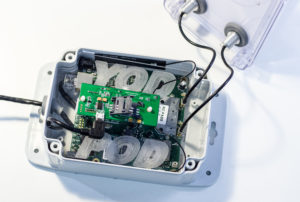 The SkyPro LTE Pack will cost $499 with the YODPod ($50 more than the current SkyPro Pack), and it will cost $589 with WiFiRanger's LTE modem installed, including a T-Mobile SIM ready to activate with service through the Millenicom partnership.
The SkyPro LTE Pack combines the SkyPro LTE on the roof for both long-distance Wi-Fi and cellular with a WiFiRanger Core indoor router - though you will still be able to request upgrading to the more capable WiFiRanger GoAC if your interior networking needs are more demanding.
There is unfortunately no upgrade path from the current SkyPro for current customers.
The new WiFiRanger SkyPro LTE should be available mid-April, with full production starting in May.
TIP: The indoor WiFiRanger Core or GoAC will still have a free USB port for tethering to a hotspot as well, so you can have roof-mounted Wi-Fi, roof-mounted cellular, and indoor cellular all hooked up at once.
UPDATE: SkyPro LTE Delayed (October 2017)
In response to feedback from numerous beta testers (including us), WiFiRanger has told us that they have put the SkyPro LTE model on hold until they can integrate a modem that is fully carrier independent. Forcing people to pick between AT&T / T-Mobile and Verizon was just too limiting, and RVers are very reluctant to get locked in.
Avoiding lock-in is completely understandable - particularly for a device that is intended to be relatively permanently mounted to the roof of an RV!
As of October 2017 there is no SkyPro LTE product release ETA, but WiFiRanger tells us that they are currently evaluating several new modem options.
The specifications of the modem in the original SkyPro LTE were underwhelming - hopefully the next iteration will be much more capable overall.
Roof Mounted LTE: A Good Idea?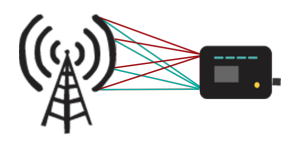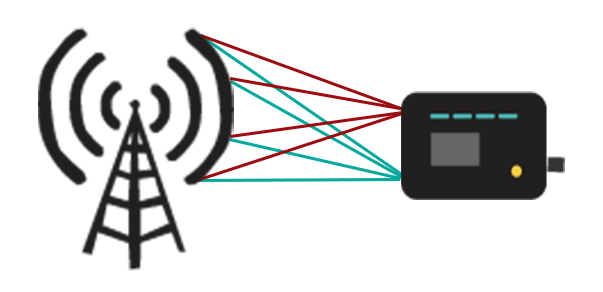 The immediate question that comes to mind...
Why put the LTE modem on the roof?
Why not just use an indoor hotspot with an external antenna - either a high-end MIMO option like the Mobile Mark LTM or Panorama MIMO, or an affordable option like two basic weBoost Stubby antennas?
We are eager to do some testing to determine if the benefits of eliminating the antenna cable losses by putting a modem in a YODPod are worth the potential tradeoffs.
But in the longer run - roof-mounted cellular makes all the sense in the world.
Future gigabit-class LTE modems will require four MIMO antennas, and running two antenna cables down into an RV to a modem or hotspot is already unwieldy. Four will be prohibitive.
But a roof-mounted cellular modem can integrate all four (or more once 5G comes) antennas directly, giving the best possible performance with all antennas optimally placed.
But gigabit LTE devices are only just beginning to make it to market, and no 4x MIMO modem modules suitable for this sort of application exist yet.
But in 2018 and beyond, super-fast LTE on the roof will become an option very much worth considering.
WiFiRanger in the News Updates: