What is a Tech Cabinet?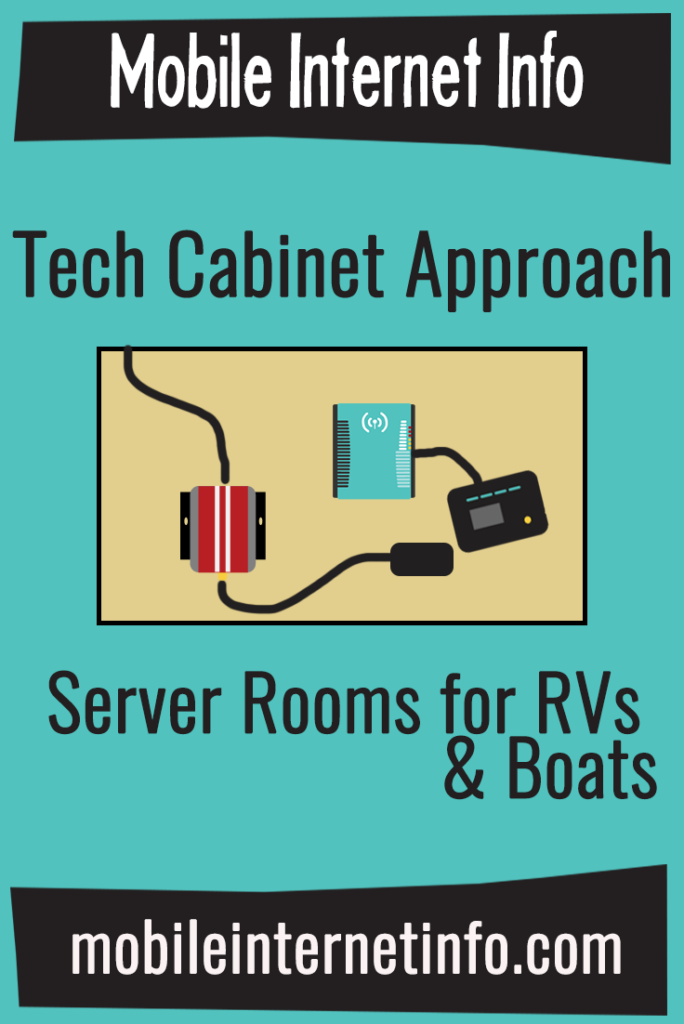 A tech cabinet is a neat little place where you keep all of your tech together - kind of like a server room/closet or a computer room/office area in a house or office.
In a house or office, this is the area where internet cables enter from the outside world and are plugged into tech gadgets like modems, routers, back-up drives, and servers.
Since mobile dwellings (i.e. RVs, vans, boats) are typically smaller than a house or office, most folks don't have the space to dedicate an entire room to storing tech gadgets.
Nomads also don't typically rely on hardwired internet sources, meaning they need a few additional pieces of tech in mix to get those hours of adorable cat videos into their lives.
Instead of dedicating a room to the task - it is often ideal to just stick all your connectivity gear into a cabinet.
Read on to learn some best practices on how to do this.
---
Benefits of a Tech Cabinet
Taking the time to set up a Tech Cabinet now will save you time and headaches later.
Centralization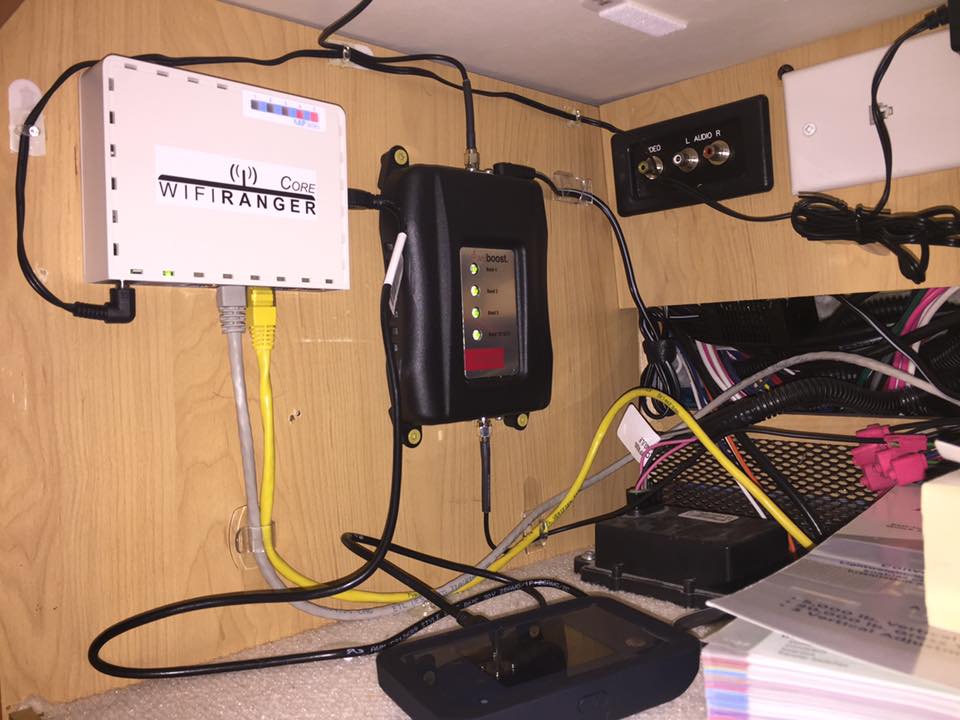 Centralizing all of your tech gadgets will end your need to hunt down a hotspot or booster when you suddenly notice buffering while engrossed in re-runs of The Office (Bears. Beets. Battlestar Galactica...anyone?)*
Sometimes all you need is to turn on your booster, or restart your hotspot to get back into the Michael Scott* groove, and knowing exactly where that tech item is stored will save you from the dreaded Dwight Schrute* withdrawal.
It also allows you to semi-permanently optimize signal enhancing inside your rig.
No more hunting down which window will work best for your antenna at a given location - a tech cabinet will give you a destination to route wiring of your antennas from a roof or other exterior location. You can also plan around consistent antenna separation to defeat the evils of booster oscillation (see our Cellular Boosters Guide for more info).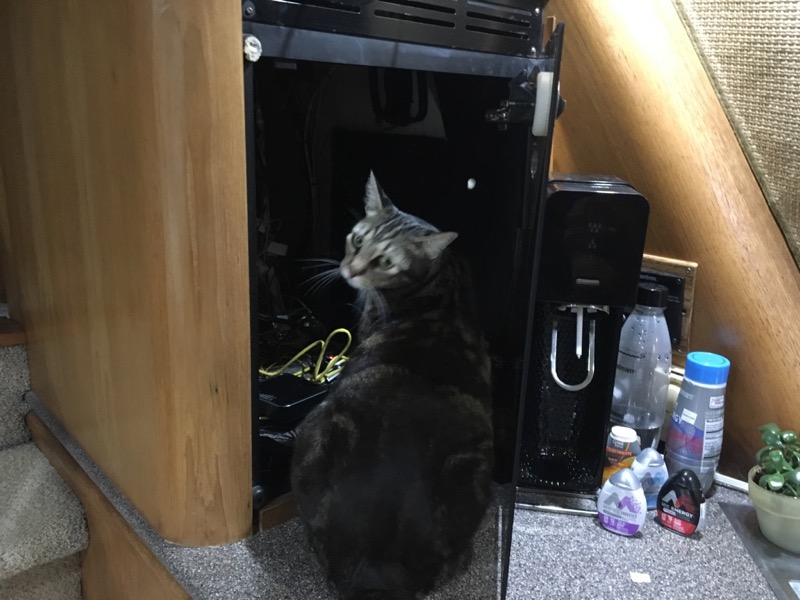 Mobile internet gadgets tend to require power sources. A tech cabinet can provide you with a centralized option for powering all of your gadgets. No more fighting with your partner about whether having the coffee maker or the hotspot plugged in is more important - with a tech cabinet, your mobile internet gadgets have a dedicated power feed.
More advanced networkers will also find that a tech cabinet will provide for a specific area to bring together wired ethernet. Even as fast as the fastest 802.11 AC Wi-Fi routers are, wired local networking is always faster.
Having the option to wire devices is very useful for those who utilize a lot of local traffic such as back-up drives or streaming 4K video from a media server. Being able to divert some of your internet traffic from Wi-Fi to a wired connection is a huge plus if you're looking to maintain speeds.
Having a centralized location (tech cabinet!) to connect your devices will limit the amount of cords running across your mobile space, saving you from accidental mishaps (oops! tripped over the cord again!).
*'Bears. Beets. Battlestar Galactica', 'Michael Scott', and 'Dwight Schrute' are all references to the TV series 'The Office'. This series has been cause for many GBs of data use in Liz's (author's) mobile household.
Signal Enhancing Optimizations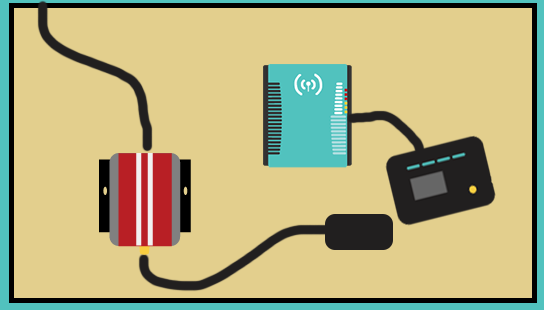 Cell boosters have interior antennas with notoriously limited range.
While cell boosters are not meant to enhance a signal across a large area (i.e. an entire mobile living space), a cell booster does work very well within a small range.
A tech cabinet allows you to concentrate on getting a great signal in a small area (the cabinet), where you store the gadgets that needs enhancing (i.e. router, mobile hotspot device).
You can then spread that nicely enhanced signal to the various devices in your living space through connecting via Wi-Fi to your signal enhanced router or hotspot.
Optimization will be discussed further later in this guide.
Additional Member Only Content :
Here's a sneak peak at the member exclusive topics in this guide:
Consideration for your Tech Cabinet
From where to place your tech cabinet, wiring, power sources, ventilation and those annoying blinking lights that come standard on electronics.
Optimizing for Centralization
From creating a mobile network, signal enhancing and strategies for thinking differently about how you utilize your data sources with technologies like Wi-Fi calling.
Tech Cabinet Samples
Our members have shared tours of their tech cabinets for inspiration.
---
Conclusion: Tips for the Best Tech Cabinet Setup
Having a dedicated tech cabinet is great way to get keep all of your gear organized and in a central location. Be sure to take things like placement, wiring, power sources, and ventilation in mind when selecting and building your setup.