Installing Your Mobile Internet Equipment
You've selected your mobile internet gear - perhaps a collection of mobile hotspots, a router, antennas, and a booster.
Now what?
You need to install it in your RV or boat so that it's not just messily cluttering up your living space.
All this gear will require power to keep it running, and there will be a collection of cables that can easily become a rat's nest.
At first, approaching your installation may seem daunting. Drilling holes into your mobile vessel can be scary, and fishing wires through tight walls difficult.
But it doesn't have to be.
This guide covers considerations for placement of your gear, getting power to your gear, and ventilation. It also introduces our preferred installation approach: a technology cabinet to centralize your gear in one spot.
DIY or Professional?
When approaching your installation, it may at first seem beyond your comfort zone to do a full installation. As such, we're often asked for referrals to mobile internet installers - which there really isn't a specific job title for.
The most difficult parts of your installation will be mounting any roof antennas or routers that make up your system, while maintaining a proper seal on your roof to protect against water ingress. Any special power requirements and wire runs between your central gear and where you need your internet connection can also create a surmountable challenge.
If you're moderately handy, this is all accessible and approachable as a DIY (Do It Yourself) project. We'd do recommend consulting with a user group or forum dedicated to your RV or boat's model for specific installation tips from those who have done it before.
If installation is outside of your comfort zone, then definitely seek a professionally certified RV technician for the parts of your installation that involve elements that can cause harm to you or your vessel. Any RV or boat service shop or mobile RV or boat tech should be able to assist. When it comes down to it, there's really not much specific to mobile internet gear that is different than installing a satellite TV dish, air conditioner, or new wiring.
If you need a referral, check out the website RV Service Reviews, which collects user-submitted reviews of service centers nationwide.
Antenna Installation
Installing external cellular and Wi-Fi antennas can be one of the most challenging and overwhelming parts of the project to tackle.
Because this is such a big topic, we have a dedicated in-depth guide going over approaches for antenna installation:
Cellular & Wi-Fi Antenna Installation
Considerations Your Installation
From where to place your gear, wiring, power sources, ventilation, and those annoying blinking lights that come standard on electronics.
The Tech Cabinet Approach
From creating a mobile network, signal enhancing, and strategies for thinking differently about how you utilize your data sources with technologies like Wi-Fi calling.
Tech Cabinet Samples
Our members have shared tours of their tech cabinets for inspiration.
Gear Placement
Where you put your gear will depend on many factors, including what type of equipment your gear is, and where you need to access your internet connection. This section covers some considerations and some popular choices for placement of mobile internet gear.
Mobile Hotspot Devices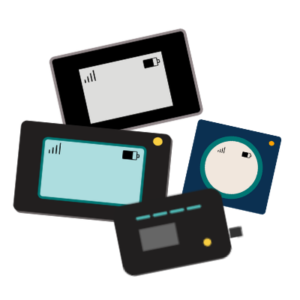 These devices are small, portable, and typically battery-powered.
If your setup will be optimized around this type of device, you'll want to keep in mind that their Wi-Fi broadcast range may not be as strong as that of a router.
In order to connect to the fastest speeds a hotspot can deliver, it's best to keep them located close to where you wish to utilize their connection
This may involve some compromises if you have a large RV or boat, and also need to access a hotspot's connection from multiple locations throughout the vessel simultaneously. In these cases, it may be worthwhile to consider a router as a means of extending your local area network.
You should also consider how you'll power your hotspot. While they have a battery, when under constant use, especially in weaker signal areas, the battery can drain more quickly than the rated capacity stated in technical specifications. Hotspots can benefit from being plugged in while in use for those with heavier needs, but you should also consider the health of the internal battery.
The antennas inside of a mobile hotspot device are similar to those inside your smartphone. They are omnidirectional and benefit from a clear line of sight to a tower. Placing them near windows instead of tucked inside a cabinet could make a huge difference in your performance. Some units have antenna ports to use external antennas, so consider where those antennas need to be installed when considering where to place your hotspot.
You can learn more about these devices in our Guide to Mobile Hotspot Devices.
Routers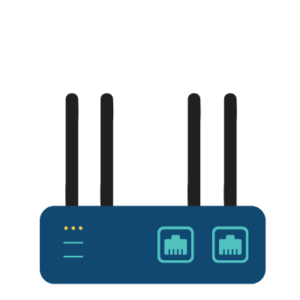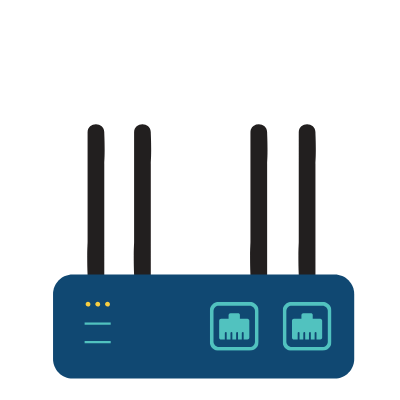 If you centralize your setup around a router, then your installation considerations will be different than building around a mobile hotspot device on its own.
Routers don't tend to have a battery, and thus need to be installed with access to a power source. They also generally use some sort of external antenna (or antennas) that should be taken into consideration for placement.
Paddle antennas can take up space, and outdoor mounted antennas will require wiring to the router.
A router's Wi-Fi broadcast range should be ample for most RVs and personal-sized boats, but you can also utilize wired Ethernet-based networking or access points to add range and flexibility to your installation.
You can learn more about this type of device in our Guide to Mobile Routers.
For more information on the differences between routers, hotspots, and mobile phone hotspotting, see our guide Ways to Use Cellular Data to Get Online.
Antennas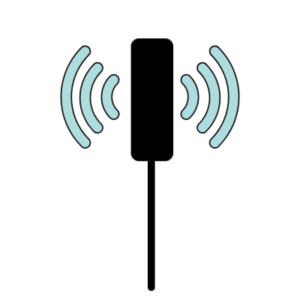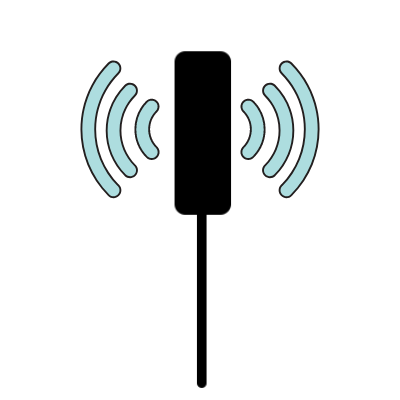 While we have a full guide dedicated to installing antennas, you should also consider their placement carefully in relation to the gear they will be connecting to.
Analog external antennas transmitting over coax cable will benefit from the shortest cabling run possible, in order to minimize signal loss. Digital connections transmitted over Ethernet or USB don't care as much.
Any antennas you mount should have as clear a line of sight as is feasible for optimal performance. Antennas placed inside your RV or boat meant for receiving a signal will have limited effect when placed behind signal blocking materials like metal. Antennas on your roof can suffer from other roof clutter you might have blocking the signal .
You can learn more about antennas in these guides:
Cellular Boosters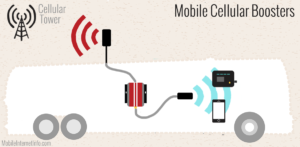 Most cellular boosters come in a similar form factor - an external antenna mounted outside your vessel, an amplifier unit that is placed inside, and an internal transmit antenna.
It is critically important that there be ample separation between the internal and external antennas to prevent a feedback loop called oscillation. Most booster manufacturers recommend a minimum separation of 15'-20'.
You'll also want to keep in mind that the distance that the internal antenna is able to transmit can be very short (to prevent oscillation). This is especially true in cases of a weak signal that is trying to be amplified. Plan your installation for the interior antenna to be within a few feet of the devices you want to benefit from the amplified cellular signal.
To learn more about boosters and their installation, visit our Cellular Booster Guide.
Starlink
While traditional satellite equipment hasn't always been the best option for mobile internet, Starlink is definitely changing the game.
Although Starlink was initially targeted for fixed residential installations in relatively limited areas, many have discovered that Starlink can work great in a "portable" fashion for RV use. Mobility is not (yet!) officially supported, but roaming is live and we're seeing more and more RVers add it to their mobile internet arsenal, even though it does some come with some compromises and trade-offs.
Although the second generation rectangular Dishy is smaller than the first generation version, a Starlink system is still bulky and cumbersome to store, a particular consideration in a smaller RV or on a boat with limited storage space. You also need to set up the dish and take it down in order to preserve your warranty since in use while mobile will void your warranty.
The power consumption of the dish for RV's with smaller off grid battery systems is something to keep in mind as you consider adding this to your internet arsenal of tools.
To learn more about Starlink, see our Starlink guide: Starlink Satellite Internet For Mobile RV And Boat Use
Power Requirements
Good news: most mobile internet devices don't require a lot of power. Do be sure to check the specifications for anticipated power draws to make sure you're covered.
Mobile equipment may come able to utilize a variety of power sources from traditional AC shore current at 110v or DC directly off your house battery system. Your devices might have built-in batteries allowing them to be moved around without concern for being plugged in all the time.
Designing the power system for your RV or boat will come down to how you plan to utilize your vehicle. Will you be mostly going from pole to pole, utilizing shore power from a marina or campground? Or will you be integrating a good amount of off-grid camping or anchoring where you'll need to create your own power from solar, wind or generators?
If you'll be mostly utilizing shore power, your mobile internet setup doesn't need to be designed around DC power. You will likely always have a traditional wall current and can just plug your devices in with an AC power adapter. Check what powering options are packaged with the mobile internet equipment you decide on so you can plan to order adaptors or non-included power options if needed.
If you'll be designing your setup for boondocking (or want to utilize your equipment while driving and not plugged in), then you might want to optimize for DC power to draw power directly off your battery system and minimize inverter use. Many mobile internet gear options can be powered by DC either via an adapter or directly wired into your house system.
If you're not comfortable playing with electricity, definitely consult with a certified electrician for any new power runs you might need to make or for tapping into your power system beyond just plugging into an outlet.
Networking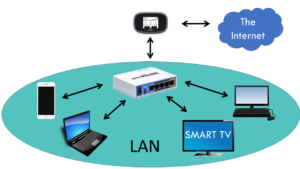 How will you be accessing your internet connection? Will you use a Wi-Fi-style local area network transmitted from your hotspot or routers? Or will you wire up an Ethernet-based local area network?
This decision will play a role in where you install your gear.
If you'll be Wi-Fi-based, then make sure that the Wi-Fi range of your devices can transmit to where you want to pick up the signal. You want a strong, solid signal to maximize speed and reliability. Consider if you'll be transmitting over 2.4 GHz or 5 GHz, as each will have potential challenges with distance or wireless congestion.
Also, consider where you mount your Wi-Fi transmit antenna. You'll need to decide if you'll do that from the router itself, or via an external antenna on your roof. If your roof is made of metal, that may impact how well the signal reaches into your RV or boat.
If your central router can't reach all of the devices in your household, then you might need to consider installing additional access points that repeat the connection further.
A wired installation also has the advantages of avoiding wireless interference and potentially providing faster speeds. The location of your router will be dependent on where you can pull Ethernet wires to reach all the places you want your network to extend.
For more networking, check out our Networking 101 Guide.
Ventilation
When working hard, especially in weaker signal areas, your mobile internet gear can generate a lot of excess heat. You don't want your mobile internet tech to overheat, as this can cause drops in performance, battery failure, and even damage to your equipment.
While most tech won't get obnoxiously hot unless you do something like pile clothes on top of it, you'll want to pay attention to this possibility.
While you probably don't need an area with active ventilation (i.e. fans), you should avoid areas with a lot of direct sunlight, other heat sources, or lack of any airflow.
If you are installing into an enclosed space, providing a bit of extra airflow certainly can't hurt.
Blinky Lights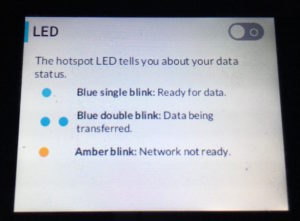 "Ugh, I hate blinky lights!" - Chris Dunphy, MIA Host
Blinking lights are to mobile tech gear what sequins are at 3rd grader's dance recital. They are pretty status quo.
They can be distracting, and after a while, obnoxious. In the small space typical of a nomadic home, one little blinky light can light up a bedroom like a disco.
Here are some solutions:
Some devices have a "stealth" or blackout option that disables status lights
Place tech behind a non-transparent door
Electrical tape (over the blinky lights)
Black-out curtains
A hammer (not recommended!)
Remember that you'll lose the feedback these lights give you if you cover them up. However, for your own sanity, it may be worth it.
---
The Tech Cabinet Approach
A tech cabinet is a neat little place where you keep all of your tech equipment together - kind of like a server room/closet or a computer room/office area in a house or office. It's a solution that addresses a lot of the considerations of installing your gear.
In a house or office, this is the area where internet cables enter from the outside world and are plugged into tech gadgets like modems, routers, backup drives, and servers.
Since mobile dwellings are typically smaller than a house or office, most folks don't have the space to dedicate an entire room to storing tech gadgets.
Instead, mobile internet gear tends to end up in a cabinet - or more specifically, a Tech Cabinet. It's our recommended approach to a mobile internet installation.
Centralization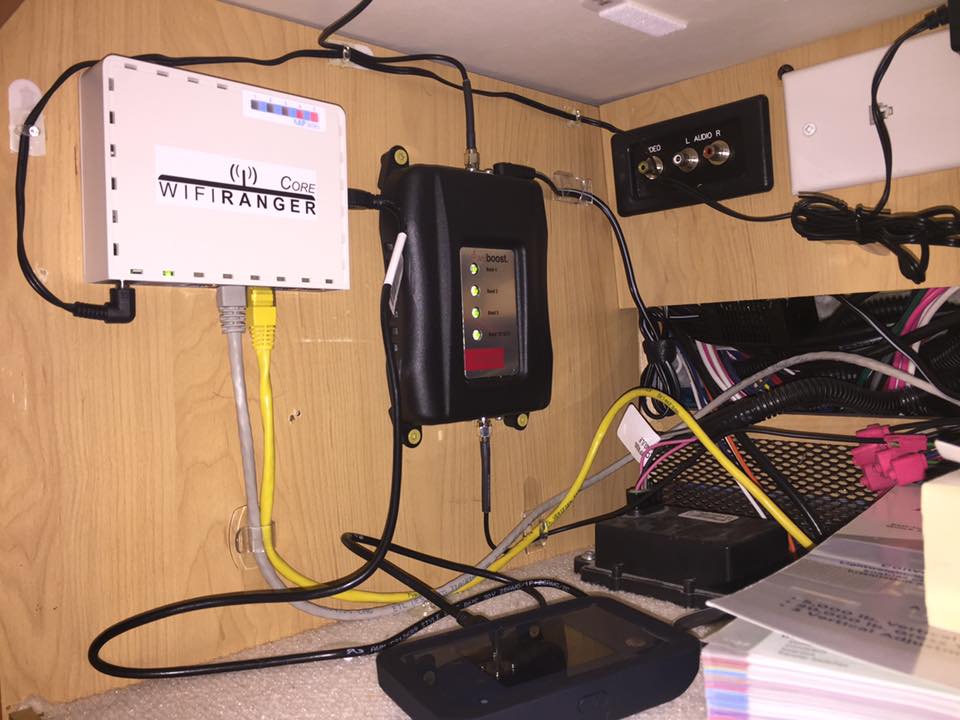 Centralizing all of your tech gadgets will end your need to hunt down a hotspot or booster when you suddenly notice buffering while engrossed in re-runs of The Office (Bears. Beets. Battlestar Galactica...anyone?)
Sometimes all you need to do is to turn on your booster or restart your hotspot to get back into the Michael Scott groove. Knowing exactly where that tech item is stored will save you from Dwight Schrute withdrawal.
It also allows you to semi-permanently optimize signal enhancement inside your rig.
No more hunting down which window will work best for your antenna at a given location - a tech cabinet will give you a destination to route wiring of your antennas from a roof or other exterior location. You can also plan around consistent antenna separation to defeat the evils of booster oscillation (see our Cellular Boosters Guide for more info).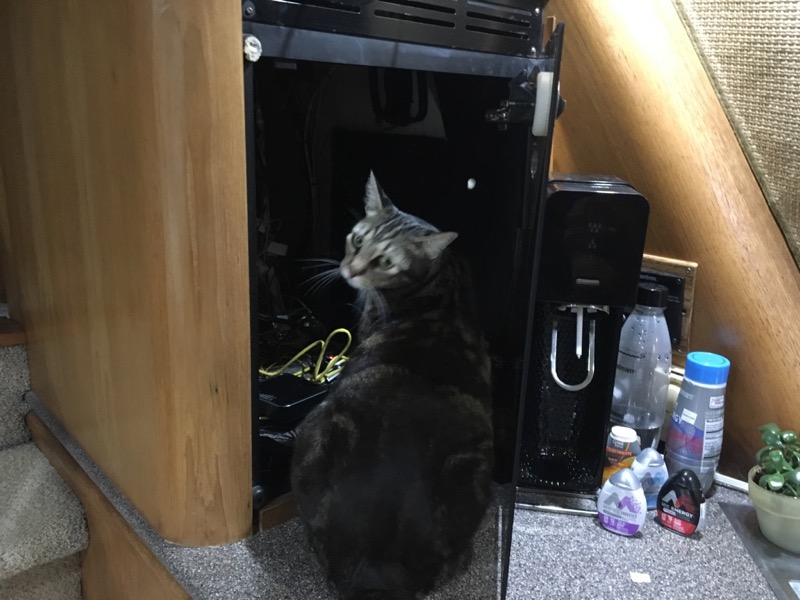 Mobile internet gadgets tend to require power sources. A tech cabinet can provide you with a centralized option for powering all of your gadgets.
No more fighting with your partner about whether having the coffee maker or the hotspot plugged in is more important; with a tech cabinet, your mobile internet gadgets have a dedicated power feed.
More advanced networkers will also find that a tech cabinet will provide a specific area to bring together wired ethernet. Even as fast and reliable as 802.11ax "Wi-Fi 6" routers are, wired local Ethernet networks are still more reliable, and most of the time will provide faster, sustained data transfers.
Having the option to wire devices is very useful for those who utilize a lot of local traffic. Being able to divert some of your internet traffic from Wi-Fi to a wired connection is a huge plus if you're looking to maintain speeds.
Having a centralized location (tech cabinet!) to connect your devices will limit the number of cords running across your mobile space, saving you from accidental mishaps (oops! tripped over the cord again!).
Placement
Where will you be using the internet most of the time? It might be most efficient to place your mobile internet arsenal near where you plan to consume data most often. While most mobile internet gear is powerful enough to provide a signal through the length of your mobile home (i.e. routers), some of the more basic devices (i.e. basic hotspots) are not.
If you can get internet where you need it in the first place, you may not need to upgrade or add more devices to your arsenal later. This can also help avoid interference from a neighbor's device as you can dial down your signal and still get the internet you need.
In addition, if you ever end up wanting to hardwire devices directly to your internet gear, you won't have to stretch cords across your rig.
Ideas for Tech Cabinet Placement
You don't need to give up 'prime storage' for your tech cabinet. Solutions are very personalized. Get creative!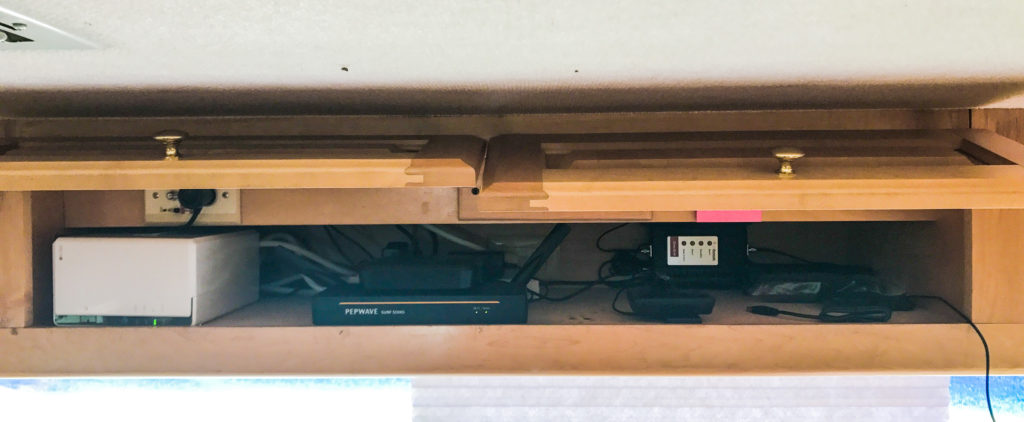 Some older nomadic homes have cabinets that were originally designed for older tube-type TVs, but most of us have upgraded to lighter flat-screen models. These cabinets already have electrical wiring to them, making them a useful location for a tech cabinet.

Many modern rigs have a 'media cabinet' near where those new fangled flat screens/plasmas are located in the rig - use it!

Awkward or hard-to-reach cabinets - especially those over fridges - are another possible area for a tech cabinet. Power outlets are typically nearby. Also, fridges tend to have venting systems, which can be utilized to run antenna wires through to the roof without having to drive additional holes.
Fifth Wheel dwellers can often establish mobile internet access to their towing vehicle while underway by placing their tech cabinet near the front of their home.
Wiring
PVC conduit routed from the back of your tech cabinet to the roof makes it easy to change out antennas down the road.
Is there a cabinet or area close to a spot where you are able to attach an antenna to your roof without having to drill? Vents or objects that already have holes drilled through to the roof - such as TV antennas - can save you time and further worry. Or maybe there is a place in your rig where you are more willing to drill a hole if necessary?
If you are using a booster, is your booster antenna pre-installed? Does it need to be placed in a specific area to work best for your needs (or avoid interference)? If so, we suggest keeping your tech cabinet within 12 feet of your booster antenna - typical booster wire length.
If at all possible, avoid using a cabinet in a slideout - especially if roof-mounted antennas may be a possibility in your set-up. Slideouts create additional concerns with kinking wires and shifting wiring length needs.
For more on installation, see our guide Cellular & Wi-Fi Antenna Installation Guide for RVs and Boats
Power Sources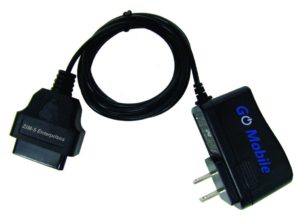 Is there a cabinet that already has electrical outlets appropriate for powering mobile internet devices?
How many of your devices need 12V? 110V? USB? Some devices come with built-in AC powering systems and some come with 12V "cigarette" jacks. Is there a cabinet or area that already has these options available, or will you need to provide adapters?
This is where you need to know your rig and your travel needs.
If you plan to boondock and don't have an inverter (or don't plan to use that inverter), do you have a system to power your devices?
Don't have a 12V outlet available and need one? There are a number of different adapters & converters available.
Have only one 12V outlet but multiple devices to plug in? There are plenty of adapters that will split the connection into multiple 12V outlets or USB ports, just be sure the voltage is correct for the devices you need to power or charge.
For more information on adapters, see our Guide Selecting Antenna Cables, Connectors, And Adapters For Cellular & WiFi Devices.
Mobile Networking
Having all of your gear in one place gives you an easier way to centralize your router and internet inputs to create your mobile network. If you are creating a wired network, knowing where your tech cabinet will be will determine where to route all of the cablings.
Cellular Booster Optimization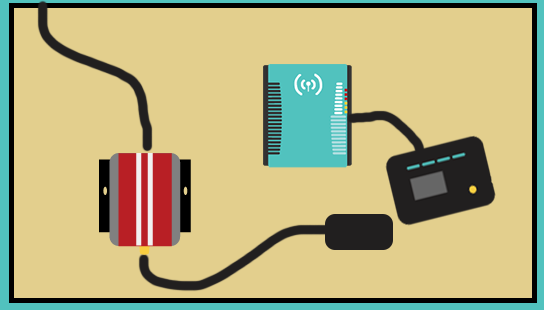 Cellular Boosters have interior antennas with notoriously limited range.
While cell boosters are not meant to enhance a signal across a large area (i.e. an entire mobile living space), a cell booster does work very well within a small range.
A tech cabinet allows you to have a focal point to run wiring for enhanced signals to a small area (the cabinet), where you store the gadgets that need enhancing (i.e. router, mobile hotspot device).
You can then spread that nicely enhanced signal to all of your tech equipment in one location that then gets distributed to the various devices in your living space via Wi-Fi or ethernet.
Home boosters are stronger...So why not just use them to cover the entire RV?
Oscillation with a booster occurs when the exterior antenna (such as on your roof) can pick up the signal being transmitted by the interior antenna. It creates a feedback loop, similar to squeal you hear when you step in front of a speaker with a microphone. To prevent this, make sure that the external antenna is located so that it absolutely can not pick up the signal from the inside antenna.
The home and building booster kits have a much stronger amplifier and interior antenna and can cover the size of a room. Included is also a longer cable and usually an exterior directional antenna. You are supposed to mount the outside antenna 40+ feet away from the inside antenna, and locate it so that the outside antenna is aimed towards the cell tower you want to boost and away from the interior antenna.
That sort of layout and separation is much harder to achieve in a nomadic home that may only be 40' long or shorter. This is the primary reason that "mobile" boosters are limited to 50dB gain and have inside antennas designed to boost signal in a very limited localized area. Most mobile users would rather not deal with needing to manually aim an external antenna at each location either.
If you absolutely want to have the most powerful booster possible with you on the road and attempt to provide an enhanced signal RV-wide - it is going to be a challenge.
If you are up for ignoring the FCC rules, juggling antennas, providing shielding and/or dealing with the downsides - you could probably make a full-home booster work in a larger RV or boat.
For more information on boosters, see our guide: Cellular Boosters for RVs Overview
Smartphone Tip: Use Wi-Fi Calling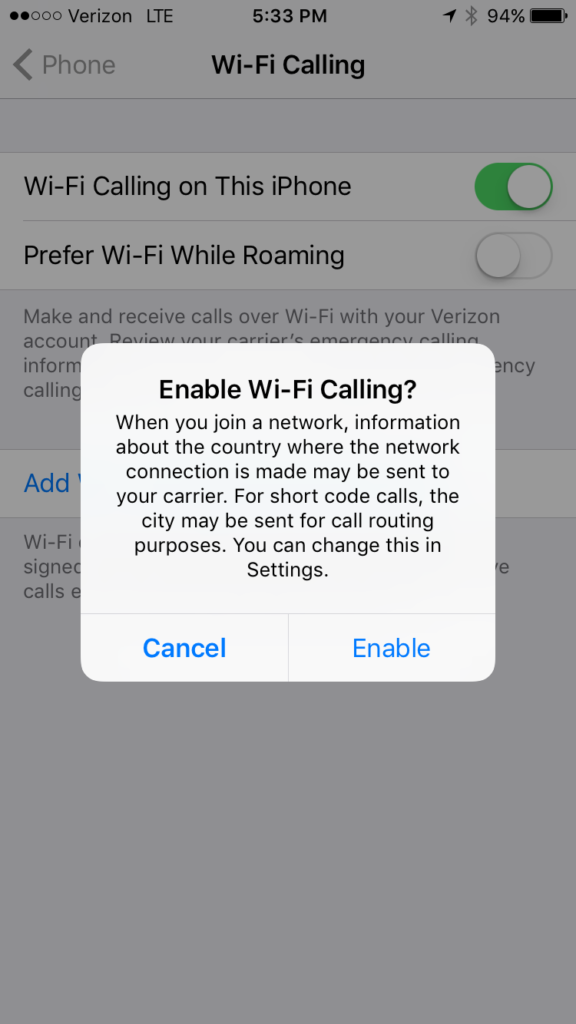 Although we focus on data here, the ability to make voice calls is still an important consideration for nomads.
One concern with centralizing signal enhancement in a static tech cabinet is how to get a better signal to a smartphone for placing and receiving voice calls. If the interior booster antenna is in the tech cabinet, for example, that may not be convenient for boosting a smartphone signal for a voice call.
Nobody wants to stand near their tech cabinet in order to get enough signal for a lengthy phone call.
Safety Note: It is not recommended that you put your cell booster antenna near your ear (and brain). The interior antenna of a cell booster near your head is bad. 8"-12" is the recommended minimum distance by most booster manufacturers.
One way to deal with this problem is to use the Wi-Fi calling feature on a smartphone. This will use your boat or RV Wi-Fi network to route the voice call instead of the smartphone connecting to the cell tower directly.
The advantage of this is that it will take advantage of your centralized gear and signal-enhancing strategy in the tech cabinet.
The disadvantage is that Wi-Fi calling will use data from whatever data source is feeding your tech cabinet. But generally, voice calls do not use a lot of data.
An additional safety note about Wi-Fi calling is that it makes it very difficult for emergency services to know where you are if you need to call 911 in an emergency. Smartphones will allow you to enter a location manually when you enable this feature - but you'll need to update it yourself as you travel.
---
Conclusion
We recommend the tech cabinet approach when installing your mobile internet system.
Having a dedicated tech cabinet is a great way to get keep all of your gear organized and in a central location. Be sure to take things like placement, wiring, power sources, and ventilation in mind when selecting and building your setup.