What is a Tech Cabinet?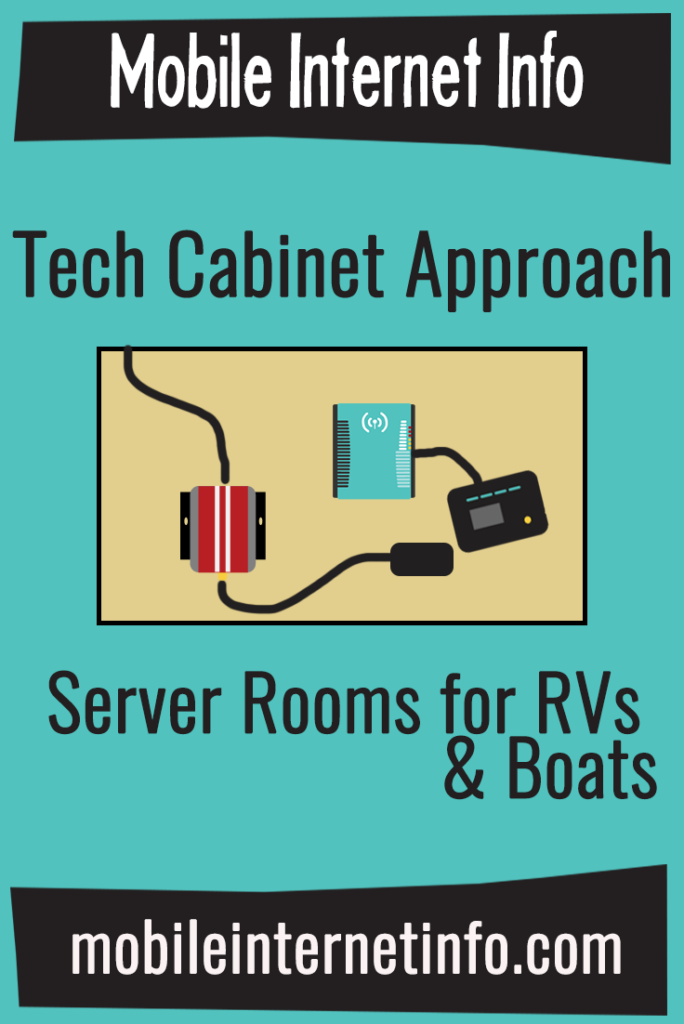 A tech cabinet is a neat little place where you keep all of your tech equipment together - kind of like a server room/closet or a computer room/office area in a house or office.
In a house or office, this is the area where internet cables enter from the outside world and are plugged into tech gadgets like modems, routers, back-up drives, and servers.
Since mobile dwellings (i.e. RVs, vans, boats) are typically smaller than a house or office, most folks don't have the space to dedicate an entire room to storing tech gadgets.
Nomads also don't typically rely on hardwired internet sources, meaning they need a few additional pieces of tech in the mix to get those hours of adorable cat videos into their lives.
Instead of dedicating a room to the task - it is often ideal to just stick all your connectivity gear into a cabinet.
Read on to learn some best practices on how to do this.
This Guide Brought to You by Our Members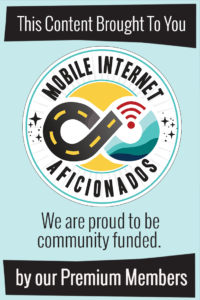 We are honored to be able to present the basic sections of this guide for free without 3rd party advertising.
This content is brought to you by funding from our premium members.
Our members have access to the entirety of this guide, interactive guidance, product reviews, alerts, vendor discounts and more.
If you're a member, please log in above to see the member exclusive portions of this guide.
If mobile internet is an important part of your lifestyle, here are ways you can help:
---
Benefits of a Tech Cabinet
Taking the time to set up a Tech Cabinet now will save you time and headaches later.
Centralization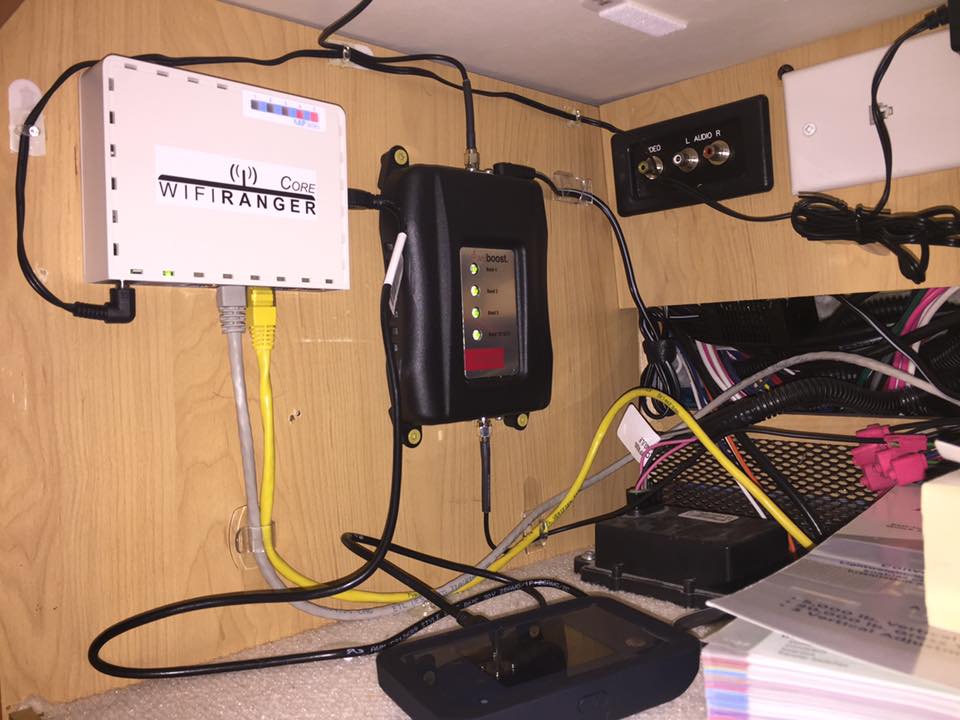 Centralizing all of your tech gadgets will end your need to hunt down a hotspot or booster when you suddenly notice buffering while engrossed in re-runs of The Office (Bears. Beets. Battlestar Galactica...anyone?)*
Sometimes all you need is to turn on your booster, or restart your hotspot to get back into the Michael Scott* groove, and knowing exactly where that tech item is stored will save you from the dreaded Dwight Schrute* withdrawal.
It also allows you to semi-permanently optimize signal enhancing inside your rig.
No more hunting down which window will work best for your antenna at a given location - a tech cabinet will give you a destination to route wiring of your antennas from a roof or other exterior location. You can also plan around consistent antenna separation to defeat the evils of booster oscillation (see our Cellular Boosters Guide for more info).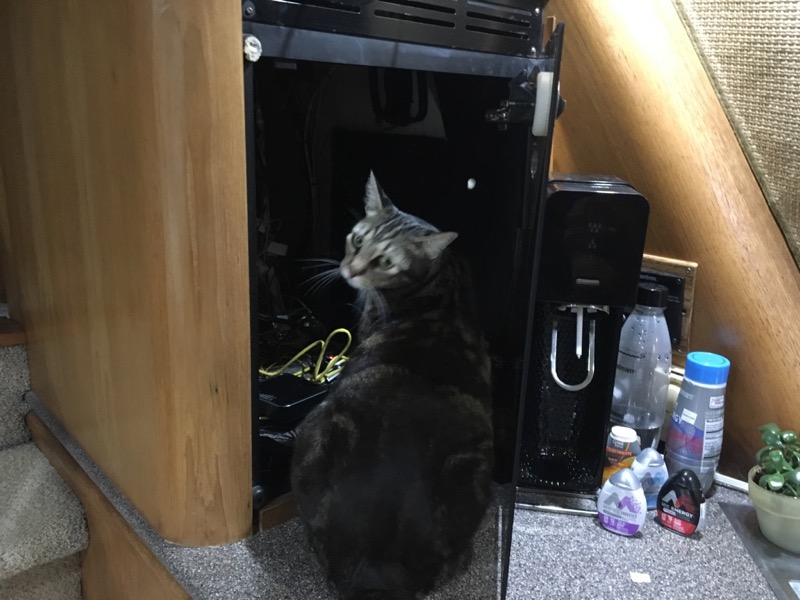 Mobile internet gadgets tend to require power sources. A tech cabinet can provide you with a centralized option for powering all of your gadgets. No more fighting with your partner about whether having the coffee maker or the hotspot plugged in is more important - with a tech cabinet, your mobile internet gadgets have a dedicated power feed.
More advanced networkers will also find that a tech cabinet will provid a specific area to bring together wired ethernet. Even as fast and reliable as 802.11ax "Wi-Fi 6" routers are, wired local Ethernet networks are still more reliable, and most of the time will provide faster sustained data transfers.
Having the option to wire devices is very useful for those who utilize a lot of local traffic such as back-up drives or streaming 4K video from a media server. Being able to divert some of your internet traffic from Wi-Fi to a wired connection is a huge plus if you're looking to maintain speeds.
Having a centralized location (tech cabinet!) to connect your devices will limit the amount of cords running across your mobile space, saving you from accidental mishaps (oops! tripped over the cord again!).
*'Bears. Beets. Battlestar Galactica', 'Michael Scott', and 'Dwight Schrute' are all references to the TV series 'The Office'. This series has been cause for many GBs of data use in Liz's (author's) mobile household.
Signal Enhancing Optimizations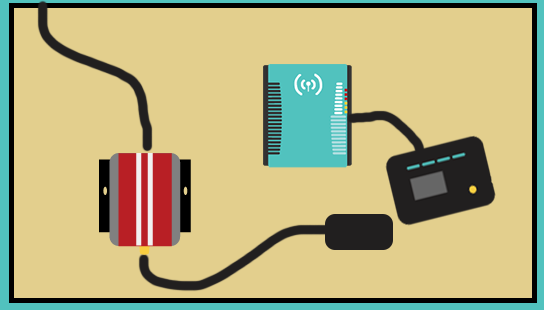 Cell Boosters have interior antennas with notoriously limited range.
While cell boosters are not meant to enhance a signal across a large area (i.e. an entire mobile living space), a cell booster does work very well within a small range.
A tech cabinet allows you to have a focal point to run wiring for enhanced signals to a small area (the cabinet), where you store the gadgets that need enhancing (i.e. router, mobile hotspot device).
You can then spread that nicely enhanced signals to all your tech equipment in one location that then gets distributed to the various devices in your living space via Wi-Fi or ethernet.
Optimization will be discussed further later in this guide.
Member Only Content In This Guide

Has this guide been helpful so far?
Well.. there's a lot more below available to our members - as well as dozens of other guides like this, videos, a classroom, forums, webinars and more. All specifically created for helping keep RVers, cruisers and nomads online.
---
Hopefully you've noticed that our content isn't cluttered with 3rd party advertising, we're not sponsored and we're not reliant on selling you plans or gear to make our content possible.
We are instead community funded via our premium membership program - allowing us to focus on creating unbiased quality, in-depth, constantly updated content.
If mobile internet is an important part of your lifestyle, here are ways you can help:
Become a Member Support this Content
If you're already a member, please log in to see the rest of this guide.
Here's a sneak peak at the member exclusive topics in this guide:
Consideration for your Tech Cabinet
From where to place your tech cabinet, wiring, power sources, ventilation and those annoying blinking lights that come standard on electronics.
Optimizing for Centralization
From creating a mobile network, signal enhancing and strategies for thinking differently about how you utilize your data sources with technologies like Wi-Fi calling.
Tech Cabinet Samples
Our members have shared tours of their tech cabinets for inspiration.
Your Exclusive Member Content
The content below has been created just for YOU - our premium members. This content is part of your exclusive perks.
In respect of your fellow members who make this all possible, please don't share the details below outside of member spaces.
You are welcome however to SHARE A LINK to this page anywhere - non members will be able to view the public/free content contained above, with teases of the content below.
Considerations
Placement
Where will you be using the internet most of the time? It might be most efficient to place your mobile internet arsenal near where you plan to consume data most often. While most mobile internet gear is powerful enough to provide a signal through the length of your mobile home (i.e. routers), some of the more basic devices (i.e. basic hotspots) are not.
If you can get internet where you need it in the first place, you may not need to upgrade or add more devices to your arsenal later. This can also help avoid interference from a neighbor's device as you can dial down your signal and still get the internet you need.
In addition, if you ever end up wanting to hard wire devices directly to your internet gear, you won't have to stretch cords across your rig.
Ideas for Tech Cabinet Placement
You don't need to give up 'prime storage' for your tech cabinet. Solutions are very personalized. Get creative!
A re-used media center above the driver's seat of an older Class-A. (Photo credit: Liz)

Some older nomadic homes have cabinets that were originally designed for older tube type TVs, but most of us have upgraded to lighter flat screen models. These cabinets already have electrical wiring to them, making them a useful location for a tech cabinet.

Many modern rigs have a 'media cabinet' near where those new fangled flat screens/plasmas are located in the rig - use it!
Awkward or hard to reach cabinets - especially those over fridges - are another idea for a tech cabinet location. Power outlets are typically nearby. Also, fridges tend to have venting systems, which can be utilized to run antenna wires through to the roof without having to drive additional holes.
Fifth Wheel dwellers can often establish mobile internet access to their towing vehicle while underway by placing their tech cabinet near the front of their home.
For more information on the differences between routers, jetpacks, and mobile phone hotspotting, see our guide Ways to Use Cellular Data to Get Online.
Wiring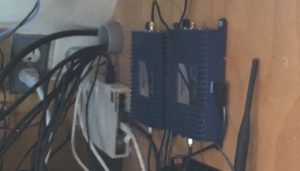 Is there a cabinet or area close to a spot where you are able to attach an antenna to your roof without having to drill?
Vents or objects that already have holes drilled through to the roof - such as TV antennas- can save you time and further worry. Or maybe there is a place in your rig where you are more willing to drill a hole if necessary?
If you are using a booster, is your booster antenna pre-installed? Does it need to be placed in a specific area to work best for your needs (or avoid interference)? If so, we suggest keeping your tech cabinet within 12 feet of your booster antenna - typical booster wire length.
If at all possible, avoid using a cabinet in a slide out as your tech cabinet - especially if roof mounted antennas may be a possibility in your set-up. Slide outs create additional concerns with kinking wires and shifting wiring length needs.
For more on installation, see our guide Cellular & Wi-Fi Antenna Installation Guide for RVs and Boats
Power Sources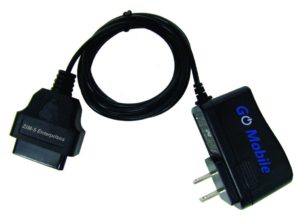 Is there a cabinet that already has electrical outlets appropriate for powering mobile internet devices?
How many of your devices need 12V? 110? USB? Some devices come with built in AC powering systems and some come with 12V "cigarette" jacks. Is there a cabinet or area that already has these options available, or will you need to provide adapters?
This is where you need to know your rig, and your travel needs.
If you plan to boondock and don't have an inverter (or plan to use that inverter), do you have a system to power your devices?
Don't have a 12 volt outlet available and need one? There are a number of different adapters & converters out there, and below some members of our MIRC community have shared what works for them.
MIRC member Bob Martel found this 120v AC to 12v DC converter which makes a good companion to the weBoost Drive Reach which only comes with a 12 volt plug.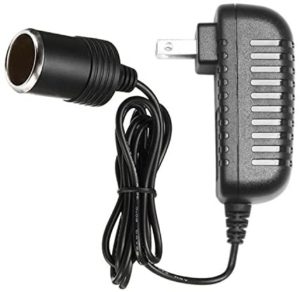 Have only one 12 volt outlet and multiple devices to plug in? MIRC member Dan Aldridge has put this device to good use in his tech cabinet for a number of years. This device not only provides a few more cigarette 12v outlets but also 4 USB ports to keep other devices charged.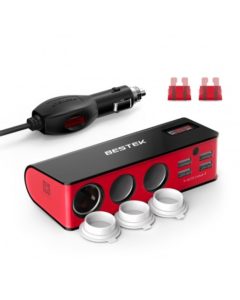 Ventilation
You don't want your mobile internet tech to overheat.
While most tech won't get obnoxiously hot unless you do something like pile clothes on top of it, you'll want to pay attention to this possibility.
While you probably don't need an area with active ventilation (i.e. fans), you should avoid areas with a lot of direct sunlight, other heat sources, or lack of any air flow.
Blinky Lights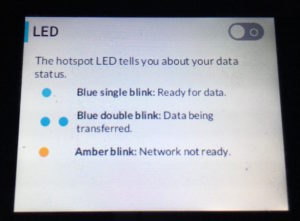 "Ugh, I hate blinky lights!" - Chris Dunphy, MIA Host
Blinking lights are to mobile tech gear what sequins are at 3rd grader's dance recital. That is to say, they are pretty status quo.
They can be distracting, and after a while, obnoxious. In a small space such a nomadic home, one little blinky light can light up a bedroom like a disco.
Here are some solutions:
Some devices have a "stealth" or blackout option that disables status lights
A tech cabinet with a non-transparent door
Electrical tape (over the blinky lights)
Black-out curtains
A hammer (not recommended!)
Remember that you'll lose the feedback these lights give you if you cover them up. However, for your own sanity, it may be worth it.
---
Optimizing for Centralization
Mobile Networking
Having all of your gear one place gives you an easier way to centralize your router and internet inputs to create your mobile network. Particularly if you are creating a wired network, knowing where your tech cabinet will be will determine where to route all of the cabling.
Signal Enhancing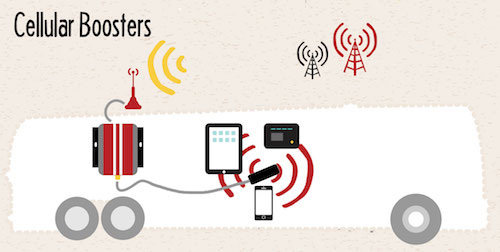 The biggest benefit of a tech cabinet has to do with boosting or enhancing your cellular signal using a mobile booster or external antenna.
A tech cabinet allows you to have a focal point to run wiring for enhanced signals from boosters or antenna wires from the roof to a small area (the cabinet), where you store the gadgets that need enhancing (i.e. router, mobile hotspot device).
External antennas can help channel the available signal past any interference created by RV walls, surrounding buildings, or neighbors. Putting holes in an RV roof can be a daunting endeavor which should be minimized.
Mobile boosters are notorious for their limited range of signal enhancement, as explained further below.
Rather than fight the technology of mobile boosters, you could use a simple trick to get inside coverage for phone calls and data, all throughout your rig:
Create a "boosted zone", aka, tech cabinet!
Instead of trying to create a large "boosted" area that covers your entire interior, focus on boosting just the gear in your tech cabinet.
Then, use a WiFi hotspot feature or router to enable using your boosted connection everywhere in your rig. One gadget in the tech cabinet acting as the WiFi hotspot will get all your other tech online whether they are in the boosted zone or not.
Home boosters are stronger...So why not just use them to cover the entire RV?
Oscillation with a booster occurs when the exterior antenna (such as on your roof) can pick up the signal being transmitted by the interior antenna. It creates a feedback loop, similar to squeal you hear when you step in front of a speaker with a microphone. To prevent this, make sure that the external antenna is located so that it absolutely can not pick up the signal from the inside antenna.
The home and building booster kits have a much stronger amplifier and interior antenna and can cover the size of a room. Included is also a longer cable and usually an exterior directional antenna. You are supposed to mount the outside antenna 40+ feet away from the inside antenna, and locate it so that the outside antenna is aimed towards the cell tower you want to boost and away from the interior antenna.
That sort of layout and separation is much harder to achieve in a nomadic home that may only be 40' long or shorter. This is the primary reason that "mobile" boosters are limited to 50dB gain and have inside antennas designed to boost signal in a very limited localized area. Most mobile users would rather not deal with needing to manually aim an external antenna at each location either.
If you absolutely want to have the most powerful booster possible with you on the road and attempt to provide an enhanced signal RV-wide - it is going to be a challenge.
If you are up for ignoring the FCC rules, juggling antennas, providing shielding and/or dealing with the downsides - you could probably make a full-home booster work in a larger RV or boat.
For more information on boosters, see our guide: Cellular Boosters for RVs Overview
Wi-Fi Calling and Signal Enhancing in a Tech Cabinet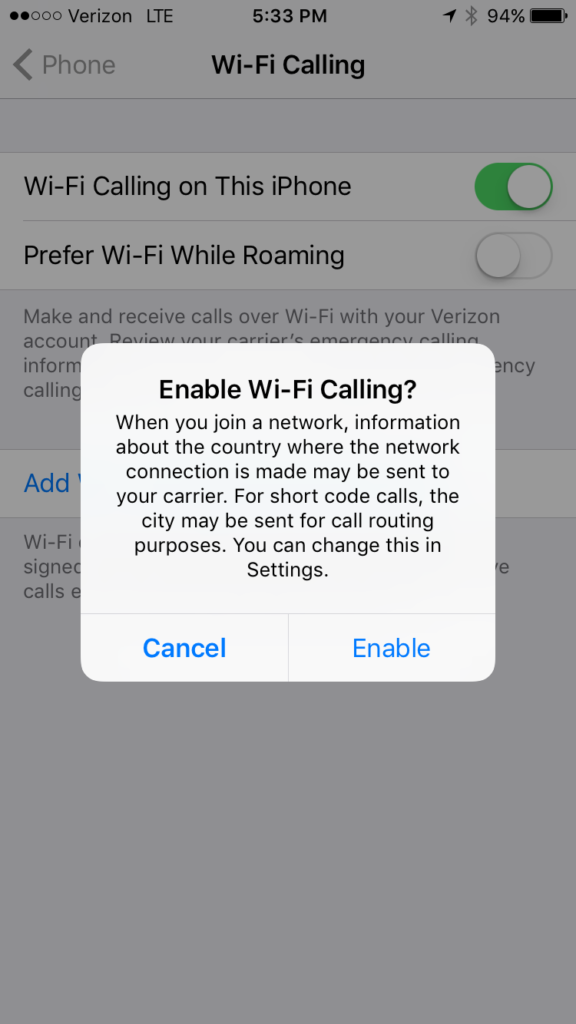 Although we focus on data here, the ability to make voice calls is still an important consideration for nomads.
One concern with centralizing signal enhancement in a static tech cabinet is how to get a better signal to a smartphone for placing and receiving voice calls. If the interior booster antenna is in the tech cabinet, for example, that may not be convenient for boosting a smartphone signal for a voice call.
Nobody wants to stand near their tech cabinet in order to get enough signal for a lengthy phone call.
Safety Note: It is not recommended that you put your cell booster antenna near your ear (and brain). The interior antenna of a cell booster near your head is bad. 8-12'' is the recommended minimum distance by most booster manufacturers.
One way to deal with this problem is to use the Wi-Fi calling feature on a smartphone. This will use your boat or RV Wi-Fi network to route the voice call instead of the smartphone connecting to the cell tower directly.
The advantage of this is that it will take advantage of your centralized gear and signal enhancing strategy in the tech cabinet.
The disadvantage is that Wi-Fi calling will use data from whatever data source is feeding your tech cabinet. But generally, voice calls do not use a lot of data.
An additional safety note about Wi-Fi calling is that it makes it very difficult for emergency services to know where you are if you need to call 911 in an emergency. Smartphones will allow you to enter a location manually when you enable this feature - but you'll need to update it yourself as you travel.
---
Conclusion: Tips for the Best Tech Cabinet Setup
Having a dedicated tech cabinet is great way to get keep all of your gear organized and in a central location. Be sure to take things like placement, wiring, power sources, and ventilation in mind when selecting and building your setup.
Explore the Resource Center
The MIA is our premium membership - designed for those who consider mobile internet an important part of their lifestyle.
In thanks for making content like this possible, we offer a bunch of additional perks. From interactive guidance, in-depth member exclusive content, discounts, alerts, classroom and more.
We totally understand that a membership isn't right for everyone.
However you can still support this content with our supporter level for just $25/year.
With our gratitude, you'll get access to all our free content without the 'nags'.

Have Questions? Stay In the Know
Join our 'Library Desk':
Internet for RVers & Cruisers Facebook Group
We cross post news articles and guides, and can help point you in the right direction to our content here on the resource center.
It is with gratitude to our premium members that we're able to offer our free content - and for that, they also have access our private Q&A areas for more in-depth guidance.
Stay in the Know
We're constantly tracking the industry and analyzing new developments for mobile travelers. If you'd like to receive updates, we offer several ways: