About the Mobile Internet Resource Center
Our goal is to provide a central resource center about mobile internet options for US based travelers - RVers, boaters, truckers and nomads of all sorts.
We have made this our focus so you can save time & money and get out there exploring what drives you!

We Are Honoroed to be Community Funded

We stive to be an unbiased resource center
We are not sponsored by any manufacturer, vendor or service.
We do not display 3rd Party ads.
We are not resellers of any plans, equipment or products.
By receiving most our funding from our premium memberships, we can remain focused on creating quality indepth educational content.
This website is our repository of knowledge on this niche topic and news stories analyzed just for travelers.
We've been building this since 2013, and there's a lot of content (currently over 1000 unique pages!).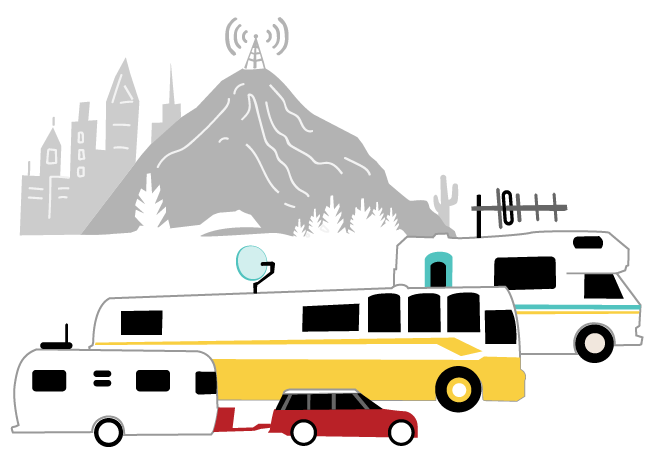 We analyze industry news for how it impacts RVers, cruisers and nomads keeping connected. Stay up to date with the latest plans, products and trends in our News Center.
In our Gear Center we track products specific to mobile internet and overview the options on our radar. We try to get hands on time with a representative sampling, and share our more in-depth reviews & tutorials with our members.
In our Video Center we bring together the video portion of our content for visual learners. Our members also can tune in a couple times a month for our interactive Q&A webinars.
Subscribe to our FREE Monthly Newsletter!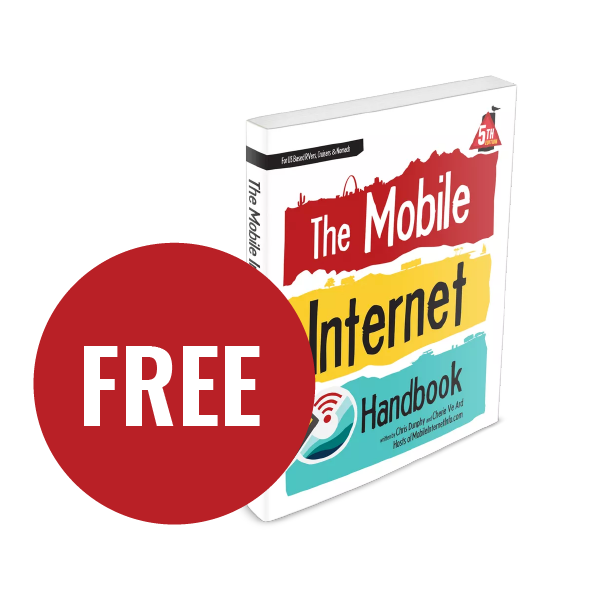 About Our Team
It takes a team to pull off what we do here - and we are honored to be joined by some truly awesome folks who we also consider friends. With the support of our membership keeping us funded, our core team is paid staff - so that we can truly make this mission a focus.
Our team is made up of fellow nomads & travelers. All of us know this topic because we depend on mobile internet ourselves. We are fully distributed, working remotely. Maybe one day we'll all meet?
Cherie Ve Ard

Host & Co-Founder

Cherie was pretty much born an entrepreneur and started using computers while in preschool in the mid-70s. She's been self-employed and location independent since the early 90s as a software developer, project manager, author, niche tech magazine publisher, instructor, strategy consultant and product launch specialist.
Cherie strives to keep our content accessible and explainable. She keeps an eye on the industry, coordinates our team, manages the content & website and orchestrates social media.
With a lifelong thirst for wanderlust, she and Chris met in 2006 and have traveled together full time in both RVs and boats since then - continuing to work remotely the entire time.
You can follow their personal adventures at Technomadia.com.
Chris Dunphy

Host & Co-Founder

In a former life, Chris was the Director of Competitive Analysis (aka 'spy') for Palm & PalmSource (remember the Palm Pilot?) where it was his job to constantly stay on top of every aspect of the mobile industry and plot the future. Before that, he was the founding technical editor of boot magazine (which in now still found on newsstands as Maximum PC).
In 2006, Chris gave up his downtown San Francisco apartment and hit the road full time in a tiny RV, and soon after he met and partnered with Cherie. They have been perpetual nomads ever since.
Chris is our uber expert on things high tech. He tracks the industry, analyzes options, continues to predict the future and authors in-depth and high-geek content.
Our Volunteers
Aside from our paid staff above, it truly takes a team to do all that we do here. So that we can continue to offer a ton of free content to the public and host our free Internet for RVers & Cruisers Facebook group - we are honored to be joined by some willing volunteers to help out.
Jack and his wife have been RVing since the early 2000s. He's a highly respected tech guru on RVing forums. You can follow his adventures at JackDanMayer.com.
He was a supporting force to establishing the Mobile Internet Resource Center. We appreciate him continuing to be on call for our team and chiming in when he has open time.
Tom and his wife Lori are full time RVers, and share their adventures at TomandLoriRVLife.com.
Orignally they were MIA members, and then Tom joined our team to help out with answering questions in our public Internet for RVers and Cruisers Facebook group.
Now in full retirement, he continues as a volunteer moderator.
Jen and her husband Deas have been RVers for many years, traveling with their pack of pups - sharing at NealysonWheels.com.
Jen helps keep an eye on our Internet for RVers and Cruisers Facebook group - which is especially helpful when our staff is busy covering a breaking news story or working on content.
Frequently Asked Questions
The Story of the Mobile Internet Resource Center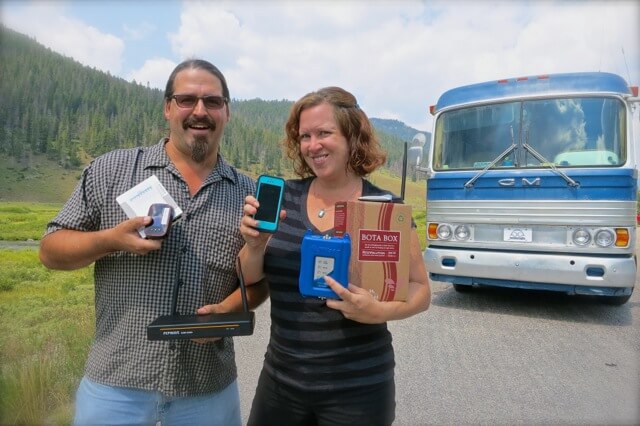 Chris hit the road in 2006 and Cherie joined him soon after. We weren't retired early or taking a gap year - we took our tech careers on the road while we embraced our wanderlust.
We've primarily traveled by RV since then, mixing in other side adventures. We now split our time between RV and boat throughout the year.
We both continued to work remotely as software developers, app developers, authors and strategy consultants. We are honored to have been catalysts for projects like RVillage and Xscapers (a new division if the Escapees RV Club aimed at the 'working aged' RVer) - helping shape them behind the scenes before launch.
Our posts on our personal travel blog, Technomadia, about how we kept online to continue working remotely became some of our most popular.
In 2013, after yet another e-mailed question about the topic - we decided on a whim to compile all of our blog posts on mobile internet into one place for easier access.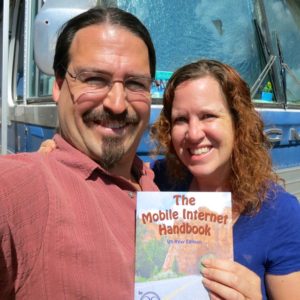 And thus the first edition of The Mobile Internet Handbook was published in under 3 weeks and we went back to our 'day jobs'.

We launched the RV Mobile Internet Resource Center in 2014 after the book was a success and realized it would take a lot of attention to keep this topic updated.
We had to make a decision between continuing to treat covering this topic as a side hobby that was taking up more and more of our time - or jump fully in by giving up our other successful pursuits to focus on this topic. A IndieGoGo funding campaign in 2014 showed us there was massive support for a member supported resource like this.
Originally we focused on RV-specific solutions, but now we are now simply the Mobile Internet Resource Center for all US based nomads.
We would have never imaged it possible - we get to do the things we truly love: play with technology, live mobile and help people pursue their dreams.
And we're honored that we are funded by the very folks we're serving - our fellow nomadic community. And we're thrilled that we've been able to build a team of awesome folks who help us keep on top of this growing resource.
Since we launched this site in 2013, we have conducted over 125 private advising sessions. As much as we love getting to assist our members in this format, finding the time to continue offering them as our membership and content we provide expands became too difficult.
As our primary mission is creating resources that can help the many so have discontinued private advising.
We are considering some alternatives - such as a virtual study group to less structured & shorter sessions.
In the meantime, if you're embarking on your research - please consider utilizing many of the resources we offer. We offer a classroom, book, videos, member forums and regular Q&A webinars. We are always delighted to assist our members in these spaces.
We decided a while ago to not pursue offering affiliates kickbacks for our membership program - all the rage that they are.
The reasons are multi-fold.
For one, we are a community funded resource center. We prefer to keep our membership fees as low as possible for all and not need to build in allowance for affiliate or marketing efforts.
Our marketing plan is pretty simple - we focus on creating quality content worthy of sharing and referencing folks to. We give away a lot of free content & resources that hopefully is valuable to our nomadic communities.
We strive for authentic recommendations and word of mouth referrals to our content & resources that are not incentivized by financial compensation. As we ourselves are not dependent on selling gear or plans to fund this site, we don't want our content/membership to be marketed in this way either. Share it because you WANT to, not because you NEED to.
We do try to take notice however based on where folks say their referrals are from and acknowledge that as best we can.
As far as our book and apps, they're offered on Amazon, iBooks and the app stores. You're of course welcome to use your affiliate links when sharing about them.
When we have a particular role to fill, we tend to first look from within our premium membership to hire from. We feel those who are called to join & support this site have the best understanding of our content and mission.
However, we are always on the look out for contributors to the resource center who can help fill in areas we don't have fully covered yet. If you have a particular experience that you'd like to contribute - be in touch at info@mobileinternetinfo.com.