Cellular Boosters for Mobile Data Performance
Boosters are a popular (and pricey) option to get a better cellular signal for stabilizing cellular signals. They are particularly effective for phone calls and texting applications and are frequently promoted for mobile internet cellular-based connections.
However, there are many trade-offs when it comes to using a booster to improve a cellular data connection. Are they the right choice for cellular data performance, and more important - for your mobile internet arsenal?
One of the problems with cellular-based internet is that your data performance can vary greatly depending on many different factors:
The location of the cellular tower relative to your location
Weather
How many people are using the tower
Local terrain - mountains, valleys, and even trees
Nearby buildings
The structure of your RV or boat
The antennas and modem built into your cellular device
The terms of your data plan
But not all of these factors can be improved with extra equipment like boosters and antennas.
Cellular boosters are just one of several signal-enhancing options.
In some situations, they can be lifesavers, making a finicky signal usable enough to get online to surf the web, get work done, or even stream video.
However, in many other situations boosters might not make a difference at all... or might even degrade your cellular data speeds!
As boosters are a pricey investment, we strongly encourage you to learn more about this technology, and signal enhancing in general, before investing in a booster.
We're not here to convince you to get a booster, but rather to help you make an informed choice to determine if a booster will make a significant enough role in your setup to merit the cost and installation efforts.
If you decide a booster is a fit for you, you'll find some of the most popular models featured at the bottom of this guide. We have full reviews and hundreds of hours of hands-on time with many models to share.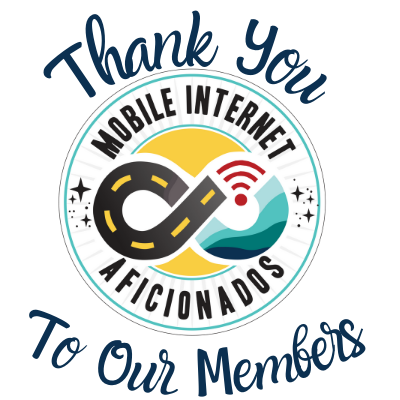 If you're a member, please log in above to access the exclusive portions of our content.
We are honored to be able to offer a ton of free content, including portions of this page, without advertising or other distractions.
It is with huge gratitude to our premium members for making this resource center possible. We don't accept 3rd Party Advertising, we're not sponsored and we don't sell stuff.
For their support, our members have exclusive access to the more in-depth educational content, classrooms, vendor discounts, alerts, insider info and interactive guidance.
If mobile internet is an important part of your lifestyle, consider becoming a member and helping us keep our content constantly updated and go further:
Cellular Booster Basics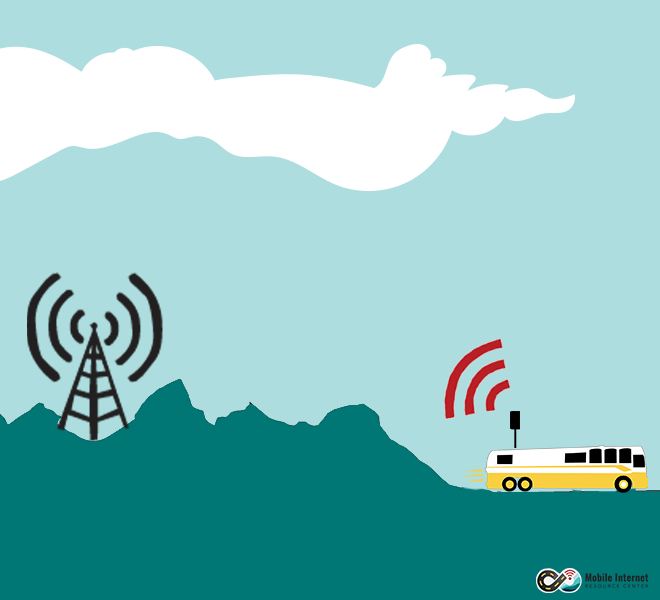 Let's start with the very basics.
A cellular booster is a signal-enhancing device that you can purchase to help you get a better signal to your smartphone, mobile hotspot, tablet, or cellular embedded router.
A cellular booster works by using an amplifier and antennas to increase a cellular signal for your devices.
A booster works to increase the signal in both directions - amplifying your transmissions both to and from the cell tower.
A cellular booster is like a hearing aid and megaphone rolled into one - designed to help your cellular devices better communicate with your carrier's tower.
Using a booster effectively can create a stronger signal within a small area of your RV, vehicle, or boat.
A stronger signal can result in a more stable connection, fewer dropped calls, sometimes faster data speeds, and even improved battery life, since your devices do not need to work as hard to communicate.
But a booster is not a magic bullet - and it is important to understand how it works, and when it is appropriate to use one.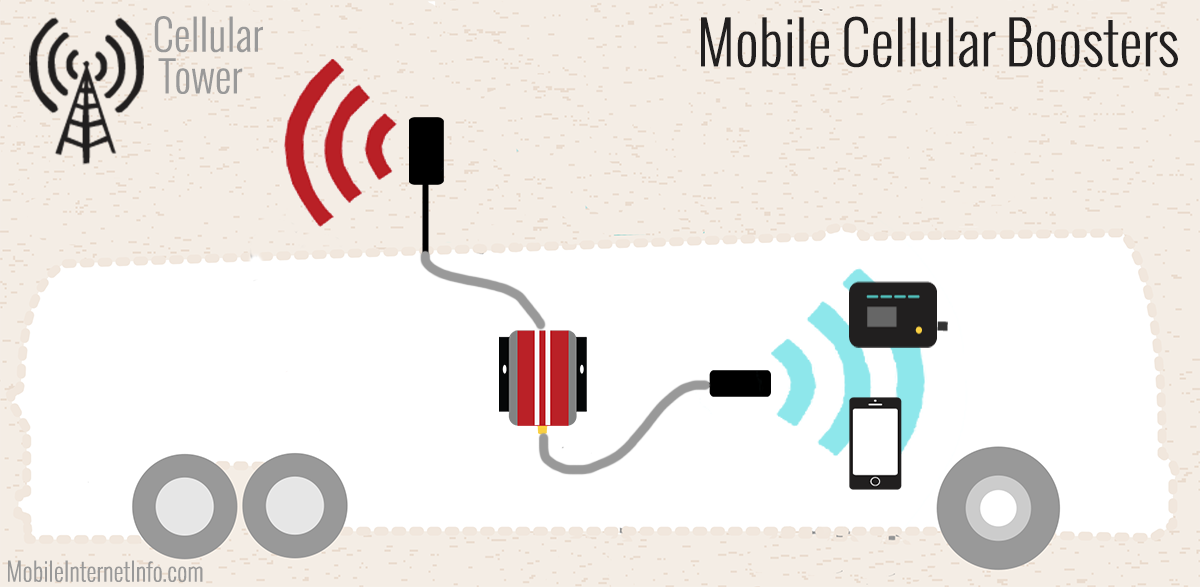 The Three Parts of a Booster
External Antenna
Also called the donor antenna, the external antenna is placed on the top of your RV or boat, or perhaps even in a window. Theoretically, it should be more capable and better positioned than the antennas built into your phone, mobile hotspot, or tablet.
Amplifier
This is the box part of many booster designs that the received signal passes through. It contains electronics that amplify the signal and then re-transmit it. It's the brains of the setup.
Interior Antenna
Most boosters work by broadcasting the amplified signal wirelessly via an indoor antenna, allowing any cellular device within range to receive an improved signal for both voice and cellular data.
When your device transmits back to the cellular tower, this is all done in reverse – and the more powerful transmitter inside the amplifier allows the tower to be better able to hear your cellular device. That's the megaphone part of the equation.
Because of the stronger transmit power of the booster, it's quite common to see increased upload speeds when using a booster, even if download speeds might stay the same, or even be reduced when the booster is engaged.
Boosters can't make a signal out of nothing. There has to be some signal for a booster to amplify, and even then it may take some tweaking.
Boosters and Oscillation
One challenge all boosters face is "oscillation" - the potential feedback loop that happens when the outdoor antenna picks up the boosted signal broadcast on the indoor antenna.
This is similar to the loud squealing feedback that happens when you walk in front of a speaker while using a microphone, only it is the booster hearing the squeal - not your ears.
Boosters are designed to automatically detect oscillation and shut down when it happens - but the need to avoid oscillation limits booster power and antenna placement options, particularly in smaller vehicles. Thus mobile boosters tend to only cast an amplified signal a few feet at best from the interior antenna to prevent oscillation and powering down.
We'll talk a lot more about oscillation in the member section below.
---
Do You Need a Cellular Booster?
Cellular boosters are often promoted online as being a game changer, that every RVer and boater should absolutely have onboard.
This is a result of effective marketing by booster manufacturers - they've done a great job of getting boosters into the hands of social media influencers with affiliate links.
And in the right situations, boosters CAN make a huge difference and they might indeed be an appropriate fit for your setup. But that is not always the case. Boosters have two major downsides that we discuss in more detail later in this guide:
Boostable Frequencies
In the United States, the FCC regulates which frequencies cellular boosters can use. And, these approved frequencies do not cover all the cellular frequencies used today. There are many important cellular frequencies that boosters cannot help with due to FCC regulations.
Boosters vs MIMO
Much of the increased performance in cellular data for LTE and 5G is thanks to a technology called MIMO, or Multi-In Multi-Out. In short, MIMO gives your cellular device more than one "ear" to listen to and transmit. All modern cellular devices have at least two antennas built in - just as you have two ears. Each antenna hears a slightly different signal, which gives your modem more to work with resulting in increased speeds and stability. More modern modems have four antennas which offer even greater potential stability, reliability, and speed.
Boosters, however, cannot take advantage of MIMO because they use just a single exterior antenna and can only work with a single signal at a time. That single amplified signal is then broadcast to your cellular device, losing the redudancy of multiple signals the MIMO provides. It's the equivalent of plugging one of your ears. You can still hear, but not as well.
Because of this, it's not at all uncommon for a booster to actually result in decreased data speeds, despite a stronger signal reading. For this reason, using a cellular device's built-in antennas or externally connected antennas can often outperform a booster.
Booster Value and Effectiveness
As time and technology progress, the benefits of a booster continue to diminish compared to signal-enhancing alternatives that can take advantage of MIMO and the full range of cellular spectrum available on modern cellular networks. The lack of MIMO support and the limited frequency support make boosters less than ideal in many cases.
In our extensive testing over the years, MIMO antennas are the optimal signal enhancing choice for data more than 80% of the time.
You'll have to decide if the high cost of a booster is worth it since it will probably be a niche tool.
Here are specific situations and cases where boosters make the most sense:
Devices that lack antenna ports - This includes smartphones, tablets, and many mobile hotspot devices. Boosters are more likely to help because adding an external MIMO antenna is not an option.
In the boonies - If you're located in fringe or very weak signal areas that are distant from cell towers. These are most often very rural areas far from civilization. In this case, the extra amplification of a booster might perform better than antennas alone by enabling the signal to reach a distant tower.
Boosting upload performance - A booster adds amplification to your signal back to the tower and is much stronger than the cellular radios in most cellular devices. Amplifying the upload portion can greatly improve upload data performance which can be important for video casting, video conferences, or large file uploads.
As a general rule of thumb:
If you're going to be traveling to different locations, and rely on:

Cellular devices without antenna ports (smartphones & tablets) then having a booster on board can be a great .. even necessary.. tool in your mobile internet arsenal.
Cellular devices with antenna ports (mobile hotspot devices, routers) then having a booster on board might be worthwhile as a secondary option to try - but we recommend direct antennas as your primary solution.

While MIMO antennas will likely be the primary way you enhance your signal, if UPLOAD speeds are important to you then a booster could prove to be useful enough to have as part of your arsenal.

If you're mainly stationary and:

Getting poor signal, then trying a booster or antennas might help.
Already getting a good signal & data speeds - then a booster is probably not needed, but antennas might improve things further.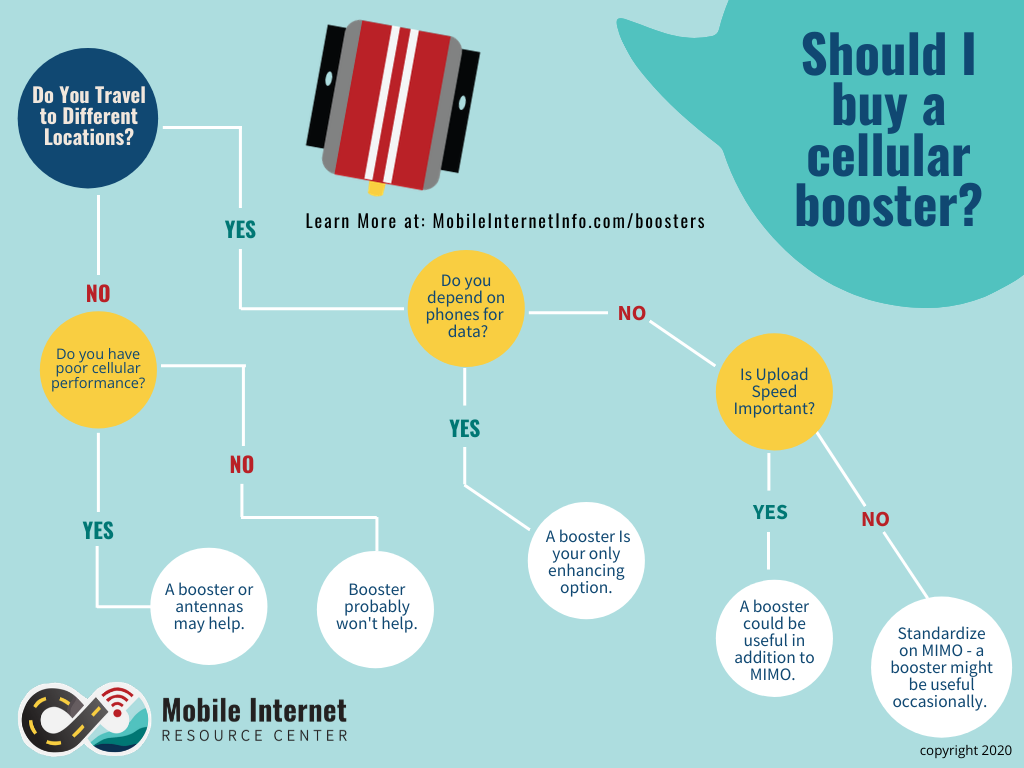 For a plain English explanation of MIMO vs Boosters, check out our video:
As we've discussed, cellular signal enhancement is a big topic. There are a lot of variables.
It helps to understand a bit more about frequency bands, decibels, signal-to-noise ratio, and MIMO to help you decide on your signal-enhancing strategy.
For more, our in-depth guide on signal enhancing:
Will a Booster Work With All Carriers or Devices?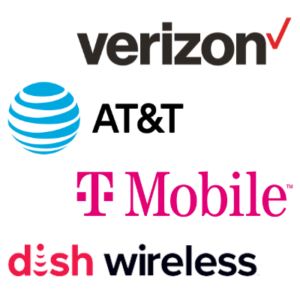 Most boosters on the market today are multi-carrier compatible, however they only cover a small handful of the frequency bands utilized by the carriers due to FCC regulations.
The bands legally approved for mobile consumer boosters include Bands 2, 4, 5, 12, 13, and 25. The booster will also support the 5G versions of these bands, n2, n4, n5, n12, n13, and n25.
But many cellular carriers use and depend on several cellular bands that aren't on this list.
Here is an overview of how well boosters support each of the cell networks:
Verizon
Boosters cover the most important core bands for Verizon but few of the secondary bands that Verizon uses. But overall, Verizon is well supported by approved booster frequencies.
AT&T
AT&T is also fairly well supported but notable exceptions are Bands 14 and 30.
Band 14 is a newer cellular band and is a longer-range band commonly found in more rural areas where boosters are most useful.
Band 30 is a unique AT&T band that is an oddball.
T-Mobile
T-Mobile uses bands 2, 4, 5, and 12 but has a few core bands that boosters do not support.
Band 71 - This is T-Mobile's critical long-range (600 MHz spectrum) for both LTE and 5G and is most important in rural areas where boosters are most useful.
Band 41 - Formerly a Sprint band, this frequency is a very important band for T-Mobile, especially on 5G as n41.
Band 25 - Also a former Sprint band, this frequency is only directly supported by some of the newest and higher-end boosters on the market. Many older and cheap boosters do not support this band.
We dive in deep to give the super-geek explanation of why T-Mobile is a challenge for boosters later in this guide.
Dish
Dish is a 5G-only network that has licenses to the following 5G cellular bands: n26, n29, n48, n66, n70, n71. Besides parts of n26, none of these bands are supported by boosters.
Before purchasing, always compare the bands that your carrier and devices support with the frequency bands the booster is rated for.
This guide goes further into cellular frequencies:
Understanding Cellular Frequencies
Device Compatibility
Boosters can work with any cellular-enabled device - smartphones, tablets, wearables, mobile hotspots, embedded routers, connected cars, and embedded laptops.
Single device boosters (such as cradle-style boosters) are designed for just one device at a time but can sometimes work with multiple devices within very close proximity.
More powerful boosters are designed to support multiple devices at the same time, so any device within range of the interior antenna will benefit from the amplified signal. However, boosting multiple devices at once will reduce the enhanced signal received by each device, as they share the power of the amplifier. To optimize data performance to a single device, keep only that device active within the reach of the interior antenna.
Avoid Boosting Your Expectations
Boosters can be an amazing complement to your mobile internet setup, and can make the difference sometimes in whether you can make a particular location work or not for your connectivity needs.
But they are not miracle devices, and there's a lot of confusion over what they can and can not do.
A booster can help with these signal challenging situations:
Distance to the cellular tower
Overcoming obstacles that may be between you and the tower
Your own RV or boat's construction (metal rigs like Airstreams and steel hulled boats can actually block signals).
A booster cannot help in these situations:
Using an overloaded tower
No signal to begin with
Improving an already great signal (boosters can actually decrease data speeds on already good signals!)
Getting around hard throttles or network management on your data plan
You also should not expect a booster to provide an improved signal throughout your entire RV or boat.
Do Cellular Boosters Help Wi-Fi?
There's also a good bit of confusion between cellular and Wi-Fi - they are both, after all, wireless signals. But they operate on very different frequencies.
Cellular boosters are designed to only work with cellular frequencies, and can not help with getting a better Wi-Fi signal. If you're looking to get a better connection to your campground or marina's Wi-Fi network, you'll need different gear (See Getting a Better Wi-Fi Signal).
The confusing part is that many cellular devices can create their own Wi-Fi network that you connect to, such as the personal hotspot off your smartphone, or connecting to your mobile hotspot device. So when you enhance your cellular signal your entire internet experience may improve. But you're not actually improving the Wi-Fi signal itself with a cellular booster, just the cellular connection that your Wi-Fi network is distributing.
Confusing sometimes, we know.
Here's more on this:
Member Exclusive Content In This Guide
Has this guide been helpful so far?
Well.. there's a lot more below available to our members. As well as dozens of other guides like this, videos, classrooms, forums, webinars and more. All specifically created for helping keep RVers, cruisers and nomads online.
Consider Becoming a Member
If mobile internet is an important part of your lifestyle, a membership can help keep you connected with these exclusive benefits:
in-depth exclusive content
interactive guidance
vendor discounts
alerts & insider tips
classroom
community
Free Content Like This Made Possible By Our Members!
We are community funded via our premium membership program - allowing us to focus on creating unbiased quality, in-depth, constantly updated content. We don't accept 3rd party advertising, we're not sponsored and we don't sell 'stuff'.
Already a member?
Log in to continue with this guide.
Check out the Topics Covered in the Member Section:
Types of Boosters
What kind of booster do you need? Mobile or residential, analog or digital, cradle or multi-device, wideband or dual band, machine-to-machine?
Boosters & Antennas
This section goes deeper into the difference between using a booster or antennas only, using different antennas with a booster and explaining how MIMO and boosters are different.
Booster Installation
From grounding planes for your antenna, avoiding oscillation, options for a towable RVing setup to stationary booster considerations in a mobile environment.
Special Case Boosters
This section covers using two boosters in a MIMO configuration, and boosters in a 5G world.
Troubleshooting, Tips & Tricks
Having trouble with your booster? This section goes over tips for when your booster just doesn't seem to be doing anything - from no change in bars, no change in performance to even decreased speeds despite a better signal.
---
Mobile Cellular Boosters On the Market:
Below are some of the popular/featured boosters that have either excelled in our independent testing or offers some unique features. Click on over to our full Mobile Cellular Boosters Gear Center to see all of the options currently on the market.
Beware Illegal Boosters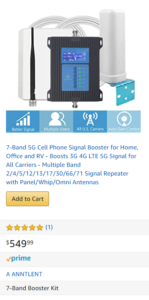 With the introduction of newer cellular bands like T-Mobile's Band 71 in addition to 5G devices, unscrupulous makers are starting to sell illegal boosters that are not certified by the FCC on popular online retail sites like Amazon and eBay.
These listings will sell boosters that claim to boost frequencies and bands that are not authorized by the FCC for the US. Currently, the FCC only permits cellular boosting for parts of the following frequencies:
700MHz
850MHz
1700MHz
1900MHz
2100MHz
Legitimate consumer wideband LTE boosters will cover these five frequency ranges and are advertised as "quint" or 5-band cellular boosters.
Illegal boosters will claim to cover additional frequencies, usually 600MHz and 2300MHz, and advertise themselves as 7-band cellular boosters. The FCC does not permit consumer cellular boosters to boost these frequencies.
Using these boosters can result in a knock on your door by the FCC. Using them is not legal even though they are sold on Amazon, eBay, and other legitimate sites and appear to be legitimate. Some have even appeared on Amazon with the "Amazon Choice" label.
US law and FCC regulations state that consumers can be liable for penalties of over $100k for using non certified devices, although we have not heard of anyone receiving fines.
Spotting an Illegal Booster
Usually, illegal boosters will come from second-tier brands in the booster marker or manufacturers that you've never heard of. Common brands that are sold illegally include Phonetone, Anntlent, and Anycall, but there are many others. These boosters are typically shipped directly from China. Here are some signs that a booster is illegal:
Product claims to be FCC certified but provides no FCC certification number
Boosting frequencies other than 700/850/1700/1900/2100 MHz
Claims to be able to boost any of the following bands: Band 71, Band 30, or Band 41
Claims that the booster is a "7" band booster
Bogus reviews - Sellers will copy or create false reviews, sometimes using reviews from completely unrelated products.
---
Summary: Boosters Can Be Helpful, in the Right Circumstances
In the right circumstances, a booster can be an integral part of your internet arsenal. But before you invest in one, make sure you understand what they can and can't do.
They can improve a cellular signal, particularly if you're far away from a cell tower. But it won't typically help if you don't have a signal to begin with, or if you're experiencing throttling or network management.
In many situations an antenna might be a better answer, so be sure to do a good analysis of your current needs and set up before committing.
---
Cellular boosters can be quite useful for boosting the signal to a smartphone to get a more solid phone call. But when it comes to enhancing cellular data performance, things get more complicated.
Because of a technology called MIMO (multiple in multiple out) that is essential to LTE and 5G data, often times the internal antennas on a smartphone or hotspot don't benefit from an amplified signal. Boosters also only cover a handful of the frequency bands the carries use for data.
But a booster can play a role in a mobile internet arsenal - as they excel during times when you are really far from a tower, or where upload speeds are important (such as video broadcasting).
For more on understanding boosters vs. MIMO - check out video:
For more on signal enhancing, including understanding boosters and the many forms they come in - follow up with our guides:
Explore the Resource Center
Join our 'Library Desk':
Internet for RVers & Cruisers Facebook Group
We cross post news articles and guides, and can help point you in the right direction to our content here on the resource center.
It is with gratitude to our premium members that we're able to offer our free content - and for that, they also have access our private Q&A areas for more in-depth guidance.
The MIA is our premium membership - designed for those who consider mobile internet an important part of their lifestyle.
In thanks for making content like this possible, we offer a bunch of additional perks. From interactive guidance, in-depth member exclusive content, discounts, alerts, classroom and more.
We totally understand that a membership isn't right for everyone.
However you can still support this content with our supporter level for just $25/year.
With our gratitude, you'll get access to all our free content without the 'nags'.

Stay In the Know
We're constantly tracking the industry and analyzing new developments for mobile travelers. If you'd like to receive updates, we offer several ways: