Alternatives to Mobile Internet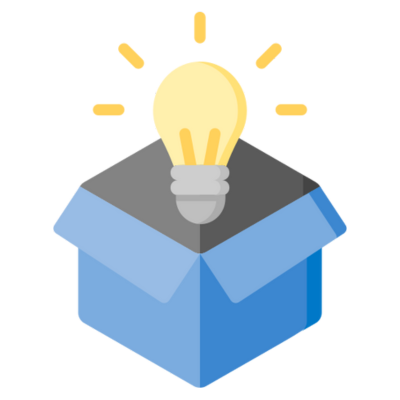 When talking about mobile internet, most of us are already familiar with the most common ways to stay connected: Cellular, Wi-Fi, and Satellite.
But what if you're in an area where none of these options are available?
If you are willing to get a little creative and think outside the box, there may be some other options for communicating that can also be used.
First, before we get started, here are the primary mobile internet options:
Hardwired Internet - Cable or DSL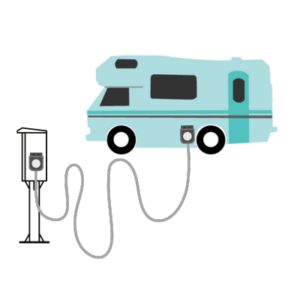 Being mobile doesn't necessarily mean having to use only mobile internet! Sometimes traditional, hardwired internet can be an option. If you're planning to be in one spot for a while, hooking directly up to wired cable or DSL is a possibility.
RV parks and mobile home parks with RV spaces that cater to long-term residents and permanent dwellers sometimes already have cable or internet pulled to each site. Some high-end and newer RV resorts are offering this as well.
The hard wired internet may already by hooked up and ready to go, or you may need to sign up for service yourself. All it takes is contacting the local cable or DSL provider to get sign up and have them bring you the necessary modem.
Depending on the provider, the costs to get started can be very reasonable. There are often not any long-term contracts required, and you may be able cancel after just a few weeks or months without penalties. You can typically rent the necessary equipment for a few dollars a month, instead of buying it.
If you find yourself signing up for cable internet frequently, you might also consider buying your own cable modem. Many providers utilize the same modem standard, so if you already have one with you, activation may be even quicker.
The advantage of going with cable or DSL is that you'll have really fast, unlimited internet. After rationing out bandwidth on the road for months on end, spending a few weeks drinking from the firehose can feel incredibly decadent and absolutely awesome! Temporarily embracing a wired lifestyle can sometimes be very worth it for us bandwidth junkies – perfect for hyper-focusing on a work project or downloading a bunch of movies before heading back out on the road.
WISP Access (Wireless Internet Service Providers)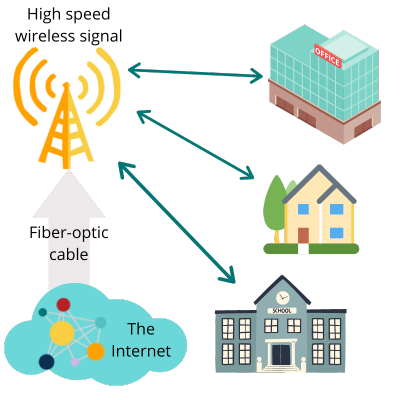 There are some rural or remote areas that can't be serviced by traditional high speed internet like cable or DSL, such as the mountainous Western US. In areas like this, a WISP may be an option for temporary service.
A WISP, or Wireless Internet Service Provider, connects users to the internet using designated hot spots or access points via a wireless connection.
WISP providers distribute an internet connection to transmitters on local high points, such as tall buildings or even mountains. They then broadcast that signal wirelessly to receivers on the roofs of local customers.
A WISP doesn't need to run wires for new service. So if you have a view to the right mountain or hillside, you might be able to sign up with a WISP even if you are in a remote boondocking spot miles from the nearest cable run or phone line. It all depends on the line of sight.
To find out if WISP might be an option in your area, check local advertising periodicals, signs in grocery stores or laundromats, the Yellow Pages, Google, or talk to local computer repair professionals for leads.
Signing up with a WISP usually requires professional installation, so may not make sense for short-term stays. But if you're going to be somewhere for an extended period of time where a WISP is available, then this idea might work for you.
---
Co-Working Spaces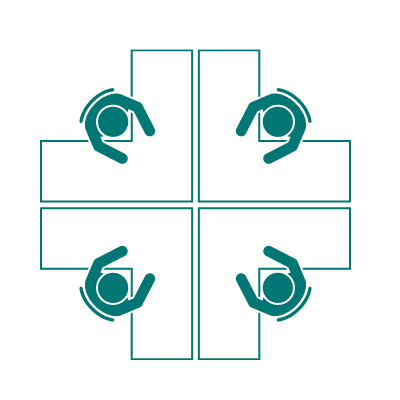 Co-working spaces are office spaces setup for independent workers to use for short term needs. They offer amenities like desks, internet connections, and private meeting rooms. Working from a co-working space can be more productive and quiet than trying to work from a public space like a cafe, as everyone in a co-working space will also be working.
Co-working spaces not only provide a great place to access a strong internet connection, but they also allow an individual who often works in isolation to work among other professionals. These can be an ideal option for a mobile worker to set up an office base camp.
Co-working spaces are located all over the country, particularly in larger cities. You'll need to be buy a pass or purchase a membership in order to use them. Some of them offer short-term options like hourly or daily passes, and some may offer longer terms such as weekly, monthly, or even yearly.
There are several co-working resources available - from helping you locate spaces, book time slots, to or purchase memberships for spaces across the country.
---
Amateur Ham Radio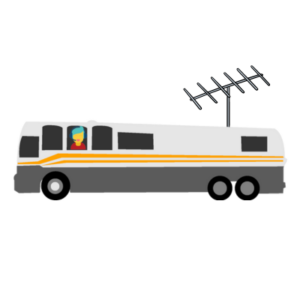 If you're a licensed ham radio operator with the correct equipment, you can get connected just about anywhere.
The important thing to know about amateur radio is that it is strictly for amateur use – it is against the law to use the amateur radio bands for any commercial purpose - including using work email - or to transmit any encrypted data - like online banking.
Even with the inherent limitations, as a ham radio operator you will be able to manage some very basic connectivity on the go, wherever you are.
If you are interested in learning more about ham radio, there is an incredibly vibrant and experienced online community very willing to mentor newbies. If tinkering with radios turns you on, this can be a great free way to get online. A good place to start is the ARRL – the National Association for Amateur Radio.
Ham radio operators can use a service called Winlink, which allows you to send noncommercial emails over amateur radio frequencies.
An additional ham resource we're aware of is Broadband-Hamnet – an experimental, high-speed, wireless broadband network that uses Wi-Fi networking gear with custom firmware to build a self-configuring mesh network. If you are in an area with other users, you can be part of creating a widespread network that stretches much further than a single user alone could ever communicate.
---
Borrowing a Hotspot from a Library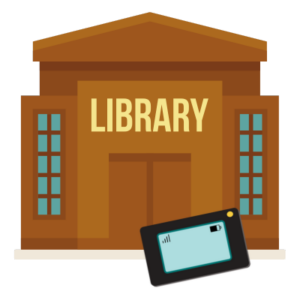 Many local libraries lend mobile hotspots, loadedd with data, to their patrons. This can be a great way to get some extra data for a low cost, or even free.
The catch is that libraries will likely require that you have a library card in order to check out the hotspot. And in order to get the library card, they may require a home address within the territory of the library system. If you don't have a local address, some library systems may let you use a local forwarding address in order to get a card. You'll need to ask to find out what their requirements area.
There are a few libraries systems that will provide you a library card even if you are not a resident of their jurisdiction - typically for a fee. This can be an easy answer to the library card requirement, as long as are in the area one of these libraries service.
Be sure to read the rules of your library's hotspot lending program. Enquire about:
what carrier they are using
how much data you are permitted to use
if there are any fees associated with using the hotspot
While not a long-term solution - library hotspot lending services could get you by for a short period!
---
Satellite Communicators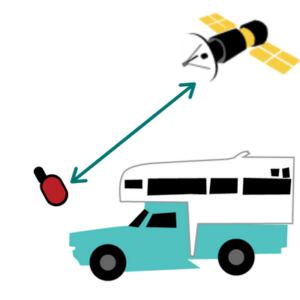 If you're going to be in an area with no cellular or Wi-Fi service, but your primary concern is just being able to keep connected for safety, trip coordination, weather, and basic texting for the short term - a basic satellite communicator may come in very handy.
Satellite communicators like the Garmin inReach, Globalstar Sat-Fi, or Iridium Go give you the ability to have a connection almost anywhere, without the need for bulky dishes that other satellite providers require.
You will need to live with speeds that would make an old-school dial-up modem seem fast, and trade web surfing for text messaging.
Being able to communicate by nothing more than text messaging may seem incredibly limiting in the era of fast broadband. But those text messages can convey complicated instructions, and can actually return valuable results and provide needed communications.
You may not be web surfing in style - but this level of affordable capability from literally the middle of nowhere can be very useful.
---
Have Someone Else Help You
If you're somewhere with a really slow and unstable internet connection, it might take you a considerable amount of time to research trip planning or make reservations.
But you may have just enough internet to get in touch with someone else. And if that someone else has a fast internet connection - then perhaps that person can help you with your research. Maybe they can even do it for you, and get back to you later with the results or needed information.
Tap into Online Community
Do you have a blog or Instagram account that you post to frequently? Or do you have hundreds of Facebook friends? Rather than fighting for hours with a slow connection, take advantage of those online communities. If you can get online for just a few minutes, you can post a request for advice and information to one of those forums.
Especially if you're asking other RVers, this can be a great option for assistance with routing recommendations, advice on where to stay, or ideas for what to do in a new city.
And, of course, return the favor for others when you have a good internet connection and someone else needs a little information.
Credit Card Concierge
There is a chance that you might already have a personal assistant on call and not even know it!
Some credit cards (such as Visa's Signature cards and many AMEX cards) offer a concierge perk, and it can actually be surprisingly useful. This type of concierge service may be particularly helpful in terms of making reservations or route planning.
As long as you have a phone service, a quick call to your credit card's concierge program can be a valuable resource in a pinch.
Online Virtual Assistant Services
If you have tasks that are more complicated than a free concierge can handle, or if you want a concierge who "knows you," there are many online personal assistant and concierge services that you can subscribe to.
Sites like Time Etc, Upwork, or Fancy Hands will either assign you a dedicated assistant for a monthly fee, or you can pay for a certain number of requests each month.
Dedicated Assistant
Some nomads have found it worthwhile to actually have someone on staff.
If you are running a business and need to keep up appearances of always being available, having someone who answers the phone, triages replies to emails & social media, and handles making reservations for you can buy a lot of flexibility and freedom.
Having a fast and reliable assistant can ultimately minimize your need for staying close to fast and reliable internet.
Here at the Mobile Internet Resource Center we've been able to build a team (thanks to our member's support) so that one of us is always available during business hours to keep on top of breaking stories and address member questions.
Use Technology to Help You Plan Ahead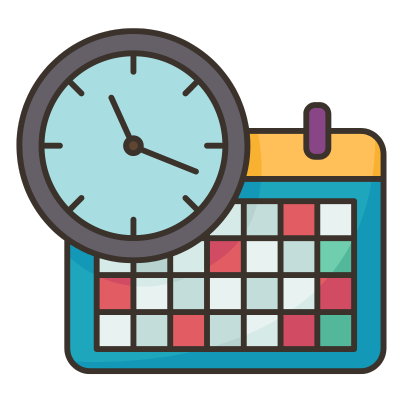 If you know in advance that you're going to be in an internet dead zone, but have some social media posts that you want to make during that period, there are tools you can use to help schedule those posts ahead of time.
Scheduling features are already included with many social media sites, such as Facebook and WordPress.
There are also integrated programs you can use to help you with scheduled posting, such as SocialBee, SocialPilot, and Sendible, among many others. Many of these services are free, but many come with some limitations. Others have inexpensive plans that range from as low as $11 all the way up to several hundred dollars.
Some other examples of this type of platform are: agorapulse, CoSchedule, Zoho Social, eClincher, MavSocial, MeetEdgar, SmarterQueue, StatusBrew, NapoleonCat, Post Planner, Planable, Buffer, HootSuite, Tailwind, and IFTTT.
---
Video Overview
A quick video going over this topic:
---
Conclusion: Consider Non-Traditional Mobile Internet Options
Sometimes, mobile internet isn't the only way to go! If you're confronted with poor cellular, WiFi, or satellite internet, thinking outside the realm of typical solutions could cause you to stumble upon some new ways of allowing you to complete internet-based tasks.
Additional Reading
Here are some other guides on using mobile internet:
Explore the Resource Center
Join our 'Library Desk':
Internet for RVers & Cruisers Facebook Group
We cross post news articles and guides, and can help point you in the right direction to our content here on the resource center.
It is with gratitude to our premium members that we're able to offer our free content - and for that, they also have access our private Q&A areas for more in-depth guidance.
The MIA is our premium membership - designed for those who consider mobile internet an important part of their lifestyle.
In thanks for making content like this possible, we offer a bunch of additional perks. From interactive guidance, in-depth member exclusive content, discounts, alerts, classroom and more.
We totally understand that a membership isn't right for everyone.
However you can still support this content with our supporter level for just $25/year.
With our gratitude, you'll get access to all our free content without the 'nags'.

Stay In the Know
We're constantly tracking the industry and analyzing new developments for mobile travelers. If you'd like to receive updates, we offer several ways: