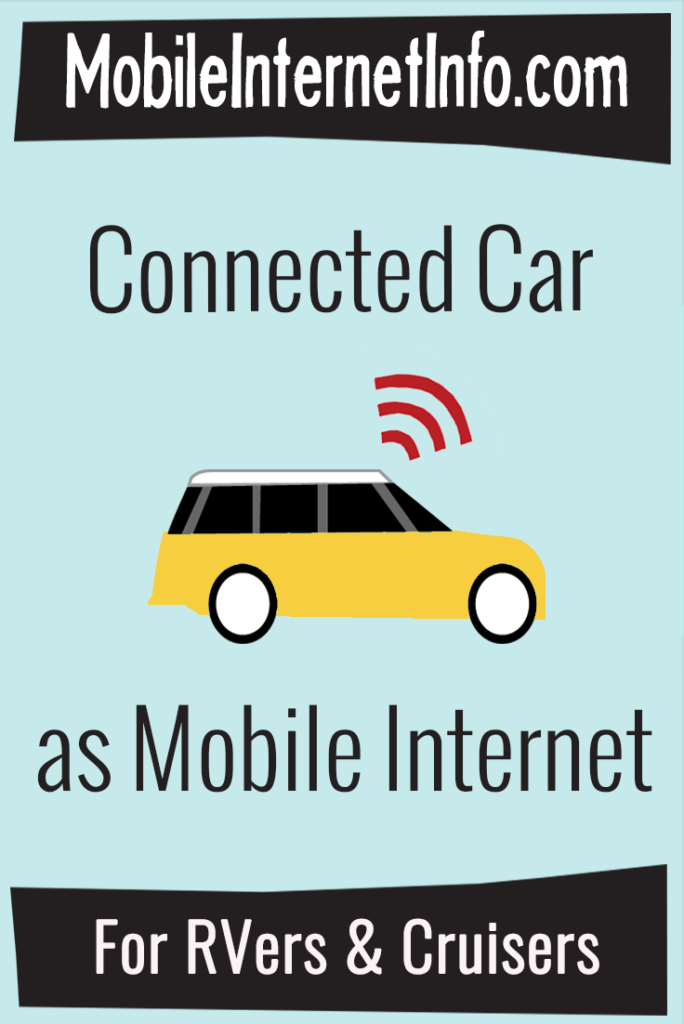 Using Connected Car & RV Solutions
With the power of the internet, product manufacturers are busy adding connectivity to virtually everything - doorbells, pet feeders, toasters, laundry machines - you name it!
Naturally, this trend includes all kinds of vehicles from cars to boats to RVs.
Nomads who want internet connectivity on the road often build that capability by assembling a mobile internet arsenal from scratch to fit their needs. But increasingly, auto and RV manufacturers are adding factory-installed options for internet access as standard or optional equipment.
While a one-stop shopping solution can simplify the research phase, for the serious mobile internet user, these solutions may have compromises that make them less than ideal as a home internet replacement.
Can connected vehicle options be a useful addition to a nomad's mobile internet arsenal?
This guide will help you answer that question. Like most aspects of mobile internet, the usefulness of a connected vehicle to you will depend on your specific needs and situation.


This Guide Brought to You by Our Members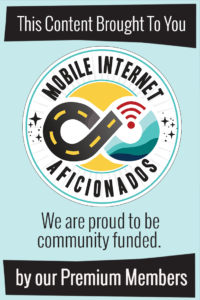 We are honored to be able to present the basic sections of this guide for free without 3rd party advertising.
This content is brought to you by funding from our premium members.
Our members have access to the entirety of this guide, interactive guidance, product reviews, alerts, vendor discounts and more.
If you're a member, please log in above to see the member exclusive portions of this guide.
If mobile internet is an important part of your lifestyle, here are ways you can help:
---
What is a Connected Vehicle?
For the purposes of this guide, a connected vehicle is a car, RV, or boat with internet connectivity either built-in to the vehicle's systems or as an option available directly from the manufacturer.
Sometimes the connectivity is integrated into the vehicle's control systems, but can also simply be a method to give passengers internet access.
We also include third-party mobile internet devices specifically designed to be mated with an automobile's internal system via the car's OBD-II (OBD - On-Board Diagnostic) port - a standard feature on almost every car built since 1996.
This is a rapidly changing and evolving market as manufacturers and internet providers design and produce increasingly integrated and advanced systems. This factor creates a lot of differences in terms of features and capabilities not only between vehicle manufacturers but also between models and model years.
Generally, the newer the vehicle the more advanced and integrated the features.
Connected vehicles provide two kinds of benefits:
Internet Access: In-vehicle Wi-Fi so that devices and passengers can access the internet, usually via a cellular connection.
"Telematics" and safety features: Telematics for vehicles will usually combine GPS with onboard diagnostics and other sensors to provide detailed information about a vehicle's location, status, and performance. One example of this integration: a vehicle gets into a crash, sensors detect the crash and relay the information about the crash, including location, to an emergency service center, which can dispatch emergency services.
---
Connected Cars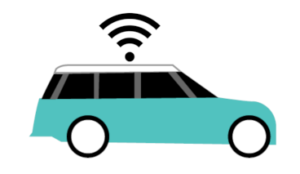 Connected cars are automobiles with built-in cellular data connections designed to power a range of services including in-car Wi-Fi connectivity.
These options are becoming more mainstream as features on new vehicles and will likely become standard equipment on all vehicles over the next few years.
Connected Car Capabilities
Connected car systems are increasingly integrated into the vehicle's core electronics, safety, and entertainment systems. These systems rely on an internet connection that is supplied by cellular carriers.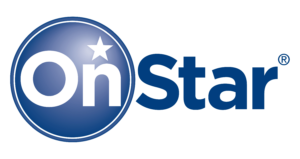 In the connected car market, there are no current standards, so features depend on the specific manufacturer, model and year. Each manufacturer has a name for their particular system, such as OnStar (for GM vehicles) and SYNC Connect (for Ford vehicles).
While integrated "infotainment" systems have been in cars for a while, options that included built-in internet access were limited and hit-or-miss up until the 2018 model year.
Starting with the 2019 models, connected car systems are more widely offered, but may be restricted to higher-end models and trim lines.
Connected cars can provide a wide variety of capabilities in addition to internet access. These capabilities can include:
Internet access via an in-car Wi-Fi connection
Emergency services (roadside assistance, 911, automated crash response, stolen vehicle disablement, and recovery)
Navigation
Local and/or remote vehicle diagnostics
Driver monitoring (can provide alerts for speeding, severe braking/acceleration, etc.)
Location services including tracking, routing, location history
Entertainment options including integrated internet video for passengers and audio for the driver
Most vehicle Wi-Fi options advertise a 50-150 feet range for the WiFi signal. This means you can be near the vehicle and still get access - as long as the vehicle's systems are powered.
---
Additional Member Only Content :

Has this guide been helpful so far?
Well.. there's a lot more below available to our members - as well as dozens of other guides like this, videos, a classroom, forums, webinars and more. All specifically created for helping keep RVers, cruisers and nomads online.
---

Hopefully you've noticed that our content isn't cluttered with 3rd party advertising, we're not sponsored and we're not reliant on selling you plans or gear to make our content possible.
We are instead community funded via our premium membership program - allowing us to focus on creating unbiased quality, in-depth, constantly updated content.
If mobile internet is an important part of your lifestyle, here are ways you can help:
Become a Member Support this Content
If you're already a member, please log in to see the rest of this guide.
Here's a sneak peak at the member exclusive topics in this guide:
Connected Cars
Continuing this section, we go further into the current cellular carrier options, aftermarket options and how these plans are best utilized outside of a vehicle.
Connected RVs
RV makers are starting to integrate connectivity solutions into their rigs. This section overviews the current options and what's on the horizon.
The Downside of Integrated Systems
All of these new options sure do sound cool, but what are the downsides?
Connected Boats
What's the status of keeping a boat online?
---
Conclusion: A Simple Solution with Limitations
Connected vehicles show a lot of promise, especially going forward as cellular technology becomes more integrated into vehicle design.
For now, connected vehicles come with limitations that make them less than ideal as a home internet replacement solution.
They do offer value, however, and they can be a useful part of a mobile arsenal depending on your nomadic lifestyle and internet needs.
Explore the Resource Center
The MIA is our premium membership - designed for those who consider mobile internet an important part of their lifestyle.
In thanks for making content like this possible, we offer a bunch of additional perks. From interactive guidance, in-depth member exclusive content, discounts, alerts, classroom and more.
We totally understand that a membership isn't right for everyone.
However you can still support this content with our supporter level for just $25/year.
With our gratitude, you'll get access to all our free content without the 'nags'.

Have Questions? Stay In the Know
Join our 'Library Desk':
Internet for RVers & Cruisers Facebook Group
We cross post news articles and guides, and can help point you in the right direction to our content here on the resource center.
It is with gratitude to our premium members that we're able to offer our free content - and for that, they also have access our private Q&A areas for more in-depth guidance.
Stay in the Know
We're constantly tracking the industry and analyzing new developments for mobile travelers. If you'd like to receive updates, we offer several ways: