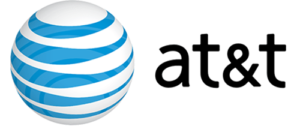 AT&T's Unlimited Plus plan was one of our Top Picks of 2017.
Particularly because you could add on mobile hotspot lines with no high-speed usage limits - this plan developed a massive following amongst many with demanding internet needs.
AT&T retired this sweet plan in February 2018, but everyone who heeded our warnings and grabbed one of these plans before they fully retired have been happily grandfathered in ever since.
Until now.
We've received multiple reports that people with the "Unlimited Plus for Business" version of this plan have been getting notified by AT&T that their grandfathered plans are going away in February:
As smartphones, tablets and wearables continue to be used at record levels nationwide, AT&T seeks to ensure its customers are on the right plans to provide the best service possible. Beginning with your February bill, we will discontinue the Unlimited Plus for Business plan(s) that are currently being used by your Corporate Responsibility User(s) with the mobile number(s) listed here and:

move your group(s) of impacted number(s) for phone, tablet, wearable and/or other eligible device line(s) to multi-line AT&T Business Unlimited Plus with Private Wi-Fi plan(s); and
move your impacted number(s) for laptop/LaptopConnect, netbook, mobile hotspot, router and AT&T Wireless Internet line(s) to AT&T Unlimited Hotspot/Wireless Internet plan(s), as they are not eligible to be added to Business Unlimited Plus with Private Wi-Fi plans.

We think these new plans will offer you greater value than the old one, though the migration will result in breaking up your user group(s) and will result an overall price increase for your account.
Fortunately, this forced change is not as disastrous as it first appears since most users will be able to maintain the core features of their existing plan, albeit at a different pricing level. And we suspect most of our readers are on the consumer version of this plan, so hopefully aren't impacted - at least not yet.
There are even a few nice new perks being added.
But particularly for those who use Unlimited Plus primarily for hotspot data lines, the impact of this change could be substantial.
The most disturbing thing about this news is that AT&T feels empowered to unilaterally discontinue a popular grandfathered plan, and we are already seeing signs that AT&T has been making adjustments to add video throttling on the consumer version of Unlimited Plus too.
Could consumer Unlimited Plus plans be on the chopping block next?
Just what is changing?
Busy?
Just want a quick wrap-up?
---
Video Version of this Story:
Like video updates? Subscribe to our YouTube Channel
---
Unlimited Plus History

In late February 2017, AT&T rolled out the new Unlimited Plus plan in response to Verizon bringing back its first unlimited data offering in years.
But unlike Verizon's plan, which included strict limits on mobile hotspot usage, AT&T's new plan opened the door to truly unlimited, unthrottled mobile hotspot data.
Smartphones and tablet lines on Unlimited Plus came with 10GB of shareable high-speed hotspot data, a decent amount at that time. But hotspot lines on this plan were only subject to potential (and often unnoticeable) network management after 22GB of usage, with no usage-based hard throttles of any sort.
This meant customers could use 100's of gigabytes of hotspot data in a month, and you would only ever even notice a slowdown on actively congested towers!
The Unlimited Plus plan, along with the Mobley connected car plan, made AT&T the top pick for unlimited data for 2017 and into 2018, but AT&T seemingly did not anticipate how much users would actually take advantage of these plans.
AT&T retired Unlimited Plus in February 2018, and removed the ability for existing customers to add additional hotspot lines to grandfathered plans in May 2018.
AT&T's replacement offerings did not provide any option for unlimited data on mobile hotspot devices, which made these grandfathered plans extremely valuable.
Unlimited Plus was always available as both a consumer and business plan, with identical pricing and core features.
Many who run a business on the road or water snagged the business version of the Unlimited Plus plan, but now AT&T is killing the business plan and forcing customers to migrate or cancel service.
Will the grandfathered consumer plan be next?
---
AT&T's New Business Plans
Customers with the legacy Unlimited Plus for Business plan will have their lines migrated to two new plans:
Business Unlimited Plus with Private Wi-Fi - Phones and tablets are being moved to this new plan, but data-only devices like mobile hotspots, routers, and cellular laptops are not allowed on this plan. Depending on the number of lines you had sharing the plan, monthly costs might shift significantly. (AT&T Plan and Pricing Details)
AT&T Unlimited Hotspot/Wireless Internet - Mobile hotspot and laptop lines will move to this special plan, which is not available to new AT&T customers. The good news is that unlimited hotspot usage remains, subject to network management just like before. The bad news is that at $40/mo this new plan doubles the price per line customers might have been paying before. (AT&T Plan Details)

NOTE: Customers can not add new Unlimited Hotspot lines, and once a line on this plan is canceled it is gone for good.
Despite the potential price increase in many scenarios, the new Business Unlimited Plus with Private Wi-Fi smartphone plan does come with two upgrades over the legacy plan:
15GB of Hotspot vs 10GB: An additional included 5GB of high-speed hotspot data is a nice increase over the legacy plan. After 15GB of usage in a month, hotspot usage and USB tethering are hard throttled to 128Kbps for the remainder of the month.
Security for WiFi Connections: The new smartphone plan includes a VPN feature AT&T is calling "Private Wi-Fi." This service is for smartphones only (provided via an AT&T app) which automatically turns on a VPN whenever a smartphone connects to an unencrypted Wi-Fi network.
The Unlimited Hotspot/Wireless Internet plan does not have any hotspot usage speed limits or hard throttles, but it does have a catch - you need to ALSO have at least one voice line on your account. Customers who were using Unlimited Plus only for data lines will be forced to either add a voice line, or cancel their accounts.
Customers who don't need mobile hotspot use or HD video on their smartphone and tablet lines, can also elect the Business Unlimited Basic With Private Wi-Fi plan, which offers savings starting at $10 per line. This plan still qualifies for enabling the Unlimited Hotspot plan.
Price Differences for Some Typical Plans
Here are some scenarios comparing the before and after cost (including autopay & multiline discounts but without taxes and fees):
Two Smartphones and one Hotspot Line

Legacy UP Plan: $165
New Plans: $185

$145 - 2 Lines on new Unlimited Plus
$40 - Hotspot Line

Single Hotspot Line

Legacy UP Plan: $90
New Plans: $120

The new hotspot plan MUST be paired with a Business Unlimited Basic/Plus with Private Wi-Fi plan on the same wireless account There is no option for a single-line hotspot only option. If you want to keep your unlimited hotspot line, you must also have a device on the base plan.

Three Smartphones, one Tablet, and One Hotspot

Legacy UP Plan: $205
New Plans: $215

$175 - 4 Lines on new Unlimited Plus
$40 - for Unlimited Hotspot

Five Smartphones, 2 Hotspot Lines

Legacy UP Plan: $245
New Plans: $295

$215 - 5 lines on new Unlimited Plus
$80 - 2 Hotspot Lines
Overall, the price difference will be very specific to the number of existing lines you currently have, the number of lines you migrate, and the types of devices on those lines.
---
AT&T Gives Customers An Out
AT&T seems to be discontinuing the old Unlimited Plus for Business Plan completely, and there does not seem to be a way for customers to choose to remain grandfathered.
AT&T gives these options:
You are welcome to (a) keep these new plans at the new rates, (b) change your impacted line(s) to our other plans, or (c) cancel service to your impacted line(s). If you choose to cancel your line(s), we will waive any Early Termination/Cancellation Fee(s) that would otherwise apply. In addition, if you cancel an impacted line with a device installment agreement that has a remaining balance, you have options:

For smartphones on AT&T Next, AT&T Next Every Year or Equipment Installment Plan (EIP), we will waive the remaining payments if you return your device by mail within 30 days of cancelling your service.
For all other devices on an EIP or Device Installment Plan, we will waive the remaining payments automatically, and you can keep the device.
In other words - if you happen to be paying off any expensive iPads, AT&T may be offering you a very sweet parting gift if you choose to cancel those lines.
Customers can choose to mix-and-match, meaning they can migrate some lines and cancel others.
Consumer Line Changes - Video Throttling Coming?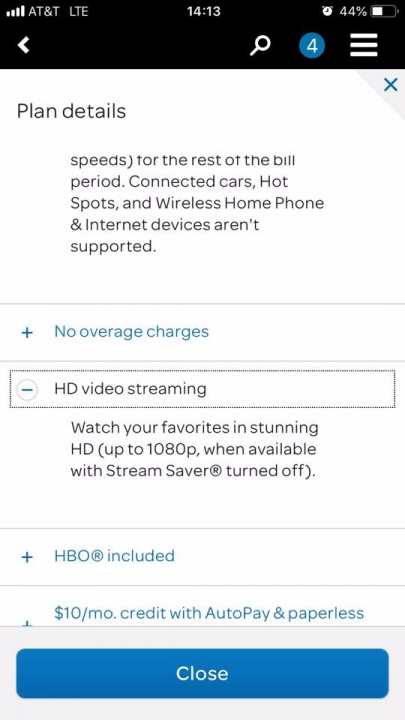 We've also had reports in the past few weeks of customers with consumer Unlimited Plus lines noticing that the terms of their plans have subtly shifted to indicate that video streaming is now capped at 1080p resolution.
Previously, there was no max resolution mentioned, and even 4K streaming was permissible when bandwidth allowed.
Our members have been sharing mixed experiences on whether or not they are actually observing video streams being throttled - with some noticing speeds on Fast.com (indicative of video streaming) being capped, and others showing Fast.com and SpeedTest.net showing similar results.
We continue to keep an eye on this - but suspect AT&T may be slowly rolling out this throttling across the board on legacy plans.
It is interesting to note that the new Business Unlimited Hotspot plan and Business Unlimited Plus with Private Wi-Fi plans have no mention of the 1080p resolution video throttling in the fine print, and these plans seem to continue to allow fully unthrottled video streaming.
---
Summary & Analysis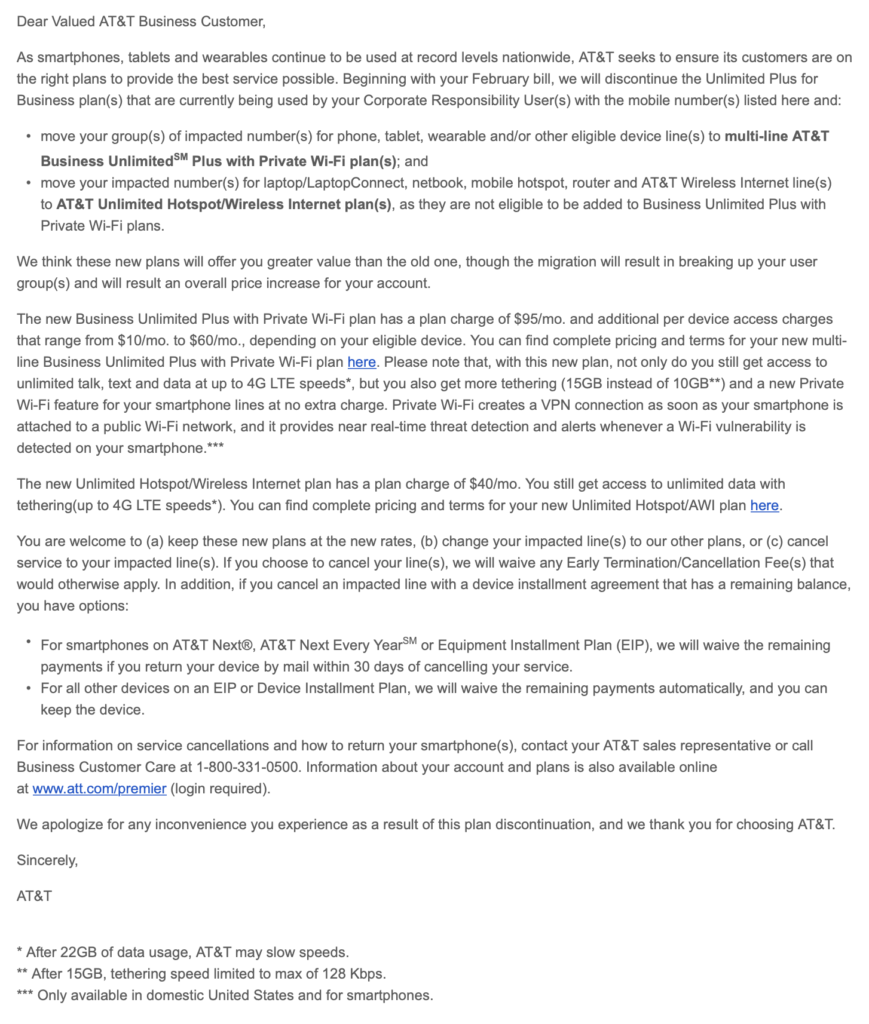 The notification e-mails from AT&T have just started going out to business account holders, and we suspect they are being rolled out by billing period date to meet the required 30-day notice terms so it may take a while for all customers to be notified.
Depending on the number of lines impacted, the changes AT&T is pushing to Business Unlimited Plus are potentially not that big of a deal - or could result in a considerable price increase.
But the big deal here is that AT&T is making these changes unilaterally and forcing customers to switch plans or cancel service.
There have been price hikes (particularly from AT&T) on grandfathered plans before, but never an outright discontinuation like this.
Is this the start of a trend?
Is AT&T rejiggering its plans to better prepare for differentiating 5G offerings?
And - though not many of our readers have Unlimited Plus for Business, are consumer Unlimited Plus lines next?
It certainly seems like AT&T has begun making adjustments behind the scenes on consumer legacy plans as well by reducing video resolution to 1080p, so we worry that more changes could be coming.
We'll have to wait and see.
Related News: