The Great Loop - It's Like RVing on Water
The Great Loop is an amazing adventure by boat: circumnavigating the eastern half of the US and Canada by waterways. Fortunately, keeping connected over mobile internet using options like cellular, Wi-Fi, and satellite is entirely possible.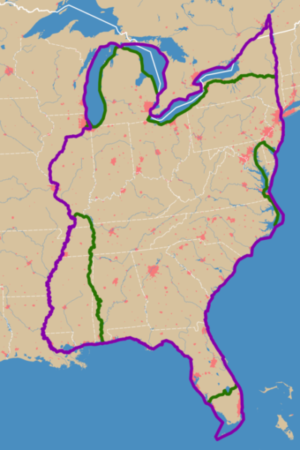 The Great Loop (learn more at the AGLCA) is a 6000 mile epic adventure of the eastern continental North American waterways.
It can take as little as a year to complete, to several - depending on the pace you select
Looping can take you through 15+ states and provinces traveling along the protected intracoastal waterways of the Atlantic Ocean, the Erie Canal, Great Lakes, the Gulf of Mexico, Mississippi River, the Tombigbee Water, rivers, lakes and the Keys of Florida.
To quote Dr Seuss - "Oh! The places you will go!"
And while there will be many distractions - from docktails, exploring quaint towns, and never-ending boat maintenance - there will still be lots of time to kill while waiting out weather.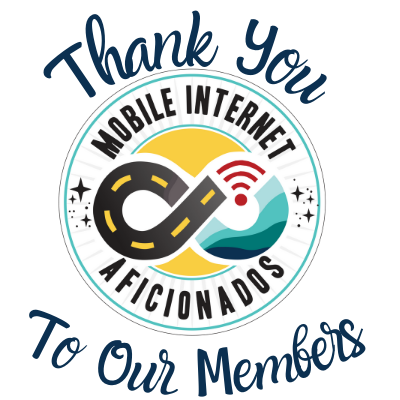 If you're a member, please log in above to access the exclusive portions of our content.
It is with huge gratitude to our members & supporters for making the free content on our site possible. We're not sponsored, you'll find no ads and we don't sell 'stuff'.
Our members get exclusive access to our in-depth content, classrooms, vendor discounts, alerts, insider info and interactive guidance.
We also offer a Supporter level at just $25/year for those who'd like to help, turn off nags like this and get our news stories delivered to your inbox.
If mobile internet is an important part of your lifestyle, consider helping make MIRC possible. 
Great Loop Connectivity Video Overview
Join MIRC's founders Chris and Cherie aboard their boat as they talk about mobile internet while doing the Great Loop, sharing some tips and considerations:
Internet Access on the Great Loop
Whether you're looping and working remotely, homeschooling or retired and wanting to keep entertained and in touch with loved ones - the mobile internet options you choose to complement your adventure will depend highly on your unique needs and your pace of travel.
Connectivity wise, this adventure is similar to traveling in an RV. In fact, you can travel most of this route on land, sometimes just mere feet from boats doing a similar course.
You'll pass near cities and towns, as well as traveling through or along low-population areas. You'll need to plan where you stop for the night, find places to do laundry, shop for groceries, fuel up, and stay in touch with loved ones.
If you are working remotely, you will need ways to communicate with the office and coworkers.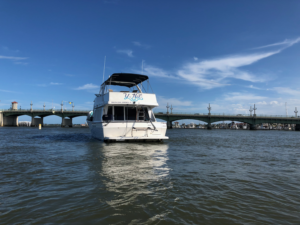 Even if your main purpose for doing the Great Loop is to disconnect and explore, there will likely be days where you will want to share your photos, do some internet banking, stream a favorite show, download a new book (or three!).
And of course, you'll need to access weather updates, navigational maps, and research your upcoming stops.
For both RVers and cruisers alike, internet access can sometimes be as necessary as food and fuel. How do you make sure you have the mobile internet access you need in Canada? What about in rural Mississippi? Or the limited offshore passages?
Will these solutions be the same across all of these scenarios?
Just like RVers, cruisers will need to create a suite of solutions based on their style of travel, internet needs, and intended destinations.
---
Assessing your Mobile Internet Needs for the Great Loop
Unless you have an unlimited budget, your first considerations should be for your intended travel style and your actual mobile internet requirements.
How Connected Do You Need To Be?
If you are traveling for pleasure, you may not need a robust mobile internet solution. That being said, you may rely on internet access for mundane tasks, like finding a marina, grocery delivery or laundromat. Or maybe you might want to stream Netflix as a form of entertainment.
For more on entertainment on the waterways:
Conversely, remote workers and homeschoolers may need reliable high-speed access on near-daily basis. Being offline could mean losing a job, clients or missing critical deadlines.
For more on Working Remotely:
Working Remotely Using Mobile Internet
Looping Style Considerations
These are some basic questions you need to ask yourself for mobile internet on the Great Loop, particularly if you are new to mobile internet: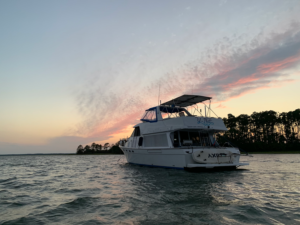 Are you doing the Loop over multiple years - taking it slower ('slooping'), perhaps staying places for a month or more at a time?
Do plan to move more quickly and following the traditional Looper seasonal schedule over a year, mainly spending your time underway and exploring?
What about exploring the loop part-time or seasonally?
Will you need internet while underway?
Will you be working remotely? Will you need video conferencing?
What sort of entertainment do you prefer in the evenings, or when the weather doesn't cooperate? The internet requirements to stream videos is very different than to download an e-book.
Will you be taking routing options that have in Canada waterways?
If your are taking a faster pace to complete the Loop in a year, then your internet access requirements may not be very demanding. You'll be spending a lot of your time in motion and out exploring new locations, without much time to sit idle at home online.
You'll also likely not want to invest in pricey hardware and installation if you're planning to sell your boat after completing the Loop adventure. In those cases, a simple solution not focused on needing to be future proof might be appropriate. You might find relying on simple solutions like hotspotting off your smartphone, a cellular enabled tablet, a simple mobile hotspot device or using marina Wi-Fi, can meet your needs.
On the other hand, Looping at a slower pace over multiple years may mean you will have more time in each location. For many of us, we use a lot more internet when stationary - perhaps working remotely, streaming more movies, gaming, and plotting future adventures and boat upgrades. In these circumstances, your solution might need to be more future proof to adapt over the years ahead as technology continues to evolve. You may also need a more robust arsenal that may integrate the variety of solutions you may need to get reliably online in each unique location.
You can get started learning about options here:
Getting Started with Mobile Internet
If you expect to explore the Great Loop part-time or seasonally, your needs may be different than a cruiser living full time on the water. You'll want data plans that are flexible and you may not want to invest as much in your hardware. Here's some specific considerations for seasonal part-time travels:
Guide to Mobile Internet for Part-Timers
Finally, are you going to travel through Canada or stay on the US waterways? If you plan to travel through Canada you will want to be sure to read our section below on staying connected in Canada.
With these questions in mind, you will have a better sense of what your mobile internet needs will be. For more information about how to figure out what your needs are, we have a dedicated guide:
---
Boat Specific Mobile Internet Considerations
Travels by boat have some obvious and some subtle differences from RVs when it comes to mobile internet.
Equipment
One of the more important differences for boat travels is the particular gear you may want choose.
Boats have a rolling motion that can affect picking up cellular or satellite signals. And when at anchor, a boat can swing directions in an instant with tide and wind changes. Your choice of cellular antennas will need to account for this constant motion of the boat: a directional or very high gain focused antenna can easily be disrupted.
For cruisers, omni-directional antennas will be much more forgiving.
For metal boats, an externally mounted antenna may be helpful to get around the signal blocking nature of metal. A boat made of fiberglass may not benefit from exterior mounted antennas as much, especially as you'll be in site of land (and thus cell towers) most of the time.
Likewise, your antennas and hardware may be exposed to marine environments like salt-spray when traveling intracoastal waterways and ocean portions of the Great Loop.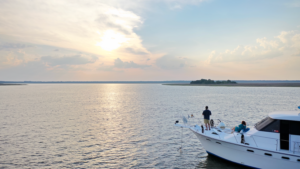 Cruisers spending more time in salt water waterways will want to consider exterior equipment designed and rated for marine environments. However much of the Loop is through freshwater canals, rivers and lakes where the conditions are not as harsh, so non-marine equipment may be just fine. Do keep in consideration where your cruising before, after and during your Loop adventure will take you.
We have a dedicated guide on mobile internet considerations for boaters and cruisers.
Mobile Internet for Boaters and Cruisers
Marina Wi-Fi
A key question to ask is where you plan to stay. Are you staying in marinas or planning mostly anchoring out? Or a mix?
The quality and performance of Wi-Fi at marinas can be extremely variable. Depending on which marina you dock at, there might not be a useable Wi-Fi signal. However many have invested in providing awesome internet experiences for their customers, and no extra equipment is needed to reach their well placed access points on the docks.
But even with good Wi-Fi, you should anticipate congestion in the evenings. This is especially true if you are following the Looper pack - when doing the year plan, lots of loopers tend to 'bunch up' with weather windows. This means lots of transient boaters at the same marina, sucking up the bandwidth.
Definitely consult with reviews of marinas for comments on the Wi-Fi, as this is a critical need for many - you'll find it commonly mentioned.
We have a guide that will take you through the ins and outs of relying on Wi-Fi as your primary internet access and what equipment you may need to enhance your ability to use the available Wi-Fi signals:
Using Wi-Fi as an Internet Source
Anchoring Out
If you plan to anchor out in your adventures, you'll likely be relying more on cellular or satellite internet for your connectivity. You may occasionally find an open Wi-Fi hotspot however that you can reach from your mooring, but keep in mind that Wi-Fi is a short range wireless technology and speeds drop off considerably with a bit of distance.
We have a guide to steer you in the right direction for connectivity when away from the dock:
Underway
If you need an internet connection as you're cruising, then don't panic. Boats tend to move rather slowly as compared to cars on land, and cellular towers are pretty good at even keeping up with fast moving vehicles.
So mobile internet options used at anchor tend to work just as well as while in motion on a boat. You will go in and out of coverage areas as you move between towers, so do anticipate a variable experience.
And Starlink offers options for official in motion use.
Mobile Internet while in Motion Guide
---
USA Cellular and Satellite Options
When creating your own cruising mobile internet solution and not relying on marina Wi-Fi, you will likely use cellular solutions, possibly along with satellite.
Cellular Internet
There are many cellular options while you are cruising the Great Loop.
There are three components to success with cellular based internet: Data Plans, Gear, and Signal Enhancing.
You'll need to keep all three in mind when picking your right combination.
For choosing your data plans, you'll want to consider which carriers you want in your arsenal. Many choose multiple carriers, as in each location one can excel over another. You'll also need to find the data plans that give you the type of data you need on the devices you're choosing for your setup. You can find all of our content on selecting data plans in this center resource guide:
Next, you'll need to select the right type of gear for your needs. For basic needs, using a smartphone or cellular embedded tablet may be just right. Or mobile hotspot devices and cellular embedded routers might be needed for more demanding internet needs. Here's our guide going over the pros and cons of these approaches:
Cellular Devices - Smarpthones, Tablets, Hotspots & Routers
And then you'll need to consider your signal enhancing strategy to get the best data performance. This can include simple solutions from keeping devices clear of obstacles, externally mounted antennas and cellular boosters. For more on this topic, here's our guide:
Optimizing Cellular Data Performance
Starlink Satellite Internet
Satellite internet options have come a long way in recent years. In particular, Starlink's constellation of low-earth-orbit satellites has advanced by leaps and bounds. Using satellite as part of your Great Loop mobile internet solution is now a feasible option to consider.
Starlink offers various mobility plans for use in a Maritime fashion and other plans that can work while closer to shore. Check our guide below for the latest information.
---
Canadian Connectivity
Some routes of the Great Loop will take you through Quebec and Ontario - which are great places to visit (or start from). Many US carriers include roaming in Canada (and vice-versa). Satellite internet also allows international usage. But you cannot assume that your service will be as perfect and seamless you'd expect. Its worth your time to make sure you know the fine print when traveling internationally.
Cellular
While many US based cellular plans include international roaming into Canada, not all plans are as generous as you may expect. Some carriers have plans that may cut you off (with no cellular coverage) if you use more than 50% of your usag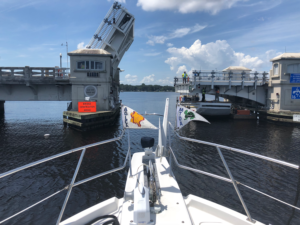 e in a two month period outside of your home country. Others might only include a little bit each day or month.
For this reason, finding US data plans with sufficient Canada roaming for your needs can be a challenge.
Our guide to Canadian coverage is kept up to date with legacy and current plans, as well as local options:
Guide to Mobile Internet for Traveling in Canada
Satellite
International travel roaming is now officially supported by Starlink on various plans both for in continent use and true global use with official in-motion use on water and land.
We are keeping our Starlink guide and our Starlink Resources up to date with the latest from Elon and his company:
---
Conclusion
Whether you are planning the Great Loop for a year long adventure, going at a slower pace, or as a new lifestyle, there are many ways to stay connected. Your solution could be as easy as a smartphone, or as complex as antennas, satellites and routers.
Either way, staying connected while cruising the Great Loop will make it less stressful when you need information on marinas, fuel prices, weather, navigational charts, emergency communications, great spots to eat, or sightseeing in the area you will be docked at. You just might like the area you visit and plan to stay a while!