Testing Mobile Internet Speeds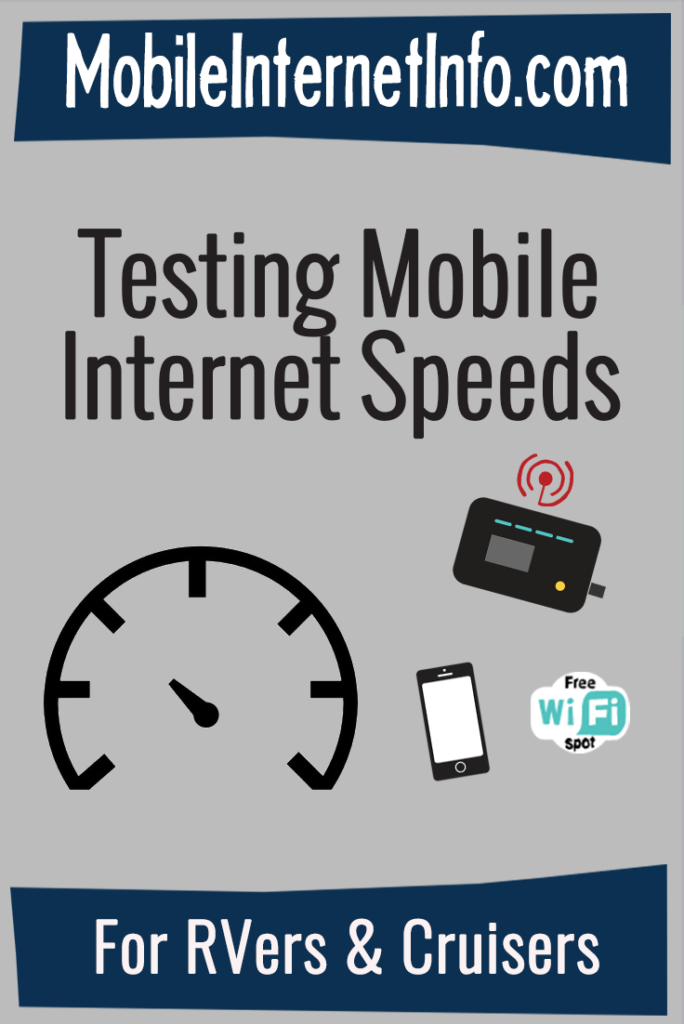 Bars are relatively meaningless in the effort to determine your mobile internet data performance.
They're a nice visual indicator, but each device manufacturer uses their own formulas for coming up with what determines 1 bar versus 4 bars.
And usually, bars have nothing to do with how fast your connection will be because there's a lot going on behind the scenes that can affect your data performance, whether you are connecting to a Wi-Fi network, cable, satellite or cellular internet data source.
To truly optimize your connectivity, measuring your real-world performance let's you know if your efforts are having an impact.
And the best quantitative measurement of this is the download and upload speeds you are actually getting.

This Guide Brought to You by Our Members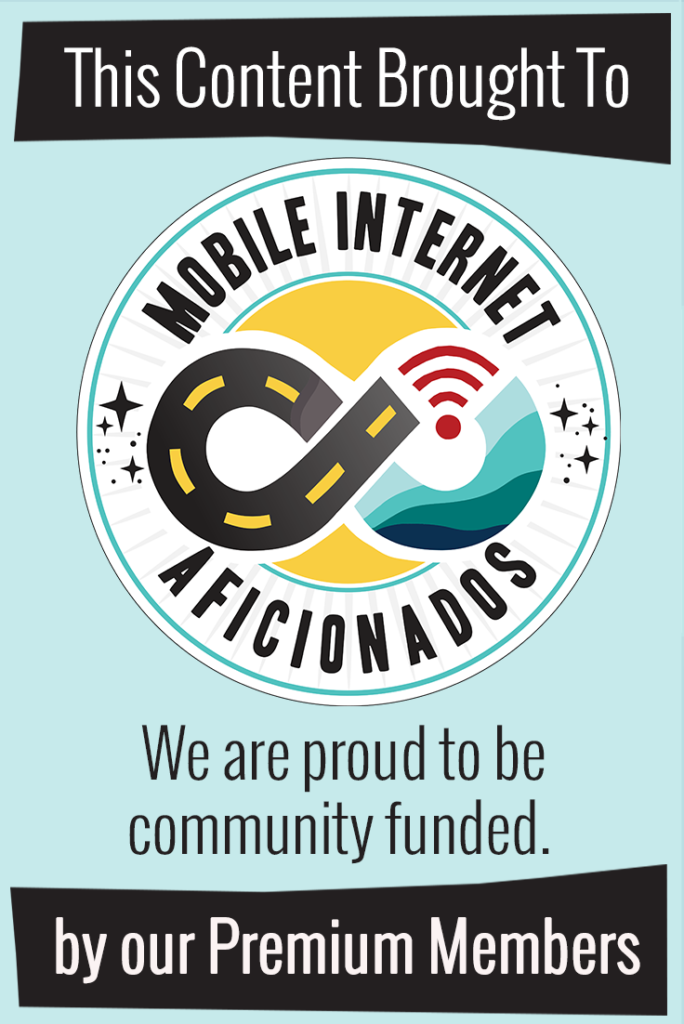 We are honored to be able to provide this guide for free - without 3rd party advertising, sponsorships or trying to sell you stuff.
In thanks for funding this resource center, our premium members also get access to all of our in-depth guides, classrooms, reviews, Q&A forums, discounts and more. But we understand, membership isn't for everyone - there are lots of ways to support our content.
If mobile internet is an important part of your lifestyle, here are ways you can help:
---
Video
Enjoy this quick video recapping this guide:
Be sure to Subscribe to our YouTube Channel for more video guides & news updates.
---
Speed Testing Services
To test your upload and download speeds, use one of the many free speed testing services out there. These services allow you to send a chunk of data to their servers and they measure how long it takes.
There are numerous speed testing services and apps but these are the ones we regularly use:
A Note About Crowdsourced Apps:
There are also several crowdsourced signal apps out there - like Rootmetrics and Open Signal - that include a speed test service as well.
Please don't use these crowdsourced apps for *testing* your signal enhancing efforts. The results of these speed tests get recorded in a central database for sharing about your current location with others. Adding in your experimental data with boosters & antennas will skew the results for everyone.
You should only report speeds to these crowdsourced resources using your baseline readings - unenhanced - without boosters & antennas. That's the data these apps are looking to record, so that other users know what to expect. Remember, not everyone travels with boosters and antennas.
Run the speed testing app or website on your phone, tablet or computer.
If you are testing performance of a mobile hotspot or cellular embedded router (not the phone's cellular connection itself), then connect directly to that source from your testing device over Wi-Fi, USB cable, ethernet or bluetooth.
Do keep in mind that the distance between your device and a wireless signal can have an impact on speeds too, as can local Wi-Fi congestion - so keep this consistent during your testing.
---
Setting Up to Speed Test
Testing can be a bit tricky, as you really need to isolate as many factors as you can. So many things can influence the speeds you receive on a device.
Here are just some of the variables at play:
Multiple Wi-Fi devices in the same area can cause congestion and slow speeds down.
Connecting over 2.4 GHz versus 5 GHz Wi-Fi will vary up the results. In general 5 GHz will perform better, but has a shorter range.
Multiple cellular devices within range of a booster's interior antenna can divide up the enhanced signal.
The distance between devices when connected over Wi-Fi can also make an impact.
Placement of your devices can impact performance - remember metal blocks wireless signals, and line of site always helps.
The server load on the speed testing service you're using can give you strange readings.
Your data plan can also influence your speeds, depending on if you're subject to throttling or network management.
It's best to test each component individually, with your other devices turned off or in airplane mode. Try to keep things as consistent as possible when testing.
Run speed tests with and without your various signal enhancing options - such as boosters or antennas. Remember to also take a baseline reading for each device without any signal enhancing so you can tell if your antennas or boosters are having any impact.
We generally recommend running 3-5 tests for each combination and looking at the average results. Anomalies can happen, and the speed testing servers themselves can impact the results.
Here's an example of the testing data we collect, in this case comparing different cellular boosters with AT&T and Verizon hotspot devices:

Our members have access to our extensive field testing data for various devices we're constantly experimenting with in our Field Testing Lab.
---
Understanding Speed Testing Results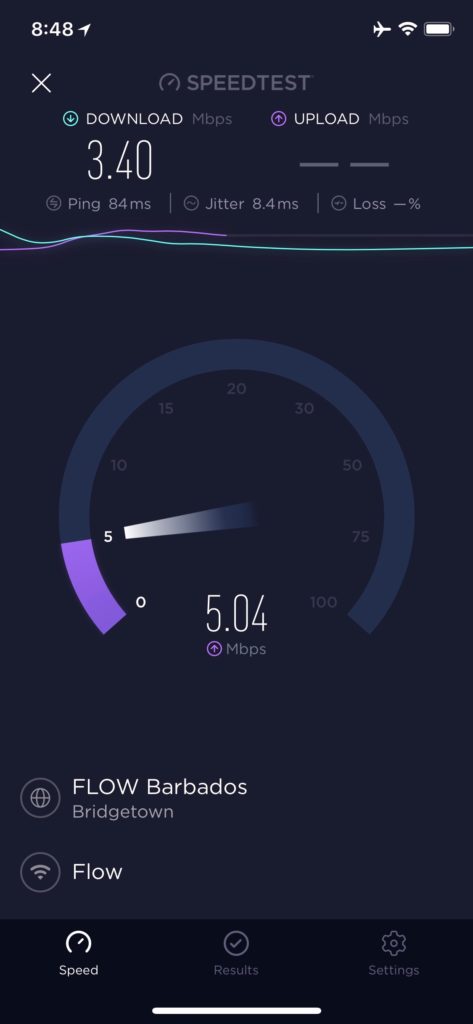 You will typically get some of these results from most speed test apps:
Latency (aka Ping)
This is the time in milliseconds it takes for a request from your computer to reach the speed-test server and to return, like the ping of a ship's sonar. The higher the number, the slower the speed.
On 4G/LTE, latencies under 100ms are good, under 50ms are great and 20ms is about the best you can hope for. Ping times over 500ms can feel painful, and are a sign of unstable conditions.
On standalone 5G not riding over LTE frequencies, latencies can be near non-existent.
Unusually high latencies are often a sign of an unreliable connection - indicating that the cellular tower is needing to resend data multiple times to get through successfully.
This measurement is particularly important for online gaming, but any interactive task can begin to suffer from higher latencies. For general surfing, it will be noticeable as that blank pause when you first request a new website.
Jitter
Jitter is an indication of how much the connection latency varies moment-to-moment. The higher the number, the worse it is. Single digit numbers indicate a more stable connection.
Packet Loss
Some apps report a percentage of "packet loss." Think of this as letters lost in the mail. Substantial and persistent packet loss on a connection means the connection is unreliable, and web pages may not reliably load (for instance, you may be noticing images not loading and displaying a little 'Red X' instead). Zero is of course ideal, and even 1% packet loss can make a connection feel unreliable.
Download Speed
Reported in either kilobits per second (Kbps) or megabits (equivalent to 1000 kilobits) per second (Mbps). This is a measurement of the maximum speed that data is able to flow to you from the speed-testing server.
Here are some benchmarks:
Over 50 Mbps will be blazing fast and allow for multiple video streams, super fast file downloads and snappy browsing.
Over 20 Mbps will feel awesome for just about everything and large files will download pretty quickly. Over 20 Mbps is the minimum required for 4K HD video streaming.
5 Mbps and over will give a solid surfing experience and will be suitable for most HD (720-1080p) video streaming, and is a good aim for two-way video conferencing.
1-5 Mbps will still feel snappy for most basic surfing, 720p and lower video streaming will still be pretty smooth. You likely won't feel these speeds as being slow unless you're trying to do super high bandwidth things like download large files or stream 1080p video.
Under 1 Mbps starts to make the modern internet feel slow but still usable. Even low res video (360-420p) streaming may still be possible with some buffering. Pages will load, but pictures might take a moment to fill in.
Under 500 Kbps can get downright painful for anything more than the basics.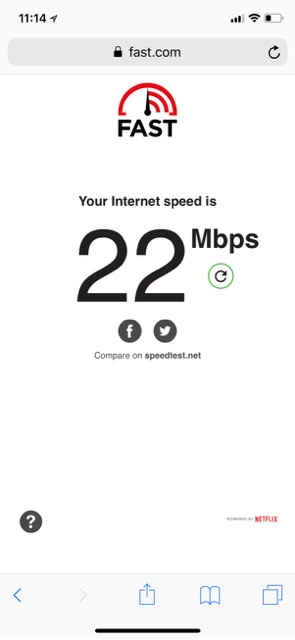 Download speeds have a particularly large impact on streaming audio and video. If the speeds aren't able to keep up with the resolution you've selected, you will experience stuttering, pauses and long buffering delays. And of course, the slower the speeds, the longer it will take to download large files.
Modern LTE devices are capable of real-world speeds over 100 Mbps when the conditions are right (theoretical max of flagship devices can go over 1000 Mbps in ideal laboratory conditions). But a reasonable target for good LTE speeds is 20-30 Mbps.
And 5G devices will have theoretical speeds of up to 10 Gbps! However, outside of short range high band mmWave 5G - most initial 5G won't be much better than 'really good LTE'.
As long as you are getting around 5 Mbps you shouldn't stress too much about optimizing for more, unless you have some big downloads or 4K video.
Upload Speed
The opposite of download speed, upload speed tells you how fast data is able to get from your device to the speed-test server.
Upload speeds are almost always substantially lower than download speeds. For one, more capacity is allocated to download speeds because it's the more commonly needed resource. But your own cellular device plays a role here too - they just don't have as much transmit power to send data back to the tower, and typically have less antennas dedicated to the task.
For many typical internet tasks, upload speeds don't have a huge impact - as long as you have some upload capacity, that's all you need for basic surfing.
But, upload speeds are critical for two-way video chatting, video broadcasts and uploading large files like photos, videos or cloud-synced backups.
Over 100 Kbps if reliable will be just fine for most general web browsing.
Over 500 Kbps is the bare minimum for low-resolution video chat.
Over 1.5 Mbps should deliver smoother video chat results at normal resolutions, make web surfing feel snappy and moderate size files should upload within a reasonable amount of time.
5-10 Mbps is pretty much needed for video broadcasting in 720p and will make large file uploads feel relatively fast.
Over 10 Mbps allows for smooth 1080p video broadcasts, and large file uploads should go pretty fast.
Most modern LTE modems are capable of real world upload speeds of 50Mbps, and some flagships ones support up to 150Mbps. A more typical upload speed seen in good signal conditions with modern equipment is 10-20Mbps.
5G devices could produce speeds at even high speeds.
But as long as you have enough capacity to get done what you need, don't stress too much about it.
TIP: If you see upload speeds faster than download speeds, that may be an indication that the cell tower is congested since there is usually more download demand on a tower than upload demand.
---
Speed Test Tips & Tricks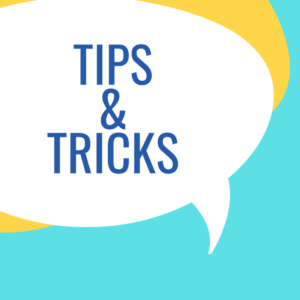 Speed tests work by sending a large chunk of data from your device to a server on the internet, and measuring how long it takes. Each app has their own set of servers used, and the servers themselves can impact the results based on their current load and their distance from your current location.
This can cause speed test results to have variability which may not have anything to do with your current signal conditions. And an individual speed test is just a snapshot of the current conditions - and not always an indicator of how your connection will be later in the day when weather moves in or your local tower or Wi-Fi hotspot becomes overloaded.
To get a sense for the actual health of your connection you can run several speed tests over the course of the day. Doing this can help you get a better sense of what average speeds you are actually achieving.
Most speed-testing sites and apps have a way to change the test server, letting you select a different server to communicate with and test against. Trying different servers can help you rule out whether strange results are isolated or not.
Make sure that your speed tests are using the same server when comparing them! An overloaded server can make one connection test out slower than another, when in fact it might actually be faster.
Speed Tests Burn Through Data!

Keep an eye on your data usage. Speed testing can burn through your monthly data caps rapidly if you are not careful because they are sending large bits of data to run the tests.

The faster your connection, the more data that has to be sent to get an accurate reading.

Some examples using Speedtest by Ookla (data used per speed test):

4.5 Mbps down / 1.53 Mbps up - 8.6 MB
16.9 Mbps down / 4.79 Mbps up - 39 MB
43 Mbps down / 3.80 Mbps up - 58 MB
86.3 Mbps down / 61 Mbps up - 88 MB

If you have caps on your data plan, you can easily burn through them just speed testing!
---
Device Signal Indicators
dB Signal Strength vs Bars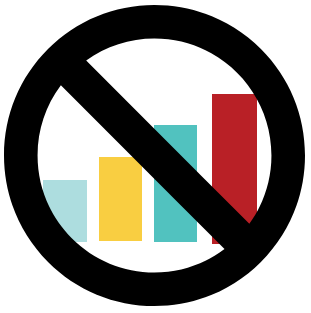 So about those bars and dB readings - even though bars aren't a direct indicator of the actual data speeds you'll experience, more bars is generally good thing.
But very few people realize that different phones and operating systems calculate how many signal bars to display very differently.
This means that comparing "bars", unless you are on the same phone, same carrier and same frequency band - is actually a very poor way to compare coverage and signal quality between different devices.
The bars your phone or hotspot is displaying sometimes do not even directly correspond to the actual signal strength - in addition to raw signal strength, the phone may be measuring network congestion and other variables to calculate how many bars to display.
This can make it harder to measure the impact that signal enhancing equipment is doing - boosting the signal strength might not register as "more bars" if the device is focusing on network congestion.
Understanding Raw Signal Strength
To get a sense of the real signal strength being received - it is a good idea to learn how to look up the raw received signal strength on your mobile devices, which is measured in decibels (dB), instead of relying on counting bars.
The decibel is a logarithmic scale - every change by 10 represents a 10x change in received signal power. Wireless signal strength will be recorded as a negative number, and the numerically lower the number, the weaker the actual signal.
-50dBm would be considered an awesome signal.
-60dBm is 10x weaker, but still great.
-70dBm is 100x weaker.
-80dBm is 1,000x weaker.
-90dBm is 10,000 weaker.
-100dBm is 100,000x weaker - and is when you are likely to start seeing a significant performance impact.
-110dBm is a million times weaker than -50dBm, and is often barely usable.
And by the time you would see -120dBm the device has probably already given up and switched to "No Service" - though the most sensitive devices can sometimes cling to a signal as weak as -130dBm.

Lots of things can impact signal strength, but the distance from the tower or access point is a primary influence.
For a great video demonstration of how bars reflect signal strength on both iPhone and Android, look here: http://vimeo.com/59084995
Signal Readings
Aside from finding the raw dB, some cellular devices will give you additional readings to tell you conditions of the signal strength. Here's the typical ones you might find when digging around the dashboard of your device:
RSSI - Represents the entire received power including the power from the serving cell as well as all cochannel power and other sources of noise. This value can change significantly moment to moment because it is also picking up signals from distant towers, so it isn't great for comparing antenna performance.
SINR - The signal-to-noise ratio of the given signal. This bounces around a LOT, and any given snapshot will not tell you much. But significant differences here are notable.
RSRP - The average power received from a single reference signal, and its typical range is around -44dbm (good) to -140dbm (bad). This is usually very solid and reproducible indicator of the strength of the signal from the tower you are connected to, and is a good value to focus on when comparing antenna performance. This is the primary value a modem looks at when calculating what tower to connect to.
RSRQ - Indicates quality of the received signal, and its range is typically -19.5dB(bad) to -3dB (good). Not always completely stable since RSSI is factored into calculating this, but it is worth comparing. This is the secondary value used when calculating which tower to connect to.
Finding Signal Readings
Hotspots & Routers
Most dedicated data devices have readings given in dB - usually found within their dashboards. The location of the readings will vary by device - but if you poke around in information tabs and advanced diagnostics you'll usually find this information.
iOS Apple Devices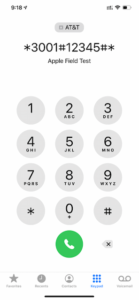 Every iPhone has a hidden "Field Test Mode" that can be accessed by dialing a special "*3001#12345#*" phone number from the main dial-pad.
From within this mode, you can dig up details about your cellular connection that are not normally available, such as your raw signal strength, currently active band, and whether or not carrier aggregation is active.
The interface and available information in the field test mode depend on which version of iOS you have as well as the iPhone model and which chipset it uses. Some of the things you can discover include:
LTE Band: Found in the "Serving Cell Info" under "Freq Band Indicator" (freq_band_ind). This shows the primary band the phone is connected to.
Signal Strength: Under "Serving Cell Meas" you can find the raw signal strength of your primary connection in decibels labeled as "rsrp0" - which stands for "Reference Signal Received Power". A "-50" signal is great, and anything less than "-110" is getting pretty weak.
Carrier Aggregation: Under "CA Status" you can see any secondary bands that are being used for carrier aggregation to increase performance. Be aware though, in order to save battery life, the iPhone only engages carrier aggregation when it needs the extra bandwidth, so you may need to be downloading or streaming in the background to activate CA so it shows up in the iPhone's test mode. If your iPhone is idle, CA Status will usually not show anything.
Most of the rest of the information you will find in Field Test Mode is useless to anyone but a cellular engineer - but you can't hurt your iPhone, so feel free to look around.
Here are a few additional Field Test Mode tips:
You need to dial the "*3001#12345#*" number from the dial pad - saving it as a contact for one-touch dialing will not work. You can, however, copy and paste the number into the dial pad, to avoid needing to memorize it.
Field Test Mode has never been officially supported, and it is not unusual for it to display obviously incorrect information, inconsistent results, or even no information at all for some parameters. Leaving Field Test Mode and re-entering, or just waiting, will sometimes (but not always) correct this.
Though there are cellular iPad models - there is no iPad equivalent of Field Test Mode.
No apps have access to low-level cellular network details on iOS - and any app that claims to provide any sort of "Field Test Mode" features is lying.
Android Devices
For Android devices, this seems to work on most phones:
Go to Settings -> About Phone -> Status.
The 'Signal Notification' app for Android is also an option without going through the Settings menu - and there are plenty of other signal status apps that will give you access to raw signal strength and even more wireless diagnostic information.
---
Carrier Aggregation Notes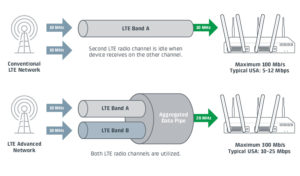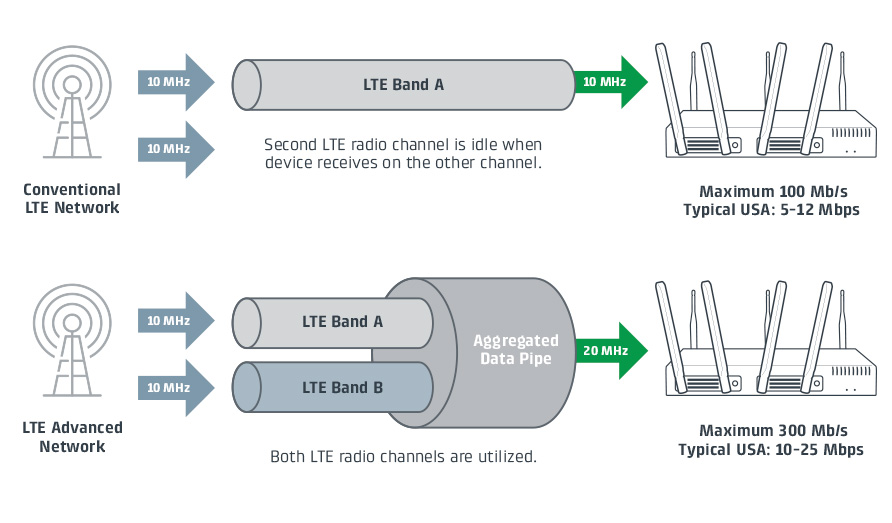 Carrier aggregation is a technology supported by modems of Category 6 and above to combine multiple frequency bands together to enable vastly faster speeds.
When Carrier Aggregation is enabled, one band is the primary band for both upload and download connections, and one or more other bands are added into the connection to turbo-charge the download speed.
But for some reason device makers and the networks make it very hard to tell when carrier aggregation is active.
Often the only easy way to even guess that Carrier Aggregation is engaged is to run a speed test side-by-side with a device that has CA support tested against something that does not.
The iPhone Field Test Mode can sometimes expose when carrier aggregation is active, for more info see our Field Test Mode glossary entry.
There are some Android apps that attempt to calculate the LTE bands in use for carrier aggregation too.
Many cellular routers also reveal this information in their dashboards.
---
Conclusion: Understanding Data Speed Results
When testing signal strength, bars aren't the most reliable method. A better measurement is testing your upload and download speed, and there are several free services to help you do this.
There are many different variables that can impact your results, such as throttling, number of devices in use, and network management. It's best to run tests multiple times so you can ensure you are getting accurate information.
Knowing how you use your data is important for analyzing the type of data speeds you are getting. Download speeds are important for streaming audio and video files. Upload speeds are important if you're going to do two-way video chatting, video broadcasting, or uploading large files.
Don't forget to keep an eye on your data usage as testing your speed can use up a good bit of data itself.
Additional Reading
Related Guides
Explore the Resource Center
The MIA is our premium membership - designed for those who consider mobile internet an important part of their lifestyle.
In thanks for making content like this possible, we offer a bunch of additional perks. From interactive guidance, in-depth member exclusive content, discounts, alerts, classroom and more.
We totally understand that a membership isn't right for everyone.
However you can still support this content with our supporter level for just $25/year.
With our gratitude, you'll get access to all our free content without the 'nags'.

Have Questions? Stay In the Know
Join our 'Library Desk':
Internet for RVers & Cruisers Facebook Group
We cross post news articles and guides, and can help point you in the right direction to our content here on the resource center.
It is with gratitude to our premium members that we're able to offer our free content - and for that, they also have access our private Q&A areas for more in-depth guidance.
Stay in the Know
We're constantly tracking the industry and analyzing new developments for mobile travelers. If you'd like to receive updates, we offer several ways: