Key Points:
T-Mobile's 1900 MHz 5G band n25 adds new capacity and coverage to T-Mobile's network and increases its lead over Verizon and AT&T in bringing 5G technologies to market.
Band n25 utilizes spectrum from T-Mobile's 3G network and Sprint's LTE network, both of which were shut down this year.
T-Mobile is now also enabling 3x 5G carrier aggregation, allowing multiple 5G bands to be combined for faster and more reliable connections.
In what it characterized as a "mic drop" - T-Mobile this week bragged that it had "achieved its year-end goal of covering 260 million people with Ultra Capacity 5G weeks ahead of schedule", an impressive accomplishment.
But just as exciting is the news that T-Mobile has added an entirely new chunk of spectrum to its 5G mid-band network nationwide - the 1900 MHz band n25. This band (and new carrier aggregation capabilities) coming online will significantly add to T-Mobile's 5G network.
The addition of this new 5G band is not unexpected and is a consequence of T-Mobile's merger with Sprint combined with the retirement of legacy 3G and LTE networks. This newly freed spectrum is now being used to build out band n25 coverage in a process known as "refarming," taking the cellular spectrum from old networks and reutilizing it for new ones.
So what does this mean for mobile internet users? Read on for the details...
T-Mobile 5G Expansion Video
A Short History of Band n25
The 1900 MHz spectrum being deployed by T-Mobile as band n25 has a long history, and way back in the 2G era, it was the second major piece of spectrum allocated nationwide for cellular use.
In the years since, all three major carriers have used various chunks of this 1900MHz spectrum for 2G, 3G, 4G, and even 5G.
Most of the carriers use chunks of spectrum defined as band 2 (LTE), or n2 (5G) - spectrum ranging from 1850 - 1910 MHz (uplink) and 1930 - 1990 MHz (downlink).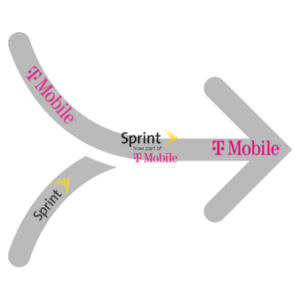 Sprint historically had exclusive rights nationwide to a small additional 5 MHz sliver of spectrum tacked on to the band 2 range, essentially extending band 2.
This "Extended PCS" band, from 1850 - 1915 MHz (uplink) and 1930 - 1995 MHz (downlink), was defined as band 25 (LTE) and now as n25 for 5G.
With the T-Mobile/Sprint merger complete, T-Mobile has combined its previous 1900 MHz spectrum holdings with the portions it acquired from Sprint.
Initially, this spectrum was tied up supporting legacy networks, primarily T-Mobile's 3G network and Sprint's LTE network. But now that the combined company has shut down both of those legacy networks, T-Mobile can rapidly redeploy that spectrum exclusively for 5G as band n25.
This provides another speedy layer of mid-band 5G capability that nicely compliments T-Mobile's already substantial band n41 coverage.
T-Mobile's Coverage Lead
T-Mobile jumped into its early lead with 5G thanks to its spectrum holdings, much of which came from its merger with Sprint.
Initially, AT&T and Verizon were mostly just repurposing their existing 4G/LTE spectrum for 5G, which was already congested and overcapacity in many areas - leaving them at a disadvantage.
But the situation has been changing.
Verizon and AT&T spent the past year playing catch up, and now that they have access to fast mid-band spectrum of their own (see our news story about C-Band / n77) - but they do still have a long way to go to fully catch up with T-Mobile.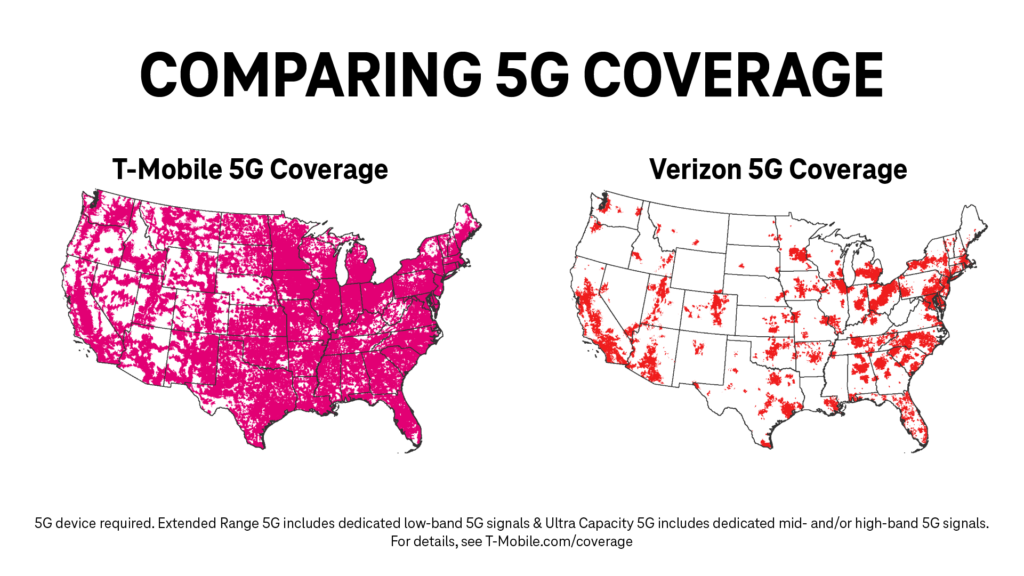 Verizon Vice President Brian Mecum recently acknowledged T-Mobile's lead, but said things will be changing as Verizon's C-Band cranks up in more markets:
"By 2024 the giant will have risen. It's great that they have a year to market that they have this experience. It's not going to last very long."
And 5G coverage isn't everything. Verizon and AT&T still outperform T-Mobile in many areas, especially in fringe areas where 5G has yet to be deployed and old, established legacy networks have a natural advantage.
T-Mobile's 5G Technology Lead
T-Mobile's rapid transition to 5G, including this latest rollout, means that T-Mobile continues to be the leader in bringing 5G technology to market.
T-Mobile is pioneering 5G standalone mode (see our story for a deeper explanation) that allows 5G networks to operate without needing 4G/LTE as a foundation, and 5G carrier aggregation that allows multiple 5G signals to be combined together for substantial improvements in speed and coverage.
And with band n25 coming online as a complement to T-Mobile's existing mid-band n41 and low-band n71 5G frequencies, T-Mobile seems poised to take another leap in terms of capacity and performance.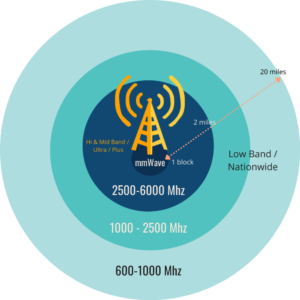 T-Mobile has two "flavors" of 5g:
Extended Range 5G - T-Mobile's announcement notes that the "Extended Range" network, largely built on 600 MHz band n71, now covers 323 million Americans. This is impressive and is also a consequence of the 600 MHz frequency, which supports very long-range cellular connections, but with the downside of slower cellular speeds. In short, n71 excels at long-range connectivity, which is important for increasing the overall coverage map.
Ultra Capacity 5G - This network covers T-Mobile's mid-band spectrum and a few limited millimeter wave deployments. The mid-band frequencies are the core of the Ultra Capacity network and, until now, have used band n41 spectrum acquired from Sprint. T-Mobile's announcement claims that 260 million people are now covered by this network, an increase of approximately 50 million over the last eight months. Adding n25 to the 5G UC network will further increase coverage, capacity, and speed.
But the big caveat with band n25 is that cellular devices must support this band, and to best take advantage of it, they must also support 5G carrier aggregation to allow other bands to be used together with the n25 band.
Band n25 and 5G Modem Compatibility
As we covered in our recent industry article on cellular modem developments and generations, not all 5G modems and devices have the same cellular capabilities.
Like 4G/LTE before it, cellular modem capabilities evolve along with 5G standards, and we are at the point where the first generations of 5G modems are already becoming obsolete.

Taking advantage of T-Mobile's new n25 band - and the ability to combine it with other bands for greater speed and reliability - requires a cellular modem that supports this band and advanced 5G carrier aggregation.
And right now, the only device that T-Mobile has fully enabled n25 support and 3x carrier aggregation support on is the Samsung Galaxy S22 smartphone.
The iPhone 14 will likely soon receive an update to enable this band and 3x carrier aggregation, followed by other devices that utilize the Qualcomm X62/X65 family of cellular modems.
Support is less certain for devices with the previous generation X60 modem, and is especially unlikely for devices with the X55 modems.
Although the X55 modem can technically support n25 (it is just an extension of the already commonly supported band n2, after all), the modem module and device makers may need to take steps to enable this band, potentially including additional testing and certification from the FCC.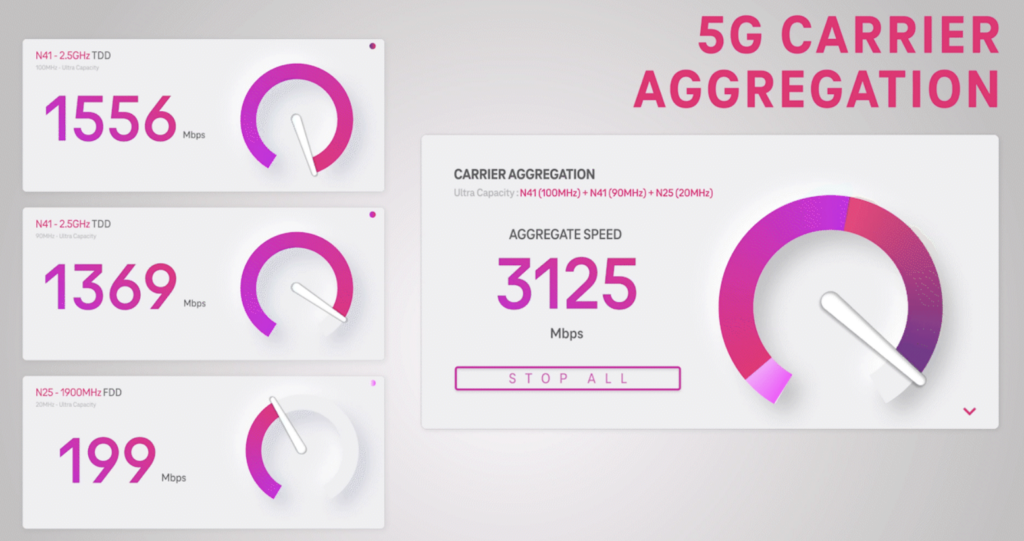 And even if module and device makers do add this band, the X55 is still limited when it comes to carrier aggregation compared to the latest-generation X62/X65.
In particular - the X55 cannot aggregate low and mid-band spectrum - which puts the X55 at a particular disadvantage when in weak signal areas since it can not combine n41 with n71.
And the X55 also can not combine different types of spectrum - and since n41 is Time Division Duplex (TDD) and n25 is Frequency Division Duplex (FDD) - the X55 just can not bring these bands together.
In contrast, the newer X65/X62 modems can combine low and mid-band spectrum, and combine three different chunks of 5G spectrum at once, allowing for more cellular bands to be combined for higher peak speeds and more reliable connections.
For T-Mobile, this means that an X65 modem could combine T-Mobile's two fast mid-band frequencies - n25 and n41, with the long-range band n71 for much faster speeds, greater range, and more reliability.
Or, in stronger signal areas, the X65 can combine two n41 channels together with n25 for truly insane speeds that begin to rival mmWave, but over a much longer range.
Concluding Thoughts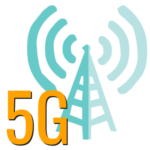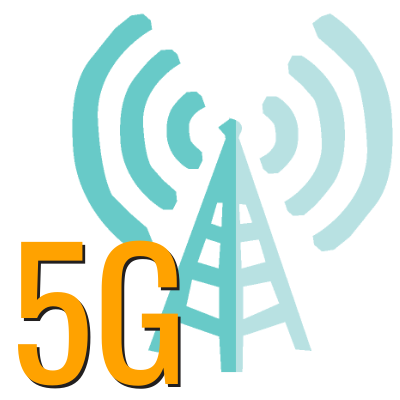 T-Mobile continues aggressively leveraging all the advantages it gained from the merger with Sprint to quickly expand its 5G network. This latest move keeps T-Mobile solidly in the lead when it comes to 5G coverage, speed, and capacity compared to competitors AT&T and Verizon.
For those who use T-Mobile but have not yet jumped from LTE to 5G, 2023 is the year to look to make that change. 5G really matters with T-Mobile, and mobile internet users will see significant benefits on 5G compared to LTE.
But the downside is that fully taking advantage of T-Mobile's 5G network will require newer cellular modems that can take advantage of this new spectrum and all it offers, such as the X62/X65 from Qualcomm. And there are as yet no cellular routers with X65 modems, and only a few hotspots have incorporated this technology.
Further Reading
And here is all of our recent related coverage: