Which Cellular Carrier is Best for RVers, cruisers and frequent travelers?
A: The one that works best at your current location...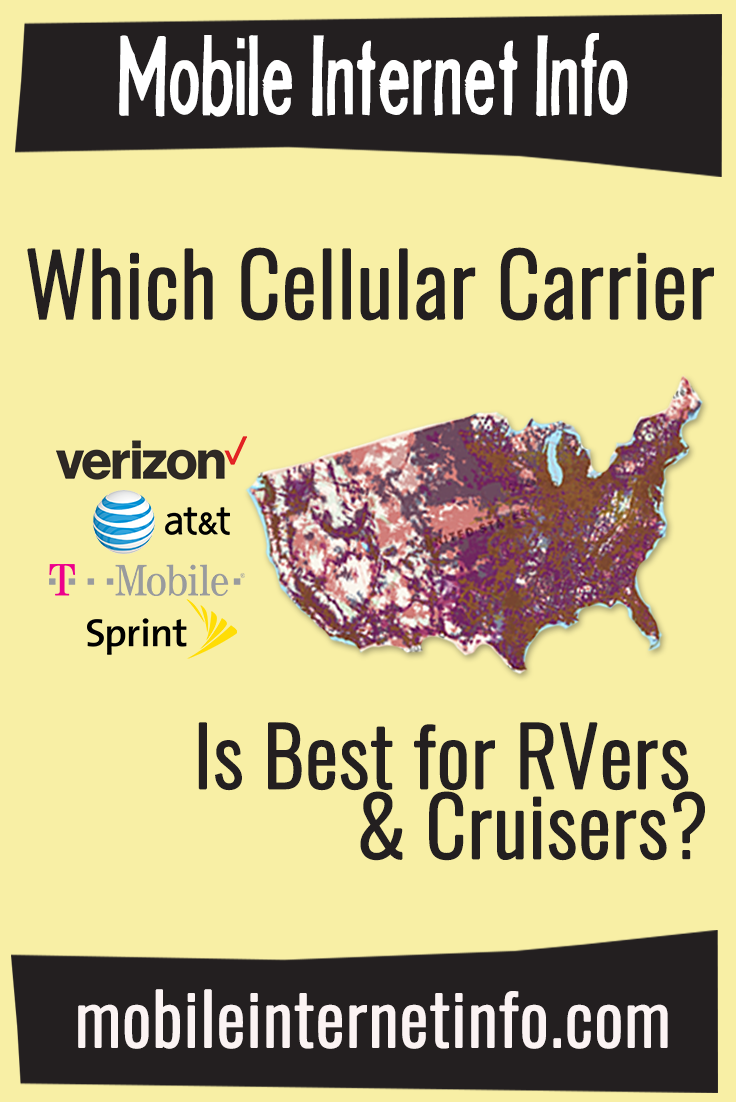 Cellular data is probably the easiest and most accessible option for getting online in most places across the USA.
But as simple as it can seem on paper, cellular is also sometimes a confusing subject – primarily because there are just so many options!
You have to choose which carrier(s) you want, which plans make sense, what equipment to purchase, and how much speed and data you actually need.
If you live in one location and only travel occasionally, it's relatively easy to pick the best cellular carrier.
Obviously, you go with the one that you've observed to have the best service within your area.
You can ask your friends and neighbors for experience, check the carrier's coverage maps and you can check crowd sourced coverage maps like http://www.sensorly.com, http://www.rootmetrics.com/us/ or http://opensignal.com .
While there might be an obvious "best" network for a given neighborhood, frequent travelers have a harder choice to make... our location changes, often!
There simply is no single network that works best everywhere.
All of the big four (or perhaps three come 2019 if the T-Mobile/Sprint merger is approved) nationwide carriers have their strengths and weaknesses in various locations across the country. And each offers different plans & policies that make them more or less suitable as a mobile internet solution depending on your needs.
As a frequent traveler, you need to consider what carrier - or more than likely, combination of carriers - will give you coverage and data in the places you want to visit.
This article is an overview of the strengths and weaknesses of the current four major carriers (Verizon, AT&T, T-Mobile and Sprint) in the US as they relate to mobile internet for RVers, cruisers and frequent travelers seeking an on-the-go home internet replacement.
Enjoy This Free Guide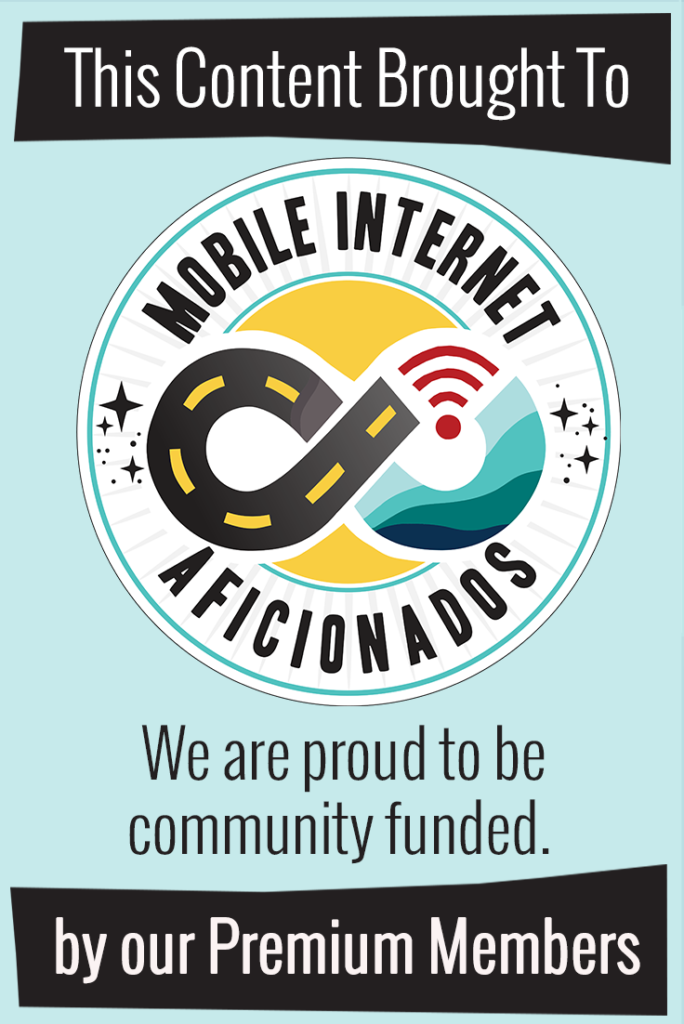 We are honored to be able to provide this guide without 3rd party advertising, sponsorships or relying on selling you gear or plans.
In thanks for funding this resource center, our premium members also get access to all of our in-depth guides, classrooms, reviews, Q&A forums, discounts and more.
If you're a member, please log in above to comment on this guide.
---
Video Overview
We created a 22 minute video that overviews the four carriers - be sure to check below for the latest on plan details.

---
Coverage
All four have embraced the same underlying fourth-generation (4G) cellular network technology, known as LTE. But they all have very different legacy 2G and 3G networks, coverage maps, compatible devices, supported frequency bands, and expansion plans going forward towards 5G.
The major difference for each of the carriers is how widespread their coverage is nationwide. And for those relying on mobile internet, 4G & LTE coverage are the most important for the fastest speeds.
In the US, the current four major nationwide carriers are:
Verizon - Has the most nationwide 4G coverage, and is usually a top pick for travelers.
AT&T - Close second to Verizon. They are gaining more coverage as they implement their FirstNet Band 14 network.
T-Mobile - The carrier to watch with a rapidly expanding network as they roll out their 600 Mhz network.
Sprint - Traditionally only useful when close to bigger cities, however roaming agreements with T-Mobile are rapidly improving things.

In May 2018, T-Mobile & Sprint announced their intentions to merge. The approval process likely won't be decided until at least mid 2019 - and then it's a couple years of implementation if approved. However, roaming agreements are already coming online, that are independent of the merger approval.
Below is a quick comparison of the four carrier's 4G coverage maps:
Screenshots above taken from the May 2019 HD map update to our app Coverage?
- showing just non-roaming 4G and better coverage for each carrier.
Got Coverage?

Although you can go to each carrier's maps online to scout out ahead, we decided to make it even easier. We wrote an app for that!

Coverage? overlays the carrier's coverage maps so you can create a personalized map to better plan your travels around connectivity!

While the carrier's maps may be 'optimistic' at times, using the carrier's maps is a great complement to also checking site-specific crowdsourced resources.

For more:
Tips for Travel Planning Around
Connectivity for RVers and Cruisers

The maps are stored on device, so you don't need to have coverage to find out which direction to head. Get the app now for Android or iOS:

---
Cellular Carrier Profiles
A general profile for each carrier is listed below.
Verizon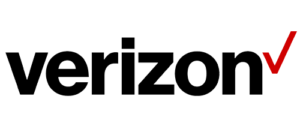 Verizon is the largest cellular carrier in the USA. It has the widest overall coverage area, the most deployed LTE, and typically good overall performance. If you ask in any RVing or boating group about what is best carrier, Verizon is usually the answer.
For these reasons, if you're only going to choose one network – Verizon is a the natural top choice.
However plan options for usable amounts of data as a home internet replacement on Verizon's network are lacking right now. They retired their prepaid unlimited Jetpack plan in May 2019 after a solid six month run (those who got it get to keep it.)
It's important to note that because Verizon's network is known to have the widest coverage and is the most popular network amongst nomads, it's actually not uncommon to pull into some popular areas to find the local Verizon tower overloaded and sluggish during peak times. They are also quite aggressive in their network management practices.
Device Tip:

For optimal nationwide coverage – make sure that your Verizon devices support LTE Bands 2, 4, 5, and 13. Many new devices are dropping support for Verizon's legacy CDMA 3G network, which should be fully shut down by end of 2019.

Verizon is currently expanding on to LTE Band 66, so keep an eye out for support for this band too when selecting devices for maximum future proofing.

If you have older devices - keep an upgrade in mind, particular if you notice friends and neighbors getting better Verizon performance.
Recent Verizon News Stories:
AT&T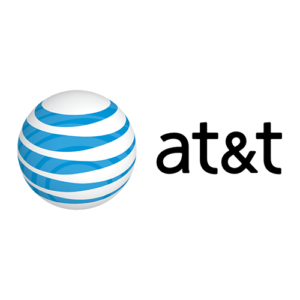 AT&T is the second-largest carrier and is a formidable rival and a great complement to Verizon for us nomads.
AT&T's LTE network often lags Verizon in coverage and speed, but there are many parts of the country where AT&T excels - and is sometimes even the only option.
In 2018 AT&T began climbing every tower in their network to implement their Band 14 FirstNet network for first responders - and has promised to also upgrade all towers in the process which could mean doubled LTE speeds for all.
In 2017 AT&T offered several attractive unlimited data plans that many nomads were able to snag. As of first quarter 2018 all of those plan options have retired (and are grandfathered for existing customers) and are no longer available. At present time, AT&T has some direct high bandwidth data plans that are still affordable, and there are third party resellers.
A combination of Verizon and AT&T on board gives the widest coverage across the country.
Device Tip:

AT&T uses a plethora of LTE bands, woven together in a patchwork with different bands in use in different areas. For maximum coverage and speeds on AT&T, it is important to seek out the latest devices with support for as many of these LTE bands as possible.

For maximum compatibility – make sure that your AT&T devices support LTE Bands 2, 4, 5, and 12/17 – and now LTE Bands 29, 30, and 66 increasingly matter too.

Band 14 is rolling out on newer devices and eventually AT&T will allow all consumers to utilize this long range band at lower priority than first responders - so it will become important as well.

AT&T is calling its most advanced LTE technologies "5G Evolution" (which is NOT 5G), so for the best possible future compatibility and performance keep an eye out for devices AT&T labels as compatible.

AT&T's legacy "4G" HSPA+ network has great performance and speeds nationwide, and occasionally can even outperform AT&T LTE. If your device supports it, turning off LTE to try 4G can sometimes prove a worthwhile experiment.
Recent AT&T News Stories:
T-Mobile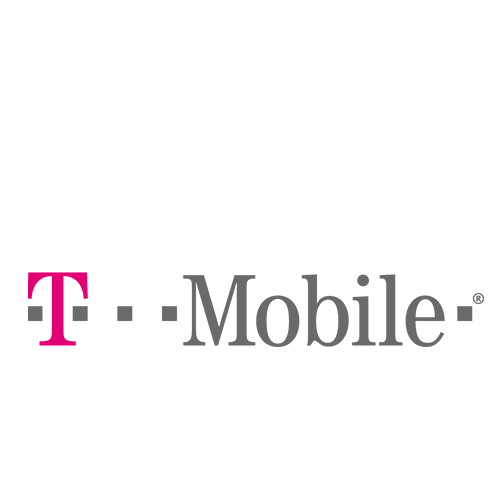 T-Mobile has been the carrier to watch – blowing past Sprint to take a solid third place in the market. T-Mobile is gunning for Verizon and AT&T next - especially if their intended merger with Sprint announced in May 2018 goes through in 2019.
T-Mobile's biggest achilles heel has been its lack of raw coverage, particularly in rural areas and indoors. When T-Mobile does have coverage, its network speeds are consistently some of the fastest.
T-Mobile is however moving aggressively to fill in its coverage gaps. In 2017 T-Mobile acquired a huge chunk of new 600MHz cellular spectrum, and in the years ahead will be deploying enhanced LTE service nationwide to fill in coverage holes.
But to benefit, you will need a compatible device capable of taking advantage of Band 71.
Device Tips:

For maximum compatibility – make sure that your T-Mobile devices support LTE Bands 2, 4, 12 and 71.

As of the mid-2018, LTE Band 71 support is rolling out on newer smartphone devices - and should be fairly standard going forward. If making a major purchase such as a flagship smartphone, make sure it has Band 71 support for optimal future proofing.
Sprint Merger Notes: If the merger with Sprint goes through, then they will also have access to a bunch of unutilized spectrum holdings. However, the decision on the merger won't come until likely mid-2019 - and it's not a given. A lot of hurdles still need to be passed and then years of implementation. Definitely something to keep your eye on however!
Recent T-Mobile News Stories:
Sprint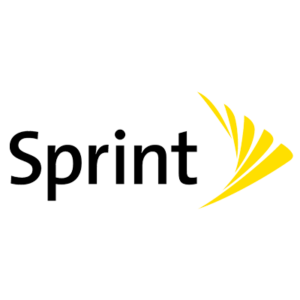 The fourth largest national cellular carrier has always been a technological oddball - and Sprint's LTE network uses bands that none of the other carriers have embraced.
Sprint's biggest advantage is that it tends to have affordable plan options. They currently directly offer affordable plans with generous amounts of high speed hotspot usage, and there are alternative ways to acquire truly unlimited data plans.
But the biggest downside of Sprint for nomads is its limited nationwide coverage map.
The vast bulk of Sprint's usable fast data coverage is pretty much only found in core urban areas and along major interstates. Often outside of that, you're roaming with very slow speeds – if you can get online at all.
If you're planning to stick to urban areas, Sprint might be worthwhile. But for most nomads, it is at best a backup option.
Device Tips:

For maximum compatibility – make sure that your Sprint devices support LTE Bands 25, 26, and 41.

Some Sprint devices support a technology called "HPUE" which allows for extended range cellular connections on Sprint's fastest band, LTE Band 41. HPUE support is still rare, but is worth seeking out to get the most out of Sprint's network.
T-Mobile Merger Notes: If the merger with T-Mobile goes through then the new combined carrier will be one to watch for sure! However, the decision on the merger won't come until likely mid-2019 - and it's not a given. A lot of hurdles still need to be passed. Definitely something to keep your eye on!
In the meantime, starting in mid-2018 the terms of the proposed merger allow for several years of roaming access onto T-Mobile which will start to be turned on. Sprint customers with T-Mobile compatible phones should start to see the service.
Recent Sprint News Stories:
---
Regional Carriers
In addition to the big four national carriers, there are a number of smaller regional and even local carriers that own and operate their own networks.
Some of the larger examples of this sort include U.S. Cellular, C-Spire Wireless, nTelos, Cellcom, and Cellular One.
These smaller regional carriers are usually poor choices for travelers, unless you know that you are primarily going to be spending time in areas where they have a strong native presence.
Even if the regional carrier has nationwide coverage through roaming agreements, if you're utilizing the service primarily outside its home region, you can find yourself running into all sorts of restrictions and limitations.
---
Getting Service
You can purchase service directly from each of the carriers as post paid or prepaid service. Or, there are many resellers & MVNOs (Mobile Virtual Network Operators) who offer plans on the major carriers with different features, pricing or restrictions.
Learn more About Data Plans:
Considerations for Selecting Cellular Data Plans
Browse Our Current Top Pick Data Plans:
Related Reading
Additional Cellular Data Guides
Cellular data is a BIG topic, and there's a lot to understand to pick the right combination and gear, plans and signal enhancing options for your needs. Here's some further content we offer on this topic to advance your knowledge:
For More Cellular Data Plans:
For more on selecting cellular data gear:
For more on getting the best cellular service:
Explore the Resource Center

The MIA is our premium membership - designed for those who consider mobile internet an important part of their lifestyle.
In thanks for making content like this possible, we offer a bunch of additional perks. From interactive guidance, in-depth member exclusive content, discounts, alerts and more.
We totally understand that a membership isn't right for everyone. However you can still support this content by making a financial contribution.
We deeply appreciate your gratitude - and your funding helps make this all possible!
Have Questions? Stay In the Know
Join our free Internet for RVers & Cruisers Facebook Group.
We cross post news articles and information there, and our staff can field basic questions during 'business hours'.
It is with gratitude to our premium members that we're able to offer this free service - and for that, they also have access our private Q&A areas for more in-depth guidance.
Stay in the Know
We're constantly tracking the industry and analyzing new developments for mobile travelers. If you'd like to receive updates, we offer several ways: