Which Cellular Carrier is Best for RVers, Cruisers, and Frequent Travelers?
Answer: The one that works best at your current location...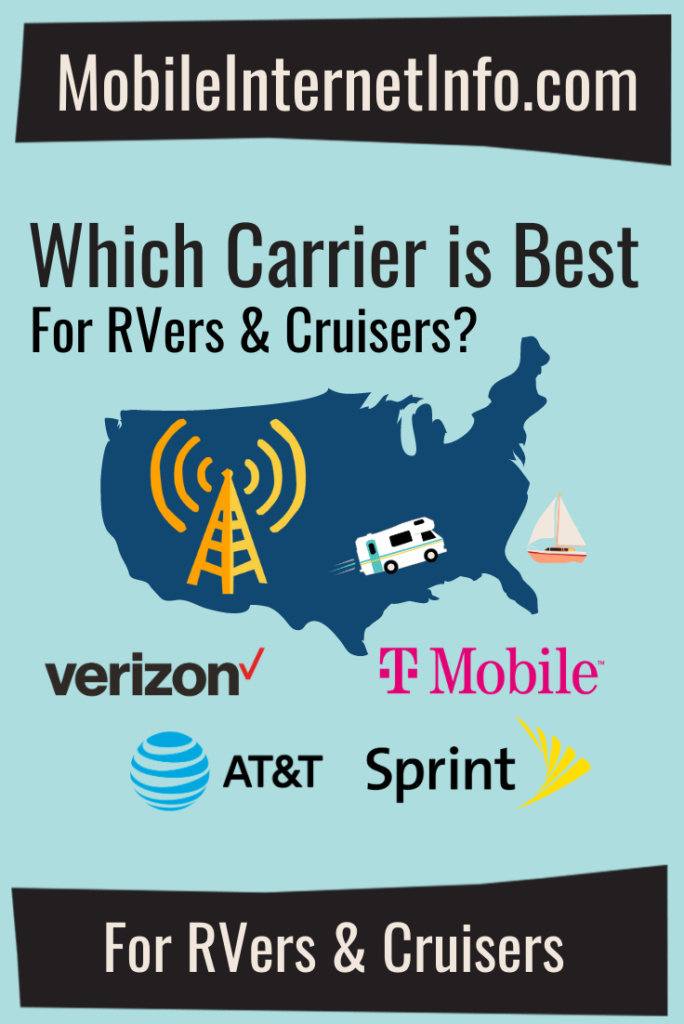 Cellular data is probably the easiest and most accessible option for getting online in most places across the USA.
But as simple as it can seem on paper, cellular is also sometimes a confusing subject – primarily because there are just so many options!
You have to choose which carrier(s) you want, which plans make sense, what equipment to purchase, and how much speed and data you actually need.
If you live in one location and only travel occasionally, it's relatively easy to pick the best cellular carrier for you.
While there might be an obvious "best" network for a specific location, frequent travelers have a harder choice to make since... our location changes, often!
There simply is no single network that works best everywhere.
All of the nationwide carriers have their strengths and weaknesses in various locations across the country. And each offers different plans & policies that make them more or less suitable as a mobile internet solution depending on your needs.
As a frequent traveler, you need to consider what carrier - or, more than likely, what combination of carriers - will give you coverage and data in the places you want to visit.
This article is an overview of the strengths and weaknesses of the current major carriers (Verizon, AT&T and the combined T-Mobile & Sprint) in the U.S. as they relate to mobile internet for RVers, cruisers and frequent travelers seeking an on-the-go home internet replacement.
This Guide Brought to You by Our Members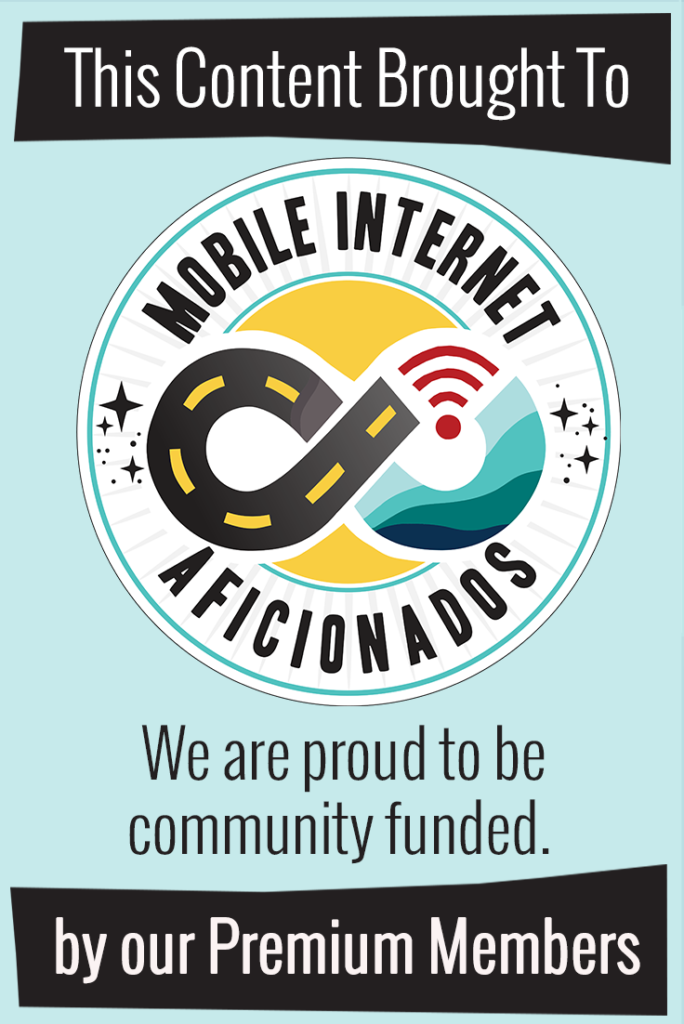 We are honored to be able to provide this guide for free - without 3rd party advertising, sponsorships or trying to sell you stuff.
In thanks for funding this resource center, our premium members also get access to all of our in-depth guides, classrooms, reviews, Q&A forums, discounts and more. But we understand, membership isn't for everyone - there are lots of ways to support our content.
If mobile internet is an important part of your lifestyle, here are ways you can help:
---
Video Overview
We created a 17 minute video that overviews the four carriers (will be updated once Sprint and T-Mobile have fully merged into one carrier):

---
Coverage & Compatibility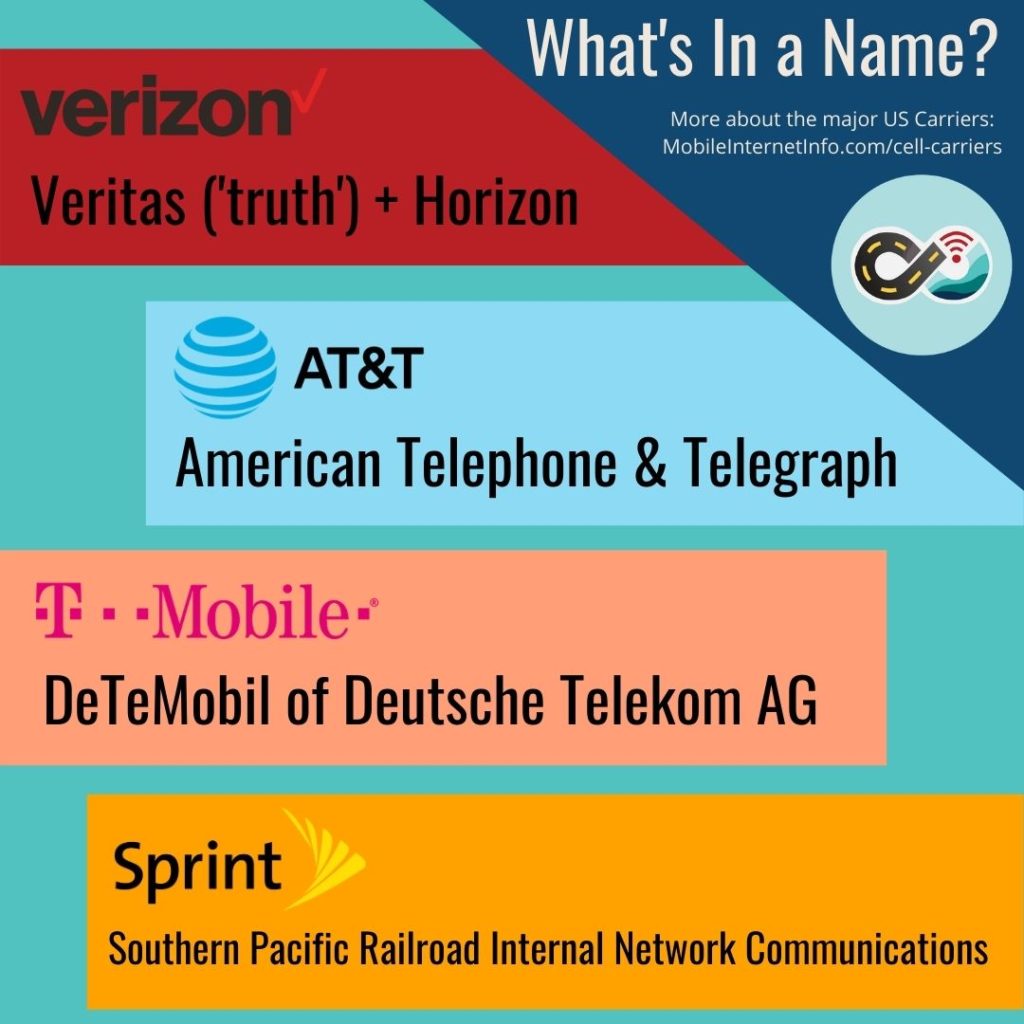 All carriers embraced the same underlying fourth-generation (4G) cellular network technology, known as LTE - though they use different towers and transmit on different frequency bands resulting in vastly different coverage maps and performance, despite the technological similarities.
5G technology is being deployed in new short-range mmWave (extremely fast, but short-range), mid-band, and low-band spectrum. Each carrier has its own roadmap to their 5G deployments, so deciding when it is time to hop on board is carrier-specific.
The carriers have very different legacy 2G and 3G networks too, which are being phased out over time.
When comparing carriers - you need to keep coverage maps, compatible devices, supported frequency bands, and expansion plans going forward towards 5G all in mind. And of course, available data plans that meet your needs.
For more on understanding the technology behind cellular:
Cellular Data Resources - Gear, Plans, Signal, Tech Dives
The major difference for each of the carriers is how widespread their coverage is nationwide. And for those relying on cellular-based internet as they move around the country, LTE coverage is still the most important and 5G something to definitely factor in as more cellular devices support this newer technology.
In the USA, the current four major nationwide carriers are:
Verizon - Has the most nationwide LTE and 5G UWB coverage, and is usually a top pick for travelers, although frequently congested.
AT&T - Close second to Verizon in terms of LTE coverage but also generally less congested.
T-Mobile - Still third in nationwide LTE coverage, but strongly leading the race to nationwide 5G.
Sprint - Acquired by T-Mobile in 2020, the two networks & customers will eventually be merged - but this is a multi-year process. Sprint customers can elect to become T-Mobile customer with their THX program, and many Sprint based plans roam onto T-Mobile towers.
Coverage Map Comparison
Below is a quick comparison of the four carrier's native LTE & 5G (the darker color) coverage maps, taken from the July 2021 HD Map update from our app, Coverage?:
For more on the carriers for RVers & Cruisers:
MobileInternetInfo.com/four-carriers
Got Coverage?

Although you can go to each carrier's maps online to scout out ahead, we decided to make it even easier.

We wrote an app for that!

Coverage? overlays the carrier's coverage maps so you can create a personalized map to better plan your travels around connectivity!

While the carrier's maps may be 'optimistic' at times, using the carrier's maps is a great complement to also checking site-specific crowdsourced resources.

For more:
Tips for Travel Planning Around
Connectivity for RVers and Cruisers

The maps are stored on device, so you don't need to have coverage to find out which direction to head. Get the app now for Android or iOS:

---
Cellular Carrier Profiles
A general profile of each of the four major carriers is below.
Verizon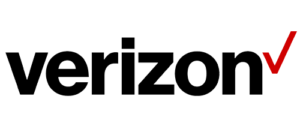 Verizon has the widest overall coverage area, the most deployed 4G/LTE, and typically good overall performance. If you ask in any RVing or boating group about what is the best carrier, Verizon is the most common answer.
For these reasons, if you're only going to choose one network – Verizon remains the natural top choice.
However, because Verizon's network is known to have the widest coverage and is the most popular network amongst nomads, it's not uncommon in some areas to find that the local Verizon tower is overloaded and sluggish during peak times, especially in locations that are popular for travelers.
When congested, Verizon can be quite aggressive in its network management slowdowns - and, in practice, Verizon often isn't the best pick in many locations.
3G/5G Plans:
3G - Verizon's 3G network is being actively decommissioned, and is slated to be retired by end of 2022. Many newer Verizon devices long ago dropped support for 3G. There's no longer any point in seeking out devices with backward compatibility.
5G - Verizon's initial 5G focus was on ultra short range and fast mmWave coverage (bands n260 and n261) in urban areas, and it released longer range 5G over shared spectrum with LTE (bands n2, n5, n66) in mid-2020. In practice, the current long range Verizon 5G isn't proving to be much faster than Verizon's LTE. Verizon's 5G future, however, is the massive C-Band spectrum they won at FCC auction at the beginning of 2021 and will start being deployed by end of year. 5G band n77 will become critical on Verizon.
Verizon Device Compatibility Tips:
If you want broad compatibility with Verizon's network, seek out devices that support these core bands depending on whether LTE or 5G is important to you:
4G/LTE: 2, 4, 5, 13, 66
5G Sub-6: n2, n5, n66
mmWave: n260, n261
And for maximum compatibility and future-proofing, look for support for as many of these additional bands as possible (in rough order of importance):
4G/LTE: 12, 14, 30, 29, 46, 48
5G Sub-6: n77
Recent Verizon News Stories:
AT&T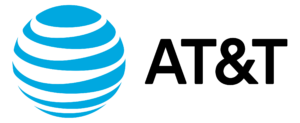 AT&T is a formidable rival and a great complement to Verizon for nomads.
Some even find an AT&T-only solution is feasible now.
AT&T's LTE network occasionally still lags Verizon in coverage, but there are also many parts of the country where AT&T excels - and sometimes it is the only option.
In 2018 AT&T began "climbing every tower" in their network to implement the FirstNet (LTE Band 14) network for first responders. They took the opportunity to upgrade their towers in general.
As this upgrade has spread across the nation, AT&T customers have reported noticeable speed improvements. And when there's not a local emergency, regular consumers can access the often uncongested Band 14 if they have compatible gear.
We rarely get reports of problems with network management issues on AT&T.
A combination of Verizon and AT&T onboard gives the widest possible coverage across the country.
3G/5G Plans:
3G - ATT's older 3G/HSPA+ is scheduled to be shut down by February 2022 and any phone without VoLTE support will no longer work on the carrier.
5G - AT&T's initial 5G focus was on ultra short range and fast mmWave coverage that it calls "5G+" - using band n260 in a few select urban areas. AT&T also released longer range 5G over shared spectrum with LTE (bands n2, n5) in mid-2020. In practice, the current long range AT&T 5G isn't proving to be much faster than LTE. AT&T won more mid-band spectrum in the FCC 2021 auction. Once the bulk of this spectrum is deployed in 2022/2023, 5G band n77 will become important on AT&T.
AT&T Device Compatibility Tips:
If you want broad compatibility with AT&T's network, seek out devices that support these core bands depending on if LTE or 5G is important to you:
4G/LTE: 2, 4, 5, 12/17, 14, 30, 66
5G Sub-6: n2, n5
5G mmWave: n260
And for maximum compatibility and future-proofing, look for support for as many of these additional bands as possible (in rough order of importance):
4G/LTE: 29, 13, 46, 48
5G Sub-6: n77
Recent AT&T News Stories:
T-Mobile


T-Mobile has been the carrier to watch over the past few years. It has grown rapidly, and even acquired Sprint to become a network that is now a worthy rival AT&T and Verizon. In terms of LTE/4G coverage, they are still a solid third place.
Thanks to spectrum acquired from Sprint, T-Mobile has been able to take an early lead in deploying 5G nationwide.
T-Mobile aggressively filled in the rural coverage gaps thanks to their acquisition of a huge chunk of long-range 600MHz cellular spectrum (LTE Band 71) and has deployed this band around the country for both LTE and its 5G network.
But to benefit, you will need a compatible device capable of taking advantage of Band 71/n71 (An Overview of T-Mobile LTE Band 71).
When T-Mobile has coverage, its network speeds are consistently some of the fastest, and they've become a more frequent part of a mobile internet arsenal for many RVers and boaters.
Merger, 3G & 5G Plans:
Sprint Merger: T-Mobile customers will want to be able to benefit from Sprint's LTE Bands 25, and mid-range Band 41 will be particularly important in T-Mobile's 4G/5G coverage. Sprint's band 26 is slated to be sold to Dish Network to become an eventual new carrier.
3G: T-Mobile will be sunsetting its 3G network in late 2021 to early 2022 and T-Mobile has already been aggressively re-utilizing this spectrum for 5G.
5G: T-Mobile started their 5G deployment utilizing their very low band 600 Mhz spectrum (band n71) making it the first to offer nationwide 5G coverage, and T-Mobile is now also rolling out on mid band (n41) and very limited mmWave (n260 & n261). If you're ready to hop on board with T-Mobile 5G, be sure any device you select supports n71 and n41 at a bare minimum - mmWave support isn't critical yet for T-Mobile. T-Mobile also won some mid-band n77 spectrum, but it's a low priority for them to deploy.
T-Mobile Device Compatibility Tips:
If you want broad compatibility with T-Mobile's network, seek out devices that support these core LTE bands:
4G/LTE: 2, 4, 5, 12, 25, 26, 41, 66, 71
5G Sub-6: n41, n71

And for maximum compatibility and future-proofing, look for support for as many of these additional bands as possible (in rough order of importance):
4G/LTE: 46, 48
5G Sub-6: n77
5G mmWave: n260, n261
Recent T-Mobile News Stories:
Sprint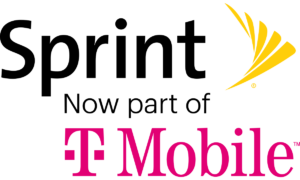 With the merger with T-Mobile now complete on paper, Sprint's website redirects to T-Mobile's and new customers are directed to sign up for T-Mobile plans.
But for now, the carriers still operate somewhat independently - each with their own coverage map and customer service. And you can request legacy Sprint plans as alternatives to T-Mobile. Customers who were on Sprint plans before the merger have the option to retain those plans for three years.
As of October 2020, T-Mobile is offering legacy Sprint customers the option to choose the "T-Mobile Network Experience" - aka TNX. TNX allows Sprint network customers with compatible devices to trade in their Sprint SIM card for a T-Mobile SIM card and move their plan to the T-Mobile network while retaining the features, billing, and terms of their original Sprint plan.
Sprint's biggest advantage was that it tended to have attractive plan options, but the biggest downside was its limited nationwide coverage map.
For plans that remain Sprint-based, they now roam automatically onto T-Mobile towers - provided you have a compatible device. This can make consideration of attractive Sprint-based data plans worthwhile, benefiting from the combined coverage map of both carriers, eventually becoming direct T-Mobile plans.
3G CDMA/LTE/5G Plans:
3G/CDMA: T-Mobile has announced that the Sprint 3G/CDMA network will be shut down by January 1, 2022.
LTE: T-Mobile has announced that the Sprint LTE network will be shut down by June 30th, 2022. Those on the network with compatible devices will be rolled onto the T-Mobile 4G/LTE network.
5G: Sprint had begun rolling out 5G, but with the T-Mobile merger that network has been discontinued, and existing 5G customers offered to switch to T-Mobile. All 5G is under the T-Mobile coverage map.
Sprint LTE Device Compatibility Tips:
If you want broad compatibility with Sprint's network, seek out devices that support these three core LTE bands:
25, 26, 41
In the past, only these three bands mattered on Sprint, and many Sprint-branded devices ONLY supported these three. But now that T-Mobile roaming is available, compatibility with T-Mobile bands matters now too.
So for maximum compatibility and future-proofing, look for support for as many of these additional bands as possible (in rough order of importance):
12, 4, 2, 5, 71, 66
Recent Sprint News Stories:
---
Regional Carriers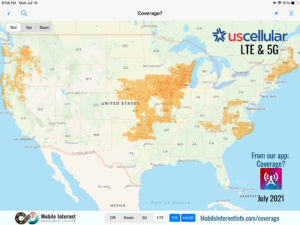 In addition to the big four national carriers, there are a number of smaller regional and even local carriers that own and operate their own cellular networks.
Some of the larger examples include USCellular, C-Spire Wireless, nTelos, Cellcom, and Cellular One.
These smaller regional carriers are usually poor choices for travelers, unless you know that you are primarily going to be spending time in areas where they have a strong native presence.
Even if the regional carrier has nationwide coverage through roaming agreements, if you're utilizing the service primarily outside its home region, you can find yourself running into all sorts of restrictions and limitations.
And if you are out of your home territory for too long - you will very likely end up getting your account canceled.
---
Getting Service
You can purchase service directly from each of the carriers as postpaid or prepaid service. In addition, there are many resellers & MVNOs (Mobile Virtual Network Operators) who offer plans on the major carrier networks with different features, pricing or restrictions.
Learn more About Data Plans:
Considerations for Selecting Cellular Data Plans
Browse Our Current Top Pick Data Plans:
Data Plan Pricing Guide & Grid:
---
Conclusion: "Best" Depends on Your Situation
All of the major carriers have their strengths and weaknesses. The best one for you may just be the one that works best in your current location. If you change locations frequently, you'll want to determine which carrier, or possibly which combination of carriers, will give you the best coverage in the locations you'll be visiting.
---
Selecting the right cellular data plan for your mobile internet needs is only one part of the equation. Here's some further guides on understanding the selection process as well as the additional gear you might need.
Explore the Resource Center
The MIA is our premium membership - designed for those who consider mobile internet an important part of their lifestyle.
In thanks for making content like this possible, we offer a bunch of additional perks. From interactive guidance, in-depth member exclusive content, discounts, alerts, classroom and more.
We totally understand that a membership isn't right for everyone.
However you can still support this content with our supporter level for just $25/year.
With our gratitude, you'll get access to all our free content without the 'nags'.

Have Questions? Stay In the Know
Join our 'Library Desk':
Internet for RVers & Cruisers Facebook Group
We cross post news articles and guides, and can help point you in the right direction to our content here on the resource center.
It is with gratitude to our premium members that we're able to offer our free content - and for that, they also have access our private Q&A areas for more in-depth guidance.
Stay in the Know
We're constantly tracking the industry and analyzing new developments for mobile travelers. If you'd like to receive updates, we offer several ways: