UPDATE (January 2017): WiFiRanger has let us know that they've run into some hardware bugs with the MicroLTE pack, and they need to wait for revisions to be made at the factory, delaying the product launch. We will update this story when WiFiRanger is ready to announce a new target ship date.
The SkyPro LTE update is also still in the works too, so stay tuned for news on both.
---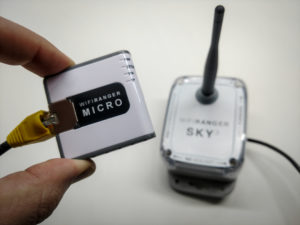 Last April WiFiRanger launched the SKyPro LTE that incorporated a roof-mounted LTE modem into a WiFiRanger SkyPro long-range Wi-Fi system.
But in response to feedback from beta testers (including us), WiFiRanger decided to hold off on shipping the product until the design and specifications could be improved.
The redesigned SkyPro LTE is still in the works (and we hear it may re-launch soon), but WiFiRanger today has announced a second less ambitious LTE product that will actually ship first:
The WiFiRanger Sky MicroLTE Pack
Though the overall package is somewhat less capable than the gear WiFiRanger is usually known for, the $299 package price for roof-mounted cellular and Wi-Fi is particularly groundbreaking.
WiFiRanger MicroLTE Pack Details
The WiFiRanger MicroLTE pack takes WiFiRanger's basic Sky3 (currently available to OEM's only) Wi-Fi receiver, and integrates in a Cat-4 LTE cellular modem with a Millenicom SIM installed - which provides service on T-Mobile's LTE network.
This outdoor unit is paired with a very basic indoor WiFiRanger Micro router that creates a private indoor Wi-Fi network to share the distant cellular or Wi-Fi the roof unit is connected to.
And the Micro does indeed live up to its name.
Here is how WiFiRanger CEO Kelly Hogan described the Micro:
"Every RV owner knows that space is at a premium in the RV, so we answered the request to make the indoor router as small as possible. We made it so small, that you may need your reading glasses to find it!!"
Small is indeed good - but in this case it comes at a cost in features.
The Micro router lacks support for local ethernet ports or USB tethering - all it does is create a basic local Wi-Fi network and provide power to the roof unit over a POE-ethernet jack.
If you need a more capable indoor device (or want to also tether to a more traditional Wi-Fi mobile hotspot) - a WiFiRanger Core, GoAC, or competitive routers from Pepwave are better options.
The additional downside of the MicroLTE package is that the 0.5 mile max theoretical Wi-Fi range of the Sky3 makes it a much less capable long-range Wi-Fi device than the roof-mounted SkyPro (1.5 miles) or WiFiRanger Elite (2 miles).
But...
The entire package costs just $299 - this is nearly $300 less than the announced price of the SkyPro LTE pack!
If you don't need the extra range or capabilities - the MicroLTE pack has a lot to offer for not much more than the cost of a conventional portable mobile hotspot.
Millenicom Partnership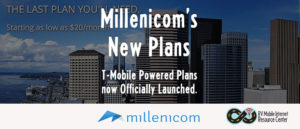 WiFiRanger is partnering with long-time RVer favorite Millenicom to offer easy-to-activate data plans that ride on top of T-Mobile's cellular network.
No contracts will be required - and you will be able to activate and deactivate a plan as needed via a web interface.
Millenicom is currently able to offer a 6GB/mo plan for $35 that includes unlimited music streaming and 480p "DVD Quality" video streaming that does not count against this usage limit, thanks to T-Mobile's "Binge On" feature.
Or for $70/mo you can get unlimited high-speed data (but 480p video), or for $95/mo you get unlimited data with unthrottled HD video streaming.
And - these Millenicom plans roam at full speed into Canada and Mexico too.
If T-Mobile isn't your network of choice, the SIM card in the MicroLTE is removable - and you can reportedly use an AT&T plan in this modem as well. The modem include in the MicroLTE however is NOT Verizon compatible.
Getting A MicroLTE Pack
The WiFiRanger Sky MicroLTE pack is slated to be publicly announced later today (January 3rd), and WiFiRanger says the first units will ship on January 15th.
Initial stock will be "limited" - WiFiRanger tells us they will have more stock in February, and that they are waiting to see how many people are interested in this cheaper solution versus waiting for the more full-featured WiFiRanger SkyPro LTE pack.
So... Is This Interesting?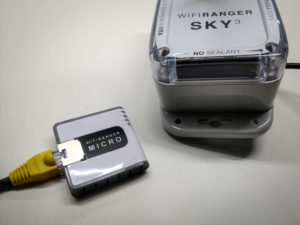 We still have a few questions about the MicroLTE Pack, and we expect to have more details soon.
But first impressions based on what we know so far...
For the price, the MicroLTE makes for a pretty sweet package. And for those with basic needs, it actually meets most of them.
But for anyone who needs a more advanced local network, or who wants to invest in a more capable roof-unit, the SkyPro LTE is likely to be a better choice.
Heads Up: The specs and pricing of the WiFiRanger MicroLTE pack actually seem to be somewhat comparable to what little we know about the upcoming Winegard ConnecT 2.0. If integrated cellular and Wi-Fi on your roof appeal to you, be sure to keep an eye out for details on this other option too.
WiFiRanger in the News Updates: