Update (2/22/2019): E-mails have gone out to Airstream owners and dealers are starting to stock the new equipment. It's based on the Pepwave MAX-BR1 Mini and Poynting MIMO-3-V2 antenna. We have both pieces of equipment in for testing (minus the Airstream), thanks to LivinLite.net.

Here's our video overview of the equipment:

UPDATE (9/20/2018): All Airstreamers Soon Eligible!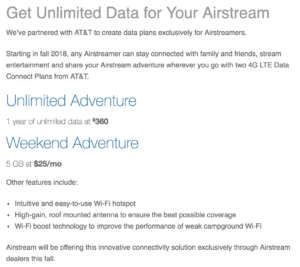 We have been in touch with Airstream since this article first ran, and indeed there are plans to take this partnership with AT&T well beyond the flagship Airstream Classic.
And now AT&T and Airstream have announced that starting later this year "any Airstreamer" will be able to sign up for the "Unlimited Adventure" plan to get unlimited and unthrottled data from AT&T for a full year for just $360.
You may not need to buy a new Airstream Classic, but you DO need to go through an Airstream dealer.
At least for now, you must purchase the cellular / Wi-Fi hardware module and "professional installation" is required.
Specific details on this hardware and on what installation will cost have not been revealed yet - but presumably it will be a lot less than the cost of an Airstream Classic.
Depending on the overall system cost, this may prove to be a great way even for people with vintage Airstreams to tap into this plan.
And we can only hope that eventually AT&T brings something similar out to an even wider audience of RVers.
If you have an Airstream and want to sign up to be notified as soon as the upgrade option is available later this year, you can do so here.
BUT....
We notice that AT&T has removed the language on the plan page explicitly saying that this plan had "no network management rules", but there are no clarifications around just what sort of limits might make sense for an annual unlimited plan.
When we first spoke to Airstream they confirmed to us that there were indeed no network management rules, and AT&T has apparently confirmed the same detail to mobile industry analyst Fierce Wireless.
We've reached out to try and confirm just what might have changed over the past month since the plan was first announced - and if we find out why the AT&T plan page was edited we will update here.
Our original story continues below...
---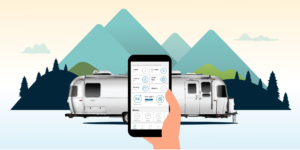 The ultimate connectivity dream of many full-time travelers is to have a truly unlimited mobile internet connection - without the headaches of network management, throttled speeds, or hotspot usage limits.
Which is why it is so exciting to see AT&T launch a new hotspot plan claiming to offer:
"Unlimited for $360 for 1 year (365 days). Prepaid unlimited with no network management rules."
The plan even works while roaming in Canada!
But of course, there is a catch.
In this case, this plan only works with a very special hotspot that is "sold separately"...
And while the data plan may be cheap - the hotspot required is actually a 2019 Airstream Classic, which has a starting price of only $149,900.
That is certainly a new record cost for a mobile hotspot!
But just what are the details?
---
Video Version of this Story:
Subscribe to our YouTube channel
---
Introducing Airstream Smart Control Technology
Earlier this month, Airstream announced a new upcoming feature set for its travel trailers called "Smart Control Technology."
This is centered on an automation module, similar to home automation systems, that gives Airstream owners the ability to control an Airstream's features and components remotely via a control panel or app.
Turn on your lights, extend the awning, adjust the thermostat, check your tank levels, locate where you parked, and much more - even if you are away from your RV.
The connectivity for this is provided over LTE by AT&T's Connected Car division, and the control module also enables you to share this LTE connection by creating a Wi-Fi hotspot for up to ten connected devices.
Airstream's Smart Control Technology is set to debut as a standard feature on Airstream's flagship trailer - the 2019 Airstream Classic.
Hopefully it will be offered an an option on other new Airstreams in the future, but at the moment this is launching as a Classic exclusive.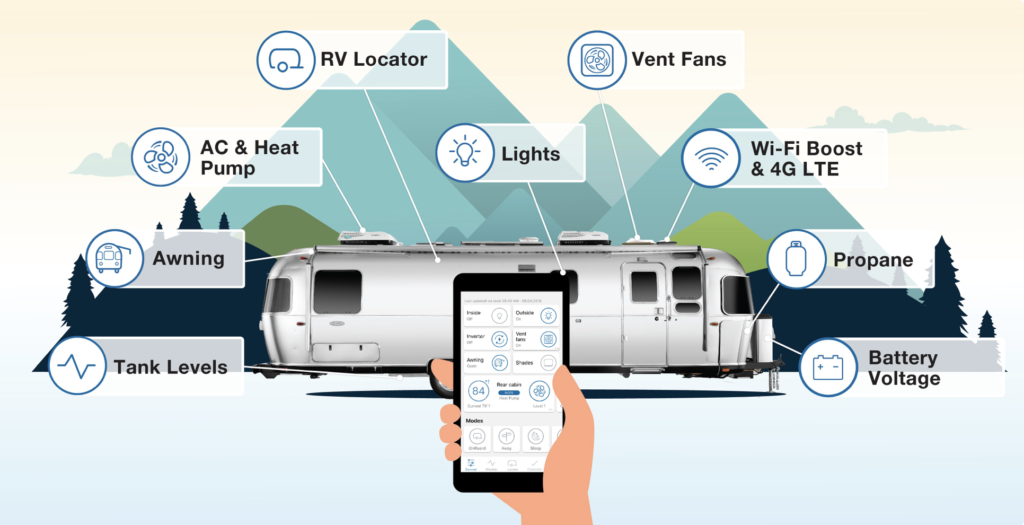 The First Year's Free
Airstream is offering to cover the first year of unlimited data for free via a rebate, and when that year is up,there will be two prepaid plans available from AT&T:
An annual unlimited plan for $360/year.
5GB/month for $25/month, which can be activated or deactivated as needed.
This Airstream exclusive plan is listed under AT&T's "Connected Car" program (similar to the old Mobley plan) and requires an eligible vehicle with a built-in modem to qualify - in this case, a 2019 Airstream.
There is no option to connect these plans to alternative devices - it is intended to only work as part of Airstream's Smart Control module.
But even with this restriction, this is a really good deal for unlimited LTE data - working out to only $30/month!
You just need to get over that initial sticker shock first.
Thoughts & Questions

We've been in touch with Airstream to learn the deeper technical details about the Smart Control hardware and this plan, and to find out when this may become an option for other than the premium-priced Classic.
For now Airstream tells us "it is a bit premature" to talk about the details since the 2019 Classic is not shipping yet, but they have promised us a deep dive to talk about all the details in the upcoming months when they are ready.
We are excited to see a major RV manufacture investing in integrating connectivity to this level.
We can't help but wonder:
When will Airstream offer this as an option for other models? - YES, as a dealer installed option. See the update above.
Will there be an upgrade path or retrofit kit available for older Airstreams? - YES, coming later in 2018. See update above.
Is this Airstream exclusive, or will other Thor brands (Airstream's parent company) be able to offer this?
Will AT&T make a similar deal with other RV manufacturers?
Will RV clubs perhaps be able to offer plans like this to their members?
Is this perhaps an intentionally limited experiment to allow AT&T to test the waters?
We wonder - is integrated connectivity and unlimited data (without frustrating hidden limits) back to stay, or will AT&T take a look at just how much data RVers can use and back away from expanding this plan further?
We'll have to wait and see to find out.