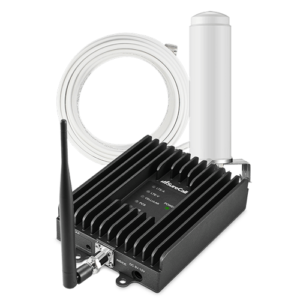 Cellular booster manufacturer SureCall has been around for a long time (since 2001), and has built up a solid reputation for providing boosting primarily intended for larger commercial buildings.
SureCall also produces home and mobile boosters, but the past few SureCall mobile boosters have left us a bit underwhelmed.
SureCall's original line of mobile TriFlex LTE boosters were expensive, awkwardly large, carrier specific (forcing a pick between AT&T or Verizon), and generally underwhelming performers.
The multi-carrier 5-band Fusion2Go came out in mid-2016, but it was still a bit of a laggard in our testing - and the need to manually tweak little gain dials to optimize the signal at each location was clunky.
The mid-2017 Fusion2Go 2.0 update dropped the little dials, but was otherwise identical.
But now in 2018 - SureCall has something new, a completely re-designed Fusion2Go 3.0 that claims to be the most powerful mobile booster on the market. And it is launching at a price that undercuts its competition too.
And if that were not enough, SureCall is also launching a unique cradle-style booster that functions without needing a roof-mounted antenna.
Read on for the details!
Fusion2Go 3.0 - What's New?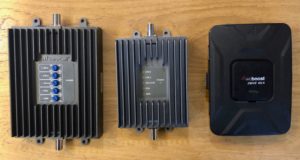 The new Fusion2Go 3.0 comes in a smaller metal case than its older brother - but on paper, the specifications for the SureCall Fusion2Go 3.0 look to be essentially identical to the older model.
Just like most similar boosters (such as the weBoost Drive 4G-X), the specs for the Fusion2Go 3.0 show that the booster can provide 50dB of signal gain - which is the FCC mandated limit for a mobile booster.
Both boosters also support boosting signal for multiple devices simultaneously, using the same range of LTE bands - not surprising since boosting support for any additional bands has not been approved by the FCC.
The spec sheets for the old and new model are in fact basically a perfect match - except for one tiny addition, a new spec for Max Uplink Power. The Fusion2Go 2.0 was rated at 27.1 dB and the new 3.0 is rated at 29 dBm (approximately 800mW).
We asked SureCall to explain just exactly what was new in the Fusion2Go 3.0. This is what they sent us:
"The most noticeable change between Fusion2Go 2.0 and 3.0 will be seen in its ability to communicate with towers at greater distances. The Fusion2Go 3.0 has more output power. The value of this is it solves the most challenging part of connecting a call or sending a text, which is getting your phone to produce a strong enough signal to send your call or text back to the tower. The other big difference has to do with data speeds, without getting overly technical the Fusion2Go 3.0 is more efficient and, in turn, better equipped to send and receive data."
Update (March 26): We told SureCall they are free to get "overly technical" with us and they follow up with this:
"With better chipsets used in the boosters you're able to get almost double the distance from the cell tower than you could before--AND still make a call. That's the key. Boosting the downlink signal is what shows you the dB rating (in a negative number). So boosting downlink is what takes you from a -90 dB to a -50 dB, for example. But, boosting the uplink is where our booster shines. This isn't measured by the numbers you see, but is what allows you to get and stay connected from way on the fringe of a network. It's hands down better than any booster out there right now, which is why we had an independent lab verify the data and compare against the closest competitive booster."
But the claims of more output power are significant - and they echo the similar claims that weBoost made to use explaining just what made the weBoost Drive 4G-X more capable than the cheaper Drive 4G-M:
"The Drive 4G-X has more uplink power, or power sent back to the cellular tower, than the Drive 4G-M. There is about a 6 dBm difference in that power (roughly 23 dBm uplink on the 4G-M and 29 dBm on the 4G-X); this equates to a 600 mW difference in power being sent back to the cell tower. That's a lot of power!"
We definitely saw the difference extra uplink power make in practice in fringe areas with weBoost, especially when it came to upload performance critical tasks like two-way video conferencing.
SureCall Throws Down The Gauntlet Challenging weBoost
The weBoost Drive 4G-X has been our top pick cellular booster since it came out. It is a solid and reliable workhorse, and we've definitely seen where its increased uplink power comes in handy to keep upload data speeds humming in remote areas.
But SureCall felt confident enough that the new Fusion2Go 3.0 is a worthy contender that they commissioned an independent third-party lab analysis to show that under lab conditions the Fusion2Go 3.0 is actually putting out a bit more power.
And for those not inclined to read a 51-page technical analysis (free to download, but you must share your email address), SureCall has put out a YouTube challenge video pitting the Fusion2Go 3.0 versus the Drive 4G-X:
Biased, of course - and in only one isolated location - but interesting nonetheless.
Based on the lab results and all the published specs we've been able to find, we have cautiously high hopes that the Fusion2Go 3.0 might have some serious performance potential. But we are eager to test it for ourselves.
Perhaps we at long last have a worthy rival to the Drive 4G-X?
Video: Our First Impressions
SureCall sent us an evaluation Fusion2Go 3.0 that arrived too late to be included in our early-2018 head-to-head testing round, but now that we have the booster in hand here is our quick video first look:

Please note, apparently SureCall sent us the vehicle kit PLUS the RV kit parts - the RV kit they ship does not include the vehicle antennas.
Update: In this video we mentioned that SureCall sent us the Canadian version. They have followed up that there is no difference in spec between the Canadian and US versions, and both are certified for use in either country.
FusionTrek Cradle Booster Details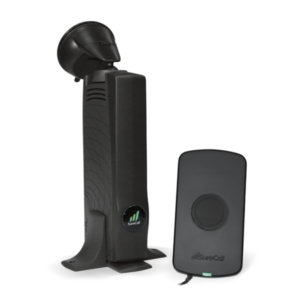 Also new from SureCall is the FusionTrek cradle-style booster, designed to provide a better signal for a single boosted phone nestled in its convenient dash-mount cradle.
But unlike other similar boosters - the FusionTrek does NOT require an outdoor antenna mounted on the roof of your vehicle.
Instead, the boosting unit is designed to attach via suction-cup to a rear window, and it integrates the booster and antenna into one.
This is a very unique design - and we are curious how well this will work in practice, particularly in a RV or boat environment where someone might want an inexpensive booster around 'just in case' that doesn't require roof top installation.
Can a booster in a back window actually substantially outperform a phone in the same location?
Here's our unboxing and first impressions of the evaluation unit we'll be testing:
Getting the Fusion2Go 3.0 & FusionTrek
Both new boosters are now shipping.
The Fusion2Go 3.0 is $399, or the"RV Kit" which comes with an additional omnidirectional outdoor antenna, indoor antenna, AC power supply, and 40' of extension cable is $449. This is as much as $100 less than the Fusion2Go 2.0, and significantly undercuts the weBoost Drive 4G-X which retails for $479, or $499 with either the OTR "Trucker" or RV antenna kits.
The FusionTrek lists for $199, the same price as the similar new weBoost Drive Sleek.
We have links to places to purchase these new boosters in our gear guide linked below.
Further Reading: