(11/1/18 UPDATE): Sprint has increased the high-speed hotspot data limits on the Plus and Premium plans from:
Plus Plan: 15GB 50GB
Premium Plan: 50GB 100GB
The Premium Plan now also includes two $10 Uber credits per month.
On August 31, 2018, Sprint rolled out a new tier of cellular service called "Unlimited Premium." This plan is a new addition to the existing Unlimited Basic and Unlimited Plus plans which came out in mid-July 2018.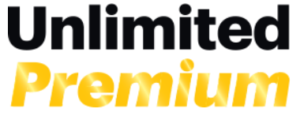 The Unlimited Premium plan is advertised as a "VIP experience" and it does include a ton of features for an extra $20/month per line over the Unlimited Plus. That $20 gets you the following additional features:
An Amazon Prime subscription
Lookout Premium Plus which provides identity theft protection and mobile internet security
50GB of high speed mobile hotspot
Unlimited talk, text, and Unlimited 4G LTE data in Canada and Mexico
No streaming limits for video, gaming or music.
The plan costs $90/month with Autopay for one line. According to Sprint, all these services would cost at least $130 if purchased individually. So, by their calculation, customers on this plan would get $40/month in savings, or nearly $500/year.
---
Video Verizon of this Story:
Subscribe to our YouTube Channel
---
Details, Pricing, and Limitations
Sprint's new top-tier plan gives Sprint a total of five unlimited plans - Unlimited Basic, Unlimited Plus and Unlimited Premium, plus the two discounted options, Unlimited 55+, and Unlimited Military. Unlimited Premium is the most expensive option but also has the most features and benefits.
Unlimited Premium Plan Pricing and Features:
First line: $90/month
2nd Line: $70/month
Each additional line (up to 10): $50/month
Mobile Hotspot: 50GB at high speed, then 3G speeds
Streaming: Full HD - no caps or throttling for video, gaming or music
Network Management: 50 GB
International Use: Unlimited Talk, Text and LTE data in Canada & Mexico. Roaming available in 185 other countries for additional fees.
This is a smartphone-only plan, so those who want other connected devices, such as a mobile hotspot or tablet, will need a separate plan for those.
Sprint Mix-and-Match: It appears Sprint has quietly added the option to mix-and-match its three unlimited plan options in one plan, similar to Verizon. For example, you could get 2 lines of Unlimited Premium for $160 and two lines of Unlimited Plus (the mid-tier option) for only another $40/month.
Sprint is also offering a $10/month per-line discount for those that bring their own phone or buy a new one at full price. That makes the first line $80/month with autopay, the second $70/month and each additional line $40/month.
---
Analysis
Sprint's new "VIP" level Unlimited Premium plan does pack in a ton of useful and compelling features for a price that is very competitive.
The addition of Amazon Prime is a great feature - one that not only gives a large video streaming library, but also free 2-day shipping and the other benefits of Prime service.
The chart below compares the "top tier" plans for each of the four major carriers: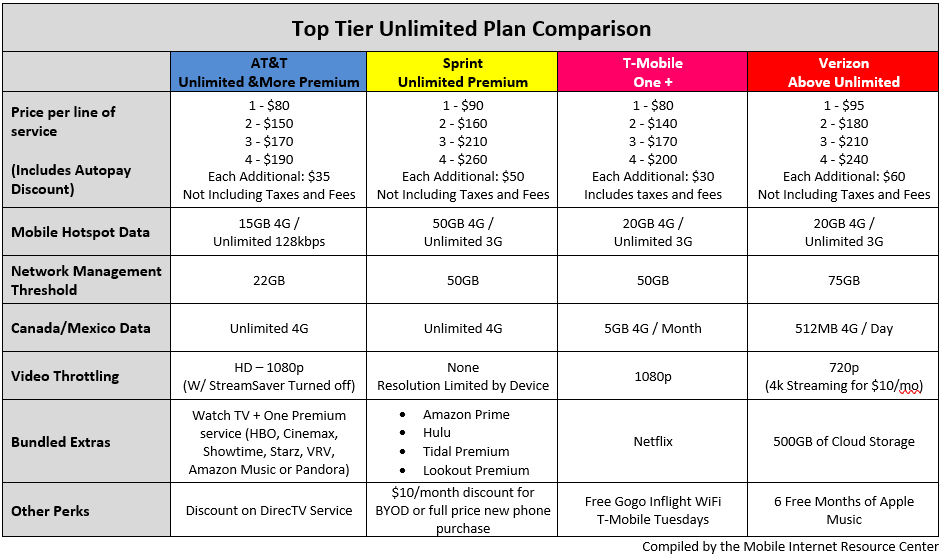 Depending on your individual needs and tastes, Sprints new offer could be a much better value than the competition with a healthy 50GB of high speed mobile hotspot data, no video throttling (opening up 4k on compatible devices) and Amazon Prime as a fantastic and useful bundled extra.
The single-line price is very competitive, but this plan doesn't scale as well for multiple lines - For example, for four lines the total cost is $70 more per month than AT&T's top-tier plan.
As is the case with any Sprint-based plan, prospective RVers, Cruisers, and nomads should consider if Sprint's coverage map - the smallest of the four carriers - will work for planned travels.

For more on the four carriers and how they stack up:
It's interesting that Sprint came out with this plan on the heels of T-Mobile retiring their top-tier One + International option. Since Sprint and T-Mobile announced they planned to merge, Sprint has slowly changed its offerings to more closely match those from T-Mobile's - until now.
While we don't have any inside information, it would not surprise us if T-Mobile came out with a new top-tier option.
Regardless, this new Sprint plan will definitely give the competition something to think about.