Mobile Internet

News Center
From cellular plans, new product announcements to technology advancements - we analyze industry news for how it impacts RVers, cruisers and nomads.
Our news stories are provided as a free service,
made possible by our premium members.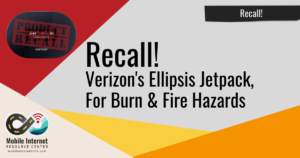 Recalled: Verizon Ellipsis Jetpack Mobile Hotspot Due to Fire and Burn Hazards
Ellipsis Jetpack mobile hotspot models MHS900L, MHS900LS, and MHS900LPP produced by Franklin are being recalled by Verizon in conjunction with the Consumer Product Safety Commission due to the risk of overheating leading to potential fires and burns.
Major Industry Analysis Articles