Receiving a Better Wi-Fi Signal
Every RVer and cruiser at some point has thought about connecting to the internet via someone else's Wi-Fi network.
Fast! Free! Unlimited!
But all too often attempts to use local public Wi-Fi networks result in a disappointing reality - you may at best get just one out of three.
Even throwing expensive range-extending technology at the problem can only go so far to improve Wi-Fi connectivity. Better gear can help but it can't work miracles or get around restrictions built into many public Wi-Fi networks.
The truth is that Wi-Fi just isn't well suited to meet the needs of nomads seeking a home-internet replacement on the road or water.
The reason is that it takes a substantial investment to deploy even modestly fast public Wi-Fi over an extended area. And it takes ongoing expertise to keep any network reliably up and performing well under load. Not to mention security concerns.
To better manage expectations and the insatiable demands for connectivity - many public Wi-Fi networks have turned to charging for access or placing limits on usage to better manage the demand. But even paid for "premium" Wi-Fi all too often still comes up lacking.
Relative to cellular connectivity, public Wi-Fi often ends up being:
Slower - Real-world public Wi-Fi is often just 1mbps to 10mbps, compared to increasingly common peak speeds of over 50+ Mbps on cellular.
Harder to Use - Many public Wi-Fi networks have "captive portals" that force you to agree to terms, pay, or login with a password (sometimes rotating on a daily basis!). Jumping through these hoops can often be a challenge or be just plain annoying - particularly if you want to go get multiple devices online at once.
Less Secure - On cellular, only your carrier (and law enforcement) can monitor what you are up to online. On public Wi-Fi networks, any machine connected to the same public network can attempt to snoop on you, as well as whoever owns and runs the Wi-Fi network.
Less Reliable - Wi-Fi signals are broadcast on unlicensed spectrum that is subject to interference and overloading. In many places, there may be dozens of Wi-Fi networks attempting to share the same limited broadcast channels! Cellular networks on the other hand operate on dedicated licensed channels and are not subject to this sort of free-for-all interference.
It all adds up to Wi-Fi often being more trouble than it's worth.
But if you understand the limitations and realities, having gear to take advantage of public Wi-Fi can actually be a valuable part of a nomad's connectivity arsenal.
Wi-Fi may be particularly useful in places where cellular may be lacking - having the capability onboard to tap into distant public Wi-Fi sources can prove to be extremely worthwhile as a secondary source of internet.
---
The Realities of Public Wi-Fi
It used to be common that the fastest, cheapest, and easiest way to get online was to use public Wi-Fi networks - but with the huge improvements in cellular over the years, Wi-Fi is now rarely the best choice.
But even with cellular becoming dominant many libraries, coffee shops, RV parks, marinas, breweries (yay!), motels, municipal parks, and even fast food restaurants offer free Wi-Fi. There are also numerous paid Wi-Fi networks too. And international travelers can often depend on local Wi-Fi networks when traveling abroad.
But though Wi-Fi has the potential to be blazingly fast over short distances, only a few public Wi-Fi networks actually deliver on this promise.
How can you know where you might have the best odds of having great Wi-Fi?
The performance of a public Wi-Fi network is highly dependent upon how it is connected to the internet. The backend could be a cable, fiber, DSL, satellite, or even cellular! Another major factor is: how many other people are sharing that connection? A campground Wi-Fi network could have, for example, a 1Gbps fiber-optic connection, but that connection is shared by potentially hundreds of people.
In some cases, an overloaded upstream connection may feel little better than old dial-up modems. And in some remote places, the upstream connection can be a very slow satellite or DSL connection.
In many situations, even though you may be able to get online via Wi-Fi – it may not even be worth the effort.
To deliver a great Wi-Fi experience, an RV park, marina, or other public facility needs to have invested in sufficient Wi-Fi infrastructure AND have access to a high-speed connection to service it.
Consider:
They need to be paying for enough backhaul capacity to fully meet the demand. Many public networks were designed to handle basic web surfing and email, and they are not paying for nearly enough network capacity to enable multiple people streaming video.
They need to professionally deploy expensive gear to broadcast the signal over a broad area. Don't expect a restaurant or store to have spent money beaming their signal out into the parking lot. Even many campgrounds and marinas may have deployed Wi-Fi only at the office and other common areas.
They need to pay for ongoing upkeep and support to make sure the network stays up and reliable. Many campgrounds skimp here, and the network performance for everyone can be ruined by one ignorant user trying to pirate some movies via BitTorrent, gobbling up all available capacity in the process.
In many remote areas, even if a campground is willing to make the investment in great Wi-Fi - better connectivity may not even be an option if there is no cable, fiber, or DSL service to be had within dozens of miles. If the campground front office can't afford to get fast internet, there is no way that they will be able to offer fast Wi-Fi to anyone else.
With so much cost and hassle required to deploy good Wi-Fi, it is no surprise that many campgrounds seem to have settled on doing the absolute bare minimum.
But some places have made the investment - and these places can be islands of Wi-Fi nirvana.
If Wi-Fi is important to you - seek out premium RV parks and marinas that have installed the necessary long range Wi-Fi gear and who have contracted for enough backhaul capacity to put it to use.
Don't be afraid to call and ask pointed questions about whether their network is fast enough to stream, and check the latest campground reviews to confirm other's experiences.
And always have a backup cellular plan, just in case the Wi-Fi lets you down!
---
Finding Wi-Fi Networks
Finding Wi-Fi networks can be a challenge. Here's some guidance on where to look.
Campground & Marina Wi-Fi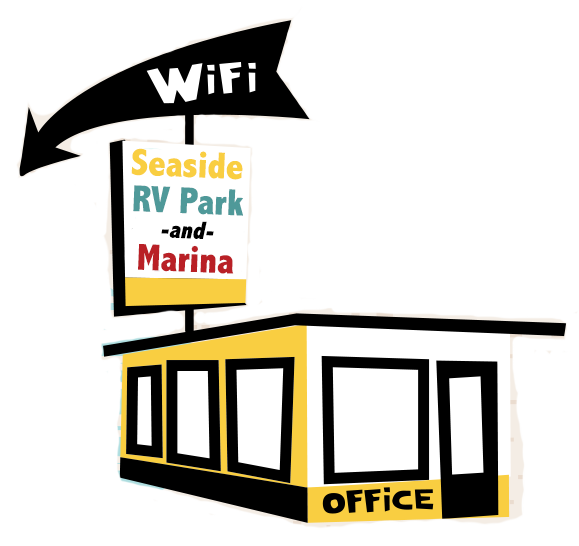 Although you would think that a campground or marina that advertises "Free Wi-Fi!" as prominently as it does 50A power hook-ups would have worthwhile service, you may not find that to always be true for the reasons explained above.
Generally, even if the Wi-Fi is managed professionally, it is common for free networks to be only good enough for checking email and doing some basic surfing. All most travelers are assumed to need.
Increasingly campgrounds and marinas put various restrictions on the Wi-Fi network to keep people from using a lot of bandwidth. There can be speed caps or a limit on the number of connected devices per campsite. There may even be prohibitions against streaming with active blocks on common streaming services.
Some locations have outsourced the chore of providing Wi-Fi to a commercial provider, like Tengo Internet, onSpot, or GoZone who manage the bandwidth and network. Sometimes they charge extra for service, cap how much data you can use, or limit how many devices you can connect at once.
The theory is that these limits help fairly spread out the available capacity, and setting up a paid network keeps freeloaders who might not even be customers from tapping into the network.
Professionally managed Wi-Fi connections should in theory end up being faster and more reliable than open and free. Unfortunately, that's a theory that doesn't always manifest into reality.
It's best to look at campground and marina provided Wi-Fi as a bonus if it's usable, but not to plan around it for anything critical or bandwidth intensive.
You may find great Wi-Fi – fast and without data caps. But these networks tend to be the exception, not the rule.
---
The Wi-Fi Worthiness Test
Do this Before Investing in Expensive Gear!
A lot of people invest a small fortune in long-range Wi-Fi hardware, only to report back disappointedly that it hardly made any difference.
And dishonest vendors often promise massive Wi-Fi performance boosts from Wi-Fi extenders and similar gear and devices.
In a lot of these cases, there just isn't any worthwhile service to work with in the first place. If the campground or marina has slow and unreliable Wi-Fi in the front office near the hotspot, no amount of technology will be able to make things any better further away.
Before you invest time and money in installing extra gear, find out if the Wi-Fi hotspot you're trying to connect to is actually worth the effort.
We call this the "Worthiness Test":
Take your laptop, phone, or tablet up as close to the hotspot as you can manage.
Run some speed tests (Our guide: Testing & Understanding Your Mobile Internet Speeds)
Try out some typical web surfing.
Try streaming some video.
If the experience is a good one, then using long-range Wi-Fi extending gear may help maintain that performance from your more distant campsite or marina berth.
But if not, save yourself some frustration and find another way online.
If the performance is bad up close, there is nothing further you can do to improve it, except perhaps complain to management.
Tip: If you can time-shift your internet use, an otherwise congested Wi-Fi network may give great performance at non-peak times. For example, a Wi-Fi network may be completely congested during prime time as everyone tries to stream Netflix, but it could be fast and usable later that night or earlier in the day.
---
Product Guide: Wi-Fi Extending & Repeating Gear
Here are some of the popular products appropriate for RVers and boaters that can help with long-range Wi-Fi. Click on each for more information.
---
Challenges of Wi-Fi
From range & radio power, two-way communication, and network congestion - this section helps you better understand the challenges of utilizing public Wi-Fi sources so you can set your expectations.
Wi-Fi Range Extending Gear
This section focuses on explaining the differences between Wi-Fi as WAN, Wi-Fi extending/repeating, and how CPEs differ from antenna-only solutions.
Breaking Through Captive Portals
A common challenge of using campground or marina Wi-Fi networks is that they require a special login via a webpage - which some gear can have difficulty with.
Wi-Fi Standards & Ranges
This section gets a bit geeky, going more in-depth into Wi-Fi technology itself, explaining the differences in different generations of standards.
Security on Public Wi-Fi Networks
Using public Wi-Fi networks comes with some increased risks - this section goes over safe surfing practices. Including malware, VPNs and using smart passwords.
Field Testing: Wi-Fi Range & Performance Analysis
We share some real-world examples of our extensive range testing using some of the top Wi-Fi range extending solutions on the market.
Video Overview
Summary: Is the Wi-Fi Worthy?
Using public/free Wi-Fi can be tempting, but very often it can be slower, harder to use, and less reliable than a cellular connection.
Before investing in equipment to help you improve a public Wi-Fi connection, make sure you understand the challenges and limitations of using one. If the speed or capacity of the public connection isn't good to begin with, no amount of fancy equipment is going to make it better.
If the Wi-Fi connection you're wanting to access is a strong, reliable connection, a device like an antenna or Wi-Fi extender may help. And if you really want to focus on Wi-Fi and know you'll be at locations with good Wi-Fi, then a Wi-Fi-as-WAN router or CPE may be worth considering. Be sure to take things like distance, line of sight, and possible network congestion into consideration.
---