Receiving a Better Wi-Fi Signal
Every RVer and cruiser, at some point, have thought about connecting to the internet via someone else's Wi-Fi network.
Fast, Free, Unlimited Internet!
But all too often, attempts to use local public Wi-Fi are disappointing - you may, at best, get just one out of those three.
Even throwing expensive range-extending technology at the problem can only do so much to improve Wi-Fi connectivity. Better gear can help sometimes, but it can't work miracles or get around restrictions and limitations built into many public Wi-Fi networks.
The truth is that Wi-Fi just isn't well suited to meet the needs of nomads seeking a home internet replacement on the road or water.
In short, relying on Wi-Fi connectivity is usually more trouble than it's worth.
But if you understand the limitations and realities, having gear to take advantage of public Wi-Fi can actually be a valuable part of a nomad's connectivity arsenal.
Wi-Fi may be particularly useful in places where cellular may be lacking, and the capability to tap into public Wi-Fi sources can prove extremely worthwhile as a secondary internet source.
For more on what Wi-Fi is and the basics of the technology, see our guide:
---
The Realities of Public Wi-Fi
It used to be common that the fastest, cheapest, and easiest way to get online was to use public Wi-Fi networks - but with the huge improvements in cellular over the years, plus the addition of advanced satellite connectivity like Starlink, Wi-Fi is now rarely the best choice.
In many situations, even though you can get online via Wi-Fi, it may not be worthwhile.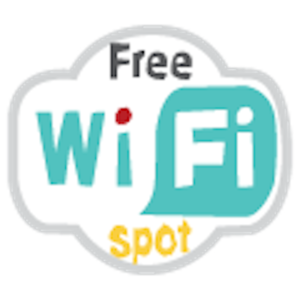 Relative to cellular connectivity, public Wi-Fi often ends up being:
Slower - Real-world public Wi-Fi is often just 1Mbps to 10Mbps, compared to increasingly common peak speeds of over 100+ Mbps on cellular.
Harder to Use - Many public Wi-Fi networks have "captive portals" that force you to agree to terms of service, pay for service, or log in with a password (sometimes rotating daily!). Jumping through these hoops can often be challenging or just annoying - particularly if you want to get multiple devices online at once.
Less Secure - On cellular, only your carrier (and law enforcement) can monitor what you are up to online. On public Wi-Fi networks, any machine connected to the same public network can attempt to snoop on you, as well as whoever owns and runs the Wi-Fi network.
Less Reliable - Wi-Fi signals are broadcast on unlicensed spectrum subject to interference and overloading. Crowded areas may have dozens of Wi-Fi networks attempting to share the same limited broadcast channels! Cellular networks, on the other hand, mostly operate on dedicated licensed channels and are not subject to this sort of free-for-all interference.
But even with cellular becoming dominant, many libraries, coffee shops, RV parks, marinas, breweries, motels, municipal parks, and even fast-food restaurants offer free Wi-Fi, which is usually connected to landline internet sources. There are also numerous paid Wi-Fi networks. And international travelers can often depend on local Wi-Fi networks when traveling abroad.
Although Wi-Fi has the potential to be blazingly fast over short distances, only a few public Wi-Fi networks actually deliver on this promise.
Factors Affecting Public Wi-Fi
How can you know where you might have the best odds of having great Wi-Fi? It's really hard to determine in advance.
The performance of a public Wi-Fi network is highly dependent on several factors:
The Available Backend Internet Connection
The Wi-Fi system needs to be connected to the internet through a backend connection to the internet itself. This could be a landline connection (cable, fiber, or DSL), satellite, or even cellular!
In remote areas, fast backend connections may not be available or are very expensive. So if the campground front office can't get fast internet, there is no way that they will be able to offer fast Wi-Fi to anyone else.
Available Internet Capacity
In areas with good backhaul links, the Wi-Fi system owner still needs to pay for enough backhaul capacity to fully meet the expected demand, which can be very expensive. A campground Wi-Fi network could have a fast backhaul connection, but if there are hundreds of people sharing that connection, then speeds will be slow.
Wi-Fi networks may put throttles on connections to ensure a few users don't hog what's available. For this reason, many public networks are designed to handle basic web surfing and email, and they don't have enough network capacity to support multiple people streaming 4k video.
The Wi-Fi network Capacity
The public Wi-Fi system may not be built to handle a lot of users. We've seen instances where dozens of users are all connected to a basic home-style broadband router that's really only designed for a few users in a home or small business environment. This gear simply cannot handle many users and connections before slowing to a crawl.
A robust public Wi-Fi network usually needs expensive enterprise-level gear to broadcast the signal over a broad area, handle a high number of users, and integrate many pieces of equipment into a single system. And don't expect a restaurant or store to have spent money beaming their Wi-Fi signal out into the parking lot. Many campgrounds and marinas have deployed Wi-Fi only at the office and other common areas.
Public Wi-Fi operators also need to pay for ongoing upkeep and support to make sure the network stays up, reliable, and secure. Many campgrounds skimp here, and the network performance for everyone can be ruined by one ignorant user trying to pirate some movies via BitTorrent, gobbling up all available capacity.
With so much cost and hassle required to deploy good public Wi-Fi, it is no surprise that many campgrounds seem to have settled on doing the absolute bare minimum. But some places have made the investment - and these places can be islands of Wi-Fi nirvana.
If Wi-Fi is important to you - seek out premium RV parks and marinas that have installed the necessary long-range Wi-Fi gear and who have contracted for enough backhaul capacity to put it to use. Additionally, campgrounds and marinas are increasingly outsourcing their Wi-Fi service to specialized companies to avoid the hassle, but this is not free, and you will likely be paying for that more professional service either with higher campground/marina fees or directly to the third-party provider.
Don't be afraid to call and ask pointed questions about whether their network is fast enough to stream, and check the latest campground reviews to confirm others' experiences.
And, like always, have a backup in case the Wi-Fi lets you down!
---
Finding Wi-Fi Networks
Finding good-performing Wi-Fi networks can be a challenge. Here's some guidance on where to look.
Campground & Marina Wi-Fi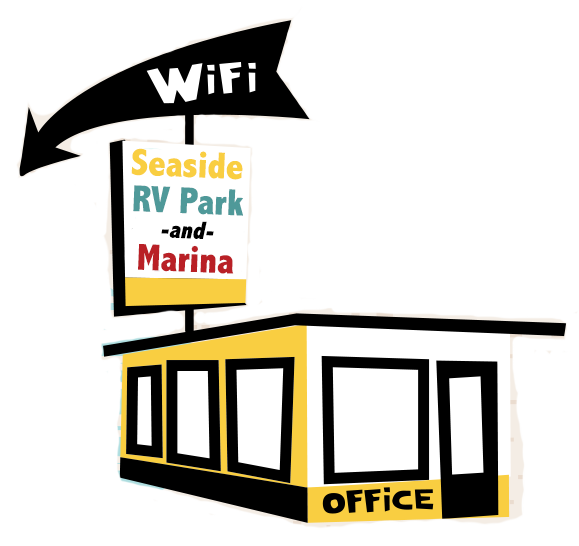 Although you would think that a campground or marina that advertises "Free Wi-Fi!" as prominently as it does 50amp power hook-ups would have worthwhile service, you may not find that is always true for the reasons explained above.
Some locations have outsourced the chore of providing Wi-Fi to a commercial provider, like Tengo Internet, onSpot, or GoZone, who manage the bandwidth and network. Sometimes, they charge extra for service, cap how much data you can use, or limit how many devices you can connect.
These professionally managed Wi-Fi connections should, in theory, end up being faster and more reliable than a DIY network managed by the campground or marina. Unfortunately, that's a theory that doesn't always manifest into reality, but generally, professional third-party providers offer a consistent experience that may be worth paying for.
For campgrounds that run their own Wi-Fi systems, there is no way to know how well it will work. This is where travel planning and research come in - reviews from other users are a good way to gauge whether a particular campground has decent Wi-Fi.
You'll also want to be aware that Wi-Fi may not be evenly distributed across the campground or marina. Which site or berth you're located at can be the difference between unusable and usable Wi-Fi. If you're in a more isolated spot, then the Wi-Fi-extending gear discussed below may be useful to improve the connection.
Finding & Using Free Public Hotspots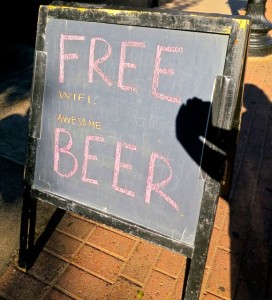 Many businesses and other public areas besides campgrounds and marinas provide free Wi-Fi access to their customers. In fact, Wi-Fi has become a ubiquitous offering at most businesses.
These hotspots can offer great connectivity if you have the flexibility and/or desire to take your laptop with you. Some folks rely on this method as their primary internet, seeking out cafes and libraries throughout their travels.
And, if you can get your RV or boat within range of one of these public Wi-Fi hotspots, then you might be able to tap into them from the comfort of your RV or boat.
Several apps and websites track free hotspots, but it's usually pretty easy to stumble into these places when needed.
Keep in mind businesses optimize their Wi-Fi network to provide service within their facility for their customers, not to beam service to a parking lot for non-customers. You may only get a usable signal inside their building. And a lot of businesses will use a password for access to limit freeloader use.
Some places might limit how long they'll let you stay on their connection, as they need their tables for customers just arriving. If asked to move on, be respectful and comply.
Also, please respect that the Wi-Fi a business provides is generally a courtesy that costs money. Do your best to be a good customer and tip your server well for taking up a seat in their area for an extended time.
Other Wi-Fi Networks
We previously mentioned Tengo Internet, onSpot, and GoZone, which are commercial third-party Wi-Fi providers that partner with campgrounds, marinas, and other businesses. Another big player is Boingo, which has over one million hotspots worldwide, including many Tengo locations found within campgrounds. You can get unlimited access to all of Boingo's partnered locations globally for a monthly fee.
But there are also other widely deployed Wi-Fi networks available to some customers for free and to others for a fee. In particular, the major landline internet service providers have large Wi-Fi hotspot networks that customers can tap into. These can be handy, fast, and free for part-time nomads with home landline service. Some even offer a profile for your smartphone that will automatically connect to these Wi-Fi hotspots while traveling.
Here are some of the major ones:
Many other ISPs have Wi-Fi networks in different parts of the country on a more regional basis. Check if your stationary family members and friends are customers of one of the participating cable companies - you might be able to get their permission to use their login to access these Wi-Fi hotspots.
Driveway Surfing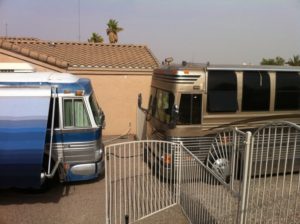 One of the most reliable ways to access Wi-Fi is by borrowing a cup of bandwidth from friends and family as you travel.
Most folks with fast, wired home connections are happy to share their unlimited high-speed bandwidth to do OS updates, download videos, software updates, or do massive data syncing to cloud storage services.
It's a great way to combine social time and completing digital chores.
TIP: We have a guide with further tips on effectively utilizing a host's internet source:
Driveway Surfing & Moochdocking
---
The Wi-Fi Worthiness Test
Do This Before Investing in Expensive Gear!
Many people invest a small fortune in long-range Wi-Fi hardware, only to report that it hardly made any difference.
Dishonest vendors often promise massive Wi-Fi performance boosts from cheap Wi-Fi extenders and various gadgets.
While additional gear can help in some situations, in a lot of cases, the problem is there isn't any worthwhile Wi-Fi service to begin with. If the campground or marina has slow and unreliable Wi-Fi in the front office near the access point, no amount of Wi-Fi-enhancing technology will be able to make things any better further away.
So before breaking out or purchasing Wi-Fi-enhancing gear, find out if the Wi-Fi hotspot you're trying to connect to is actually worth the effort.
We call this the "Worthiness Test":
Take your laptop, phone, or tablet up as close to the Wi-Fi access point as you can manage.
Run some speed tests (Our guide: Testing & Understanding Your Mobile Internet Speeds)
Try out some typical web surfing.
Try streaming some video.
If the experience while near the access point is a good one, then using long-range Wi-Fi extending gear may help with Wi-Fi performance at your more distant campsite or marina berth.
But if the experience is not good near the access point, save yourself some frustration and time and find another way online.
If the performance is bad up close, there is nothing further you can do to improve it, except perhaps complain to management.
Tip: If you can time-shift your internet use, an otherwise congested Wi-Fi network may give great performance at non-peak times. For example, a Wi-Fi network may be completely congested during prime time as everyone tries to stream Netflix, but it could be fast and usable later that night or earlier in the day.
Check Out Our Video:
---
Product Guide: Wi-Fi Extending & Repeating Gear
Here are some of the popular products appropriate for RVers and boaters that can help with long-range Wi-Fi. Click on each for more information.
Wi-Fi Range Extending Gear
This section focuses on explaining the differences between Wi-Fi as WAN, Wi-Fi extending/repeating, and how CPEs differ from antenna-only solutions.
Breaking Through Captive Portals
A common challenge of using campground or marina Wi-Fi networks is that they require a special login via a webpage - which some gear can have difficulty with.
Security on Public Wi-Fi Networks
Using public Wi-Fi networks comes with some increased risks - this section goes over safe surfing practices. Including malware, VPNs, and using smart passwords.
Field Testing: Wi-Fi Range & Performance Analysis
We share some real-world examples of our extensive range testing using some of the top Wi-Fi range extending solutions on the market.
Video Overview
This video presentation is a companion to this guide.
---
Summary: Is the Wi-Fi Worthy?
Using public/free Wi-Fi can be tempting, but very often, it can be slower, harder to use, less secure, and less reliable than a cellular connection.
Before investing in equipment to help you improve a public Wi-Fi connection, ensure you understand the challenges and limitations of using one. If the speed or capacity of the public connection isn't good to begin with, no amount of fancy equipment will make it better.
If the Wi-Fi connection you want to access is a strong, reliable connection, a device like an antenna or Wi-Fi extender may help. And if you want to focus on Wi-Fi and know you'll be at locations with good Wi-Fi, then a Wi-Fi-as-WAN router or CPE may be worth considering. Be sure to consider things like distance, line of sight, and possible network congestion.
---