Livestreaming, Video Chat, and Video Conferencing
Video broadcasting or conferencing over Zoom, Microsoft Teams, YouTube Live, Facebook, Twitch or Skype using mobile internet from an RV or boat presents some unique challenges.
Mobile internet sources like cellular data, Wi-Fi, or satellite don't always provide consistent performance and upload speeds which are critical for success with interactive video conferencing.
Just like streaming video over Netflix or Hulu, live broadcasting video can require a lot of bandwidth, except going in the other direction: up instead of down.
For interactive video conferencing, you need to send and receive video content at the same time - and in real-time, which complicates matters even further.
Despite the difficulties and compromises of mobile internet that come with a RVing or boating, it is definitely possible to overcome these challenges and successfully broadcast video and conduct video conferences while traveling.
To make it work consistently and reliably, however - you'll need a good mix of tools, equipment, data plans, and some knowledge of how to put them all together.
This guide is designed to cover everything you need to know in order to broadcast or video conference successfully while using mobile internet sources from an RV or boat.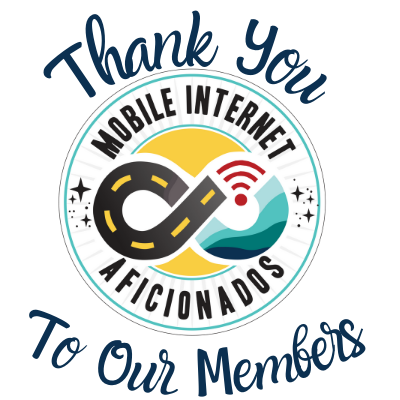 If you're a member, please log in above to access the exclusive portions of our content.
It is with huge gratitude to our members & supporters for making the free content on our site possible. We're not sponsored, you'll find no 3rd party ads and we don't sell 'stuff'.
Our members get exclusive access to our in-depth content, classrooms, vendor discounts (that can save you more than membership!), alerts, insider info and interactive guidance.
If mobile internet is an important part of your lifestyle, consider helping make MIRC possible. 
---
Video Conferencing over Mobile Internet Overview
Here's a 17-minute video that recaps this guide with some tips for successful video broadcasting and conferencing over mobile internet:
Mobile Internet Sources & Video Conferencing
Mobile internet users have three primary options for getting an internet connection: Cellular, Wi-Fi, and Satellite.
A complete list of advantages and disadvantages to each (plus some alternatives) is provided in our Overview Guide:
Mobile Internet Overview Guide
Cellular Data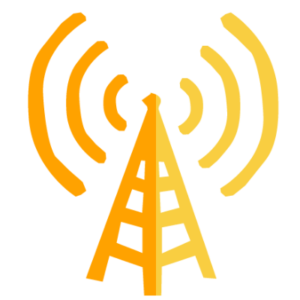 Most nomads, especially those who need a mobile home-internet replacement, utilize one or more cellular options for their internet connection. And, as an internet source for mobile broadcasting and video conferencing, cellular connections are very commonly used, even in the professional broadcasting world.
Additionally, most mobile broadcasting/conferencing apps for smartphones and tablets are generally designed to work well over cellular connections.
For more on the ins and outs of cellular options, see our guide to the major carriers:
The Major US Carriers: Verizon, AT&T, and T-Mobile
Wi-Fi as an Internet Source

Using Wi-Fi access points is another common internet source for mobile users. There are millions of Wi-Fi hotspots in North America and around the world, and many of those are free and open that anyone can tap into. Additionally, most RV campgrounds and boat marinas have Wi-Fi networks for their customers, as do many other businesses and public places.
Note about Wi-Fi Internet: Wi-Fi internet for our purposes is Wi-Fi that is provided by third parties utilizing connections to the internet that you, the consumer, don't own or control. This is different from connecting to Wi-Fi that you own, like a smartphone, mobile hotspot device, or router. For more on using someone else's Wi-Fi as an internet sources:
The performance of these Wi-Fi networks can vary considerably and some have restrictions and may block certain types of internet traffic to include streaming and broadcasting. It can also be challenging to use Wi-Fi hotspots for broadcasting since they may be located in places that lack privacy or are not conducive to broadcasting.
Broadcasting in a Starbucks or public library utilizing their Wi-Fi is not likely to be a good experience for you, your audience, and the other people around you. You can, however, tap into Wi-Fi sources and broadcast in the privacy of your RV, boat, or vehicle parked nearby.
Since you don't have control over these Wi-Fi networks, you usually don't know how many other people are connected at any one time and you have no ability to prioritize your data over others. This can be risky for important work since other users could clog up the Wi-Fi hotspot and wreck your connection in the middle of an important virtual meeting or broadcast.
Satellite Internet

Starlink's low-earth-orbit satellite system has generated a lot of excitement in the RV and boating industry and is now available nationwide, portable, and mobile without a lot of fuss.
It does provide great download speeds and low latency. However upload speeds can still be quite variable and Starlink can experience intermittent drop outs that make it less reliable for video conferencing and broadcasting.
Thus we recommend combining Starlink with other sources of internet - like cellular or Wi-Fi to create a more stable streaming experience.
Starlink is constantly evolving and has gained the reputation of making frequent plan changes so always check to see what the latest options are and what might fit your needs.
For more on using Starlink in a mobile environment :
Starlink for RV & Boat Mobile Internet Resources
Other legacy satellite internet options are not ideal for video broadcasting and video conferencing as they are highly optimized for downloading and usually have major limits for uploading data. Even the fastest currently available system for the RV market, the HughesNet Gen 5, has a technical upload limit of 3 Mbps although real-world use is usually much lower than that.
Additionally, there are other restrictions as well as data caps and throttles that can make old school satellite-based internet very difficult for video broadcasting. But it may be enough in a pinch, especially if there are no other options readily available.
For more on satellite internet options and their limitations, see our guide:
Mobile Satellite Internet Overview
Alternative Internet Sources
As discussed in our Mobile Internet for RV and Boat Overview Guide, there are alternatives that may be available depending on your circumstances and location:
A wired internet connection is available at some RV parks and marinas
A broadband connection at a friend's or relative's home
Co-working or studio spaces
All these options will usually have plenty of bandwidth for most broadcasting and video conferencing needs.
---
Member Exclusive Content In This Guide
Has this guide been helpful so far?
Well.. there's a lot more below available to our members. As well as dozens of other guides like this, videos, classrooms, forums, webinars and more. All specifically created for helping keep RVers, cruisers and nomads online.
Consider Becoming a Member
If mobile internet is an important part of your lifestyle, a membership can help keep you connected with these exclusive benefits:
in-depth exclusive content
interactive guidance
vendor discounts
alerts & insider tips
classroom
community
Free Content Like This Made Possible By Our Members!
We are community funded via our premium membership program - allowing us to focus on creating unbiased quality, in-depth, constantly updated content. We don't accept 3rd party advertising, we're not sponsored and we don't sell 'stuff'.
Already a member?
Log in to continue with this guide. 
Check out the Topics Covered in the Member Section:
Broadcasting & Video Broadcasting Requirements
What's the difference between broadcasting and video conferencing? What are the minimum speed requirements to smoothly broadcast, and how do latency and ping times impact interactive video sessions? How critical is your role in a virtual meeting room?
The Importance of Upload Capacity
Unlike most other tasks on the internet, upload capacity is critical to successfully broadcast or conduct interactive video sessions. In this section, we explain what upload capacity is, how it's different than download capacity, and why it's so important.
Optimizing Mobile Internet Upload Performance
Since upload performance is so critical for video broadcasting, we dive into ways to increase your upload speeds for smoother video broadcasting & conferencing experiences.
Getting the Data for Video Work
Video broadcasting and conferencing can use up a lot of data, which means you'll need to take this into consideration when assembling your mobile internet arsenal. In this section, we address strategies to accommodate this high data usage activity.
Broadcasting & Conferencing Services and Devices
We dive into popular broadcasting services like YouTube Live, Facebook Live, Twitch, Zoom, and Skype - and how each is optimized for mobile internet, with their minimum speed requirement and typical bandwidth usage. We also cover hardware that specialized for this purpose.
---
Summary
Broadcasting and video conferencing on the road are becoming more common as nomads are able to utilize technology for work and to keep in touch with friends and family.
At the same time, mobile internet options are also expanding and can provide nomads with the ability to conduct virtual face-to-face chats and meetings from almost anywhere...assuming you can plan your travels and tweak your arsenal to get the upload and download bandwidth you need. The great thing is that in most cases, you can.
Explore the Resource Center
Join our 'Library Desk':
Internet for RVers & Cruisers Facebook Group
We cross post news articles and guides, and can help point you in the right direction to our content here on the resource center.
It is with gratitude to our premium members that we're able to offer our free content - and for that, they also have access our private Q&A areas for more in-depth guidance.
The MIA is our premium membership - designed for those who consider mobile internet an important part of their lifestyle.
In thanks for making content like this possible, we offer a bunch of additional perks. From interactive guidance, in-depth member exclusive content, discounts, alerts, classroom and more. 
We totally understand that a membership isn't right for everyone.
However you can still support this content with our supporter level for just $25/year. 
With our gratitude, you'll get access to all our free content without the 'nags'. 

Stay In the Know
We're constantly tracking the industry and analyzing new developments for mobile travelers. If you'd like to receive updates, we offer several ways: