Live & Interactive Video over Mobile Internet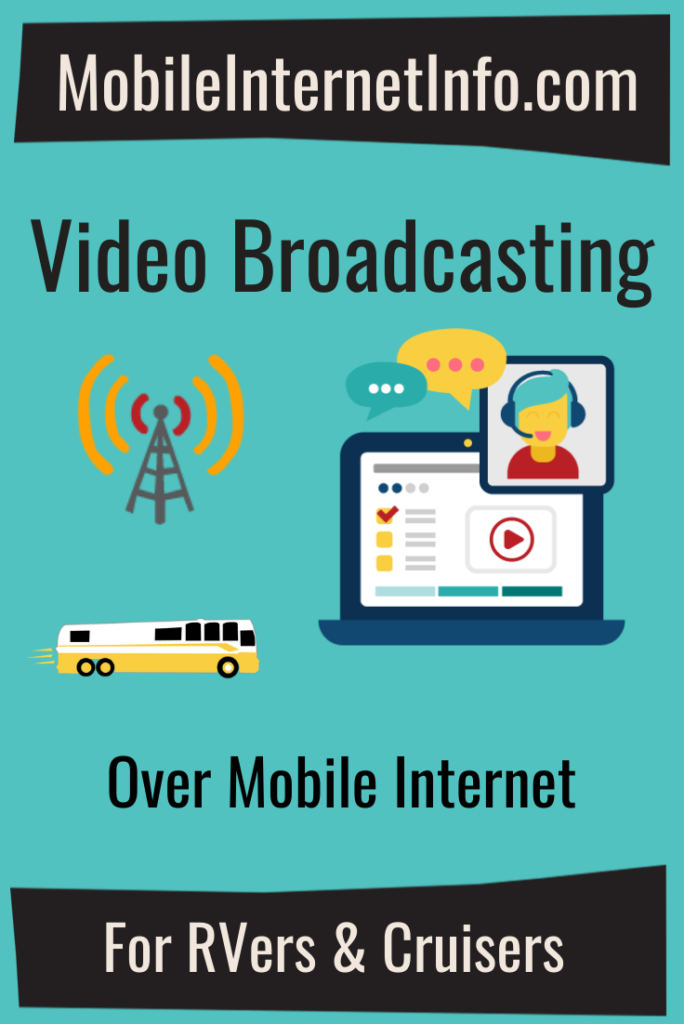 Broadcasting video using cellular data, Wi-Fi or satellite over YouTube Live, Facebook, Twitch, Zoom or Skype, presents some unique challenges.
Especially when it comes to upload capacity and performance.
Just like streaming video over Netflix or Hulu, broadcasting video can require a lot of bandwidth, only going in the other direction.
For interactive two-way video conferencing, you need to send and receive video content at the same time - in real-time, which complicates matters even further.
Despite the difficulties and compromises that come with a mobile lifestyle that utilizes mobile internet, it is definitely possible to overcome these challenges and successfully broadcast video and conduct video conferences via mobile internet.
To make it work consistently and reliably, however, may require flexibility on your part and especially knowledge!
This guide is designed to cover everything you need to know in order to broadcast or video conference successfully while RVing, boating or generally being mobile.
---
Mobile Internet Sources For Broadcasting and Video Conferencing
Mobile internet users have three primary options for getting an internet connection: Cellular, Wi-Fi and Satellite.
A complete list of advantages and disadvantages to each (plus some alternatives) is provided in our Overview Guide:
Mobile Internet Overview Guide
Cellular Internet

Most nomads, especially those who need a mobile home-internet replacement, utilize one or more cellular options for their internet connection. And, as an internet source for mobile broadcasting and video conferencing, cellular connections are very commonly used, even in the professional broadcasting world.
Additionally, most mobile broadcasting/conferencing apps for smartphones and tablets are generally designed to work well over cellular connections.
For more on the ins-and-outs of cellular options, see our guide to the four major carriers:
The Four Major US Carriers: Verizon, AT&T, T-Mobile and Sprint
Wi-Fi Internet

Wi-Fi is another common internet source for mobile users - there are millions of Wi-Fi hotspots - many free and open - around the world that anyone can tap into. Most campgrounds and marinas have Wi-Fi networks, as do many other businesses and public places.
The performance of these Wi-Fi networks can vary considerably and some have restrictions and may even block certain types of internet traffic to including streaming and broadcasting. It can also be challenging to use many Wi-Fi hotspots for broadcasting since they may be located in places that are not conducive to broadcasting.
Broadcasting in a Starbucks or public library utilizing their Wi-Fi is not likely to be a good experience for you, your audience, and the other people around you. You can, however, tap into Wi-Fi sources and broadcast in the privacy of your RV, boat or other conveyance parked nearby.
Since you don't have control over these Wi-Fi networks, you usually don't know how many other people are connected at any one time and you have no ability to prioritize your data over others. This can be risky for important work since other users could clog up the Wi-Fi hotspot and wreck your connection in the middle of an important virtual meeting or broadcast.
Satellite

Current satellite internet options are not ideal for video broadcasting and video conferencing as they are highly optimized for downloading and usually have major limits for uploading data. Even the fastest currently available system for the RV market, the Hughesnet Gen 5, has a technical upload limit of 3Mbps although real-world use is usually much lower than that.
Additionally, there are other restrictions and data caps and throttles that can make satellite very difficult for video broadcasting. But it may be enough in a pinch, especially if there are no other options readily available.
The current limits on mobile satellite internet will all change once the next generation of low-earth orbit-based satellite internet becomes available, but for now, broadcasting and especially video conferencing over satellite internet is not ideal.
For more on satellite internet options and their limitations, see our guide:
Mobile Satellite Internet Overview
Alternatives
As discussed in our Overview Guide, there are alternatives that may be available depending on your circumstances and location:
A wired connection available at some RV parks and marinas
A broadband connection at a friend's or relative's home
Coworking or studio spaces
All these options will usually have plenty of bandwidth for most broadcasting and video conferencing needs.
---
Additional Member Only Content :
Here's a sneak peak at the member exclusive topics in this guide:
Broadcasting Requirements
What's the difference between broadcasting and video conferencing? What are the minimum speed requirements to smoothly broadcast, how do ping times impact interactive video sessions?
The Importance of Upload Capacity
Unlike most other tasks on the internet, upload capacity is critical to successfully broadcast or conduct interactive video sessions. In this section we explain what upload capacity is, how it's different than download capacity and why it's so important.
Optimizing Upload Performance
Since upload performance is so critical for video broadcasting, we dive into ways to increase your upload speeds for smoother video experiences.
Using Smartphones & Tablets for Video
Smartphones and tablets are perfect broadcasting tools with built in cameras and microphones. Many broadcasting apps work great on these mobile devices. In this section we explain how utilizing these devices in your broadcasting arsenal can also better utilize so-call "unlimited" data plans.
Broadcasting & Conferencing Services
We dive into popular broadcasting services like YouTube Live, Facebook Live, Twitch, Zoom and Skype - and how each is optimized for mobile internet, with their minimum requirements.
---
Summary
Broadcasting and video conferencing on the road are becoming more common as nomads are able to utilize technology for work and to keep in touch with friends and family.
At the same time, mobile internet options are also expanding and can provide nomads with the ability to conduct virtual face-to-face chats and meetings from almost anywhere...assuming you can plan your travels and tweak your arsenal to get the upload and download bandwidth you need. The great thing is that in most cases, you can.