UPDATE: We have received further confirmation directly from T-Mobile's Media relations team that the One Plus International add-on is indeed being eliminated, and this is being done to "reduce complexity" based upon customer feedback:
The ONE Plus International add-on option will be retired on Friday, Aug 10. Customers who have International will be grandfathered and able to keep their plans. Based on what customers were telling us, we found that we could reduce complexity of our options and still give customers what they want, at a lower price point, by doubling (from 10GB to 20GB) the high-speed hotspot in ONE Plus for just $10/line/month and removing Plus International as an option. We still offer Stateside International Talk as its own separate add-on option for customers and customers who have ONE Plus International can keep it for as long as they keep their plan.
We somehow doubt that T-Mobile customers were in fact clamoring to eliminate the one official unlimited hotspot option, but this is T-Mobile's official word on why the change was made.
You have until Thursday night to lock in this plan before it is retired - so if you are interested, grab it fast.
Original story below...
---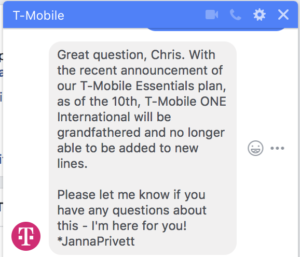 When T-Mobile announced the new "Essentials" plan yesterday (August 6th, 2018), it conveniently failed to mention that along with the new budget plan being added to the T-Mobile lineup, T-Mobile would also be simultaneously retiring what we have long considered one of the best plans in the mobile industry.
But after tracking down some internet rumors, we've been able to officially confirm:
The T-Mobile One+ International add-on is being eliminated!
The key benefit of the $25/mo per line One+ International 'amp up' was that it enabled unlimited high-speed hotspot usage, using your phone (or tablet) to share its connection with all your other devices.
This made it the only remaining official way to get unlimited hotspot data from any of the major carriers.
But not any more.
The new revised T-Mobile plans go into effect on Friday, August 10th.
If you are interested in unlimited hotspot data on T-Mobile, you have until Thursday night to sign up and get grandfathered in.
Act fast!
---
Video Version of this Story:
Enjoy Video Updates? Subscribe to our YouTube Channel
---
One Plus International Compared
Here are T-Mobiles plans, compared: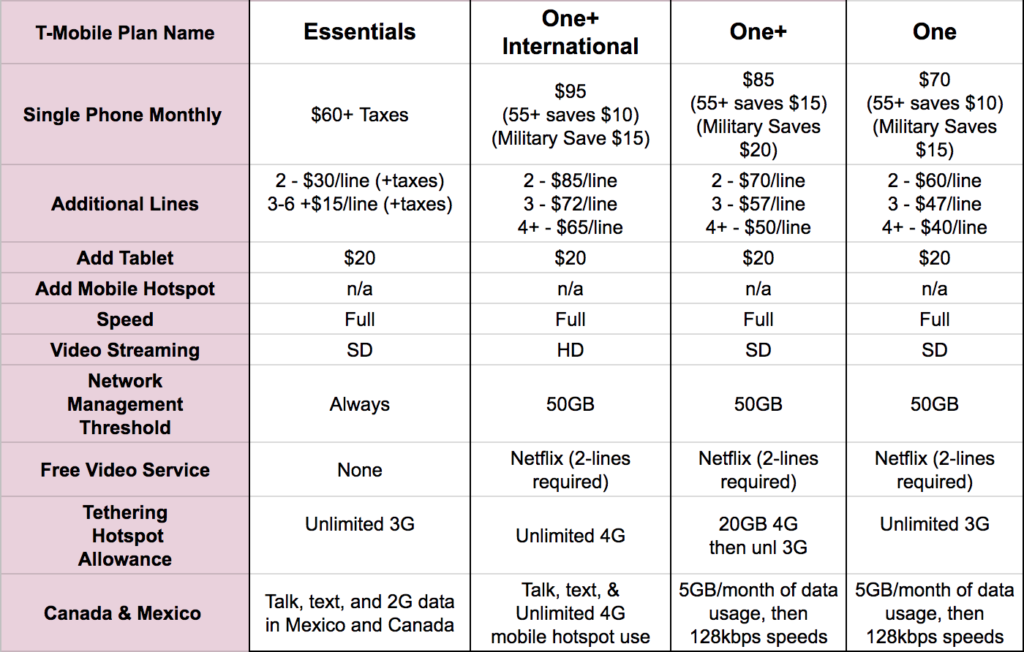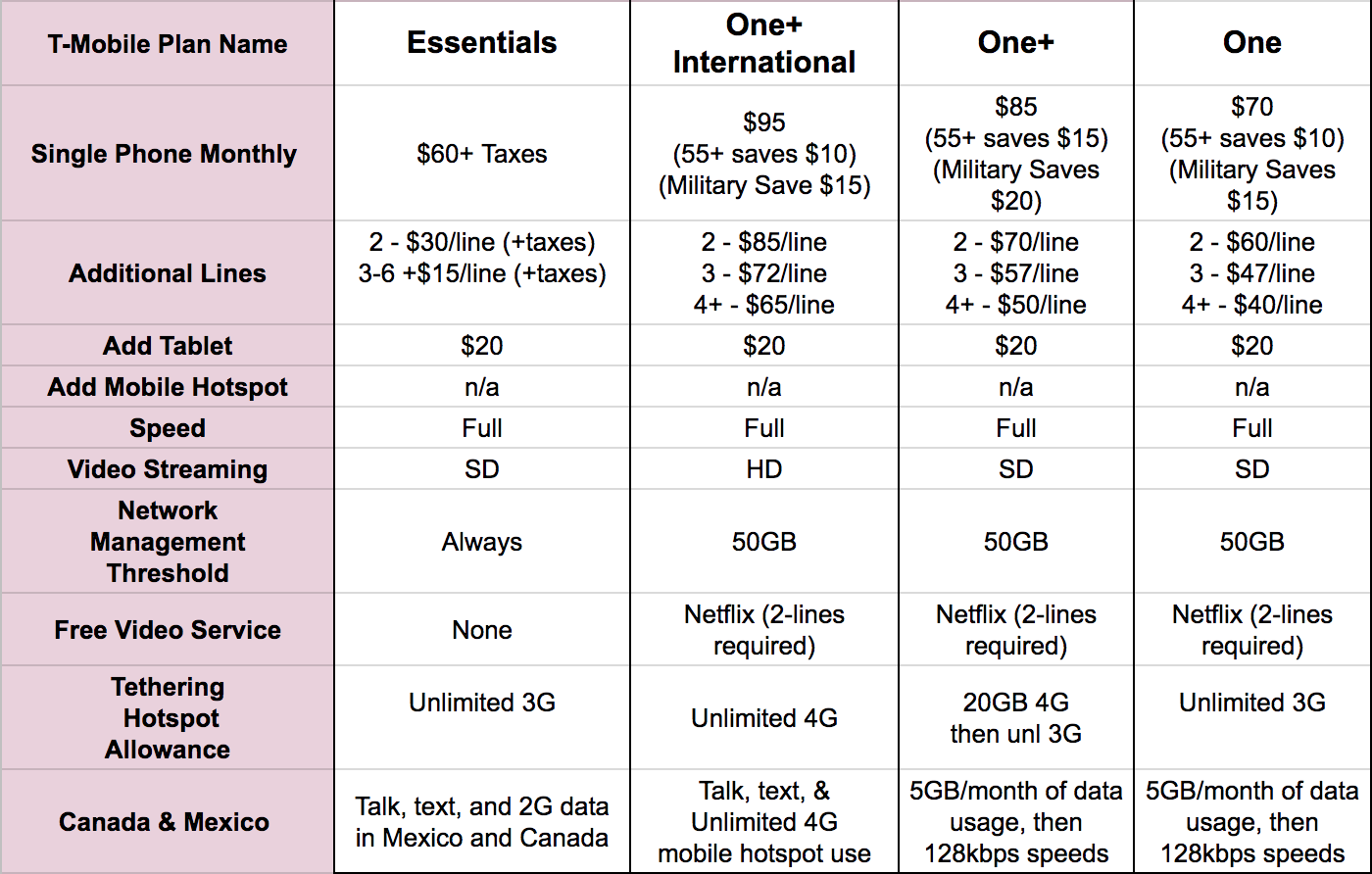 One+ International was T-Mobile's most expensive plan, but for heavy hotspot data users and international travelers it was a bargain.
In addition to domestic coverage and hotspot features, One+ International included unlimited international data almost everywhere in the world, with speeds capped at 256kbps - slow, but very useable for basic web and email needs.
And for those who cross our borders to the north or south, One+ International is the only T-Mobile plan that allows unlimited high speed data use in Canada & Mexico.
All other T-Mobile plans restrict Canada/Mexico usage to 5GB per month.
Get Grandfathered Now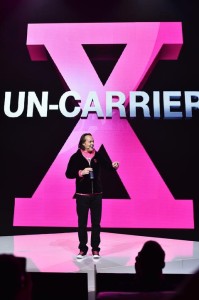 T-Mobile has always been good about allowing customers to keep plans that they like - but once a plan has entered grandfathered status it can not be changed in the future.
Here is what T-Mobile is telling customers who are worried about the plan being retired:
"You can add our ONE Plus International feature now which will guarantee unlimited Mobile Hotspot as long as the feature is active on your line. Once it's been grandfathered on the 10th, it won't be available."
In other words - if you want One+ International, you need to either sign up for T-Mobile immediately, or if you are already a T-Mobile One customer you need to add the One+ International feature to every line that you want to lock in.
You can add this to smartphone AND tablet lines.
But hurry up - you don't have much time if you want to lock in this deal.
To activate, you will need a T-Mobile compatible smartphone or tablet. If you currently have a smartphone unlocked that you use on another carrier that covers T-Mobile's frequency bands - you can use that to activate a new line of service. Just don't port your number over UNLESS you want to cancel your old plan on your other carrier.
You should be able to switch devices later and still keep your grandfathered plan.
TIP: You can get a tablet line with T-Mobile without a voice line, though most T-Mobile reps think that a voice line is also required. If you would rather set this plan up on a tablet and not have any voice lines, be sure to insist on the T-Mobile One for Tablets plan, and then add the $25/mo One+ International option.
Details You Need To Know
MIA Member Alert: Members who are logged in should see a video archive below of the special webinar we hosted on August 8 re-capping this plan, an analysis of why unlimited data plans have gone away and the Q&A with members covering lots of bonus info.
+International is considered an add-on option to T-Mobile's base One smartphone plan - T-Mobile calls it an 'amp up'. The cost is $25/month per line added to your base plan. T-Mobile offers special discounts on the One plan for qualified Military and 55+ customers - and you can add +International to those plans as well.
After August 9 when the the amp-up expires, you will no longer be able to add the feature to any existing or new lines on T-Mobile One.
T-Mobile One plans (and thus, +International) are only available for smartphones and tablets. Tablets can be added as an additional line, or placed as the primary line on an account going through their Tablet plan section. Cost is the same either way - plan to spend $95 - $100/month for a single line, unless you qualify for special discounts. T-Mobile does include taxes & fees on this plan.
The plan is NOT available for data only devices like mobile hotspots or routers, and SIM cards from T-Mobile One will not work in such devices. T-Mobile directly only sells data only plans in tiered data buckets.
If you're seeking an unlimited data plan based on T-Mobile's network for a data only device, the only current option is going through a 3rd party reseller. We have several vendors listed in our Guide to Unlimited Data Plans.
What's Next for T-Mobile?
T-Mobile has announced that their next 'Uncarrier Announcement' will take place on August 15th.
We'll be watching closely to see what T-Mobile has in store - and how the other carriers respond. These major "uncarrier" moves have often set the pace for the entire industry.
But don't wait around to see if a better hotspot option might be coming along. If something does, you can always cancel a One+ International line. But if you miss out now, you will never be able to add one later.
Additional Resources:
News Story Related Updates: