Mobile Hotspot & Cellular Data Devices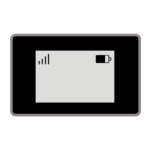 Mobile hotspot devices (aka. MiFi, Jetpack) are consumer level devices that take a cellular signal and convert it to Wi-Fi or Ethernet for getting your devices online. They tend to be carrier specific and battery powered. Similar devices in this category also include Connected Car, USB modems and other single cellular devices that are outliers.
For more advanced options, also consider cellular embedded routers, which can be found in our Mobile Routers Gear Center.
Guide: Selecting Mobile Hotspots Guide Guide: Smartphones, Hotspots or Routers?