Events: Q&As, Webinars, Workshops and Presentations
Throughout the month, we offer our MIAs exclusive webinars, workshops and Q&As to help our members interactively. We also occasionally present for other venues.
Members - be sure to be logged in to get the broadcast details!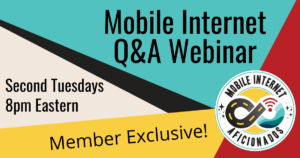 Our general mobile internet Q&A webinar, a casual and interactive format for our members to get their questions answered. We are happy to field whatever mobile internet questions you have; a device or plan you're considering, optimizing your setup, a recent news items or helping explain a concept.
Second Tuesday @ 8pm E
Next: June 13
Available only to our MIAs
Login to get broadcast details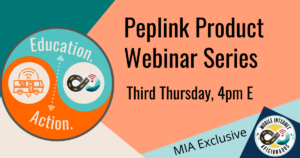 Co-hosted with our friends at MobileMustHave.com, every month for our premium MIA Members exclusively.
This series will feature a casual educational presentation about a Peplink product or configuration, and then open to member questions.
These presentations are archived, and become part of the articles in our Peplink Resource Center.
Available only to our MIAs
Login to get broadcast details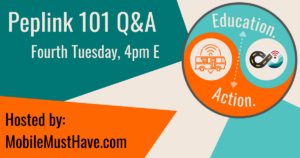 A general Q&A specific to Peplink products. Hosted by our friends at MobileMustHave.com, every month for our premium MIA Members exclusively.
Whether you are still researching which Peplink device to purchase, or you are looking to understand what you have purchased more thoroughly, we would love to have you participate in these Q&A sessions!
Fourth Tuesday @ 4pm E
Next: June 27
Available only to our MIAs
Login to get broadcast details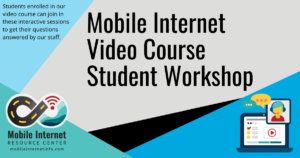 Students enrolled in our Mobile Internet Video Course are invited to join our staff for these focused workshops while going through the course.
This is a smaller venue with a capped attendance. In these workshops, our staff reviews your assessment worksheet and questions in advanced so they are ready to assist.
Pre-registration at least 24-hrs in advance is required.
Our webinars are broadcast on Zoom. Simply click the link above, and you'll be prompted to download (or open) their software for your computer, tablet or smartphone. If you have your camera or microphone available, you can interact with us. You do not need a paid Zoom account to attend.
Submitting Questions: Please open the Chat Room once in Zoom (icon is on the bottom of the screen on desktop, or at the top on mobile). We prefer if you just type 'I have a question' and then we'll call on you when it's your turn to interactively talk on video/audio. But if you prefer, you can type in your question - just keep in mind that it can be difficult for us to read the question from where we are sitting and the size of the text of the chat room. So please keep written questions short and to the point.
If you prefer to phone in, just dial 646 558 8656 and use the Meeting ID & Passcode listed above. Attendance is limited to the first 100 who join in (usually not a problem), and we regularly cycle the meeting room ID.
Hosting a webinar requires we have ample download & upload bandwidth, reasonable surroundings (ie. not too loud or distracting), time availability and not being overwhelmed with big breaking stories we're covering. We strive to make all those things line up to meet this scheduled event, but some things are just out of our control and the worst thing a nomad can pack is a schedule.
As such, our webinars are subject to change or being canceled. Do check back here before broadcast time for any updates - we make every attempt to get notice out if a webinar has been rescheduled or canceled.
If you want e-mail reminders of our webinars, be sure to adjust your MIA Newsletter Settings by clicking the 'Update Subscription' link at the bottom of every newsletter - and you can opt into reminders.