Sample Mobile Internet Setup Explorer
Here you can explore some common mobile internet configurations, including some of the mobile internet setups of other RVers and cruisers.
Use the hover points to learn more about each component of a setup. And then browse the current featured options for each.
Remember - the sky (sometimes literally) is the limit in possibilities - so don't restrict yourself to just these samples.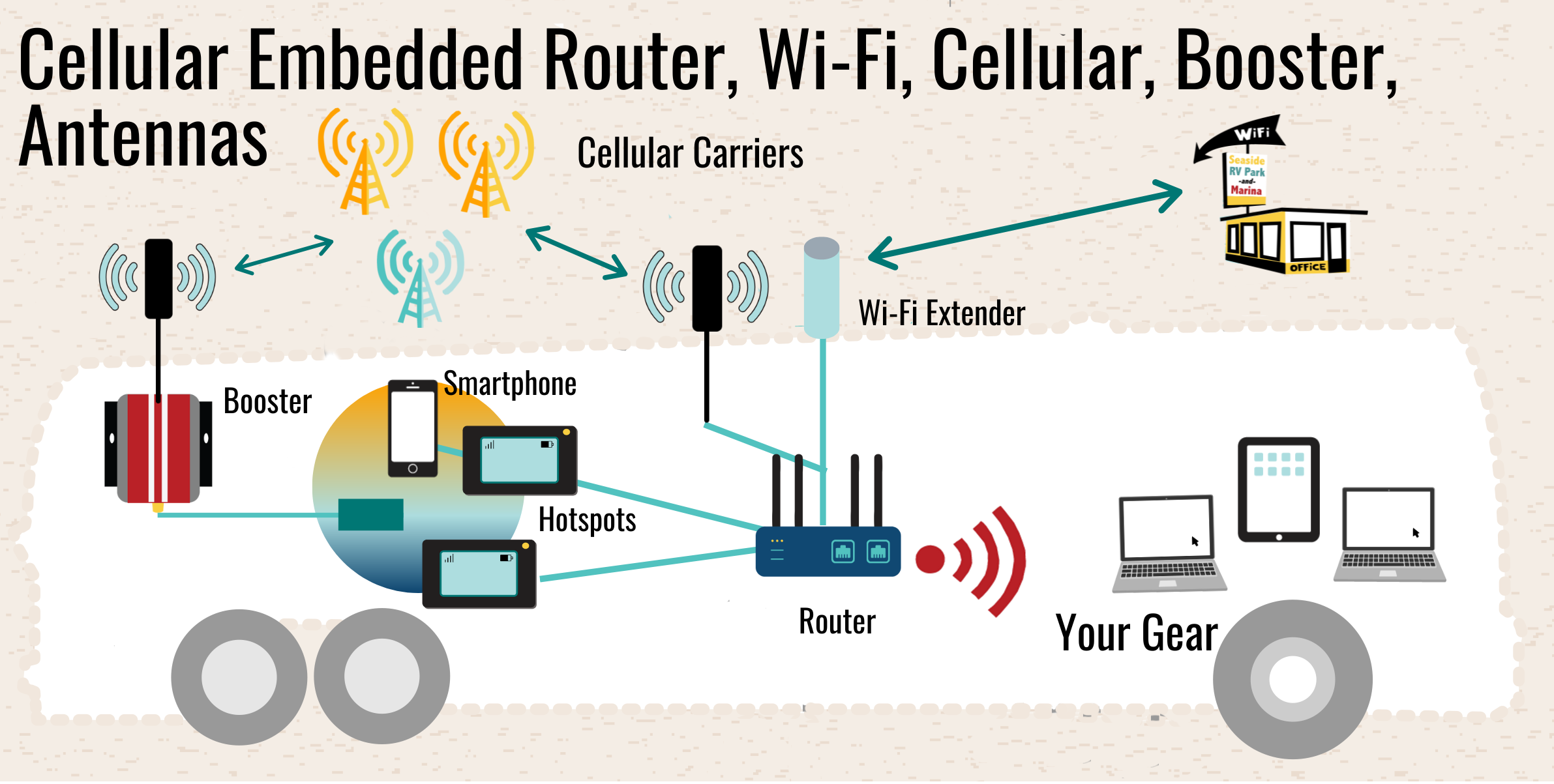 Antenna
A cellular antenna can help your cellular device get a better signal, and thus potentially better performance. They must plug into something with antenna ports - such as a router or hotspot device. They can also work with cellular boosters.
Carrier
Cellular service comes from the local tower managed by your carrier. You'll need a data plan to subscribe to service.
Hotspot
A mobile hotspot is a device that can convert a cell signal into data. It creates its own private wireless hotspot so your own devices can get online. Models tend to be carrier specific.
Smartphone
A smartphone or tablet can be a versatile part of a mobile internet setup. They can do a lot on device, create a personal hotspot to share data with laptops and even cast video out to a larger screen to watch TV & movies.
Router
A mobile router is the central conductor of multiple sources of internet to supply a connection and local area networking to your laptops, TV devices, tablets and more.
Wi-Fi
A Wi-Fi extender can help you reach a further away access point - such as what is supplied by your campground or marina. Beware however, the problem isn't always signal strength.
Wi-Fi
A Wi-Fi extender can help you reach a further away access point - such as what is supplied by your campground or marina. Beware however, the problem isn't always signal strength.
Booster
Cellular boosters electronically amplify a signal to make it stronger. In some cases, this can help data performance (and in others, decrease it). They're a pricey investment, so be sure to understand this technology before deciding you need one.
Learn more about Cellular Boosters
This setup will give you access to just about every terrestrial mobile internet option out there.
Multiple cellular carriers, Wi-Fi access points and bringing them all together into a central router.
Individual components
Flexible system that allows for adjustments and easy upgrades
Signal enhancing for devices without antenna ports (smartphones & tablets)
Integrated options through one central router
Individual components all add up in price - in gear and plans
Each component is likely to be from different manufacturers, which can make isolating an issue and getting support difficult
Can become a complicated setup with multiple devices, wiring, power, installation, etc.
For those who feel they need to have all of the options, but aren't ready to dive into cellular embedded routers that can simplify this sort of redundancy into less components.
Below are current flagship model hotspot devices for all of the carriers.
Below are antennas designed to plug directly into the T-S9 antenna ports found on most modern day mobile hotspot devices. Keep in mind, you can use other antenna as well with adapters. So don't feel you need to restrict yourself to just these.
Data Plans for Data Devices
Below are some top data plans that are specifically for data only devices that you might want to consider. Or shop all the plans we're tracking.
Mobile Routers with Cellular Tethering
Below are mobile routers that support USB cellular tethering to hotspots that our team has had hands on time with. Some hotspots also have ethernet out, which allows you to use them with other styles of routers too.
Wi-Fi Range Extending Gear
Below are antennas and CPEs that can be used to extend the range that you can receive a Wi-Fi signal from to use as your internet source. Before selecting gear, be sure to study up on the differences between antenna only and those with integrated radios or routers.
Below are some featured cellular boosters. They're not always the best option for data performance, but are just about the only option for smartphones and devices without antenna ports. Be sure to understand the trade-offs of boosters versus antennas before investing in one of these.
Smartphones are a general consumer mobile technology device - and there are literally hundreds of models on the market.
We don't track them individually here on the resource center, but you can find reviews in your favorite tech or consumer journals.
But for mobile internet access, it's particularly important to pay attention to the modem specs inside your phone - this can play a critical role in your coverage and performance.
The guides below will help you in selecting smartphones.