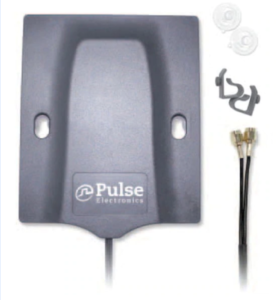 The Pulse Larsen MIMO Antenna is available with either 2 SMA connectors or 2 T-S9 connectors. It's highly portable and requires no tricky installation.
This antenna is nearly identical to the Netgear MIMO antenna, except that it offers the option of 2 SMA connectors - and a higher price point.
MIMO (Multiple In Multiple Out) is the use of more than one antenna to increase signal performance. All LTE devices internally have at least two antennas to take advantage of this technology. This antenna is designed with two antennas inside it's panel case, and then had two plugs that can go directly into a device with TS-9 ports (typically used on mobile hotspots like JetPacks and MiFis).
Simply mount with the included suction cups to a window most closely facing the cellular tower you're connected to, or use the included clips to attach to the screen of a laptop. No tricky roof installation needed. And then plug in the two connectors to your Jetpack, MiFi or hotspot device's TS-9 ports.
It's portable and rated for indoor or outdoor use.
Specifications
Model:

WA700/2700
# of Antennas: 2x2 MIMO
Direction: Directional
Frequency Range: 700-960 / 1710-1990 / 2110-2170 / 2500-2700 MHz
Impedance: 50 ohms

Cable Type & Length:

RG-174, 20 inches

Connector:

2x TS-9 connectors or 2x SMA connectors
Internal Ground Plane: No

Dimensions:

5.85 x 5 x .2 inches
Weight: 4.2 ounces

Mounting:

Includes clips & suction cups
Outdoor Rated: Yes
Frequency / Gain:

700-960 MHz: 2.5 dBi
1710-2700 MHz: 3.5 dBi

Retail Price:

$110
---
Review & Testing Status
We have tested the TS-9 Netgear MIMO version of this antenna, which we are presuming is of near enough specification. We do not intend to specifically purchase this antenna for testing.
---
Potential Alternatives to Consider:
For other popular cellular antennas on the market we are tracking - here are our featured options:
Learn More About Selecting Cellular Antennas
---
This Review Contains Additional Member Exclusive Content!
We are Honored to be Member Funded!
No ads, no sponsors, no selling (but may contain affiliate links)
Our members fund our in-depth independent reviews.
This entry may contain additional member exclusive content such as testing notes, field testing data, user interface tours, comparisons to alternatives, analysis, tips, videos and discounts.
Members also get interactive guidance, alerts, classroom and more.
Purchasing Options
Digi-Key (SMA) | NewEgg (SMA) | Mouser Electronics (SMA) | Mouser Electronics (TS9)
The guides below have been hand-picked to help further your education about selecting & using cellular antennas.