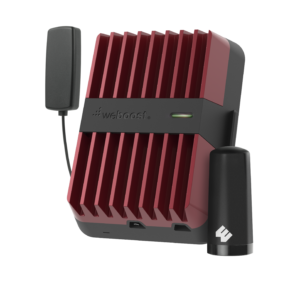 Announced in May 2019, the weBoost Drive Reach cellular booster is being billed as "weBoost's most powerful, in-vehicle cell signal booster yet" with substantially more uplink power than any of weBoost's prior mobile boosters.
Our extensive hands-on testing confirms this and it has earned a Top Pick designtation.
When compared to weBoost's former flagship mobile booster, the Drive 4G-X | Drive X (read our extensive review), weBoost described the Reach to us this way:
"The biggest difference / improvement is the uplink power. The Reach has 4.7 dBm more uplink power than the X. dBm uses a logarithmic scale so a 3 dBm improvement means it's twice as powerful."
This more than doubling of uplink power is what gives the Reach its reach - allowing a substantial theoretical advantage when communicating with distant towers, which was borne out in our tests.
The first release of the Drive Reach is coming in two kit variations for vehicles and fleets. Other antenna bundles are available from some of their distributors.
Specifications
Model: Varies based on kit selected
Gain: 50dB
Max Uplink Power: 29.5 dBm (1 Watt)
# of Devices Boosted Simultaneously: Multiple
LTE Bands Supported: 12/17, 13, 5, 4, 2, 25
Exterior Antenna: Bundled antenna varies by kit. SMB antenna jack.
Internal Antenna: 4G Slim Antenna. SMB connector
Range of Interior Coverage: tbd
In Motion Usage: Yes
Booster Dimensions: 6 x 4.5 x 1.5 in / 1.8 pounds
Warranty: 2 Year
Retail Price:

$499.99 - Vehicle
$524.99 - Fleet
Trucker and Marine Bundles available from some distributors $520-$659
---
What's In The Kit?
The Drive Reach is initially being offered in two different kits - the difference being the included exterior antenna and the power supply. The Vehicle Kit is intended for automobiles - and is the one most appropriate for RVers and cruisers. The Fleet kit requires professional installation and is intended for police cruisers, ambulances, etc.
Drive Reach Booster
Exterior Antenna:

Drive Reach: Drive Magnetic Antenna
Drive Reach Fleet: 4G NMO antenna with 3/4" NMO mount with 14ft of cable & install accessories (weBoost states this requires professional installation)

Power Supply:

Drive Reach: Plug-in DC Power Supply ('cigarette lighter style')
Drive Reach Fleet: Hard-wired DC power supply
---
5G Ready?

weBoost states their products are "5G ready." Which is a bit misleading. What they mean is that even with the roll-out of 5G, their products will continue to work because 4G isn't going away. Their boosters do not work on the new 5G spectrum being deployed, and the carriers have not yet overlayed 5G on the frequency bands that current day boosters support.
Learn More:
---
Included in this Review
Free/Public:
Member Exclusive Content / Review:
---
Review & Testing Status
We received the Drive Reach and completed our extensive testing round in November 2019. We tested the vehicle antenna, as well our tried and true favorite 4G OTR / X RV antenna.
Should weBoost release additional kits, we will test those options. Based on our extensive testing, we will continue use it as the mobile booster we compare all others to in terms of performance.
Members can dive deeper and look at raw results from our testing rounds:
Our Video Overview:
---
Potential Alternatives to Consider:
For other booster options on the market worth comparing this model to - here are our featured options:
Learn More About Selecting Cellular Boosters
---
Boosters are NOT the right choice for all applications.
They make the most sense for devices without antenna ports (like smartphones and tablets), or when in weak signal areas. However, for devices with antenna ports in mild to moderate signal areas - a direct-connected antenna can outperform a booster. And boosters can actually DECREASE data speeds in some conditions - never assume you need a booster on all the time - always test at each location!
---
This Review Contains Additional Member Exclusive Content

We are honored to be able to present the above overview for free without 3rd party advertising or sponsorships. We are not paid by the manufacturer of this product to provide this listing or review, and nor are we selling this equipment or plan (purchasing links are provided below as a courtesy and some may be affiliates).
Our members have funded this resource center and any extensive hands on time
we have spent with the product to review it.
The in-depth portions of this review are made available to them which might contain: hands on testing notes, field testing data, user interface tour, product analysis, comparison to alternatives, setup tips, video tutorial, insider tips, vendor discounts and fellow member experiences.
If you're a member, please log in to continue with this review.
If you're not a member.. please consider joining us!
---
Purchasing Options
Special 5% Savings for
Mobile Internet Resource Center Readers
Use 'MIRCweBoost10' at checkout at weBoost.com
While this site is not reliant on affiliate funding, we do appreciate it
when you use our our links - the little extra ka-ching is a nice thank you!
Save 5% at weBoost - Discount Code: MIRCweBoost10
Buy Direct from weBoost:
Amazon - Drive Reach | Drive Reach Fleet
Additional Vendors (members, check the Member Discount Page for discounts up to 11% off!):
Further Reading:
The guides below have been hand-picked to help further your education about the complicated topic of signal enhancing and utilizing cellular boosters.