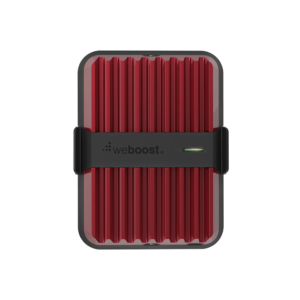 Announced in May 2019, the weBoost Drive Reach cellular booster has been billed as "weBoost's most powerful, in-vehicle cell signal booster yet" with substantially more uplink power than any of weBoost's prior mobile boosters.
Our extensive hands-on testing confirms this and it has earned a Top Pick designation.
When compared to weBoost's former flagship mobile booster, the Drive 4G-X | Drive X (read our extensive review), weBoost described the Reach to us this way:
"The biggest difference/improvement is the uplink power. The Reach has 4.7 dBm more uplink power than the X. dBm uses a logarithmic scale so a 3 dBm improvement means it's twice as powerful."
This more than doubling of uplink power is what gives the Reach its reach - allowing a substantial theoretical advantage when communicating with distant towers, which was borne out in our tests. The Reach also introduced full support for Band 25 - the first mobile booster to do so.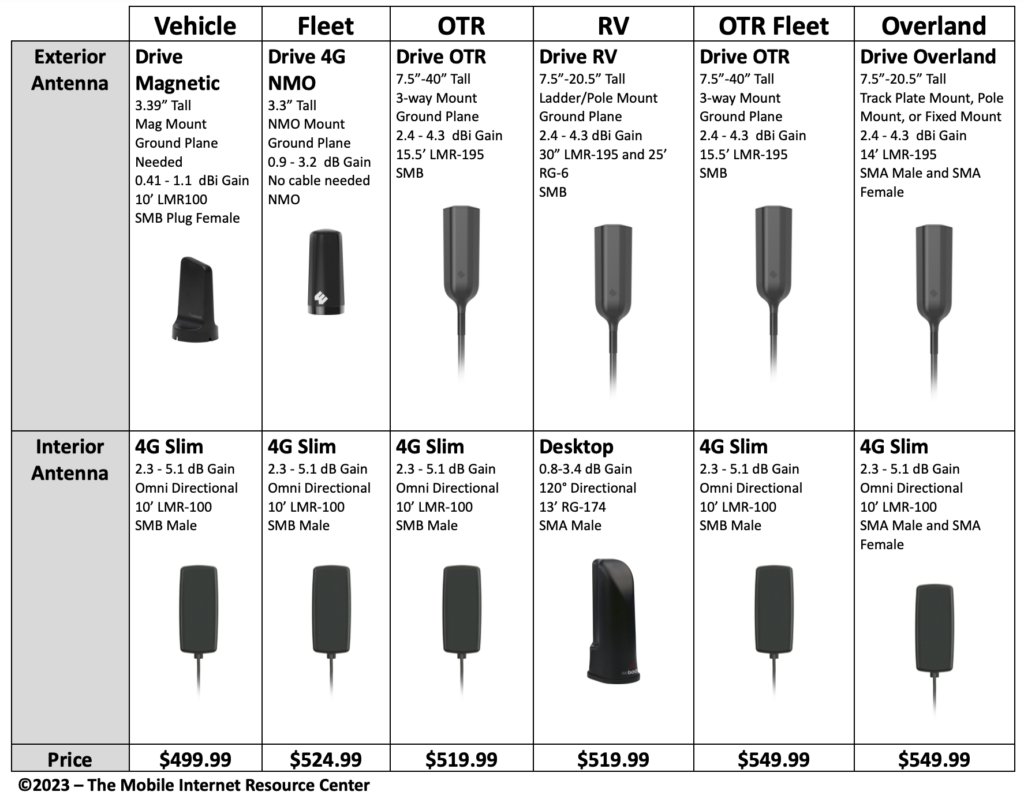 Product Variations
The Drive Reach initially came in two kit variations for vehicles and fleets, and in November 2020 they added two additional kits - one for RVs and one for over the road (OTR) trucks. They also have an OTR Fleet kit. They recently added an Overland antenna kit with a foldable mount.
The kits vary mainly in the style of the antennas included, cabling, power adapters, and installation hardware. The amplifier (the red box where all of the electronics are) is exactly the same across all of the kits.
Other antenna bundles, including marine bundles, are available from some of their distributors.
---
News, Videos & Status
We have tested the Reach, and have a full analysis for our MIA members below, as well as testing notes here: [Complete] weBoost Drive Reach RV Kit Testing Notes.
Based on our extensive testing, we will continue using the Reach as the mobile booster we compare all others to in terms of performance.
Members can dive deeper and look at raw results from our testing rounds:
Our Video Overviews:
Further Reading:
---
---
Boosters are NOT the right choice for all applications.
They make the most sense for devices without antenna ports (like smartphones and tablets), or when in weak signal areas. However, for devices with antenna ports in mild to moderate signal areas - a direct-connected antenna can outperform a booster. And boosters can actually DECREASE data speeds in some conditions - never assume you need a booster on all the time - always test at each location!
---
Member Exclusive Content / Review:
---
Purchasing Options
Buy Direct from weBoost (affiliate links):
Drive Reach Vehicle | Drive Reach OTR | Drive Reach RV | Drive Reach Fleet | Drive Reach OTR Fleet | Drive Reach Overland
Drive Reach Fleet Hardwire Power Adapter | Drive Reach 12V Cigarette Power Adapter | Drive Reach AC Power Adapter
Amazon (affiliate links): Drive Reach Vehicle | Drive Reach Fleet | Drive Reach OTR | Drive Reach RV
Affiliate vendor links - using these links helps support MIRC's mission (MIAs, please log in to get special discounts):
Additional Vendors (members, log into the Member Discount Page for discounts up to 11% off!):
Other vendors (non-affiliate):