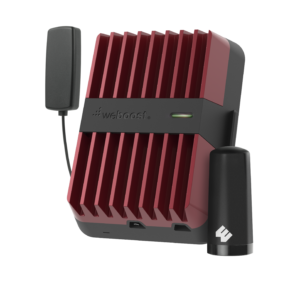 Announced in May 2019, the weBoost Drive Reach cellular booster is being billed as "weBoost's most powerful, in-vehicle cell signal booster yet" with substantially more uplink power than any of weBoost's prior mobile boosters.
When compared to weBoost's former flagship mobile booster, the Drive 4G-X (read our extensive review), weBoost described the Reach to us this way:
"The biggest difference / improvement is the uplink power. The Reach has 4.7 dBm more uplink power than the X. dBm uses a logarithmic scale so a 3 dBm improvement means it's twice as powerful."
This more than doubling of uplink power is what gives the Reach its reach - allowing a substantial theoretical advantage when communicating with distant towers.
The first release of the Drive Reach is coming in two kit variations for vehicles and fleets. Other antenna bundles are expected and will be added to this guide as they are released.
weBoost Drive Reach Fleet Specifications
---
What's In The Kit?
The Drive Reach is initially being offered in two different kits - the difference being the included exterior antenna and the power supply. The Vehicle Kit is intended for automobiles - and is the one most appropriate for RVers and cruisers. The Fleet kit requires professional installation and is intended for police cruisers, ambulances, etc.

Additional antenna kits should be released later, hopefully with our top pick weBoost 4G-OTR antenna and an RV specific antenna.
---
Included in this Review
Free/Public:
Member Exclusive Content / Review:
---
Review & Testing Status
We have received one of the first Drive Reach booster kits and we will be testing it head-to-head against other boosters over the summer of 2019.
A detailed hands-on review and analysis of the weBoost Drive Reach will be featured in our members-only section below, and members can follow along with our ongoing results as we begin our testing:
Our Video Overview:
---
Potential Alternatives to Consider:
For other booster options on the market worth comparing this model to - here are our featured options:
Learn More About Selecting Cellular Boosters
---
Boosters are NOT the right choice for all applications.
They make the most sense for devices without antenna ports (like smartphones and tablets), or when in weak signal areas. However, for devices with antenna ports in mild to moderate signal areas - a direct-connected antenna can outperform a booster. And boosters can actually DECREASE data speeds in some conditions - never assume you need a booster on all the time - always test at each location!
A Full Review of this Product is Available to our Members

We are honored to be able to present the above product overview for free without 3rd party advertising.
In thanks for funding this resource center our members have access to the in-depth unbiased review of this product based on our extensive hands-on time and testing.
If you're a member, please log in above to read the review.
Purchasing Options
Special 10% Savings for
Mobile Internet Resource Center Readers
Notice: weBoost has informed us that as of 6/21/2019
they are reducing their discounts to 5%!
Use 'MIRCweBoost10' at checkout at weBoost.com
While this site is not reliant on affiliate funding, we do appreciate it
when you use our our links - the little extra ka-ching is a nice thank you!
Save 10% at weBoost - Discount Code: MIRCweBoost10
Buy Direct from weBoost:
Additional Vendors
Amazon - Reach Vehicle
Repeater Store | 5GStore | BestBuy
Related News:
The guides below have been hand-picked to help further your education about the complicated topic of signal enhancing and utilizing cellular boosters.