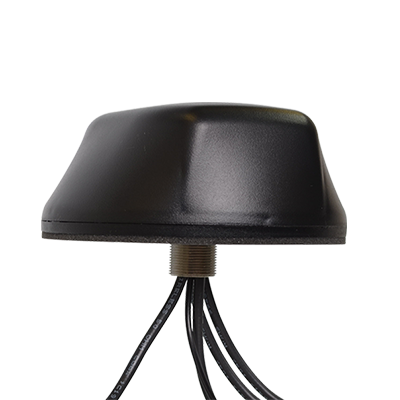 Designed for low profile mounting on top of vehicles like police cruisers, the MobileMark Fleet Management line of antennas packs a lot of reception capability under a plastic dome.
Combining MIMO cellular, GPS, and even Wi-Fi antennas - the MobileMark is well matched to plug directly into high-end cellular embedded routers such as the PepWave Max BR1 and Cradlepoint IBR900.
Specifications
Model:

LTM301, LTM401 and LTM501

Type:

Omni-Directional

Impedance:

50 Ohms

Cable Type & Length:

RF-195 / 15' (x 3,4 or 5)

Connector:

SMA Male
Internal Ground Plane: No

Dimensions:

2.38" x 5.5" round

Mounting:

Surface or Magenet
Frequency / Gain:
700-800 Mhz: 3.0 dB
824 - 894 Mhz: 3.0 dB
880 - 960 Mhz: 3.0 dB
1710 - 1880 Mhz: 4.0 dB
1850 - 1990 Mhz: 4.0 dB
2110 - 2170 Mhz: 4.0 dB
2.3 - 2.5 GHz: ??

Retail Price:

$185.99 - 352.80
Testing Status: 3GStore sent us the LTM401 for review, and we have had it in our testing arsenal since mid-2015 and it's earned its place as our default roof mounted omni-directional MIMO cellular antenna. Our hands-on member review can be found below.
And you can find specific field testing results in these member exclusive field lab reports:
A Full Review of this Product is Available to our Members

We are honored to be able to present the above product overview for free without 3rd party advertising.
In thanks for funding this resource center our members have access to the in-depth unbiased review of this product based on our extensive hands-on time and testing.
If you're a member, please log in above to read the review.
Purchasing Options
Solid Signal (carries a wide variety of configurations, and does custom orders)
Novatech (carries a wide variety of configurations)
Connectronics (carriers a wide variety of configurations and does custom orders)
The following models are available at 5GStore:
And occasionally you can find them pop up on Amazon: