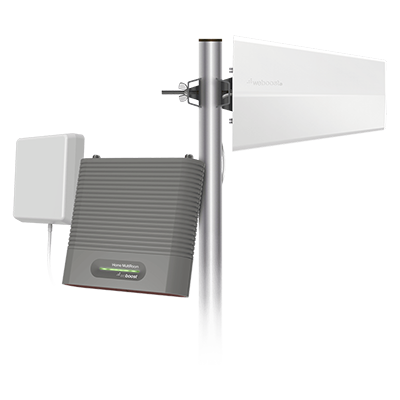 weBoost's Destination RV replaces their Connect RV 65 booster, which is primarily intended for stationary RVers in remote locations.
The kit is based on the weBoost Home MultiRoom amplifier, an updated version of the Connect amplifier used in the RV 65 kit, adding support for Band 25 and increased uplink power. It's designed for residential use with a rated 65 dB gain, well above the 50 dB gain legally allowed for mobile boosters.
The kit avoids needing to comply with the mobile gain limitations because it uses a directional wideband external antenna that requires setup and aiming at each location - so it can not be used while in motion.
Included in the kit is a telescoping pole which allows the outside antenna to get above local clutter for a better direct line of sight to the nearest cell tower with the directional antenna.
Specifications
Model: 470159
Max Uplink Gain: 25.6 dBm
Max Downlink Gain: 65 dBm
Impedance: 75 ohm
# of Devices Boosted Simultaneously: Multiple
LTE Bands Supported: B2, B4, B5, B12, B13, B17, B25
Exterior Antenna: weBoost Home Outside
Internal Antenna: weBoost Panel
Range of Interior Coverage: Room
In Motion Usage: No
Power: 110-240 V AC, 50-60 Hz
Connecters: F-Female
Booster Dimensions: 6'' x 6'' x 1.6''
Warranty: 2 Year
List Price: $649.99
---
---
News, Videos & Status
While we obtained a unit, we decided not to test it. This RV kit was introduced to replace the weBoost Connect RV 65, which we have tested extensively. Members can find our detailed testing notes in the Connect RV 65 Gear Center entry.
Video Overview:
Related News:
---
---
Boosters are NOT the right choice for all applications.
They make the most sense for devices without antenna ports (like smartphones and tablets), or when in weak signal areas. However, for devices with antenna ports in mild to moderate signal areas - a direct-connected antenna can outperform a booster. And boosters can actually DECREASE data speeds in some conditions - never assume you need a booster on all the time - always test at each location!
Purchasing Options
Buy direct from weBoost:
Other Vendors:
Amazon | Wilson Amplifiers | TechnoRV | Signal Boosters | UberSignal | SignalBooster.com | Camping World