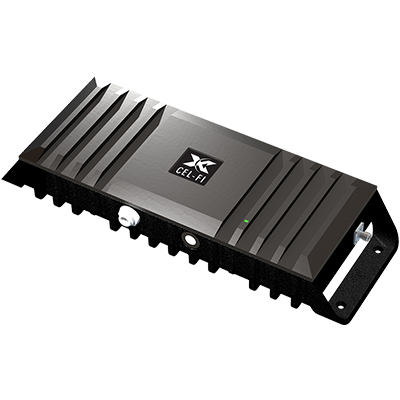 What makes Cel-Fi boosters different is that they are digital boosters that interact with a cellular network actively, rather than analog boosters like all the previous cellular boosters we have tested.
This technology theoretically opens the door for increased gain and indoor coverage, since the booster is actively repeating and recreating the digital signals from the tower - not just amplifying an analog signal along with all the accompanying signal noise.
Cel-Fi describes their technology this way:
"Cel-Fi is the most sophisticated signal booster in the market. It is completely digital and powered by two custom-made system-on-a-chip processors with 38 digital signal processors. Integrated smart antenna technology tirelessly analyzes the indoor environment and automatically adjusts in real time to provide the best coverage and overall value. Cel-Fi ensures optimal cellular coverage – even with only one bar of signal from the mobile operator."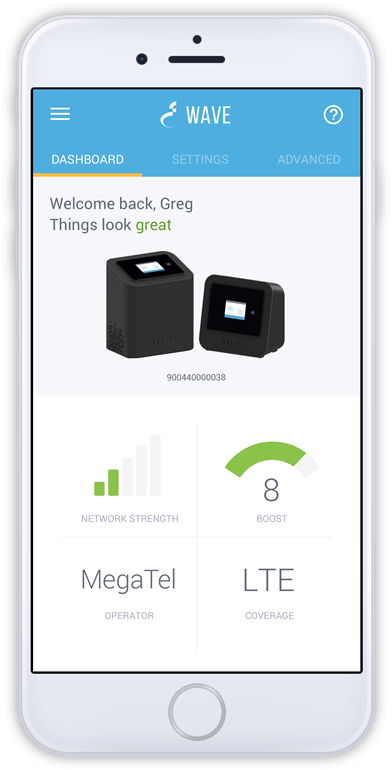 This is why the Cel-Fi Go M is allowed by the FCC to deliver 65dB of gain in the Go M, well above the 50dB max legal limit of conventional mobile boosters.
The booster is controlled by the Cel-Fi Wave app connected via Bluetooth to the booster. The app will show you the carrier and LTE band that you are connected to, the signal strength, and the amount of boost - directly on your iOS or Android device.
There is a downside to all this technological magic however.
Because the Cel-Fi booster is working interactively with the carriers network, it can only be boosting one carrier at a time. For example - if it is in Verizon mode, AT&T devices will not see any benefits at all.
Analog boosters on the other hand work with all carriers at once.
Specifications
Model: GO M
Gain: 65dB
Impedence: 50 Ohm
# of Devices Boosted: Multiple
LTE Bands Supported: 12 (17), 13, 5, 4, 2
Exterior Antenna: 3.14" Magnetic mount with integrated 9.84' cable SMA Male connector.
Internal Antenna: Patch antenna with 3.77' integrated cable SMA Male connector.
Range of Interior Coverage: "large coverage area" (self claimed)
In Motion Usage: Yes
Power: 9.6 – 16.5V DC
Power Consumption: 16w nominal
Booster Dimensions: 1.71" x 3.79" x 10.73"
Warranty: 2 Year
Retail Price: $599.99
---
Review & Testing Status
We have been in communication with Nextivity about the development of this product since summer 2016, and received a pre-production unit for evaluation in May 2017.
We performed one extensive round of testing in mid-2017 with this booster head to head against other booster options, and overall we were underwhelmed and sent back a list of concerns.
But the booster was promising enough in many ways - so we held off drawing any definitive conclusions.
In 2019 Cel-Fi has released brand new firmware claiming to enable some new features and address some of our concerns - demonstrating how the Go M is the only booster that can get smarter over time via software updates.
As of July 2019 we have completed our initial round of testing of the updated Go M, and our results are summarized in the member area below. A more detailed hands-on review and analysis will be featured after we've completed our intensive testing. Members can follow along with our ongoing results as we conduct our testing:
---
Potential Alternatives to Consider:
For other booster options on the market worth comparing this model to - here are our featured options:
Learn More About Selecting Cellular Boosters
---
More Information Available to our Members

We are honored to be able to present the above overview for free without 3rd party advertising.
In thanks for funding this resource center our members have access to any further notes, analysis, insider info, member experiences and/or our full in-depth review of this product or offering.
If you're a member, please log in above to read the review.
---
Purchasing Options
Amazon: Cel-Fi Go Auto
This booster is now beginning to show up in various marine and RV focused online retail channels now too.
Related News:
The guides below have been hand-picked to help further your education about the complicated topic of signal enhancing and utilizing cellular boosters.