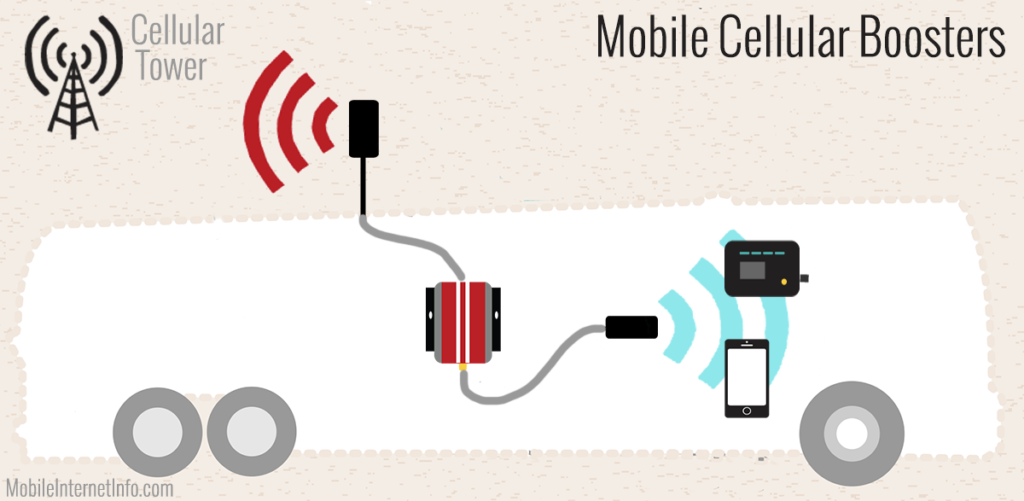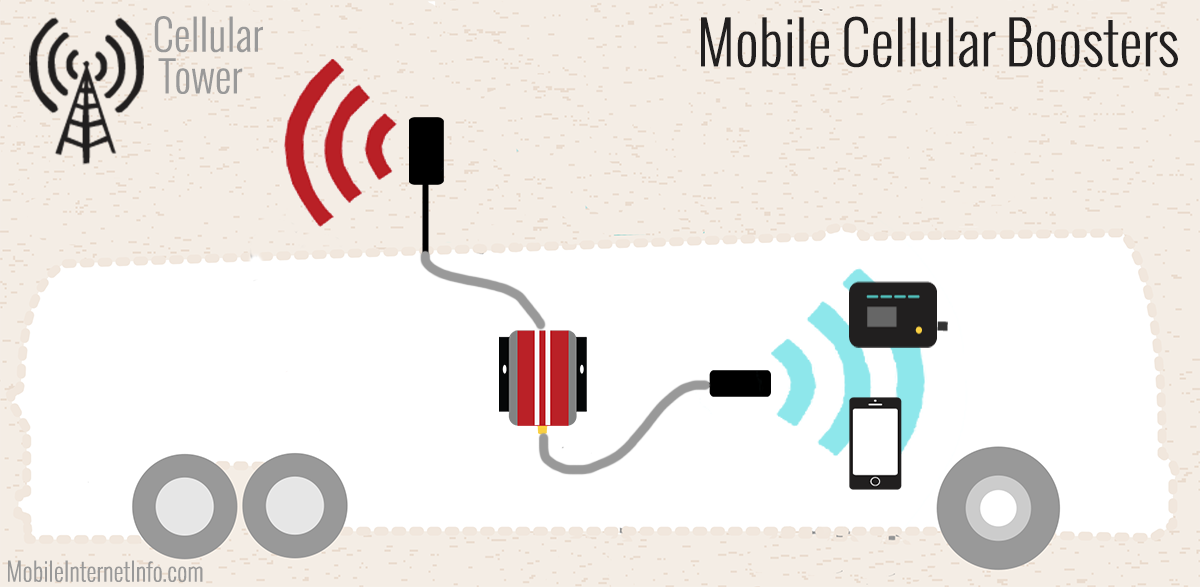 weBoost is a division of Wilson Electronics, a leading manufacturer of cellular signal booster technology. weBoost was introduced in 2014 as their consumer-market brand, and WilsonPro is their commercial division.
weBoost manufactures both home and mobile boosters, as well as cellular antennas that can be purchased bundled with their boosters or a la carte.
This guide runs down the key options in the weBoost lineup that are of interest to the nomad community.
---
weBoost Product Lineup
weBoost produces mobile boosters for cars, RVs, and trucks, as well as boosters for the home. They manufacturer several different antennas that are bundled with the boosters or can also be purchased separately. They also have a free app with a cell tower locator, as well as videos and instructions on how to install weBoost products.
Mobile Boosters
Here are the boosters for RVs and boats by weBoost that we are tracking in our Gear Center (click through for reviews and details):
Drive Reach - Vehicle, RV, OTR, Fleet, and OTR Fleet - weBoost's current flagship booster, described as "weBoost's most powerful, in-vehicle cell signal booster yet" with substantially more uplink power than any of weBoost's prior mobile boosters. In our extensive hand-on testing we confirmed this and it has earned a Top Pick designation from us. It comes in five different antenna kits.
Drive X / 4G-X - Vehicle, OTR, and RV - Formerly the 4G-X, the Drive X was weBoost's flagship until the introduction of the Drive Reach. It is a top-performing booster and earned its top pick status with our staff as a tried and true option, though the Reach has demonstrated superior performance in our testing.
Destination RV - Released in March 2021, this weBoost booster kit primarily targets stationary RVers in remote locations. It is based on the weBoost Home Multiroom booster with a rated 65 dB gain, well above the 50 dB gain legally allowed for mobile boosters. And comes with a directional antenna that needs to be aimed at each location. It replaces the Connect RV 65.
Drive Sleek & Drive Sleek OTR - Simple and easy cradle-style cellular booster kits designed for use with just one device at a time. They're lower powered and lower cost than other mobile boosters.
WilsonPro IoT 5-Band - A M2M booster typically intended for fixed installations with just 15 dB of gain, the Signal 4G has an antenna that goes on the roof, an amplifying unit that is kept indoors, and the interior output cable plugs directly into a single target device with an antenna port.
Mobile Antennas
Here are the antennas for RVs and boats by weBoost that we are tracking in our Gear Center (click through for reviews and details):
Drive RV / Drive OTR Antenna - Omnidirectional shaft-mounted cellular antennas that do not require a ground plane. They are based on the original X RV and 4G OTR Trucker but with some stylistic, installation and performance improvements. These antennas come kitted with weBoost's current line-up of mobile cellular boosters, such as the Drive Reach and Drive Sleek.

X RV Outside/4G-OTR Trucker - A original omnidirectional shaft-mounted design that does not require a ground plane. It came in two different form factors for semi-truck and RV installation. This antenna is available separately or kitted with the older weBoost Drive 4G-X OTR or weBoost Drive X RV cellular boosters.
4G NMO Fleet - An outdoor omnidirectional antenna designed to attach to a vehicle with an NMO mount more typically found on fleets of vehicles. It is available separately or as part of the weBoost Drive 4G-X and Drive Reach Fleet kits. This antenna does not require a ground plane.
Drive Magnetic Antenna - A relatively new antenna, designed for use on vehicles with a magnetic mount installation. It replaces the former classic 4" Mini Magnet Mount 'stubby' antenna included in many of their cellular booster kits.
Mini Magnet - The classic 4" tall magnet mount mini antenna that requires a metal ground plane, that comes bundled with most weBoost vehicle kits. It is actually an overall relatively solid performer. We lovingly refer to it as 'the stubby'.
12" Magnet Mount - weBoost's taller omni-directional magnetic mounted antenna. It is sold by itself and is not currently bundled with any of weBoosts's boosters.
4G Marine - The weBoost 4G antenna is marine durable and omni-directional certified for use with weBoost cellular boosters, or as a stand-alone antenna.
4G Omni Building - This omni-directional antenna has been available as an option with weBoost's residential boosters. It was also kitted as the 'outdoor antenna' with the original weBoost Drive 4X RV cellular booster kit.
Wideband Yagi Directional - A directional antenna that must be aimed for optimal performance. This form factor of antenna is also referred to as a Yagi. This antenna is best considered a speciality antenna, to be brought out when far away from a tower. It's higher gain can work miracles in some locations, but it can also overwhelm cellular towers when it is not needed.
Panel - A directional outdoor panel antenna for mounting to windows or poles, or on a wall for interior use. This antenna panel is not conducive to operation while in motion, requiring setup and rough aiming at every new location.
Residential Boosters
While we don't focus on stationary boosters for residential use, weBoost does offer some consumer level boosters for just this purpose. For mobile use, these are too powerful for smaller spaces like RVs and boats. But if you're setting up for a rural or stationary residential lifestyle, some of them may make sense.
---
What Does 5G Ready Mean?

Booster manufacturers may state their products are "5G ready." Which is a bit misleading. 5G is being deployed on a myriad of low, mid and high frequency bands. Current boosters only cover a handful of frequency bands in the low range spectrum (12, 13, 5, 4, 2 and sometimes 25). Where 5G is being deployed on those bands, they will work. But they will not work on the newer bands, thus only offering relatively limited 5G support.
This is a complicated topic, for more:
---
News, Videos & Status
We have done testing with nearly all of the currently available boosters and antennas from weBoost.
In our testing thus far, the Drive Reach has been the top performer booster and we will continue use it as the mobile booster we compare all others to in terms of performance.
Members can dive deeper and look at raw results from our testing rounds:
Recent News Stories & Videos
weBoost Drive Reach Product Overview (May 2019)

The Drive X RV Kit (August 2019):
---
Boosters are NOT the right choice for all applications.
They make the most sense for devices without antenna ports (like smartphones and tablets), or when in weak signal areas. However, for devices with antenna ports in mild to moderate signal areas - a direct-connected antenna can outperform a booster. And boosters can actually DECREASE data speeds in some conditions - never assume you need a booster on all the time - always test at each location!
Mobile Cellular Boosters for RVs & Boats Overview
---
For other popular cellular antennas on the market we are tracking - here are our featured options:
---
This Review Contains Additional Member Exclusive Content!
We are Honored to be Member Funded!
No ads, no sponsors, no selling (but may contain affiliate links)
Our members fund our in-depth independent reviews.
This entry may contain additional member exclusive content such as testing notes, field testing data, user interface tours, comparisons to alternatives, analysis, tips, videos and discounts.
Members also get interactive guidance, alerts, classroom and more. 
Member Exclusive Content Below
Deep Dive

Head-to-Head Testing Data & Notes
How to Choose Your Model
Booster Kits
Antennas
Discontinued weBoost Products
---
Purchasing Options
Purchasing Links & Disclaimer
We don't sell stuff, we are primarily member funded. Some links below may be affiliate links (see our disclaimer), which also helps fund MIRC.
The vendors displayed below provide larger discounts to our MIAs that we have negotiated instead of displaying affiliate links while they are logged in.
MIA Discounts - Learn & Save!
Our Mobile Internet Aficionados (MIA) get special discounts from the below vendors. Members please check for discount codes before ordering. With savings up to 11% off, you could save more than your membership cost!
Affiliate vendor links - using these links helps support MIRC's mission (MIAs, please log in to get special discounts):
Buy direct from weBoost: weBoost
weBoost products are also available at:
Amazon | MobileMustHave | TechnoRV | Onboard Wireless
Other vendors (non-affiliate):
Waveform | Powerful Signal | Wilson Amplifiers | 5G Store | Best Buy
Further Reading:
Cellular boosters can be quite useful for boosting the signal to a smartphone to get a more solid phone call. But when it comes to enhancing cellular data performance, things get more complicated.
Because of a technology called MIMO (multiple in multiple out) that is essential to LTE and 5G data, often times the internal antennas on a smartphone or hotspot don't benefit from an amplified signal. Boosters also only cover a handful of the frequency bands the carries use for data. 
But a booster can play a role in a mobile internet arsenal - as they excel during times when you are really far from a tower, or where upload speeds are important (such as video broadcasting).
For more on understanding boosters vs. MIMO - check out video:
For more on signal enhancing, including understanding boosters and the many forms they come in - follow up with our guides: