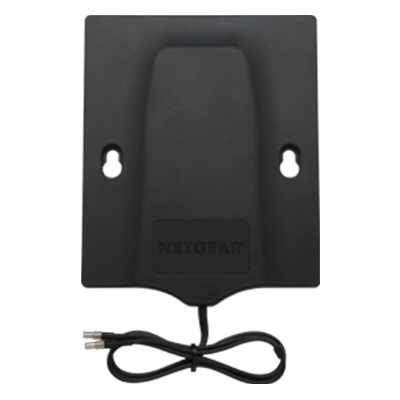 The Netgear MIMO Antenna with 2 TS-9 connectors is ideal for signal enhancing a cellular mobile hotspot device with two antenna ports - like Jetpacks and MiFis.
It's portable and requires no installation required.
MIMO (Multiple In Multiple Out) is the use of more than one antenna to increase signal performance. All LTE devices internally have at least two antennas to take advantage of this technology. This antenna is designed with two antennas inside it's panel case, and then had two plugs that can go directly into a device with TS-9 ports (typically used on mobile hotspots like JetPacks and MiFis).
Simply mount with the included suction cups to a window most closely facing the cellular tower you're connected to, or use the included clips to attach to the screen of a laptop. No tricky roof or pole mounting installation needed.
And then plug in the two connectors to your Jetpack, MiFi or hotspot device's TS-9 ports.
It's portable and rated for indoor or outdoor use.
Specifications
Model:

6000450

Type:

MIMO

Cable Type & Length:

40" long cable

Connector:

2x TS-9 connectors

Dimensions:

160 x 120 x 5.5 mm

Mounting:

Includes clips & suction cups

Retail Price:

Usually under $30
---
Review & Testing Status
We purchased one of these antennas on Amazon and have had it in multiple field testing rounds - it has become a staff favorite for the performance, price point and ease.
For anyone with a mobile hotspot device with two antenna ports, we consider this antenna a no-brainer option to have onboard as part of your signal enhancing arsenal.
We have opened our review & video overview (original member exclusive) to the public, and our members have access to our full Field Testing Results, and this antenna is specifically included in these rounds:
---
Special Public Review

Normally our reviews are member exclusive content. However, given how affordable & effective this option is - we have decided to make most of this review public as an example of the types of in-depth reviews we do for all products we test.

Members do have special access to a section below within this review going over alternatives to the Netgear MIMO antenna for when it is out of stock (which happens periodically).

It is with gratitude to our premium Mobile Internet Aficionados that we can create content like this and provide free content to the public - our funding primarily comes from their membership dollars.

Click to Learn more about becoming a Premium Member and support us in creating more content for the RVing & cruising community!
Thoughts & Analysis
Favorite Features:
Super affordable
Shorter cable length means minimal signal loss
Directional aiming focuses the gain for maximum performance
Hardly any installation needed - bring it out only when needed
TS-9 connectors built in, designed to plug directly into mobile hotspots with no adapters needed
Portable - you can take it with you in a backpack, purse or briefcase
Potential Downsides:
Super short antenna cables mean your device will need to be pretty close the physical location of the antenna - could mean placing your device where there's no power, or possibly in the sun of a window (beware of overheating).
Directional means you'll need to do a little trial and error at each stop to find the optimal window to place this in.
Suction cups easily fall off when moving around.
Only works on devices with dual TS-9 antenna ports, which are primarily mobile hotspots
Some reports of the case warping after being left in direct sunlight and/or high temps.
If your windows are coated with a metal-based film (for privacy, heat reflection, etc.) - this could block the signal. In this case, having the antenna on the inside of the window would see little to no gain. (Solutions: try the front windshield and/or placing the antenna on the outside of the window).
In moderate signal areas, this antenna simply rocks. We consider it a top pick because it combines great performance with convenience and low cost.
Because this antenna is directional, has short cables for minimal signal loss, uses MIMO and has direct T-S9 connectors - this antenna often outperforms other signal enhancing options for mobile hotspots. This can make a great spare antenna if you have multiple mobile hotspot devices or as a primary antenna option if roof installation is too daunting.
Just suction cup mount it in the general direction of the tower you're aiming for, plug it directly into your mobile hotspot and you have instant signal enhancing for under $30.
Performance Results
Here's a quick snapshot of one location we tested at against our top pick signal enhancing options, weBoost 4G-X OTR booster and the Mobile Mark LTM-401 MIMO antenna:

Here also is our quick video review of this antenna:
Device Compatibility
This antenna will only work on devices with dual TS-9 antenna ports. Popular mobile hotspot models that include these ports are:
To check to see if other models have dual antenna ports, check our Mobile Hotspot Review Center and click the search button for 'Dual Antenna Ports'.
What About Other Devices?
If your cellular device doesn't have dual TS-9 antenna ports, what are your options?
No Antenna Ports: If your device does not have antenna ports (which smartphones don't tend to and some hotspots don't either), then antenna only options will not work - cellular boosters are the best option in this case.
Single Antenna Port: If your device only has a single antenna port (such as the Verizon 6620L), this antenna may work with just one cable plugged in - but be sure to experiment as both the hotspot and the antenna tend to have 'primary' and 'secondary' connections. You'll probably be better off using a single antenna option.
4x4 MIMO Devices: Some mobile hotspots, like the Netgear Nighthawk, 8800L and 8000 have internal 4x4 MIMO but only two antenna ports. When using the antenna ports, MIMO switches from 4x4 to 2x2. In some situations, the internal 4x4 may outperform external 2x2 - so always test at each location.
SMA or other styles: If your device has dual antenna ports but uses other connectors types, such as many mobile embedded cellular routers, it's best to seek a purpose built antenna with the correct connectors. There are rare TS-9 to SMA adapters, but there are also many SMA MIMO cellular antenna options out there.
---
Potential Alternatives to Consider:
For other popular cellular antennas on the market we are tracking - here are our featured options:
Learn More About Selecting Cellular Antennas
---
Purchasing Options
CDW | eBay | TigerDirect | MacMall
The guides below have been hand-picked to help further your education about selecting & using cellular antennas.