Buying a Smartphone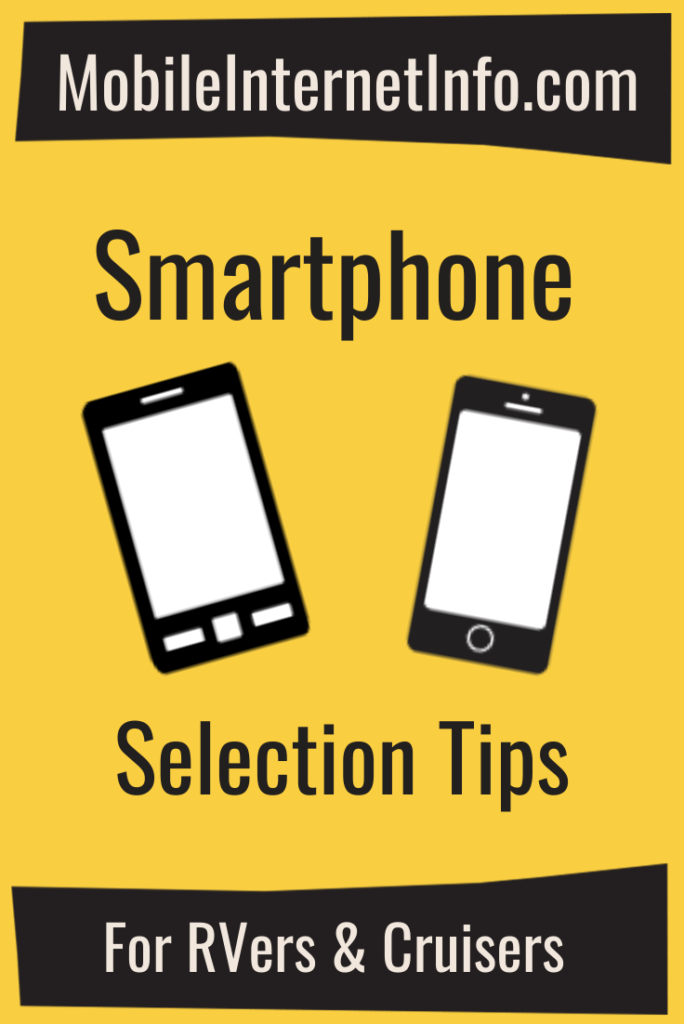 A cell phone used to be for one thing – making calls.
Today, however, making calls is just another app for what has become an incredible pocket-sized technological Swiss Army knife.
For many people, a smartphone has replaced their camera, their GPS navigation system, their game console, their CD rack, and for some, it has replaced their need for a separate computer entirely.
And for many, smartphones are a primary conduit to the internet – both directly and as a hotspot serving other devices.
Choosing a smartphone is a personal decision, and there is no universal best pick. Take some time to figure out what feels right. Get some hands-on time with both the hardware and the operating system. Don't be swayed by splashy commercials, try not to focus on price, and absolutely do not lend any credence to the recommendations of store clerks.
You will need to make up your own mind, but here is some of our key advice, from a mobile internet perspective, to help steer you in the right direction.

---
Selecting A Smartphone Platform
When it comes to smartphones, the first big decision to make is whether you want to go iPhone or Android.
Apple's iOS operating system powers iPhones and iPads. Google's Android powers most other "smart" devices from a wide range of manufacturers – including Samsung, LG, Motorola, HTC, and a whole slew of low-cost bottom dwellers.
Amazon is also using Android to power the Kindle Fire lineup, but Amazon has taken Android in such a divergent and incompatible direction from Google that it might as well be thought of as an entirely separate platform.
Some other platforms have come and gone, unable to gain enough market share to be viable options. So, at the moment, it really is a two-horse race.
Everyone's needs are different and you'll need to consider a range of factors. For example, if you already have a tablet, it may be simpler to get a smartphone that uses the same OS. Or there may be a feature or app you really want or need and is only available with one operating system or the other.
If you don't have an existing preference, then spend some hands-on time on both platforms and see which is most intuitive to you. They each have strengths and weaknesses. Take the time to make up your own mind.
TIP: One big consideration is who you can go to for support on your device. If you have techno-savvy friends or family, sticking with their preferred platform ups the odds they'll be able to help out when you need some guidance.
---
Buying Used Phones
Purchasing a used or refurbished phone can be a great way to get a good phone at a substantial discount, especially considering that prices for top-of-the-line models can range upwards of $1000.
However, buying used comes with some additional caveats you'll need to consider.
There are roughly three categories of "used" phones: Used, pre-owned, and refurbished.
Used Phones
Used phones are generally phones you buy from a private seller either directly or through a third-party site like eBay, Swappa or Glyde.
There is no guarantee in the case of the direct private seller, so be sure the phone is as advertised. Third party sites offer some guarantees, but you'll still need to exercise due diligence to ensure you get the product you expect.
Pre-Owned Phones
Usually called "Certified Pre-Owned" these are used phones that have undergone some testing to ensure they function properly. Similar to certified pre-owned cars, these options offer buyers some assurance that the phone is in working order and they also usually come with a limited warranty.
Pre-owned phones are usually purchased at major online retailers like Amazon, Target and Walmart - and often can be found at Mall kiosks and phone repair shops.
Refurbished Phones
Refurbished phones are the closest to a new phone you can get. They undergo extensive testing and repair to bring them up to "like new" condition. Refurbished phones usually come with some kind of warranty.
You'll want to make sure your phone was refurbished by a reputable vendor.
Refurbished phones are available from a variety of sellers, including the major carriers, major online retailers and directly from manufacturers.
Member Only Content In This Guide
Here's a sneak peak at the member exclusive topics in this guide:
Tips for choosing Android & iOS phones
We go into specific considerations for Android and iOS phones - including understanding the fundamental differences between their hardware and software.
Hardware Considerations
From carrier compatibility, modem specifications and ports - additional considerations in selecting a specific phone model for mobile internet use.
Phone Features
From Wi-Fi calling, locked vs unlocked and other features phones offer - this section gives you additional tips on selecting your ideal phone.
SIM Cards & Migrating Between Devices
Swapping SIM cards makes this possible and allows users to upgrade to a new device easily, or swap service between multiple devices depending on the need. And newer phones now offer dual SIM and eSIM capacity.
---
Summary: Take Your Time to Find the One You Love
With all the smartphone choices in the market, deciding what to get can be complicated and confusing.
Unless you are in a rush - take your time, do your homework, ask questions, and even have patience to wait for special deals.
With just a little effort, you should be able to find a new phone that you will love for years to come.
Or at least until something even more totally awesome and new comes out next year!