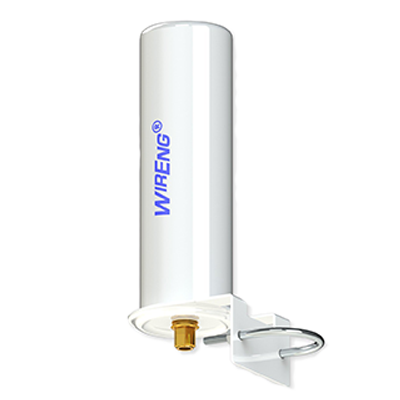 The WirEng BoatAnt is an omni-directional 4G LTE cellular antenna made to marine grade construction.
Specifications
Model:

BTA-50-OHM
# of Antennas: Single

Direction:

Omni-directional
Frequency Range: 600-3800 MHz

Impedance:

50 ohms

Cable Type & Length:

not included

Connector:

N-Female
Internal Ground Plane: Yes

Dimensions:

7.8" x 2.4" x 2.4" / 1.2 lbs
Weight: 1.2 pounds

Mounting:

Pole / Mast
Outdoor Rated: Yes
Frequency / Gain:
700-800 Mhz: 8.0 dB
824 - 894 Mhz: 8.4 dB
880 - 960 Mhz: 8.6 dB
1710 - 1880 Mhz: 9.2 dB
1850 - 1990 Mhz: 9.4 dB
2110 - 2170 Mhz: 9.6 dB

Retail Price:

$98 - $400
---
Review & Testing Status
We purchased this antenna in 2015 at the original price of $82.99. Over the years it went through several price increases, up to as much as $400. It performed very well in our past head-to-head testing, but for the price point we didn't feel like it was worth considering.
However, in late 2019, WirEng drastically reduced the price - to $98! At that price point we consider this antenna to be a worthwhile so we purchased two for some active testing in a mock-MIMO configuration. And then pricing went back up again.
Our results so far are shared in the member area below, and in our testing notes:
---
Potential Alternatives to Consider:
For other popular cellular antennas on the market we are tracking - here are our featured options:
Learn More About Selecting Cellular Antennas
---
This Review Contains Additional Member Exclusive Content!
We are Honored to be Member Funded!
No ads, no sponsors, no selling (but may contain affiliate links)
Our members fund our in-depth independent reviews.
This entry may contain additional member exclusive content such as testing notes, field testing data, user interface tours, comparisons to alternatives, analysis, tips, videos and discounts.
Members also get interactive guidance, alerts, classroom and more.
Purchasing Options
The price on this antennas varies quite a bit - keep a watch on it, and snag it when the price is under $100.
Amazon | WirEng | Best Cellular Distributor
NOTE: WirEng has a whole line up of RV and marina antennas that might be appropriate for your needs. While we have not tested all of them, it may be worth reviewing their options to see if there is a model that would work well for you.
The guides below have been hand-picked to help further your education about selecting & using cellular antennas.