WirEng is a company specializing in producing ultra wideband, ultra high-gain cellular antennas.
They have been in business since at least 2010, and have sent us a few evaluation units over the years.
Product Overview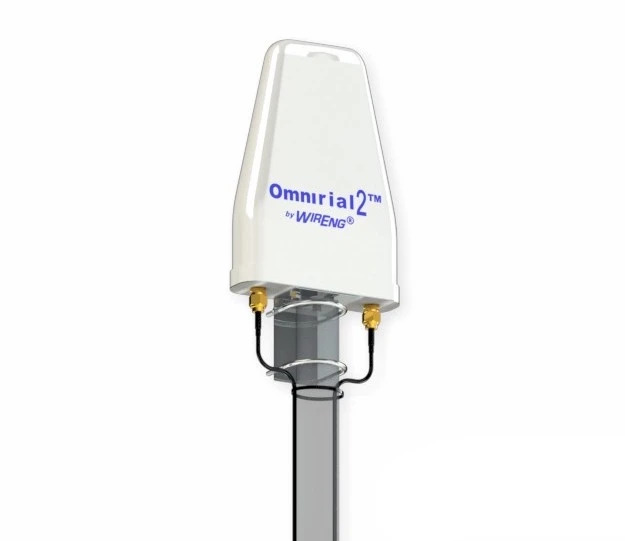 WirEng mainly distributes its products through Best Cellular Distributor.
The products that are most applicable to our audience are the Omnirial2-5 and Omnirial2-Plus-5G omnidirectional antennas. They are high-gain, 2x2 MIMO, and can be used with both RVs and boats.
WirEng also offers two other models that they market as "mobile-friendly." However, these utilize several directional Yagi-style antennas to create specific antenna profiles and capabilities. Due to their size and this multi-antenna configuration, these are best set up and deployed when stationary.
WideAnt2-5G-MIMO and WideAnt2-Plus-5G-MIMO: Directional, high-gain, with either 2x2 or 4x4 MIMO; $1335-$2960.
GigaMIMO-5G and GigaMIMO16-5G: Omni-directional, high-gain, for marine applications; $5630-$11,630. These antennas are incredibly large and would probably not be suitable for much of our boating audience.
Previously Available WirEng Antennas
In the past, we have tested the WirEng BoatAnt, an omnidirectional 4G LTE cellular antenna, and the WirEng BoatAnt2 MIMO cellular antenna. Both were built with marine-grade construction, and at one point we had the BoatAnt designated as a Top Pick. But as of September 2021, both of these BoatAnt models are no longer made or available for purchase.
---
News, Videos, & Status
Review Status
We have not reviewed or tested any of WirEng's current product line.
Our historical results from testing the retired BoatAnt and BoatAnt2 are shared in the member area below, and in our testing notes:
Related News Center Articles:
Peplink Product Line Update: Major Changes to the MAX Transit Line, MAX BR1 Pro 5G Hands-On, New Maritime Antennas, and More! Posted on: November 10, 2021
New Peplink Hardware Coming Soon: MAX BR1 Pro 5G Router, AP ONE AX Lite Access Point, and Puma 421 7-in-1 Antenna Posted on: May 28, 2021
Peplink's New Pepwave Puma Antenna Line - With Sub-6 5G and Band 71 Support Posted on: August 26, 2020
weBoost and HiBoost Release New OTR Trucker Cellular Antenna Kits Posted on: August 3, 2018
The Cheapest, Best Antenna Mounting Solution Posted on: April 1, 2018
---
---
Purchasing Options