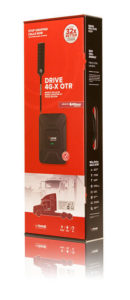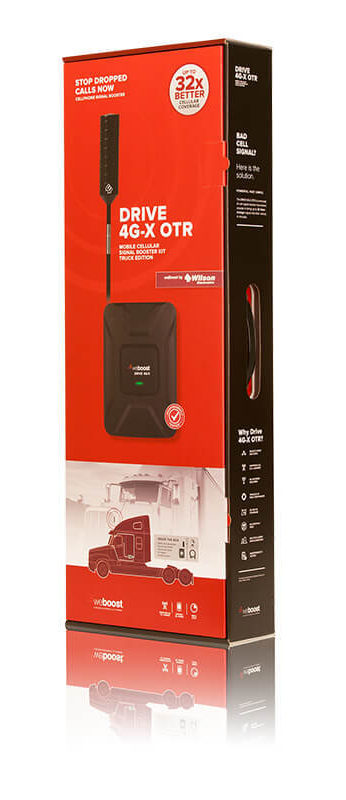 The weBoost Drive X (formerly 4G-X) was weBoost's flagship mobile cellular booster since its release in 2015 until the introduction of the weBoost Reach in May 2019.
It has earned its top pick status with our staff as a tried and true option, though the Reach has demonstrated superior performance in our testing.
The Drive 4G-X / Drive X amplifier is available in several different antenna kit configurations, which can make selecting the right one a touch confusing.
Late 2019 note: weBoost rebranded the "Drive 4G-X" amplifier to "Drive X", but the amplifier itself has not changed.
Specifications
Model: Varies based on kit selected
Max Downlink Gain: 50dB
Max Uplink Gain: 24.8 dBm
# of Devices Boosted Simultaneously: Multiple
LTE Bands Supported: 12 (17), 13, 5, 4, 2, 25
Exterior Antenna: Bundled antenna varies by kit. SMA antenna jack.
Internal Antenna: Bundled antenna varies by kit. SMA antenna jack.
Range of Interior Coverage: 6" - 4'
In Motion Usage: Yes
Booster Dimensions: 6.375 x 1.125 x 4.35 in
Warranty: 2 Year
List Price: $399.99 (Vehicle Kit) | $499.99 (OTR and RV Kits)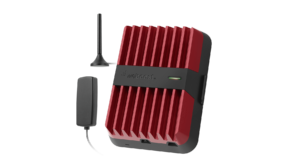 In May 2019 weBoost released the Drive Reach with even more uplink power. If you're in the market for a booster of this form factor, you may want to consider it as well as it outperformed the 4G-X in our testing.
The details of our extensive head to head testing of the Drive X versus Reach and other boosters are available to our members.
---
Included in this Review
Free/Public:
Member Exclusive Content / Review:
---
Official Antenna Kit Overview
The X amplifier comes in 3 different kits. The Drive X amplifier is identical between all these packages, as is any lingering 4G-X branded devices.
The difference in each of these kits is the exterior and interior antennas included, as well as the mounting hardware and included accessories. The kits are put together for different use cases - cars, semi-trucks, and RV's.
But don't feel constrained by the picture on the box - all the kits can be appropriate for RV and marine use depending on your installation options.
Here is what is included in each: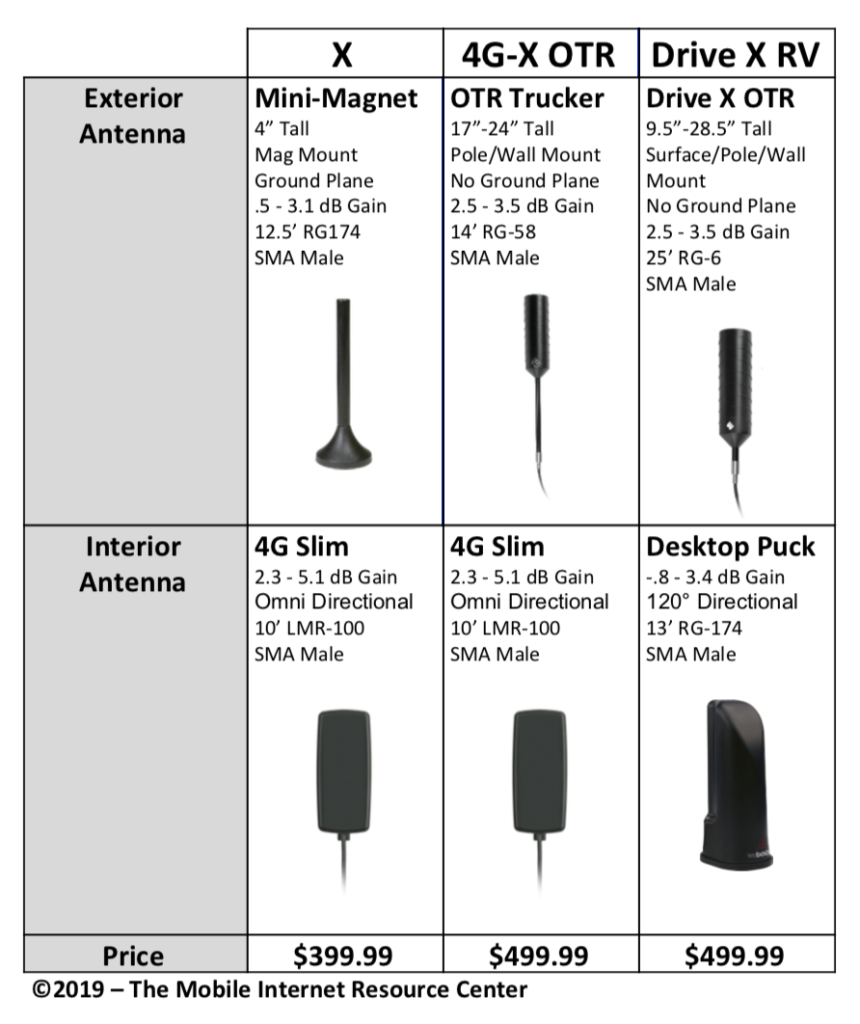 Antenna Kit Quick Comparison:
Drive X (Original/Vehicle): Includes a 4" mag-mount roof antenna at the end of a 12.5' cable, and a small interior patch antenna - also on a 12.5" cable. Intended for installation on a metal vehicle roof, with the installation of a ground plane, it can be made to work quite well on an RV roof. $399.99.
Drive 4G-X OTR: Marketed to the "over the road" big-rig truck market, this kit (announced June 2016) swaps the 4" stubby antenna for the 4G-OTR "trucker" antenna (it's a pretty tall antenna, click for some install ideas). The interior antenna remains the small patch antenna. This combo continues to outperform all other mobile boosters we test and is our top recommendation if you can manage the antenna installation. $499.99.
Drive X RV: Replaced the Drive 4G-X RV kit in July 2019 and is targeted explicitly for mobile RV installations. It combines a shorter OTR style antenna with more mounting options along with the directional indoor desktop antenna and a robust set of hardware to allow for many different mounting options. $499.99.
For further details and hands-on testing notes of these kits, members can check our further analysis below. weBoost certifies all of their branded antennas for use with their boosters - so if they have other antennas you want to try, you are safe to do so.
---
Review & Testing Status
We have had this booster, and many of the official kits, in our testing arsenal since August 2015.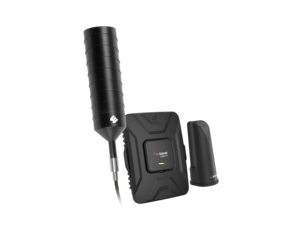 The 4G-X OTR kits earned its place as our reference standard that we continue to test all competing boosters against it, however, this booster has been eclipsed by the new Drive Reach in terms of overall performance.
We completed our 2019 rounds of head to head testing of the Drive Reach and multiple other new boosters (including the 4G-X/Drive X), and our results are summarized in the member area below.
We have featured the Drive 4G-X with a variety of antenna combinations in the following testing rounds, and our members have access to the raw field testing data and field notes:
Our detailed hands-on review and analysis of the weBoost Drive 4G-X is featured in our members-only section below, including some member-exclusive videos.
---
First Look Videos
The Drive X RV Kit (August 2019):
The Drive 4G-X OTR Kit (June 2016):
---
Potential Alternatives to Consider:
For other booster options on the market worth comparing this model to - here are our featured options:
Learn More About Selecting Cellular Boosters
---
Boosters are NOT the right choice for all applications.
They make the most sense for devices without antenna ports (like smartphones and tablets), or when in weak signal areas. However, for devices with antenna ports in mild to moderate signal areas - a direct-connected antenna can outperform a booster. And boosters can actually DECREASE data speeds in some conditions - never assume you need a booster on all the time - always test at each location!
For more on this:
Consider the Netgear MIMO Antenna for devices with dual antenna ports. This little $27.49 antenna is worth having in your setup. It our extensive testing, it often beats out boosters for data performance in Jetpacks, MiFis and other hotspot devices.
This Review Contains Additional Member Exclusive Content

We are honored to be able to present the above overview for free without 3rd party advertising or sponsorships. We are not paid by the manufacturer of this product to provide this listing or review, and nor are we selling this equipment or plan (purchasing links are provided below as a courtesy and some may be affiliates).
Our members have funded this resource center and any extensive hands on time
we have spent with the product to review it.
The in-depth portions of this review are made available to them which might contain: hands on testing notes, field testing data, user interface tour, product analysis, comparison to alternatives, setup tips, video tutorial, insider tips, vendor discounts and fellow member experiences.
If you're a member, please log in to continue with this review.
If you're not a member.. please consider joining us!
Purchasing Options
Special 5% Savings for
Mobile Internet Resource Center Readers
Use 'MIRCweBoost10' at checkout at weBoost.com
While this site is not reliant on affiliate funding, we do appreciate it
when you use our our links - the little extra ka-ching is a nice thank you!
Save 5% at weBoost - Discount Code: MIRCweBoost10
Buy Direct from weBoost:
Additional Vendors (members, check the Member Discount Page for discounts up to 11% off!):
TechnoRV | Waveform | MobileMustHave
5G Store | Powerful Signal | Wilson Amplifiers | Uber Signal
Amazon: Drive 4G-X | Drive 4G-X OTR | Drive X RV
Accessories & Kits
Power Supply Note: The X Vehicle and OTR kits comes standard with a 6v power supply that plugs in to a DC socket (ie. auto / cigarette lighter style). If you won't have a DC socket available or prefer to run this off of 110 AC power, you will also need to obtain a certified AC/DC supply (weBoost part 850011). The RV kit comes with both a direct wired 12v option and the plug-in AC adapter.
Unofficial RV Kits: You'll also find some resellers who sell this unit as part of their own 'RV Kit'. These are not specifically put together by weBoost, however they are using official weBoost components - such as different exterior & interior antennas, adapters, etc.
Related News Articles:
The guides below have been hand-picked to help further your education about the complicated topic of signal enhancing and utilizing cellular boosters.