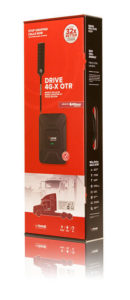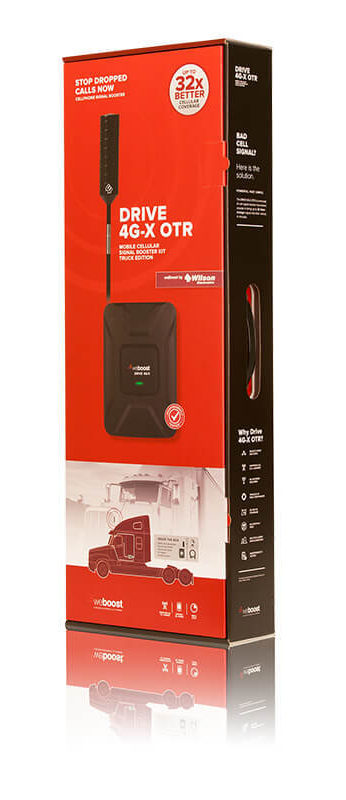 The weBoost Drive 4G-X has weBoost's flagship mobile booster since June 2015.
After multiple rounds of extensive head-to-head testing with other boosters on the market, we consider the 4G-X the 'gold standard' of mobile boosters and it has earned it's top pick status with our staff.
The 4G-X amplifier is now available in 4 official different antenna kit configurations, which can make selecting the right one for your a touch confusing.
Specifications
Gain: 50dB
Max Uplink Power: 24.8 dBm
# of Devices Boosted Simultaneously: Multiple
LTE Bands Supported: 12 (17), 13, 5, 4, 2, 25
Exterior Antenna: Bundled antenna varies by kit. SMA antenna jack.
Internal Antenna: Bundled antenna varies by kit. SMA antenna jack.
Range of Interior Coverage: 6" - 4'
In Motion Usage: Yes
Booster Dimensions: 6.375 x 1.125 x 4.35 in
Warranty: 2 Year
List Price: $479 (Vehicle Kit) | $499 (OTR, RV and Fleet Kits)
---
Included in this Review
Free/Public:
Member Exclusive Content / Review:
---
Official Antenna Kit Overview
The 4G-X amplifier comes in 4 different kits. The core 4G-X amplifier is identical between all these packages.
The difference in each of these kits is the exterior and interior antennas included, as well as the mounting hardware. The kits are put together for different use cases - semi-trucks, RVs and fleet vehicles.
But don't feel constrained by the picture on the box - all four kits can be appropriate for RV and marine use depending on your installation options.
Here is what is included in each: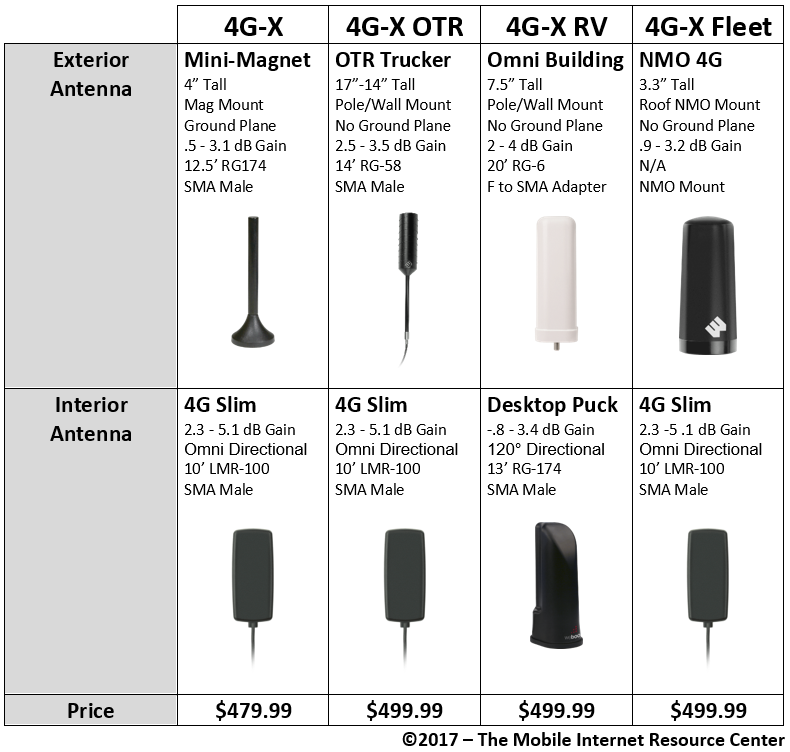 Antenna Kit Quick Comparison:
For further details and hands on testing notes of these kits, members can check our further analysis below. weBoost certifies all of their branded antennas for use with their boosters - so if they have other antennas you want to try, you are safe to do so.
---
Review & Testing Status
We have had this booster, and many of the official kits, in our testing arsenal since August 2015.
The 4G-X OTR kit have earned its place as our reference standard that we continue to test all competing boosters against, however as of May 2019 there are some intriguing new mobile boosters that may sway our recommendation.
We have featured the Drive 4G-X with a variety of antenna combinations in the following testing rounds, and our members have access to the raw field testing data and field notes. Here are some of the more recent rounds of testing:
Based on all of these testing rounds, the Drive 4G-X OTR remains our current top pick for those who are frequently further away from towers and who need the best possible upload speeds for two-way video, video broadcasts, and large file uploads.

Other antenna combos are certainly worthwhile too, if the installation suits you better.
Our detailed hands-on review and analysis of the weBoost Drive 4G-X is featured in our members-only section below, including some member exclusive videos.
---
Unboxing Videos
The 4G-X RV Kit (April 2017):
The 4G-X OTR Kit (June 2016):
---
Potential Alternatives to Consider:
For other booster options on the market worth comparing this model to - here are our featured options:
---
Boosters are NOT the right choice for all applications.
They make the most sense for devices without antenna ports (like smartphones and tablets), or when in weak signal areas. However, for devices with antenna ports in mild to moderate signal areas - a direct-connected antenna can outperform a booster. And boosters can actually DECREASE data speeds in some conditions - never assume you need a booster on all the time - always test at each location!
For more on this:
Guide to Understanding Cellular Data Performance
Testing & Understanding Your Mobile Internet Speeds
Consider the Netgear MIMO Antenna for devices with dual antenna ports. This little $27.49 antenna is worth having in your setup. It our extensive testing, it often beats out boosters for data performance in Jetpacks, MiFis and other hotspot devices.
A Full Review of this Product is Available to our Members

We are honored to be able to present the above product overview for free without 3rd party advertising.
In thanks for funding this resource center our members have access to the in-depth unbiased review of this product based on our extensive hands-on time and testing.
If you're a member, please log in above to read the review.
Purchasing Options
Additional Vendors (members, check the Member Discount Page for discounts up to 11% off!):
TechnoRV | Repeater Store | LivinLite
3G Store | Powerful Signal | Wilson Amplifiers | Uber Signal
Amazon: Drive 4G-X | Drive 4G-X OTR | Drive 4G-X RV
Accessories & Kits
weBoost Drive 4G-X OTR kit Note: This package ships with the 24" rigid non-spring mounted version of the 4G Trucker antenna. This is not ideal for some RV applications & installation. At this time, if you want the shorter 4G Trucker/RV antenna - a spring mounted 19" version is available separately.
Power Supply Note: The 4G-X Vehicle and OTR kits comes standard with a 6v power supply that plugs in to a DC socket (ie. auto / cigarette lighter style). If you won't have a DC socket available or prefer to run this off of 110 AC power, you will also need to obtain a certified AC/DC supply (weBoost part 850011). The RV kit comes with both a direct wired 12v option and the plug-in AC adapter.
Unofficial RV Kits: You'll also find some resellers who sell this unit as part of their own 'RV Kit'. These are not specifically put together by weBoost, however they are using official weBoost components - such as different exterior & interior antennas, adapters, etc.: Amazon: Unofficial weBoost Drive 4G-X RV Kit | Wilson Amplifiers | Powerful Signal | TechnoRV WeBoost Drive 4G-X RV Bundle
Related News Articles: