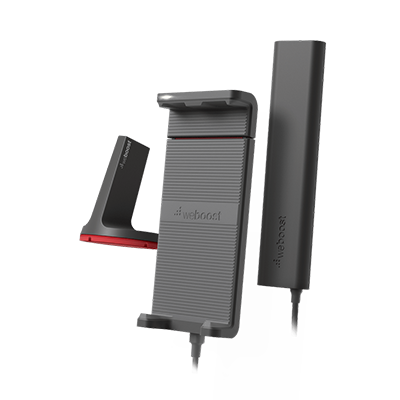 The weBoost Drive Sleek and Drive Sleek OTR kits are simple and easy cradle-style cellular booster kits designed for use with just one device at a time. They're lower powered and lower cost than other mobile boosters like the Drive 4G-M or 4G-X.
These kits are updated versions of the existing weBoost Drive 4G-S (which was rebranded from the former Drive Sleek 4G by Wilson Electronics). They are re-designed to separate the amplifier from the interior cradle booster. in both kits you put an antenna on the roof of your vehicle.
The difference in the weBoost Drive Sleek kit and the weBoost Drive Sleek OTR kit is in the packaged exterior antenna.
The Drive Sleek is packaged with a small stubby magnetic antenna which requires a ground plane if you don't have a metal roof (providing a ground plane) which runs (along with12v power) to the amplifier bar, and then another cable to the interior antenna cradle.
weBoost packages the Drive Sleek OTR with a stronger Trucker Antenna, which is typically mounted permanently or semi-permanently to your rig. The latest version of the trucker antenna, released in the summer of 2018, is an updated and improved version. It includes 2 mast extensions, a 3-way antenna mount, a side exit adapter, antenna spring, cable adapter. These additional parts give this the OTR a lot more installation flexibility.
---
Specifications - Drive Sleek
---
Specifications - Drive Sleek OTR
---
Testing Status: weBoost sent us the weBoost Drive Sleek (with original antenna) upon release, and we've had it in active testing. Our field testing results can be found here for our members who want to follow along:
We have updated our review below for members.
Here is our unboxing video, with first impressions and comparisons to the prior 4G-S and current 4G-X models:
In July 2018, weBoost has also sent us the new Sleek OTR pairing, and we will be integrating it into our testing as well.
Related News Articles:
The Rest of this Review is:
Member Only Content
We are thrilled & honored to be primarily member & reader funded - allowing us to present unbiased content. The in-depth review section of this product listing is part of the premium membership benefits of joining. Members can also leave their own reviews on products.
If you're a member, please log in above to read the in-depth review for this product and/or leave your own review. If you've not joined yet, learn more about membership at:
Purchasing Options
Amazon: weBoost Drive Sleek | Drive Sleek OTR
WilsonAmplifiers | RepeaterStore | Best Buy | LivinLite
Deal Alert: The older Wilson Electronics Sleek 4G or weBoost Drive 4G-S can often be found at close-out & refurbished prices.
weBoost Drive Sleek
Quick Take
Ideal as a booster for the toad or towed vehicle, or for smaller RVs. It's also an affordable starter booster.
Comments Rating
( reviews)