Starlink for RV & Boat Internet
Satellite internet is rapidly evolving, and the most prominent and promising new mobile internet option for RV and Boat connectivity is SpaceX's Starlink. This insanely ambitious low earth orbit satellite constellation launched by Elon Musk with the goal of delivering broadband satellite internet to even the most remote locations on Earth, and eventually even to Mars.
Starlink is initially targeting fixed residential installations in relatively limited areas, and mobility is not (yet!) officially supported.
But many have been discovering that Starlink can work great in a "portable" fashion for RV use - as long as you understand the compromises and trade-offs inherent at this phase of Starlink's deployment.
We have been tracking the development of Starlink since the constellation was first proposed back in 2015, through the launch of prototype satellites in 2018 and 2019, and through the limited public beta launch in 2020.
In February 2021 SpaceX began to allow anyone to put down a deposit to pre-order Starlink service, but even though the beta period is now seemingly over - Starlink is still under active development and has a LONG way to go before it is fully deployed and has coverage & capacity everywhere.
As of early 2022, SpaceX is less than half-way towards its goal of deploying the initial Phase 1 constellation of 4,396 Starlink satellites - which will be followed by an additional 7,518 Phase 2 satellites and then a proposed additional 30,000 next generation satellites after that.
Building a satellite constellation this large is a truly audacious undertaking.
But the ultimate goal is to be able to provide fast, affordable, low-latency internet - anywhere in the world with a clear view of the sky.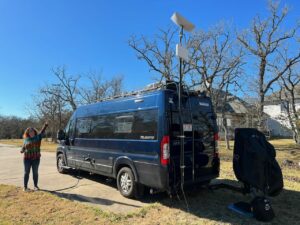 Starlink internet is a dream come true for many who RV and boat who venture far from cellular coverage.
But Starlink is not without its limitations - even Elon Musk has frequently warned that Starlink is best thought of as a compliment and not a replacement for cellular networks, pointing out that:
"Starlink is designed for low to medium population density, which means we can hit max users in some areas fast."
This guide will help you understand when and where Starlink makes sense to add to your RV or boat connectivity arsenal. And we share some critical tips for putting Starlink to use in a mobile environment, dealing with the systems limitations and inevitable frustrations.
This guide is focused on Starlink for RV and boat use in particular, and will be constantly kept up to date by our team as this topic continues to develop.
There are already existing satellite mobile internet options out there, and there are other next-generation Starlink competitors in the works too.
For a bigger picture look at all of the present and proposed mobile satellite internet options for RV and boat use, be sure to checkin out our Mobile satellite options guide.
Mobile Satellite Internet Resources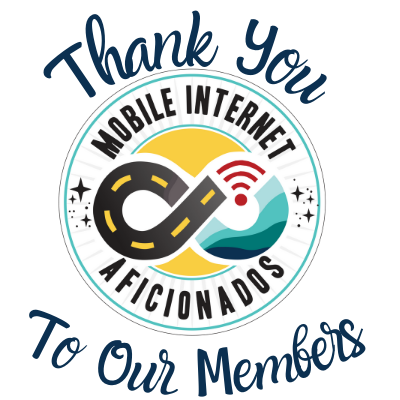 If you're a member, please log in above to access the exclusive portions of our content.
We are honored to be able to present a bunch of our content for free.
Our resource center is brought to you by funding from our premium members. We don't accept 3rd Party Advertising, we're not sponsored and we don't sell stuff.
Our members have exclusive access to in-depth content, classrooms, discounts, alerts, insider info and interactive guidance.
If mobile internet is an important part of your lifestyle, you can help make this possible:
Starlink Gear Center
Our Starlink Gear Center goes into the technical details about the various versions and revisions of the Dishy that have been shipped out to date to customers.
Starlink Terms Defined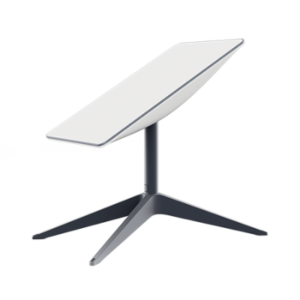 There are some rather unusual terms that are mentioned frequently when discussing Starlink. Here is a quick glossary that can help make sense of them all:
Dishy McFlatface - SpaceX's official name for the Starlink receiver is (seriously!) "Dishy McFlatface", or "Dishy" for short. Unlike most traditional satellite systems, the Starlink Dishy is not just a passive antenna, and it contains inside of it an advanced phased array antenna system and all of the electronic brains of the system. The indoor companion unit is just a basic Wi-Fi router for sharing the connection, it is the outdoor Dishy that is doing all the work.
Cell - SpaceX has divided the world into service cells that are roughly 15 miles across, and not all cells are turned on for service - and others may be capacity constrained. Many older satellite systems didn't care where you were on the ground - but with Starlink the cell you are in can ultimately matter a lot. Unfortunately - determining cell boundaries is a matter of guesswork since SpaceX has never published a Starlink coverage map.
Portability / Roaming - Roaming referred to as service portability by Starlink allows Starlink systems to connect even when away from their assigned service address. Service portability was officially released on May 4th, 2022 as a monthly add on to your subscription charged on a month per month basis. Service portability can be turned on and off as needed, but there is no prorating.
LEO - Starlink satellites orbit much closer to the earth than most satellites, just 200 to 350 miles above the surface. This is known as LEO (Low Earth Orbit), in contrast to the geosynchronous equatorial orbit (GEO) more commonly used by communication satellites that are locked into seemingly fixed locations in the sky 22,236 miles above the equator.
Ground Station - Since Starlink satellites orbit so close to the earth, they need a lot of ground stations every few hundred miles to use as an uplink to the internet. In countries or areas without ground stations, Starlink satellites (currently) can not communicate.
Space Lasers - SpaceX is equipping future Starlink satellites with laser interconnects that will allow satellites to communicate with each other directly, able to act as relays to allow for coverage globally regardless of where ground stations are located. We'll explain more about how this works later in this guide.
Starlink RV & Boat Internet News Coverage
Starlink is evolving rapidly.
Here are the latest news stories we have published here at the Mobile Internet Resource Center on this always developing topic:
---
Starlink for RV & Boat Video
Here's a quick video recapping the highlights of this guide with an overview Starlink and using it in a portable RV or boat environment.
---
Obtaining Starlink Service
Demand for Starlink has vastly outpaced supply since SpaceX began accepting $99 deposit pre-orders in February 2021.
Some people who placed pre-orders that very first day are still waiting for notification that they can actually place a Starlink order - while other people are finding it easy to get a Starlink system ordered today with near immediate shipping.
This frustration is because SpaceX has not turned on Starlink service everywhere yet, and even in places where there is service - the network only has capacity for a limited number of connected customers per cell. So customers with deposits are basically just holding their place in line based on their service address - and one address might be stuck waiting for years, while 15 miles away service might be available this week.
One unique aspect to the nomadic lifestyle is that most RVers and boaters generally don't have a fixed address that they specifically need permanent Starlink service at - so technically anywhere in the US can be used as a service address.
In May 2022, Starlink official released the Starlink RV line of service (currently same hardware) that allows immediate order without any assigned service address and always being subject to deprioritized service. This service automatically includes the $25 portability charge, so the monthly fee is always $135/mo. The RV service is unique in that you can pause the service when you are not using it.

With the addition of the dedicated RV service, the Starlink FAQ now states that any residential service must first be activated at the service address before being able to use portability, possibly killing off the loophole of ordering Starlink Residential service from any open service address.
If you purchased Portability before receiving your Starlink as a new customer, you must first power on your new Starlink at the Service Address listed in your account so your Starlink can update its software. Once updated, the Starlink will then be configured for Portability.
Both the RV and the residential service offer the user the ability to use portability to have service anywhere. The RV service is automatically always subscribed to portability since they have no assigned service address. The residential service has the option to turn portability on/off for $25/month and is only needed when you are not at your assigned service address. You are also allowed to move your service address to have priority service in other locations when available.
Starlink Costs Explained
The Starlink hardware is the same price for either service, but some people get caught by surprise by the shipping cost, RV vs Residential service, service portability or the need to pay extra for an Ethernet adapter.
This image breaks down what to expect when ordering a consumer Starlink system - $599 for hardware, $50 for shipping, your local sales tax and then the monthly service fee which can depend on the services you subscribe to.
The monthly fee for the RV service is $135/mo always subject to "best effort" which means it can be deprioritized (network managed). Your data is unlimited and unthrottled in that it's never slowed down based on the amount of data you use, but can be slowed down or even disconnected based on network congestion at the time of use. This means that you may need be concerned in current waitlist cells and during high traffic times, otherwise your service should be pretty good.
The monthly service fee for the residential service is $110/mo for unlimited unthrottled priority data at your service address. Additionally, for those who want to be able to use their service away from their service address, you can opt into Service Portability on a month to month basis for an additional $25/month. Service while using portability is subject to the same network management that the RV service is always subject to and that it's a best effort to connect you. One advantage with the residential service is you do have a service address you can move around to locations you want priority data at if capacity is available. You are only guaranteed service with the residential service at your service address.
For most mobile RVers and boaters using Starlink, the monthly cost will be $135/mo with either plan. The RVer service does have the advantage of being able to pause your service when not in use. (Please note partial months are not prorated).
The residential plan is not able to officially be paused, but you can unsubscribe from portability while at your service address saving you the $25/mo portability charge. Again portability is not prorated and you are charged a full month for even 1 day of use during your billing cycle.
Starlink Store and Accessories
The consumer Starlink system includes the outdoor "Dishy" receiver, a 75' cable, an indoor Wi-Fi router that also acts as a power supply, and the kit also included is a basic four-legged stand suitable for setting up the Dishy on level ground.
SpaceX also sells a range of Starlink accessories on the Starlink Store - including different types of mounting systems, replacement cables ($60 - $85, depending on length), and an Ethernet adapter ($25) that lets you connect the Starlink system to other wired networks.
This Starlink store is only accessible once you have placed a full order and have opened up an account with Starlink - but you can place orders for accessories in advance of your Dishy actually shipping.
Ordering Starlink for RV or Boat Use With No Wait
As of May 2022, Starlink now offers "Starlink RV" service with no wait and no assigned service address. This service is always deprioritized behind Starlink residential users who are at their assigned service address.
To obtain Starlink for RV you will visit Starlink.com/rv where you will be able to purchase service immediately with no wait.

Starlink RV service is probably better aimed at the part time RVer or Cruiser that does not need Starlink at their permanent residence and wishes to pause the service during those times saving them lots of money.
Our Starlink for RVs story goes into more details about the advantages and disadvantages of the RV vs the Residential with portability for nomads.
Ordering Starlink Residential Service
Starlink Residential Service availability is based on the service address used at the time of ordering. Full-time RVers that wish to have a guaranteed service address for certain times of the year may find that the residential service with portability enabled when they need it fits their lifestyle better vs the RV service where you have no assigned service address and your service is always deprioritized.
As an RVer or Cruiser, you have the advantage of not necessarily needing service at a specific fixed location so you have the option of subscribing to RV residential with portability enabled or subscribing to the Starlink RV service that does not require a service address at all.
Starlink now has a Starlink Availability Map that shows exactly where you can order with no waitlist. A service address in a light blue area is available for immediate full order while a service address in medium blue area means you'll be on a waitlist for the residential service. The darker blue areas show where Starlink service is coming soon.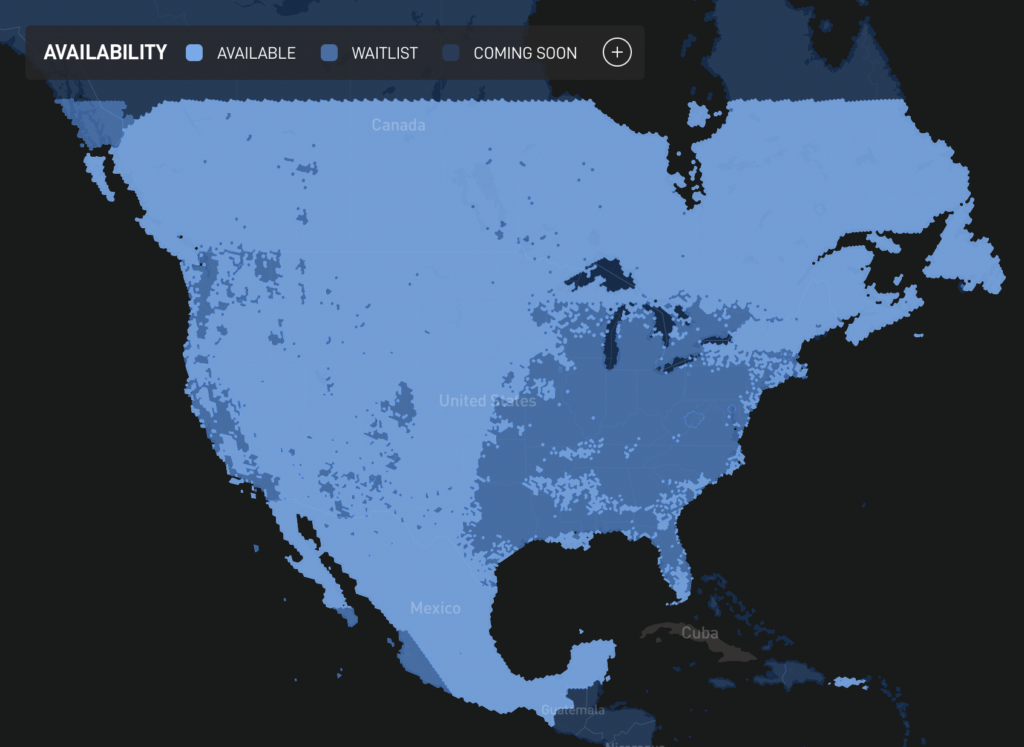 To obtain Starlink Residential, you go to the Starlink.com website where you are prompted to enter in a physical street address or enter in a Google Plus code (Google's proprietary way of entering lat/long coordinates - you can look these up on Google Maps) and the system returns back one of three options for that address which should coincide with the starlink map above.
Immediate Order Offered - After you enter your address, if you are offered the full $599 order option, this means that your service address in in an open cell with capacity and you are buying Starlink right then and there. Your Starlink system will ship to you in 1-3 weeks, and upon order confirmation you will become an actual Starlink customer with access to the Starlink store and tech support via your account.
$99 Deposit Offered - If the cell is not available or if it's at capacity, the system will give an estimation of time on when you could expect service and will offer you to put down a $99 deposit to hold your place in line. Once your deposit is accepted, you will be able to order mounting accessories from the Starlink store.
No Service Offered - It is rare, but there are some addresses where Starlink is not even accepting deposits - and where there is no estimate being given on when new orders will be accepted.
There is a massive backlog of residential orders for Starlink, with many addresses now showing fulfillment not likely until well into 2023 in the US.
Although you can order Starlink residential at any open service address, if you really do want Starlink to work at an address currently at capacity, you will have to subscribe to and rely on Service Portability until you can move your service address into that location. Portable users are served best effort and can expect lower service levels than fixed users, particularly in areas marked as "Waitlist" on the Availability Map.
Although Starlink Portability enables users to use their Starlink terminal in other locations, users will have less priority on the network. If you are going to be in a different area for an extended period of time, Starlink requires you to change your registered service address location (subject to availability) to ensure the best experience.
Users who stay in the same area outside their service address location for an extended period of time may see a further decrease in performance to accommodate users at their Service Address.
If you are intending to use Starlink in a variety of locations as you travel with starlink residential service, you must have service portability enabled to connect any where outside your service address or attempt to move your service address as you travel. You are allowed to turn on service portability at any time.
What does the Starlink deposit mean?
If you don't find a service address that allows you to place an order immediately, SpaceX will give you a chance to pay a $99 deposit to secure your place in line for when there is more availability in your service address area.
This deposit is fully refundable - but giving it up forfeits your place in the queue.
Starlink points out the deposit is not a guarantee that you will get service when estimated, and nor does it lock in any pricing. When you place a deposit you are put at the end of the line waiting for Starlink in the area around the service address you entered.
If you put down a deposit, when availability opens up for your location, Starlink will email you and and you have 7 days to confirm your purchase and your shipping address, or your order is automatically cancelled and your deposit is returned. At that point you have to start over at the end of the line again.
Ongoing Cost of Service
Once you obtain Starlink service, you will be charged $110/month for Residential service or $135 for RV service beginning 14 days after your equipment ships and continues until you cancel it - which you can do at anytime.
This $110/$135 mo charge includes unlimited data, without throttling.
Additionally, for those who want to be able to use their Starlink residential service away from their assigned service address, you can opt into Service Portability on a month to month basis for an additional $25/month. There is no proration of this fee, regardless of how many days in a month you are actually roaming away from your registered address.
That means for most mobile RVers and boaters using Starlink Residential with portability or Starlink RV, the monthly cost for either will be $135/mo.
For Starlink Residential, if you can update your service address to your current location - subject to open capacity - you can turn off Service Portability for that stay to save $25/mo. You can not turn off portability with the Starlink RV since you have no assigned service address.
Suspending Service
Part-time RVers and boaters often desire flexible connectivity options that can be turned on and off as needed. Currently only the Starlink for RV service can be officially paused using options under your account page.

While Starlink Residential can not officially be paused like the RV service, there are no contracts and you can cancel your service at any time. And there are currently no re-activation fees.
To re-activate it in the future, you'll have to go through the process of finding an open service address again. Remember that using any service address to start service is currently a way things just work, not a stated policy or feature of Starlink - anything can change in the future. You may find when you want to re-activate it's not as easy, or they could eventually make it even easier.
Transferring Service and Used Systems
SpaceX has opened up the ability to transfer Starlink service to a new owner with the assistance of their customer support.
With the demand far outpacing availability, used Starlink dishes are actually selling for around the same price as new (or more). Buying used is a pretty easy way to obtain service if you find a seller you can work with - so you'll have to judge if the possible higher price is worth it to you.
Buying a used Starlink is a much safer transaction if the Dishy is currently still in service - you can then have Starlink Customer service reach out directly to you via the seller to initiate the transfer of the account. Starlink also has to approve this transfer - and your transfer will be denied if your desired cell location is not active or is at capacity. It is often easiest to not change the service address for used equipment until after it has been transferred.
Be cautious of buying used Starlink equipment that currently doesn't have active service attached to it. The seller is your only connection to customer support to transfer service to you and help you get setup with your own account. There is no number to call Starlink and start up a new account on your own just because you happen to have purchased a used Starlink dish.
Starlink Hardware Versions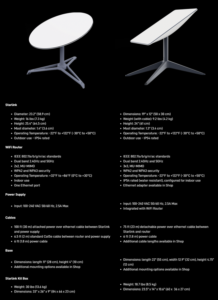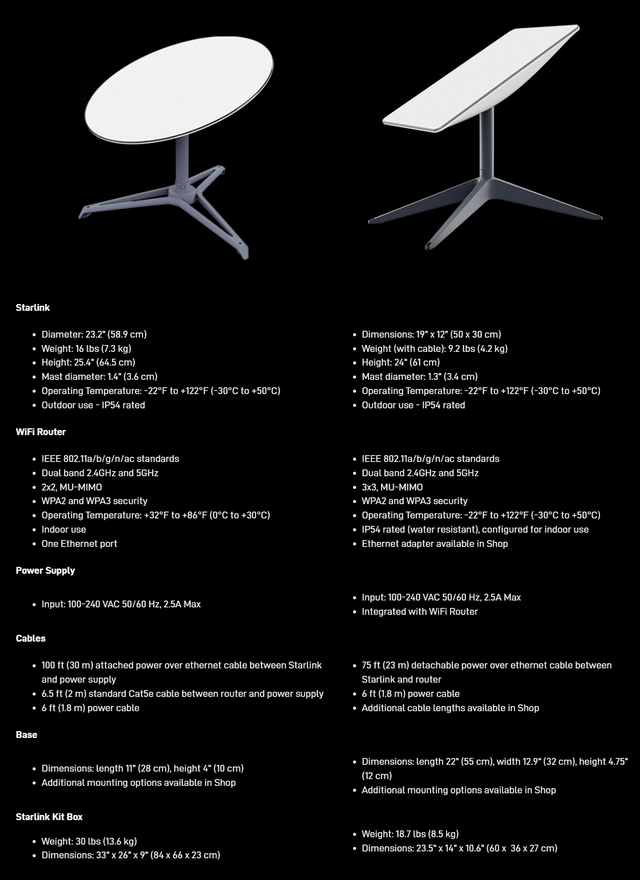 All Starlink systems currently being sold new in the United States and Canada come with the second generation rectangular Starlink Dishy.
This second-generation Starlink receiver is notably rectangular in shape, as opposed to the round original Dishy.
The new Dishy (see our news story) is smaller than the first generation dish, at 19" x 12". It weighs nearly 7 lbs less too - just 9.2 lbs. This more compact body size makes the second generation Dishy a lot easier to pack up and store in an RV.
Also new - the cord between the indoor router (which is now integrated into the power supply) and outdoor Dishy is now removable and replaceable, as opposed to the fixed cord that was permanently attache to the original Dishy design.
The new Dishy is more power efficient too - and will be a better match for use in off-grid solar-power installations.
Performance-wise - according to SpaceX the new and original Dishy should be essentially identical.
For anyone shopping for a used Starlink - the smaller size and removable cord of the rectangular Dishy make it a lot easier to use in a portable fashion where you set up at each new location. The older round Dishy receivers (especially the very early ones with black legs) will be more limited in this regard.
The one downside to note of the new Starlink system - the router that pairs with the rectangular Dishy doesn't offer built-in Ethernet, which means those wanting to integrate with another router or other wired devices will have to purchase an additional ($20) Ethernet Adapter.
We cover more in depth hardware differences in the Starlink Gear Center.
Should You Order Starlink Business?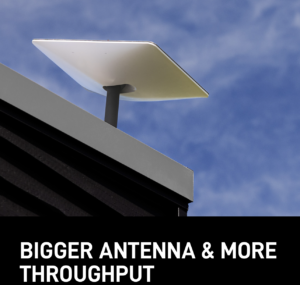 In February 2022 (our news story) SpaceX began accepting orders for a new "Starlink Premium" offering featuring a new larger Dishy receiver. They soon after renamed the service to be Starlink Business. Compare specs to the consumer version at our Starlink Gear Center.
"With more than double the antenna capability of Starlink, Starlink Business delivers faster internet speeds and higher throughput. Order now to reserve, deliveries start in Q2 2022."
Business service comes at a price - with the hardware and the monthly service costing five times the consumer Starlink offering - $2,500 for the premium version of Dishy, and $500/mo for Premium service.
Starlink Business is clearly not intended for most people, and is likely not of interest to most consumer level RVers and boaters. Even those running businesses from their vessels will likely find this system to be overkill.
SpaceX makes it clear that Starlink Business is intended for "enabling high throughput connectivity for offices of up to 20 users, storefronts, and demanding workloads across the globe." - a tier of more demanding customers that are likely to be less tolerant of network congestion, glitches, and temporary slowdowns.
On paper, the performance promises of the Business service do not look dramatically different than the regular Starlink offering: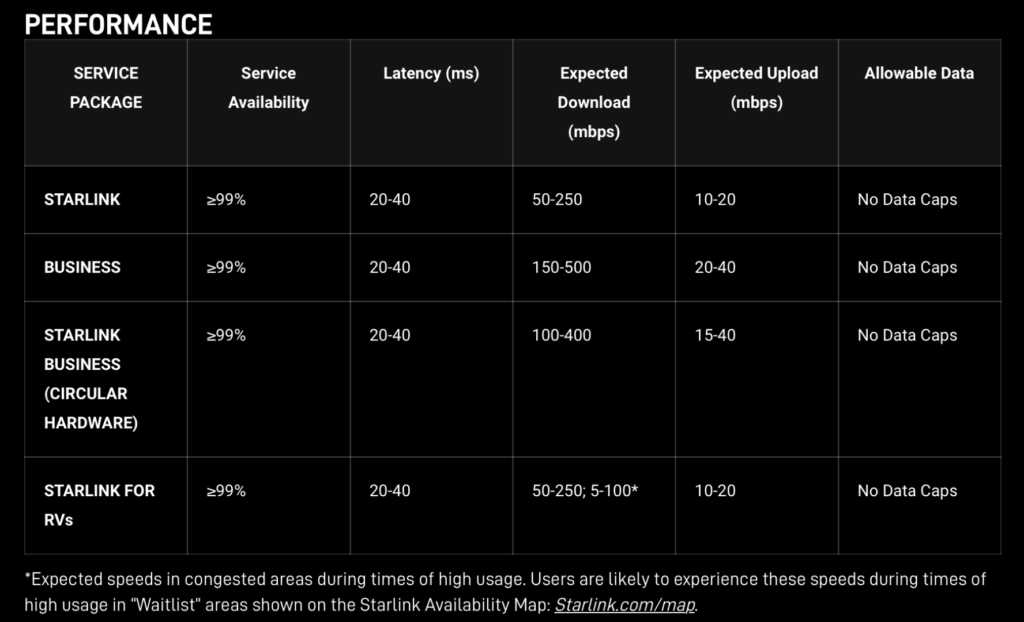 It is clear that overall Starlink Business is targeting a very different market than consumer Starlink service - and it will be interesting to see how real-world performance changes over time as Business and regular Starlink customers compete for limited satellite capacity.
We expect that real world results will all come down to Starlink's network management algorithms and actual physical satellite capacity - and Business customers will have a higher priority on SpaceX's network when the satellites are congested.
Real world Starlink performance
The consumer version of Starlink claims to have 50-250 mbps download and 10-20 mbps upload. The physical location of your service, Starlink network congestion, network priority, and local wifi congestion call all play a very large role in the speeds you will actually see.
Starlink RV users and users actively using portability will possibly see even slower speeds during times of congestion. The performance chart above list service in congested areas could be as low as 5-100 mbps. The lower end of that can feel pretty slow.
Most users are seeing adequate 50-100 mbps downloads with some people showing off speeds of 200+, but there are plenty of reports of people experiencing slower than 50 mbps download speeds during busy times of the day and some as low as 10 mbps or lower.
The upload seeds on the other hand have been pretty unimpressive for most users, especially when compared to good cellular connections. Even regularly getting 10 mbps seems like a challenge sometimes and getting any where near 20 mbps only happens at off peak times in the middle of the night. Certainly some users are seeing faster, but the uploads have been a bit disappointing thus far for a large majority of users.
Speeds overall have definitely been affected by a very quickly growing user base and hopefully Starlink can improve this as they grow the constellation size and make improvements to their system.
---
RV, Boat and Nomadic Starlink Usage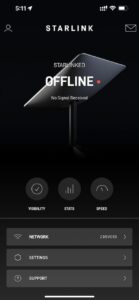 Starlink is very simple to use and setup. It actually even comes delivered with the components plugged in to each other and ready to go.
All you need to do is place the Dishy outside in a wide open spot with a clear view of the northern sky, set the router somewhere convenient inside, and then plug in the power cord.
The system then does everything else automatically - including aiming and finding a signal.
The Dishy will first point straight up to track the satellites, and then once it has a good signal, you should notice it aim and tilt slightly to the north in most locations in the US. Once this initial aiming happens, the Starlink Dishy remains stationary. The Starlink Dishy only needs this rough initial aiming towards the north, the precise tracking of the satellites in motion is handled entirely electronically by the advanced phased array antenna without any additional motion.
At this point you should have service and you can verify by connecting to the Starlink Wi-Fi network and using the Starlink app.
Your home screen will show a picture of your dish with a message indicating it is online, or if not - an explanatory error message.
But if you are away from your service address - things might not work so smoothly, especially the first time you power up Starlink.
It all comes down to the complex way that Starlink is handling "Service Portability" behind the scenes.
Starlink Service Portability vs Service Address Change
Starlink offers two ways of moving your service to another location.
Service Address Change - Starlink has always supported allowing customers to update their service address to match their current location, providing there is open capacity. You can then generally connect with usable service within a dozen or so miles of that address. When you next wanted to move, change your service address again if there is open capacity. There is no extra charge for using Starlink when you are located within range of your registered service address - the base $110/month fee applies.

The advantage: When near your registered service address, you are getting the highest consumer level priority of service, and not subject to 'best effort' service.
The downside: Officially changing your service address may not be possible if you are in an area without open capacity.

Service Portability - Officially released on May 4th, 2022 (and unofficially soft launched at no charge in March 2022), SpaceX officially added service portability as an official feature with a monthly service charge of $25/month. When Service Portability is enabled on an account, service can now be moved to covered locations anywhere on your home continent without updating your service address on a temporary basis.

The advantage: This is a no fuss way to travel with Starlink without worrying about where there is open capacity to move your service address to.
The downside: When away from your service address, your service is at best effort - which means you may experience slower speeds or downtime when in cells that are at capacity or experiencing congestion.
Note that if you do not have portability enabled and you move your Starlink outside of your service address area, your Starlink will not connect, even to enable portability. It's therefore important to enable portability before moving your Starlink.
Starlink Portability Best Effort Service
Service Residential with Portability and now Starlink RV is what makes Starlink feasible for RV and boat travels until there are official mobile options available. Being able to travel anywhere you have a clear open sky and Starlink has coverage, you can get online with the fuss of finding open cells to officially move your service to.
However, there are some considerations for this to keep in mind, particularly around their Best Effort terms.
Here are the official terms from Starlink's site: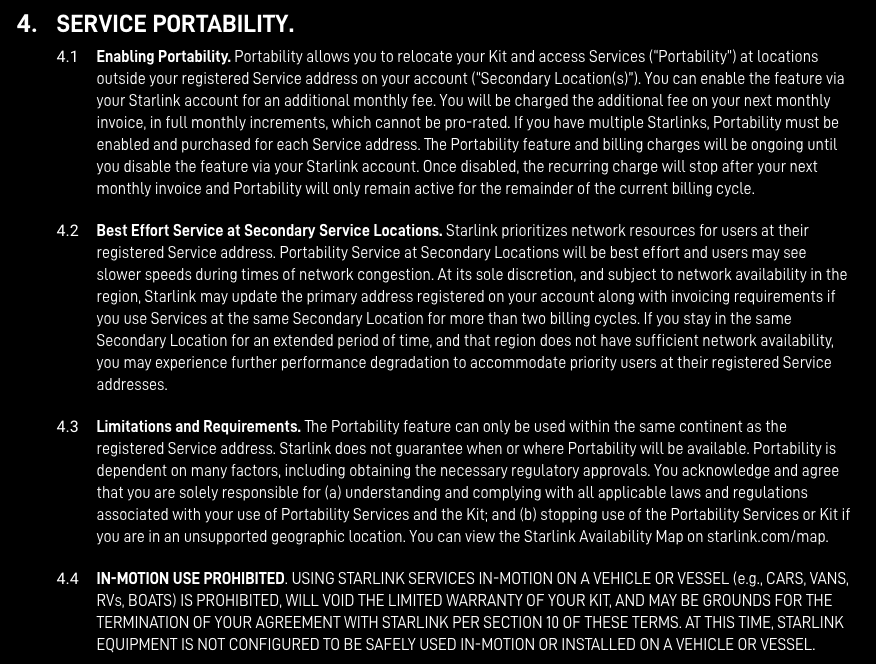 According to the Starlink terms of service, customers away from their primary service address will get "best effort" service and that they "may see slower speeds during times of network congestion."
In other words - Starlink customers roaming into an area will have a lower priority on the network than customers who are at "home", and if the network is congested the roamers will be the first to experience the slowdowns.
It remains to be seen just how significant these slowdowns will be in practice - but we suspect that areas popular with RVers (like Quartzsite in winter) might end up with significant capacity constraints, at least until the next generation Starlink constellation comes online in the years ahead.
This also means that nomads visiting areas already at capacity may find service to not be overly usable.
Especially if they have an extended stay in such locations and they can't switch their service address officially. Starlink's terms state that being in the same area for an extended visit that is not your service address lowers your priority of service even further.
Starlink does point out that portability may not be supported everywhere and is subject to local regulatory approval.
Enabling Portability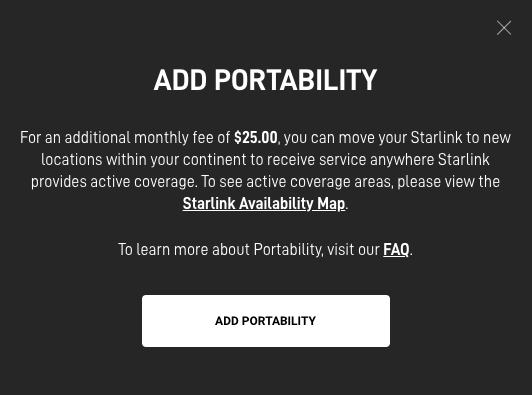 Starlink service portability is now controlled at an account level per dish subscription. You can control this yourself under your account home page, or add the feature when first signing up for service.
Find the option on your Account by clicking the 'Manage Service Options' button to the left of the service address map, and then use the 'Add Portability' link under your displayed location on the left hand side of the screen.
Once enabled, service portability should be immediately applied allowing you to receive service on your Dishy when away from your registered service address.
The $25 fee will be applied on your next billing period, and you can disable the feature anytime you wish. Remember, there's no proration of the fee - you will pay the full month regardless of how many days in a billing cycle you used the feature.
If you don't enable service portability and are away from your service address, your Starlink system will not connect to the internet. You will have to use another internet connection to log into your Starlink account to pay for portability to get back online.
Old Firmware?
The firmware that first enabled roaming was from around 02/18/22 or later (see here for a list of Starlink firmware versions). Most systems being shipped in mid-March seem to have this firmware already installed so for most people this is nothing to worry about.
If by some reason you have a dish that has been offline for an extended period of time and you don't yet have this firmware, you will need to get connected to Starlink at your assigned service address to download the latest firmware before your dish can roam.
This means if your service address is too far away to connect, you will need to move it to somewhere that is physically closer to you. Your goal is to try to get it within 15 miles of your location, or somewhere close enough that you can easily travel there to setup the dish and leave it online for several hours.
Once your Dishy is online, it should automatically download the latest firmware overnight. There is currently no way to force firmware updates manually.
Verifying You Are Roaming

You must have service portability enabled on your account to be able to roam.
If you want to know for certain that roaming is enabled on your account, you need to travel outside your assigned cell as shown on the Starlink Availability map.
Once you are outside your service address, you can check for roaming using the Starlink app.
Click on the "Support" button, scroll down to "Advanced", then click "Debug Data" and look for a field "Roaming = True" to see if your Dishy has gone into roaming mode.
Note: You will NOT see the roaming flag if you are at your designated service address, even if your account is enabled for roaming.
Changing Service Address
While being able to enable Service Portably makes travel easy, connecting at your assigned service address is the only place you have guaranteed and priority service.
If you are stationary for an extended amount of time, or have a location that you absolutely need Starlink, you will want to try to move your service address to that location to guarantee service there and make sure your service has priority.
Being at your registered address avoids the Service Portability charges and Best Effort terms.
You can do this under your account page, Starlink gives you a map that you can move around and find your current location. You can also enter in an address or Google+ code.
The map allows both normal view and satellite view.
When the map is over a specific location you choose and you are zoomed in close enough, you'll see the button "update address" is highlighted in white and can be clicked. It becomes greyed out if you zoom out too far.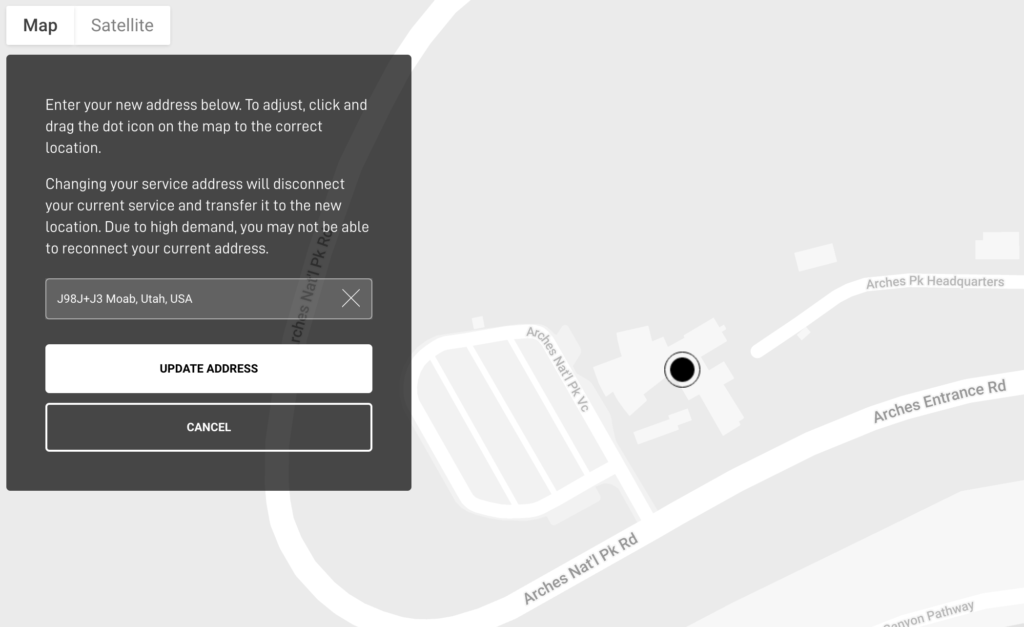 When you select the "update address" button, your service address will update immediately if it is open and has capacity. If you're not at that new address, your service will immediately be disconnected until you are near the new address unless you have Service Portability enabled.
If Starlink doesn't accept the change, you will be shown a message that says service is not available in your area or that the cell is at capacity and please try again at a later time. Your service address is not updated and you will only be able to get service at the new location if you have Service Portability enabled. You can keep trying to change your service address however, as others may drop out of the area opening up capacity. And you may be able to find open capacity nearby by trying other addresses that might be in the same cell.
Keep in mind if you rely primarily on your Starlink at a fixed location, if you change your service address, someone else can now come in and take your previous spot. You may not be able to move your service back to it for a while.
Service Portability is what allows you to take Starlink away from you home location without giving up your home service area.
Finding Open Cells for Service Address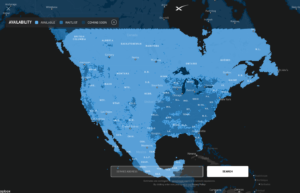 Finding an open cell to move your Starlink service too is easy using the Starlink Availability Map that was added. Keep in mind just because the map says an area is not available for immediate order, it doesn't mean you can't move your service there. This part is still trial and error.
If you are currently not subscribed to service portably, assigning your service address to a nearby cell (less than 15 miles) even if the one you are in happens to be full can help in getting Starlink to connect. You may just experience degraded service and more frequent drops.
---
Where Does Starlink Work?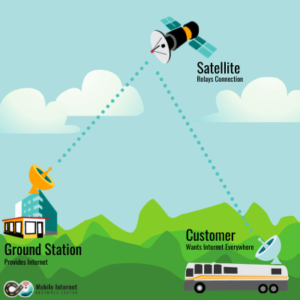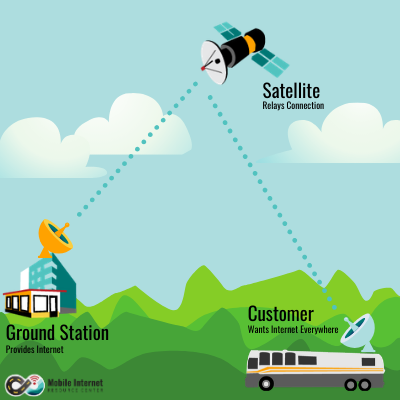 Starlink is a low-earth-orbit (LEO) satellite constellation more ambitious than any that has ever been constructed before.
The advantage of having satellites at lower orbits is that they are physically close enough to users on the ground to provide fast low-latency communications rivaling 4G - and even 5G - cellular.
But the disadvantage of a lower orbit satellite system is that the satellites are always in motion in the sky - and it takes many satellites in coordinated orbits (known as a "shell") to guarantee that at least one satellite is always passing overhead at any given time.
In May 2021 SpaceX completed launching the last of the 1,584 satellites in its first complete shell.
This shell allows SpaceX to technically claim global coverage from 57° north to 57° south latitude, leaving out Alaska and other polar areas for the time being.
But the first generation version 1.0 satellites used to build this shell are completely dependent on ground stations for communications, and they can not relay data between satellites.
Because of this dependency - SpaceX has only enabled Starlink service in areas that it has enough satellite capacity and ground station coverage to provide service.
As additional shells have begun to be populated with satellites, and additional ground stations have been built, SpaceX has been able to turn on service in more areas - and now it seems that most of the lower 48 states, the lower latitudes of Canada, and much of Mexico has been covered.
Global Coverage via "Space Lasers"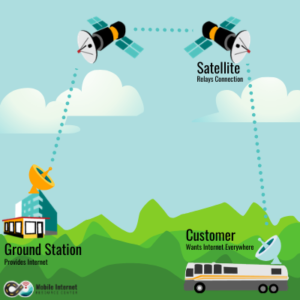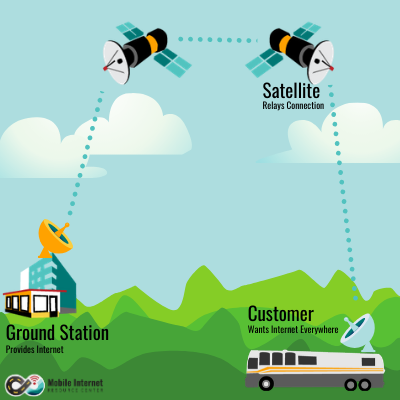 All Starlink satellites beyond the first shell of 1,584 are being equipped with laser interconnects so that the satellites can relay data from one satellite to the next until a ground station is in range.
Once these laser-equipped shells are fully built out (perhaps later in 2022), SpaceX will have the technical capability to offer truly global coverage regardless of ground stations - even far from shore, or in more countries internationally.
But even with truly global coverage, that still doesn't mean that everyone who wants to sign up for Starlink will be able to.
The next problem is capacity - and that is going to take a lot longer to solve as additional shells are added to increase the amount of capacity in the system.
International Coverage and Roaming
Starlink also needs a license to operate in each and every country that it wants to cover.
Starlink is currently offered in over two dozen countries (including the United States, Canada, and Mexico). International travel roaming is now officially supported, but only in the same continent as the registered service address. You are also limited to 2 month duration of roaming or you must move your service there.
Being able to move your service address to another country though currently conflicts with other information that says you can't move your service address across international borders.
The official word from SpaceX is that:
"International Travel: Starlink can only be used within the same continent as the registered Service Address. If you use Starlink in a foreign country for more than two months, you will be required to move your registered service address to your new location or purchase an additional Starlink to maintain service."
While international roaming is officially supported, it still currently still has a few limitations both on time and off continent use.
SpaceX eventually plans to allow Starlink to provide connectivity to boaters crossing open oceans, which will be absolutely revolutionary compared to the expensive and slow legacy satellite options that cruisers have had to rely on in the past.
However, this sort of connectivity is not yet possible until there are enough laser equipped satellites in space that can relay service when away from ground stations. And it's unknown what sort of global mobility data plans might be available to support this usage.
For now, Starlink while cruising is constrained primarily to coastal areas of countries that already have activated service.
---
Starlink RV Challenges & Limitations
Though SpaceX has accomplished some undeniably amazing things, Starlink is still in its extremely early days with many challenges to overcome particularly for RV and boat use.
Here are a few that anyone considering investing in Starlink for RV use should be aware of.
Starlink Hates Trees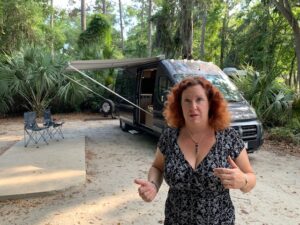 While a low-earth-orbit (LEO) satellite constellation has some amazing benefits like much shorter ping times compared to the traditional geo-stationary satellites, those low altitude Starlink satellites are constantly moving overhead from horizon to horizon, and the Starlink Dishy needs to track them continuously to stay connected.
This means that Starlink needs a pretty much fully uninterrupted view of the northern sky to deliver great service and consistent reliable access, especially this early in the constellation's development where you may even still have brief moments of no satellite coverage at all.
If you are trying to use Dishy anywhere where the sky is obstructed - by trees, or even neighboring boat masts, Starlink will struggle.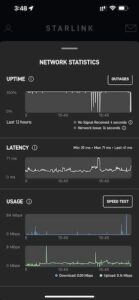 Particularly for real-time tasks like video conferencing, Starlink can quickly become absolutely unusable if there are obstructions causing dropouts.
Online gaming, video conferencing, VPN sessions, and remote desktop usage are not very forgiving of brief dropouts, and many people have turned to bonding cellular and satellite connections together to mask any glitches if they are worried about making Starlink more reliable.
As more satellites get launched and the total number of satellites in the Starlink constellation grows, it will be less important to be able to see satellites lower on the horizon, but there's a long way to go to get to that point.
For the foreseeable future, you should plan on having a large clear view of the sky to obtain reliable internet service from Starlink.
While a canopy of trees over you might be your favorite place to camp, it's going to be a really bad place to setup your Starlink.
Starlink Is Power Hungry
Starlink currently only runs off 120V AC power.
If you want to use Starlink off-grid, you need to be able to support running an inverter 24/7 to power Starlink if you want internet 24/7. You of course can power it off at night to save power, but if that's your only internet option, you will unreachable during that time.
The very first version of the round Starlink Dishy (with a black leg) was an absolute power hog, burning a consistent 100 watts, or 2.4 kWh/day.
Software updates over time have decreased the power demands down to 70 Watts - but that's still a substantial load for an off grid system.
The 2nd version of the round Dishy (with a grey leg) was more power efficient, and on the latest software seems to consume 40-60 Watts. The rectangular Dishy is even more efficient - getting the demand down to 35-40 Watts. This brings the overall power needed for Starlink to under 1 kWh/day - a big improvement over the early version, but still massively more power than cellular connectivity would require.
TIP: Recent updates to the Starlink app have given the user the ability to turn off the automatic snow melt feature, which helps keep your Dishy power consumption more conservative - especially when operating in colder climates.
Starlink isn't always a great fit
Starlink has some practicability issues that keep it from being the only mobile internet solution you need. Currently the TOS prohibits in motion use. While we don't always expect this to be a limitation, it currently is not allowed and can be a means for termination of your account.
If you are just stopping for a quick break, it's not very feasible to setup Starlink and deploy it in order to be connected to the internet. It can be a hassle to unpack, setup, and then wait for it to get service. You also have to then pack it up to travel again.
If you are leaving your RV or boat for a day excursion or trip into town, it's not practical to take Starlink with you. It just can't compete with the flexibility a stand alone hot spot you can fire up and carry in your pocket for easy internet access.
Starlink has started to impose 2 month time limits on stationary roaming away from your home service address. If you plan to stay in one spot more than 2 billing cycles, both the TOS & FAQ have information that your service can be degraded even further or disconnected all together. Even international travel is currently limited to 2 months away from your service address which isn't very feasible for long term international travelers.
Starlink & The Weather
Starlink is satellite based so it is still subject to possible weather interruptions. Many reports seem to suggest it is more resilient than other geo-stationary based satellite services in typical weather, but in some cases people can still expect outages during bad storms and heavy precipitation. Heavy rain seems to be the leading culprit for interruptions.
Starlink does incorporate a snow melt feature that can be set in the app to one of 3 options (Off, Auto, & Pre-Heat). There isn't actually a heater built into Dishy, but rather a byproduct of the phased antenna array that can use more power to generate more heat.
Most off-grid RVers and Cruisers will probably opt to keep this heat setting off in order to minimize energy usage. The Auto function works best for most stationary users or users plugged in and we have seen good reports of the Pre-Heat function before an impending snow storm.
There is one unwanted side effect from the heat function and that is it can attract cats to cuddle up on the Dishy totally negating the whole purpose of keeping the face of the starlink dish clear.
Keep your Starlink Upright in the Wind
The wind can also play some havoc on your Dishy. The factory base that comes with all versions of the Dishy seems to be sufficient to keep Dishy upright when placed on the ground for wind speeds up to 25mph. Some people have even gone as far to stake their feet down into the ground to make sure it doesn't blow over if a surprise gust comes up.
The risk of your Starlink blowing over goes up if you place your dish on top of your RV or Boat on the stock base without securing it down. You will probably want to look at a more secure mounting method such as a pole adapter attached to your ladder or one of the roof mount adapters permanently attached if you regularly want to have the dish above the roof line of your RV or boat.
There is a risk that if your Starlink blows over, it can cause damage to the front face of the dish (much more common on the rectangle version), or it can twist around wrapping the cord around it trying to locate satellites. You can cause damage to your cord or internal motors if this happens and you don't notice it, so it's best to do everything to keep your dish upright.
Protecting Your Starlink Ethernet Cable
The proprietary starlink cable that comes with the Rectangle Dishy is sensitive to water intrusion, especially if connected/disconnected under power. There have been reports of friend cables from people that have gotten them wet and then plugged them in or plugged/unplugged the cable while the starlink dish is powered up.
This cable is carrying 48v+ on it and your Starlink should be powered off any time this cable is attached or removed in order to prevent damage to the cable or the equipment. This includes plugging in the optional ethernet adapter for the rectangle Dishy.
If you disconnect your cable and it must remain outdoors, it's best to find a way to keep it completely dry and absolutely make sure it's dry before plugging it in, or you might find yourself with a fried cable. A USB-C cap can be used to place on the end of the cable to keep it dry and clean.
The proprietary cable ends are also proving to be quite fragile so if it's not connected to the device, take extra caution with it. These cable ends should be treated with the upmost care when connecting, disconnecting, and transporting your Starlink equipment.
Capacity & Congestion Is Always a Concern
Starlink is not magically immune from the same sort of congestion that often overwhelms cellular networks. In fact - Starlink has some unique traits that might make congestion even more of a concern.
Just like cellular, if you find yourself surrounded by a lot of other Starlink users, everyone's service will probably suffer as the satellite struggles to handle the demands on it.
Especially if you are "roaming" from your service address and connected at a lower priority - Starlink may prove to be frustrating. And it may not be possible to move your service address officially to an area that is already at capacity.
Elon Musk himself has pointed out many times that Starlink will always be at a disadvantage in urban and other high-density areas - since it will always be more practical to have multiple cell towers covering dense areas than just a handful of satellites passing in range overhead trying to serve all those same customers.
He even said that in high-density areas, Starlink will need to limit the number of customers that it allows to sign up.
How these unavoidable constraints on capacity will impact nomads who wish to roam between remote and urban areas remains to be seen. But we anticipate that nomads will find Starlink a great option when in less populated areas, but not as ideal when traveling in congested areas where cellular and Wi-Fi solutions will make better sense.
Bankruptcy Is a Risk
Elon Musk has frequently mentioned that his ultimate goal with Starlink is to generate enough income to fund his Mars colonization ambitions (really!) - but until the Starlink system is more mature it will be a massive money loser that even Elon acknowledges faces "a genuine risk of bankruptcy".
In particular - SpaceX is bettings its future on the massive reusable Starship architecture that will eventually be able to launch hundreds of Starlink satellites per day. Some analysts suspect that it would take 7-10 years to fully deploy the Starlink V2 constellation using the current small Falcon 9 rocket if SpaceX is unable to transition to Starship, making Starlink economically not a viable business in the long run.
On the other hand - if Starship does come online as planned, it will completely transform the economics of building massive constellations in orbit.
---
Practical Tips & Tricks for RV Starlink
Here are a few practical tips for making the most of a Starlink system.
Use the Built in Obstruction Finder in the App
Before you even own Starlink, you can download the Starlink app for iOS or Android and check an area to see how well it might work for you in a given area.
With the app downloaded, open it up and click on visibility.
You will see a "check for obstructions" with a camera icon
Follow the on-screen instructions
Remember to hold your phone at about knee height if the dish will be sitting on the ground.
Once you complete the process, the app will present you with a field of view in blue with obstructions in red. It will also give you a report that you can click on. Overall this would not be a good spot for Starlink and would have frequent interruptions and outages.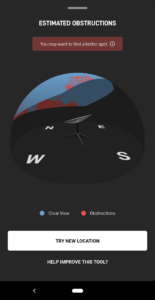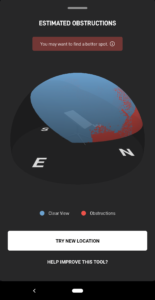 Starlink Speed Testing
The built in speed tests will give 3 results. Device to Internet, Router to Internet, & Device to Router.
The Device to Internet gives your true internet speed from the device you are using. The other two can help you spot if you have a bottleneck on your system. Touching the information circle at the top of page will show if you are on the 2 Ghz or 5 Ghz wifi and your signal strength to your router, plus it explains the 3 speed tests.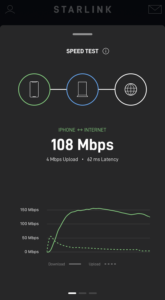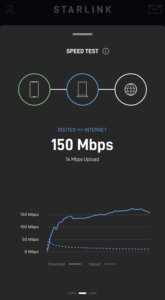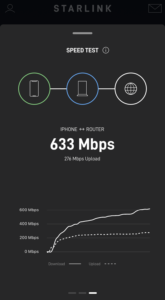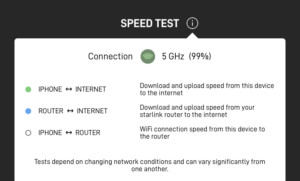 TIP: A lot of people see the impressive "Device to Router" speeds, and mistakenly think the is the speed they are getting via Starlink. This is not the case - the data in the "Device to Router" test is not passing over the satellite connection at all.
Combining Starlink With Other Internet Sources
For casual surfing or streaming, Starlink usually feels rock solid in normal usage. A little bit of background buffering smoothes over any rough patches.
But for real-time tasks like video conferencing, Starlink has enough tiny drops that it might not be reliable enough for some critical activities.
Those drops can occurs from heavy rain, any momentary obstruction, trees or surrounding terrain.
If you are just attending a video meeting - no one will likely notice if you drop out for 3 seconds every so often. But if you are the host or are working with clients - bonding Starlink with another internet source will make for a much more reliable overall experience.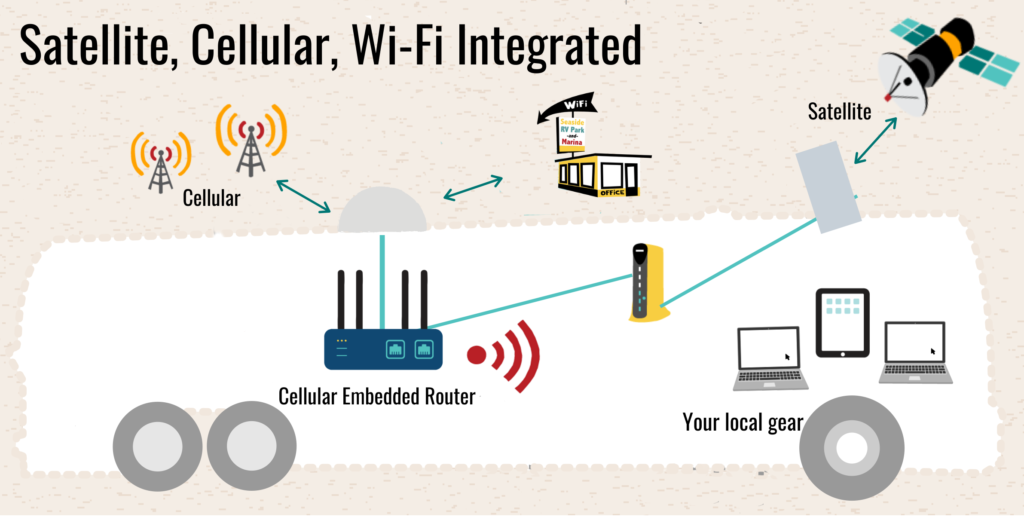 For all these reasons - we strongly recommend those who need reliability seek out ways to combine Starlink with other ways online.
For the basic on how to do this, start with our guide here:
Combining Internet Connections: Bonding, Load Balancing & Auto Failover
One very attractive setup would be using a multi-wan router with dual cellular modems (link to our Gear Center with options available) that can support 2 cellular carriers simultaneously, and then using Starlink as another WAN source to then bond all three networks together.
You have the option with the appropriate router as bringing Starlink service into your own router using the optional ethernet adapter and standard ethernet cable to hardwire it to a wan port on your router or setting it up as Wifi-as-Wan connection.
Depending on the router, you can have Starlink as a primary source or failover source of internet or setup a bonding setup that combines several sources of internet together into one.
Using a setup like this, you can have 2 or more different sources of internet that are all working together to keep you connected!
Storing Starlink for RV Travel
A Starlink system can be bulky and cumbersome to store, a particular consideration in a smaller RV or on a boat with limited storage space.
But the second generation rectangular Dishy is a LOT more practical to fit into a small space.
TIP: The rectangular Dishy's from surface is made of soft vinyl, and it is easy to scratch it and cause cosmetic damage. Keeping it wrapped in something soft can help prevent this. The older round Dishy was much harder to damage.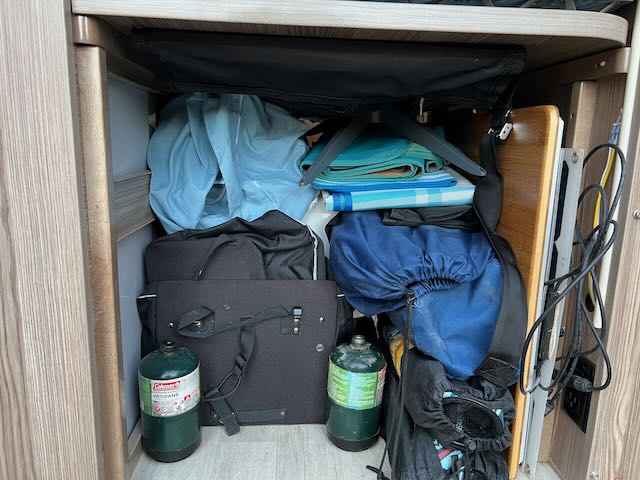 Starlink RV & Boat Mounting Considerations
The current Starlink Dishy system is not designed to be mounted permanently on a vehicle that is moving at highway speed.
But it is easy to do temporary mounts that attach the Dishy to a pole, or a ladder.
Do keep in mind though that physically mounting Starlink to your RV will limit where you can park, especially in the shade. Using the ground mount stand and the extended cable option will let you locate the Starlink receiver up to 150' away from where you are parked.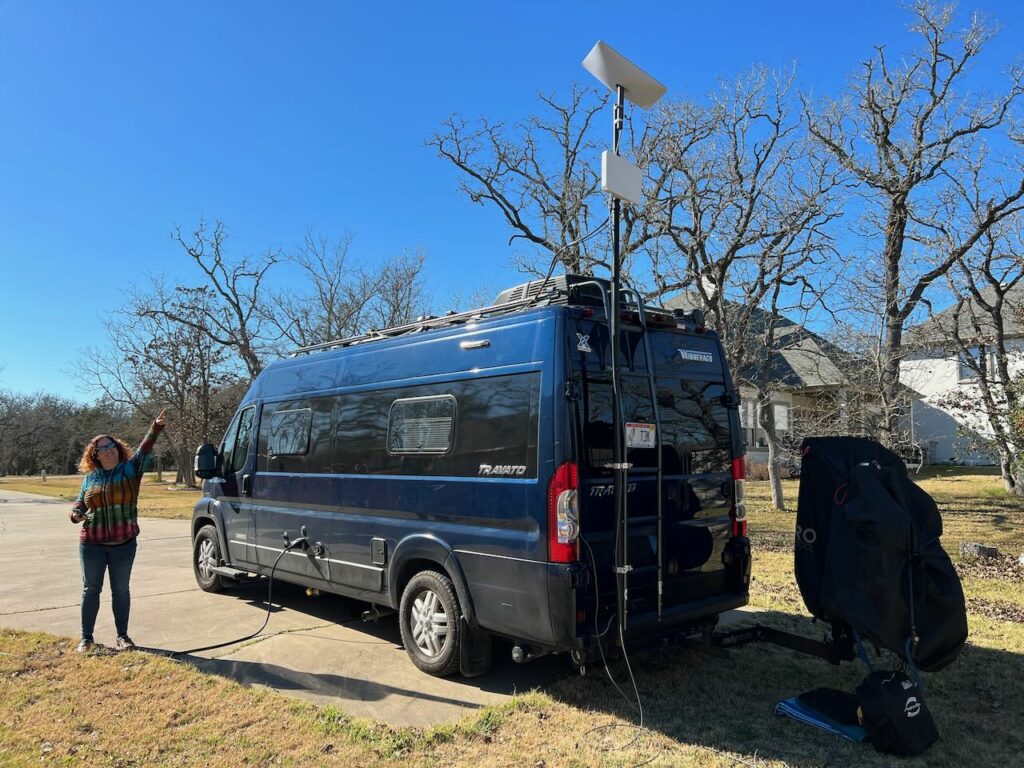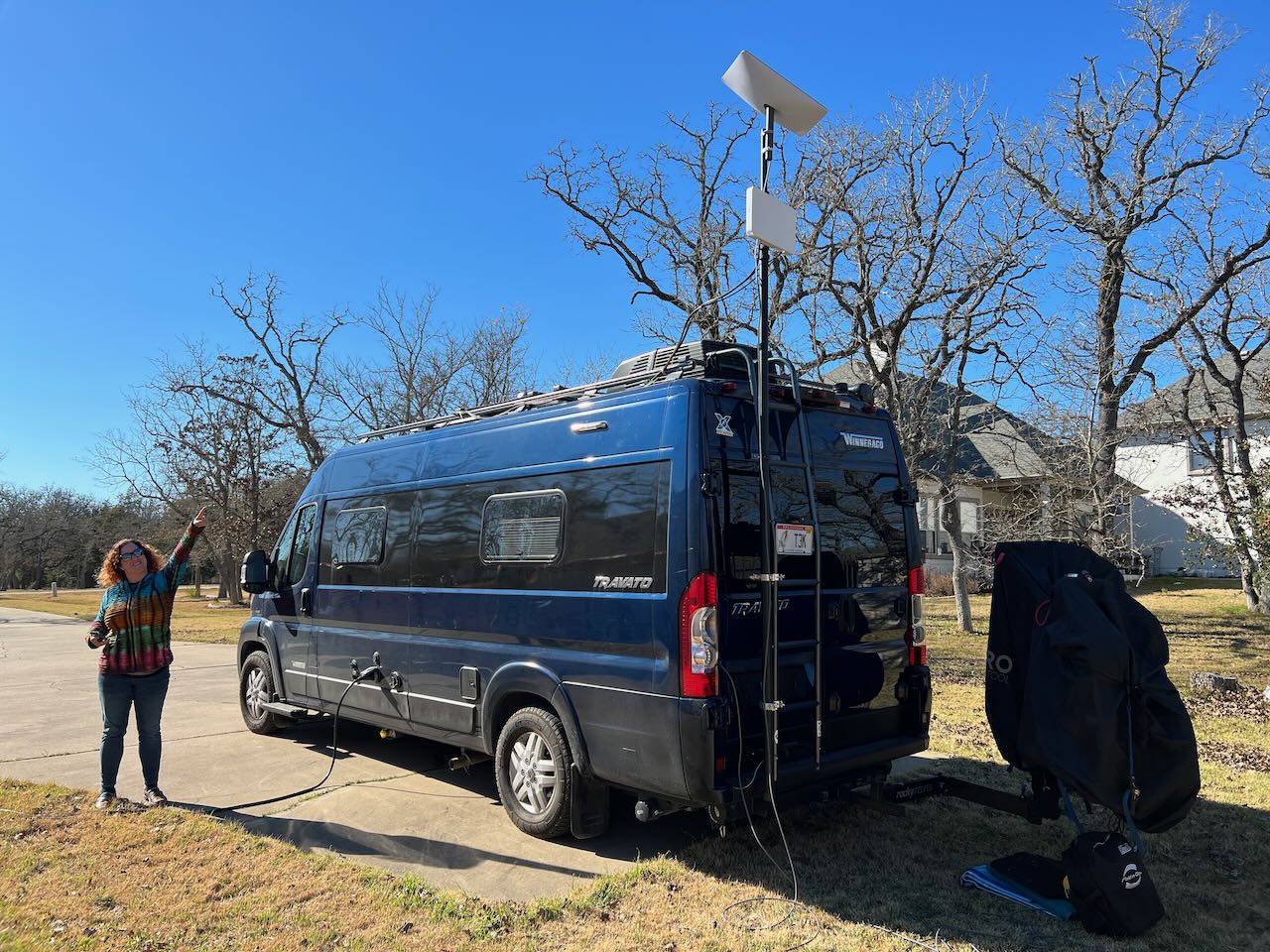 Using Starlink Underway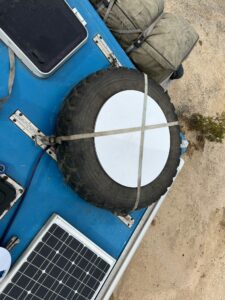 SpaceX changed their terms to officially prohibit in-motion use and even threatens account termination.
"IN-MOTION USE PROHIBITED. USING STARLINK SERVICES IN-MOTION ON A VEHICLE OR VESSEL (e.g., CARS, VANS, RVs, BOATS) IS PROHIBITED, WILL VOID THE LIMITED WARRANTY OF YOUR KIT, AND MAY BE GROUNDS FOR THE TERMINATION OF YOUR AGREEMENT WITH STARLINK PER SECTION 10 OF THESE TERMS. AT THIS TIME, STARLINK EQUIPMENT IS NOT CONFIGURED TO BE SAFELY USED IN-MOTION OR INSTALLED ON A VEHICLE OR VESSEL."
The Starlink FAQ shines more hope that In-Motion use is coming someday.
"No In-Motion Use: We do not support Starlink use in motion at this time. Using the Starlink Kit in motion will void the limited warranty of your Kit. While our teams are actively working to make it possible to use Starlink on moving vehicles (e.g., automobiles, RVs, boats), Starlink is not yet configured to be safely used in this way."
But at the moment - some RVers and cruisers have discovered that the software blocks that prevented unofficial usage while in motion have seemingly been lifted as of March 2022.
Whether or not this is a permanent change remains to be seen, but it is encouraging to see that some people are having success keeping connected on the go.
BUT - it is important to keep in mind that the current Starlink hardware was NOT designed for this sort of usage and now it is officially prohibited to use In-Motion
Officially supported in motion usage in the future might require different Starlink hardware, and perhaps even a completely different data plan.
---
Starlink Mobile Version
There isn't much known at this time on what most likely is a future Starlink hardware version that officially supports mobility and is optimized for in motion use. There's been a FCC filing on what is suspected to be a fully mobile version of Starlink, but very little information has been released about it.
We do know that Hawaiian airlines and charter carrier JSX have both signed agreements with Starlink to provide inflight wifi later in 2022. It will be interesting to see what hardware is used to provide this service.
The future of Starlink is definitely aimed at full mobility and having service anywhere, at any time, even while in motion.
---
Starlink Customer Service
For early adopters, Starlink customer service started off pretty promising with tickets often getting answers in hours. Since the beginning of 2022 once customer numbers expanded rapidly, Starlink customer service has become extremely backlogged with requests sometimes going unanswered for weeks.
How Do You Contact Customer Service?
The only way to contact customer service is through your account page under the support tab. There are a lot of support topics organized by various categories and an FAQ you can search through and if your question isn't answered there, you can thumb down a response and then open a ticket.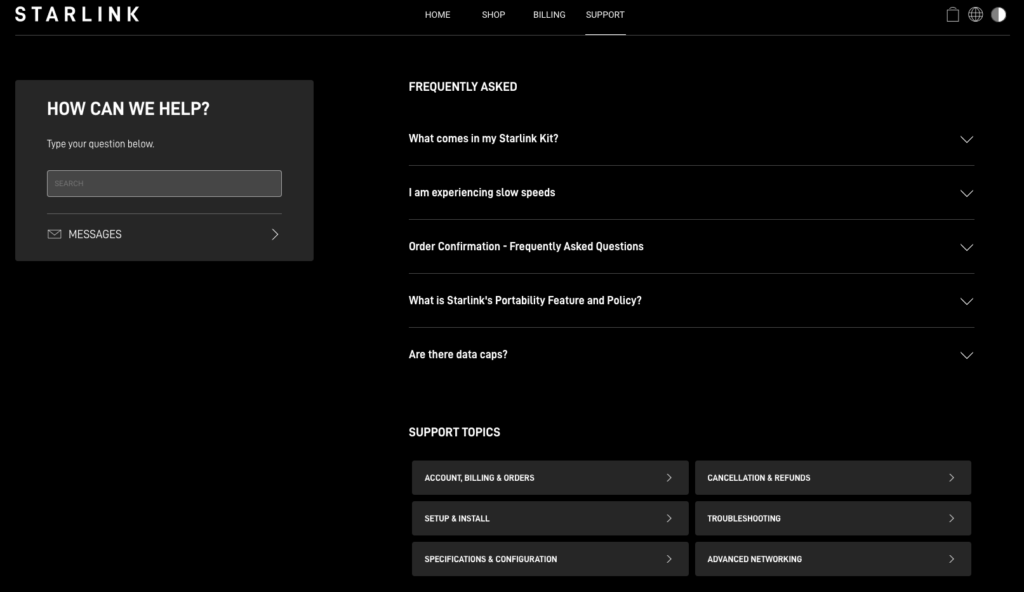 Starlink has acknowledged the backlog and now most questions get an automated response with some very common problems and telling them that a customer service rep will answer their question soon. However reports are that most real customer service responses come at least a week or more and sometimes into multiple weeks.
It is possible to request a call back and sometimes for more complicated issues, Starlink does reach out to the customer directly by phone, but most responses are through their customer portal by messaging.
Customers who open multiple tickets just find that their later tickets get closed automatically and a response that they already have a ticket opened so this doesn't help you get a response any sooner.
No Support for Non Customers or $99 Deposit Holders
Since customer support is only available to current Starlink customers, this also means that customers with a $99 deposit do not have access to support.
Deposit holders often complain about getting no communication from Starlink, but the best source of information is going to your account page and checking the estimation for when they expect to service your area.
Replacing Faulty Equipment
Even with the dismal customer service reports, the good thing is that SpaceX has been very good about replacing faulty equipment and giving credits to customers for lost service time.
So while it could be painful waiting for a customer service to reply to your ticket, they usually are very responsive once they contact you and are good about making things right.
---
Starlink for RV Use Concluding Thoughts
Is Starlink one of the internet solutions you have been waiting for to keep connected in your RV or boat? It certainly has an amazing promise to be a paramount shift in staying connected anywhere in the world. The possibilities it opens up for off grid RVers and open water cruisers to be able to stay connected to the rest of the world is nothing short of amazing!
There are certainly a fair number of challenges for Starlink to attempt to overcome though.
How well will Starlink compete with the fast developing 5G cellular networks? Especially in areas where cell towers are practical, 5G has the potential to deliver speeds that can beat or exceed what Starlink can offer - especially when it comes to upload performance.
Starlink on the other hand has the advantage of working in places cellular could never be feasible, but it is still early days in the expansion of the Starlink constellation and it will be a while before Starlink is able to even begin to deliver on its full promise.
Starlink also just lacks the flexibility of "just working" to get you connected as easily as picking up your cell phone or turning on a mobile hotspot can.
Starlink is not destined to be the one ultimate way for nomads to get online - but it is seemingly on track to become a great component of many technomadic connectivity arsenals.
Starlink Reality Check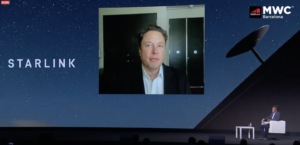 Despite the seeming universal excitement for Starlink - Elon Musk has been clear from the beginning that Starlink is NOT for everyone.
He was the keynote speaker at the Mobile World Congress trade show in Barcelona in 2021, and he reiterated his target:
"You can think of Starlink as filling in the gaps between 5G and fiber and really getting to the parts of the world that are the hardest to reach - the most difficult to reach 3%, perhaps 5%."
He repeated over and over that Starlink was designed to be complementary to fiber and 5G, not a replacement for either.
And this advice should be taken to heart by nomads looking to embrace Starlink - Starlink should be thought of as a great potential complement to cellular (and occasionally, public Wi-Fi). Especially for those who like variety in their travels that is not constrained only to low populated wide open areas.
For most RVers, boaters and nomads - a reliable mobile internet solution will continue to consist of multiple options. And each will have to weigh how or if Starlink fits for them.
---
Other Nomadic Starlink Resources
Here are some other Starlink resources worth keeping an eye on:
Additional Reading
Explore the Resource Center
Join our 'Library Desk':
Internet for RVers & Cruisers Facebook Group
We cross post news articles and guides, and can help point you in the right direction to our content here on the resource center.
It is with gratitude to our premium members that we're able to offer our free content - and for that, they also have access our private Q&A areas for more in-depth guidance.
The MIA is our premium membership - designed for those who consider mobile internet an important part of their lifestyle.
In thanks for making content like this possible, we offer a bunch of additional perks. From interactive guidance, in-depth member exclusive content, discounts, alerts, classroom and more.
We totally understand that a membership isn't right for everyone.
However you can still support this content with our supporter level for just $25/year.
With our gratitude, you'll get access to all our free content without the 'nags'.

Stay In the Know
We're constantly tracking the industry and analyzing new developments for mobile travelers. If you'd like to receive updates, we offer several ways: