What is Wi-Fi?
"Wi-Fi" is the friendly common name for the IEEE 802.11 series of technical protocols commonly used for creating wireless local area networks.
Instead of using wires, a Wi-Fi access point creates a local network by broadcasting over pre-defined unlicensed channels, hosting a network that nearby devices can connect to if they know the network's name and password.
Wi-Fi is primarily a short-range local wireless networking technology, and the Wi-Fi Alliance owns the trademark to "Wi-Fi" - only allowing certified compatible and interoperable devices to claim Wi-Fi compatibility.
While it is possible to have Wi-Fi networks that are NOT connected to the Internet, it is quite common for a Wi-Fi router to not only connect devices to each other but also share an upstream Internet connection with them.
The internet source might be cable, DSL, satellite, cellular or even another Wi-Fi network.
But Wi-Fi itself is NOT the internet, it is just a networking protocol - a wireless version of an Ethernet cable.
The wireless signal created by a Wi-Fi access point is relatively short range and meant to only cover a limited area - typically only a few hundred feet.
All modern laptops, smartphones, tablets, streaming devices, many TVs and most other internet connected devices have Wi-Fi receiving ability - and can connect to an access point.
And most routers and cellular enabled mobile devices have the ability to create their own private local area wireless network - sharing their upstream connection.
Mobile travelers like RVers and cruisers may encounter Wi-Fi in their travels in multiple forms - both in their own local area networking, shared public access points and borrowing bandwidth from friends they might visit.
This guide will help explain just what Wi-Fi is, and the many forms it comes in.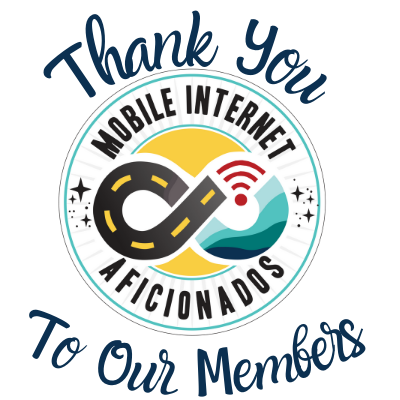 If you're a member, please log in above to access the exclusive portions of our content.
It is with huge gratitude to our members & supporters for making the free content on our site possible. We're not sponsored, you'll find no 3rd party ads and we don't sell 'stuff'.
Our members get exclusive access to our in-depth content, classrooms, vendor discounts (that can save you more than membership!), alerts, insider info and interactive guidance.
If mobile internet is an important part of your lifestyle, consider helping make MIRC possible. 
Wi-Fi is Not the Internet
How often have your heard (or even said yourself)...
I need some Wi-Fi!
... When what was really meant was: 'I need to get online'?
Because Wi-Fi technology is often used as a way to deliver internet access to computers and other devices, it has become a common association.
But technically, Wi-Fi does not mean internet access. It's simply a wireless technology used for connecting devices together.
And this can cause a great deal of confusion, especially for mobile travelers who might be utilizing different forms of wireless technology to get their internet access.
The most common ways that RVers and cruisers get online is via a cellular data connection, satellite provider (like Starlink), or via an existing Wi-Fi network (such as you might find at a campground, marina or cafe).
And while they are wireless signals - they are different.
And these differences matter when you're considering your mobile internet setup - as each requires different strategies for getting the best signal and performance.
A Wi-Fi extender will not help you get a better cellular signal, and a cellular booster will not help you with getting a better signal from your campground's or marina's Wi-Fi network.
The radios involved, frequency bands used, and technologies underlying Wi-Fi, satellite, and cellular data are different.
---
How Cellular Is Different
There's a lot of confusion between Wi-Fi and cellular, the two most popular mobile internet connections.
They are both wireless technologies, and commonly a Wi-Fi signal is used to share a cellular connection to other devices.
Cellular is a longer range wireless technology than Wi-Fi. Cellular data signals involve the same basic technology used for cellular phone calls and text messaging.
All smartphones, some tablets, some newer cars, very few laptops, and some routers have cellular data capabilities built in.
When using cellular data you are accessing the internet via a cell tower that might be within sight or perhaps as far as 20 miles away. That cellular tower in turn usually has a very high speed connection to the internet itself.
Using cellular data requires you to have a data plan with a cellular carrier such as Verizon, AT&T, T-Mobile, or Dish - or one of their many resellers.
To add to the confusion the latest flagship phones are now capable of limited connectivity directly with satellites. Apples iPhone are now able to send & receive emergency messages via satellites when out of cellular service and T-Mobile has partnered with Starlink to utilize the low earth satellite constellation to keep customers connected in dead zones.
Video Overview: Wi-Fi vs Cellular
Where Cellular & Wi-Fi Collide: Hotspots & Cellular Routers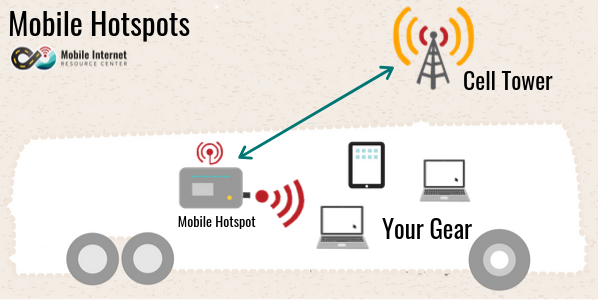 Merging cellular and Wi-Fi are smartphones, mobile hotspots, and mobile routers with cellular modems built-in.
These are cellular receiving devices that also create a personal Wi-Fi hotspot to share the cellular data connection with other devices.
A smartphone or tablet can usually create a personal hotspot that functions to share its connection, or a small dedicated device called a MiFi, Mobile Hotspot, or Jetpack (they're all the same thing) that can do the job too.
For more robust needs, there are also cellular embedded routers that offer more pro-level networking needs - they're like Jetpacks on steroids.
But in reality, any device that can create a Wi-Fi hotspot is technically a router - including your smartphone.
Member Exclusive Content In This Guide
Has this guide been helpful so far?
Well.. there's a lot more below available to our members. As well as dozens of other guides like this, videos, classrooms, forums, webinars and more. All specifically created for helping keep RVers, cruisers and nomads online.
Consider Becoming a Member
If mobile internet is an important part of your lifestyle, a membership can help keep you connected with these exclusive benefits:
in-depth exclusive content
interactive guidance
vendor discounts
alerts & insider tips
classroom
community
Free Content Like This Made Possible By Our Members!
We are community funded via our premium membership program - allowing us to focus on creating unbiased quality, in-depth, constantly updated content. We don't accept 3rd party advertising, we're not sponsored and we don't sell 'stuff'.
Already a member?
Log in to continue with this guide. 
Check out the Topics Covered in the Member Section:
Wi-Fi Frequencies & Channels
Explaining the differences between 2.4, 5 and 6 Ghz Wi-Fi channels, and how to effectively utilize each.
Wi-Fi Standards
Understanding the alphabet soup of different generations of 802.11 standards, including Wi-Fi 6, 6E, 7, WiGig and HaLow.
Wi-Fi Challenges
How to best optimize Wi-Fi signals by knowing what things can inhibit their optimal performance.
Wi-Fi as WAN and LAN
You might use Wi-Fi in two different ways in your travels - as your local area network and as your internet source. This section goes over the different considerations for each.
Explore the Resource Center
Join our 'Library Desk':
Internet for RVers & Cruisers Facebook Group
We cross post news articles and guides, and can help point you in the right direction to our content here on the resource center.
It is with gratitude to our premium members that we're able to offer our free content - and for that, they also have access our private Q&A areas for more in-depth guidance.
The MIA is our premium membership - designed for those who consider mobile internet an important part of their lifestyle.
In thanks for making content like this possible, we offer a bunch of additional perks. From interactive guidance, in-depth member exclusive content, discounts, alerts, classroom and more. 
We totally understand that a membership isn't right for everyone.
However you can still support this content with our supporter level for just $25/year. 
With our gratitude, you'll get access to all our free content without the 'nags'. 

Stay In the Know
We're constantly tracking the industry and analyzing new developments for mobile travelers. If you'd like to receive updates, we offer several ways: