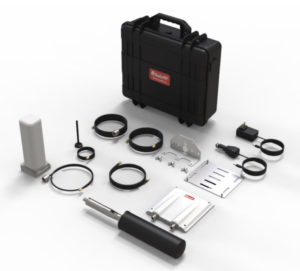 Canadian cellular booster manufacturer SolidRF in June 2019 introduced (our news story) a very unique mobile-rated booster designed for use in RVs - the SolidRF RV Pro.
The RV Pro kit is a substantial departure from SolidRF's previous mobile booster, the MobileForce 4G, which originally came out in 2015.
In fact, the RV Pro is different from any other cell booster on the market.
Most RV and vehicle booster kits are made up of the same core components - an antenna on the roof, an antenna indoors, and a booster tucked away in an indoor cabinet somewhere in between.
The SolidRF RV Pro puts all the booster electronics outdoors, up on the roof, where the amplifier can be closely coupled to the outdoor antenna with a lot less potential for signal loss over the wires.
And indoors, the SolidRF RV Pro is the first mobile cellular booster to provide for TWO interior antennas, allowing for two separate boosted areas with improved signal inside the RV.
But the RV Pro does come with some installation constraints that may prove a challenge for some installations.
SolidRF also makes a Marine Cell Phone Booster kit which is similar to the RV Pro, but with the standard marine external antenna included.
Specifications
Model: SolidRF RV Pro
Max Uplink Power: 26 dBm
# of Devices Boosted Simultaneously: Multiple
LTE Bands Supported: 2/4/5/12/13/25
Exterior Antenna: 16'' Omni Directional
Internal Antenna(s): 8'' Tower Style Omni Directional, 6'' Stubby
Range of Interior Coverage:

Primary Antenna: 6-20'
Secondary Antenna: 3-10'

In Motion Usage: Yes
Power: DC and AC adapters included
Connecters: Main Booster: N-Connectors. Interior Tower: SMA.
Booster Dimensions: 7.16" x 6.1" x 1"
Warranty: 3 Years
List Price: $599.00
---
Included in this Review
Free/Public:
Member Exclusive Content / Review:
---
Review & Testing Status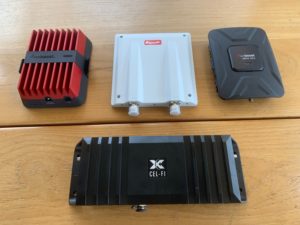 The SolidRF RV Pro is a very unique take on what a mobile cellular booster designed specifically for an RV application can be. We have received a review unit and have completed an initial and extensive testing round which is summarized in our member area below.
In particular - our intensive testing round compared it to weBoost's flagship Drive Reach and Cel-Fi's digital Go M booster, as well as the proven and reliable weBoost Drive X.
Members can also follow our progress notes in the forum, and our testing notes & results are shared below.
Members who want to dive deeper can also follow along with our completed and ongoing results:
---
First Look Video
Here's a look inside the SolidRF RV Pro kit, and some of our first impressions:
---
Potential Alternatives to Consider:
For other booster options on the market worth comparing this model to - here are our featured options:
Learn More About Selecting Cellular Boosters
---
This Review Contains Additional Member Exclusive Content

We are honored to be able to present the above overview for free without 3rd party advertising or sponsorships. We are not paid by the manufacturer of this product to provide this listing or review, and nor are we selling this equipment or plan (purchasing links are provided below as a courtesy and some may be affiliates).
Our members have funded this resource center and any extensive hands on time
we have spent with the product to review it.
The in-depth portions of this review are made available to them which might contain: hands on testing notes, field testing data, user interface tour, product analysis, comparison to alternatives, setup tips, video tutorial, insider tips, vendor discounts and fellow member experiences.
If you're a member, please log in to continue with this review.
If you're not a member.. please consider joining us!
---
Purchasing Options
Marine Booster: SolidRF
Related News Articles:
The guides below have been hand-picked to help further your education about the complicated topic of signal enhancing and utilizing cellular boosters.