Canadian cellular booster manufacturer SolidRF introduced (our news story) a very unique mobile-rated booster designed for use in RVs - the SolidRF RV Pro in June 2019. They have since renamed this booster SolidRF.
The kit is a substantial departure from SolidRF's previous mobile booster, the MobileForce 4G, which originally came out in 2015.
In fact, the RV Pro is different from any other cell booster on the market.
Most RV and vehicle booster kits are made up of the same core components - an antenna on the roof, an antenna indoors, and a booster tucked away in an indoor cabinet somewhere in between.
The SolidRF puts all the booster electronics outdoors, up on the roof, where the amplifier can be closely coupled to the outdoor antenna with a lot less potential for signal loss over the wires.
And indoors, the SolidRF provides TWO interior antennas, allowing for two separate boosted areas with improved signal inside the RV.
Product Variations
SolidRF originally just released the RV Pro version, but later came out with a Marine Cell Phone Booster kit (unavailable due to a patent challenge as of Fall 2021) which is similar to the RV kit, but with the standard marine external antenna included.
They have also released several RV package iterations for specific RV types (trailer, fifth wheel, motorhome, sport utility RV), which come packaged with differing cable lengths, and are priced differently too.
News, Videos & Status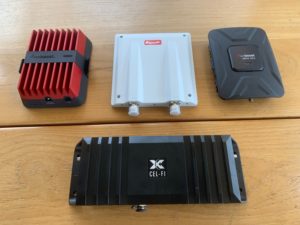 We received a review unit and completed an extensive testing round which is summarized in our member area below.
Our intensive testing round compared the SolidRF RV Pro to weBoost's flagship Drive Reach and Cel-Fi's digital Go M booster, as well as the proven and reliable weBoost Drive X.
Members can also follow our progress notes in the forum, and our testing notes & results are shared below.
Members who want to dive deeper can also dive into our completed and ongoing results:
Here's a look inside the SolidRF RV Pro kit, and some of our first impressions:
Related News Articles:
---
---
Member Exclusive Content Below
Deep Dive

Testing Notes
Hardware
Advantages
Features
Summary
---
Purchasing Options
SolidRF - Marine Antenna (Canada website) | RV kits (US website)