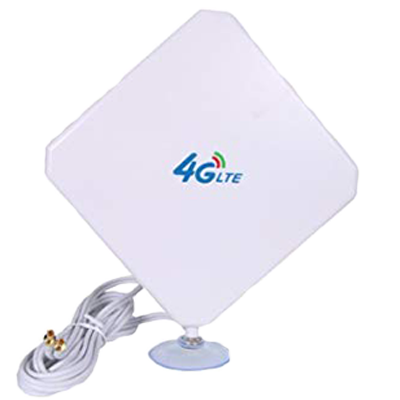 This is a desktop MIMO antenna with 2 TS-9 connectors (or some versions come with SMA) that works for 4G signal enhancing of a cellular mobile hotspot device with two antenna ports. It's commonly listed as by Urant, Aigital or USpace - but is more generically marked simply as '4G LTE Antenna Dual MIMO 35dBi'.
MIMO (Multiple In Multiple Out) is the use of more than one antenna to increase signal performance. All LTE devices internally have at least two antennas to take advantage of this technology. This antenna is designed with two antennas inside its panel case, and then has two plugs that can go directly into a device with TS-9 ports (typically used on mobile hotspots like JetPacks and MiFis).
Suction desk / flat surface mount through single suction cup. No tricky roof installation needed. It's portable and rated for indoor use.
Specifications
Model:

4G LTE

Type:

MIMO - 4G Only
Frequency Range (MHz): 791-821MHz / 832-862MHz / 1710-1785MHz / 1805-1880MHz / 2500-2570MHz / 2620-2690MHz
Impedance: 50 Ohms

Cable Length:

6.5' long cable

Connector:

2x TS-9 connectors

There are also versions with SMA

Dimensions:

6.8'' x 2.1'' x 6.6''

Mounting:

Includes clips & suction cups
Frequency / Gain: Stated as 35dBi


Retail Price:

$18.50
---
Review & Testing Status
We have purchased one of these antennas to test head to head with our top pick Netgear MIMO antenna. Our field testing results can be found here for our members who want to follow along:
---
Potential Alternatives to Consider:
For other popular cellular antennas on the market we are tracking - here are our featured options:
Learn More About Selecting Cellular Antennas
---
More Information Available to our Members

We are honored to be able to present the above overview for free without 3rd party advertising.
In thanks for funding this resource center our members have access to any further notes, analysis, insider info, member experiences and/or our full in-depth review of this product or offering.
If you're a member, please log in above to read the review.
Purchasing Options
Amazon (Urant) Amazon (Aigital) Amazon (USpace) Amazon (Eightwood)
The guides below have been hand-picked to help further your education about selecting & using cellular antennas.