Key Points:
KING released two booster kits in January 2021
Both kits are based on and built around the weBoost Drive Reach
The Extend Go Kit offers an interesting option for those not wishing for a permanent installation solution
KING is a company specializing in technology for RVers and outdoor enthusiasts. While the company historically focused on over the air TV technology, KING entered into the mobile internet space in 2019. Most notably they released a prior cellular booster kit called the KING Extend that was based on a retired model of the weBoost Drive 4G-X and their King WiFiMax and Falcon Wi-Fi repeater.
Both of their new cellular booster kits are again based on weBoost cellular boosters.
Video Story
Subscribe to our YouTube Channel
KING Extend Pro Kit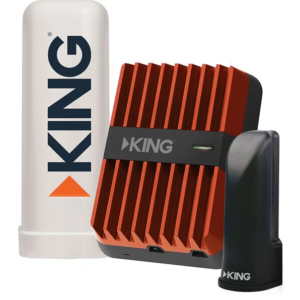 The KING Extend Pro is utilizing the weBoost Drive Reach amplifier, with a weBoost 4G Omni antenna as the exterior antennas and a weBoost 4G Desktop antenna as the interior.
weBoost's own Drive Reach RV kit, released just this past October, is paired with their specially designed Drive RV exterior antenna.
Both the KING and the weBoost kits are priced at $499.99.
KING Extend Go Kit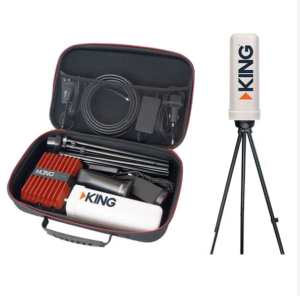 KING also introduced the KING Extend Go kit, which includes everything in the KING Extend Pro kit, but also includes a carry case, 12V and 120V power supplies, a portable tripod, and the Drive Magnetic Antenna as a second exterior antenna.
This kit retails at $679.99 - and is an interesting option for those not wanting to mount anything permanently.
Thoughts & Analysis
In a press release published in RVBusiness this week, the new booster kit is described as:
"Unlike other competitive products, the KING Extend Pro works with all cell phones and data hot spots, with no additional fees or expensive data plans."
This doesn't really make sense, considering the closest competing product to the KING Extend Pro is the very booster it is based on - the weBoost Reach. All cellular boosters on the market claim to work with all cell phones and data hotspot devices - without any monthly fees. However, all smartphones and hotspots need a data plan to get internet access, which may or may not be considered expensive.
The press release also goes on to quote KING president Craig Miller in regards to the KING Extend Go:
"truly a first of its kind product"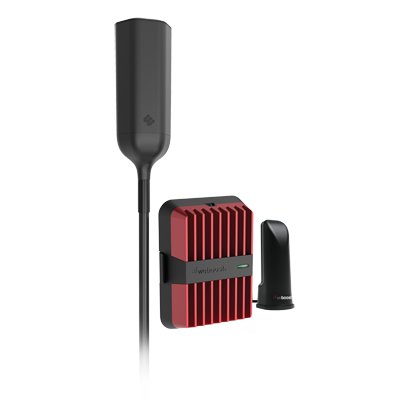 There's really nothing first of its kind, other than including a tripod mounting option, which is an interesting idea for non-permanent installations. Many RVers have hoisted exterior antennas up masts and poles for years, which in most locations would yield better results as height can help with a better signal.
The inclusion of two external antennas is also something we've not seen officially packaged, but an approach we've recommended for those setting up for a booster to be used in multiple vehicles (such as a tow vehicle and RV).
That said, the Drive Reach booster is the current flagship booster offered by weBoost - and is a consistently strong performer in our independent testing. So if you're in the market for a booster, there's really nothing to avoid here if a KING Extend Pro is more readily available to you.
Just don't get hoodwinked that you're getting some revolutionary new first of its kind product that is unlike any of its competitors.
KING products are typically available at Camping World, on Amazon, or directly through KING.
Related News Stories

Related Guides