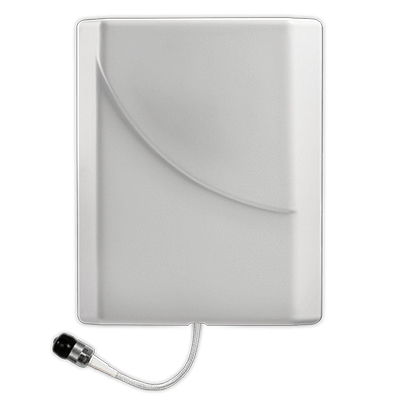 weBoost's directional outdoor panel antenna for mounting to windows or poles, or on a wall for interior use. This antenna panel is not conducive to operation while in motion, requiring setup and rough aiming at every new location.
It is certified by weBoost for use with their cellular boosters as the exterior donor antenna or indoor retransmission antenna. Or it can be used stand alone directly connected to a cellular device.
It also comes kitted with the weBoost Connect RV 65 as the interior antenna.
Specifications
Model:

314453
# of Antennas: Single

Direction:

Directional
Frequency Range: 700-800 / 824-894 / 880-960 / 1710-1880 / 1850-1990 / 2110-2500 MHz

Impedance:

50 ohms

Cable Type & Length:

None

Connector:

N-Female
Internal Ground Plane: Yes

Dimensions:

8.27" x 7.09" x 1.73"
Weight: 1.32 pounds

Mounting:

Pole or Window
Outdoor Rated: Yes
Frequency / Gain:
700-800 Mhz: 5.5 dB
824 - 894 Mhz: 6.1 dB
880 - 960 Mhz: 5.5 dB
1710 - 1880 Mhz: 9.3 dB
1850 - 1990 Mhz: 8.9 dB
2110 - 2170 Mhz: 7.7 dB

Retail Price:

$84.99
---
Review & Testing Status
We have the 75 Ohms version of this antenna, which came kitted with an older RV 4G booster kit weBoost offered.
---
Potential Alternatives to Consider:
For other popular cellular antennas on the market we are tracking - here are our featured options:
Learn More About Selecting Cellular Antennas
---
This Review Contains Additional Member Exclusive Content!
We are Honored to be Member Funded!
No ads, no sponsors, no selling (but may contain affiliate links)
Our members fund our in-depth independent reviews.
This entry may contain additional member exclusive content such as testing notes, field testing data, user interface tours, comparisons to alternatives, analysis, tips, videos and discounts.
Members also get interactive guidance, alerts, classroom and more.
Purchasing Options
Amazon | weBoost | WilsonAmplifiers | 5GStore
The guides below have been hand-picked to help further your education about selecting & using cellular antennas.