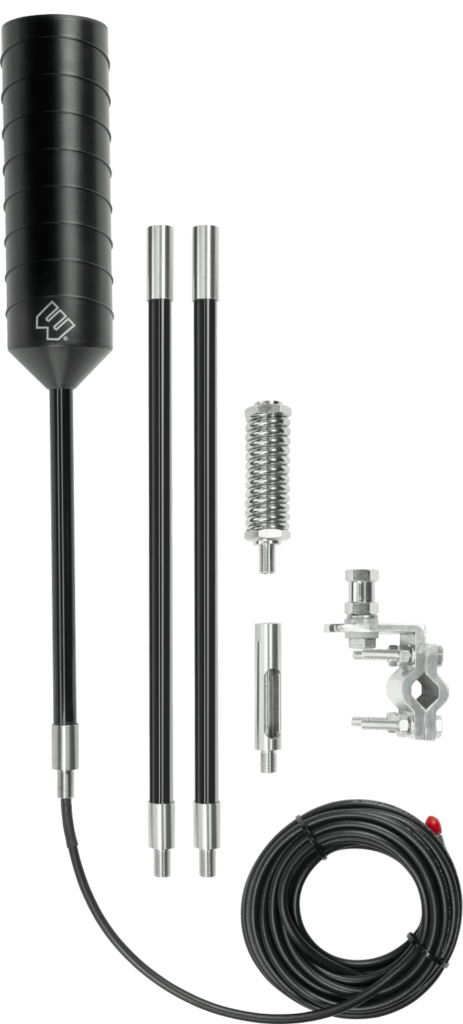 weBoost's OTR Truck 4G cellular antenna is a classic omnidirectional shaft-mounted design that does not require a ground plane.
This antenna is available separately or kitted with the weBoost Drive 4G-X OTR, Drive X RV or weBoost Sleek OTR cellular boosters.
Specifications
Model:

304415 (311224 for the Drive X RV OTR)
# of Antennas: Single

Direction:

Omni-directional
Frequency Range: 700-900 / 1710-2270 / 1850-2160 MHz

Impedance:

50 ohms

Cable Type & Length:

Standard OTR: RG-58 / 14'
Drive X RV OTR: RG-6 / 25'

Connector:

SMA Male
Internal Ground Plane: Yes

Dimensions:

Standard OTR: 17"
Drive X RV OTR: 9.5"

Weight: 2.5 pounds

Mounting:

3-way Bracket, spring or rigid base.
Outdoor Rated: Yes
Frequency / Gain: 2.5-3.5 dBi

Retail Price:

$109.99 (Frequently found for ~$70)
Revision Status:
In summer 2018, weBoost discontinued selling two versions of the trucker OTR antenna and replaced it with a singular kit that provides multiple installation options. The newer version is 17" tall (the former options were 19" and 24") and includes two extension poles and both the rigid & spring mount. The antenna itself remains identical.
In July 2019, weBoost released the Drive X RV kit which includes the same anteana with a more RV friendly shorter stalk. The kit includes a spring mount and extension pole, with options for 9.5" and 28.5" in total height. This version of the antenna is only available in the Drive X RV kit.
---
Review & Testing Status
We have tested both the original 24" rigid version as well as the 2018 revised OTR kit version. We tested it extensively in pairing with weBoost and HiBoost boosters, as an independent antenna and using two in a 'mock-MIMO' configuration. It's a solid top performer.
Here are some recent rounds of field testing (testing data available to our members):
Installation Challenge: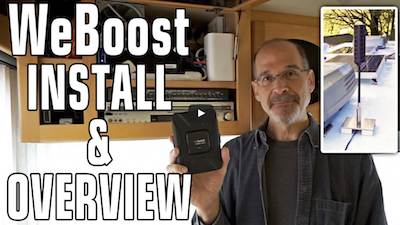 In our testing, this antenna showed increased gains over other options - particularly over the 4" magnetic mount antenna and the weBoost 4G-X RV kit.
However, this antenna does present some installation challenges on RVs due to it's height. It was really meant for installing on a semi-trucks rear view mirror - not the roof of an RV.
If you have a rear ladder or retractable batwing antenna on your rig, those do present options that can keep the antenna at a lower profile while in motion. As does using this antenna in a temporary installation on a flagpole/mast or using a suction cup mount.
Some other ideas shared by others include:
Photo gallery of member installations:
---
Potential Alternatives to Consider:
For other popular cellular antennas on the market we are tracking - here are our featured options:
Learn More About Selecting Cellular Antennas
---
This Review Contains Additional Member Exclusive Content

We are honored to be able to present the above overview for free without 3rd party advertising or sponsorships. We are not paid by the manufacturer of this product to provide this listing or review, and nor are we selling this equipment or plan (purchasing links are provided below as a courtesy and some may be affiliates).
Our members have funded this resource center and any extensive hands on time
we have spent with the product to review it.
The in-depth portions of this review are made available to them which might contain: hands on testing notes, field testing data, user interface tour, product analysis, comparison to alternatives, setup tips, video tutorial, insider tips, vendor discounts and fellow member experiences.
If you're a member, please log in to continue with this review.
If you're not a member.. please consider joining us!
Purchasing Options
weBoost | Waveform | WilsonAmplifiers | 5GStore
MobileMustHave (also available with SMB Adapter for use with Drive Reach & Sleek)
The guides below have been hand-picked to help further your education about selecting & using cellular antennas.