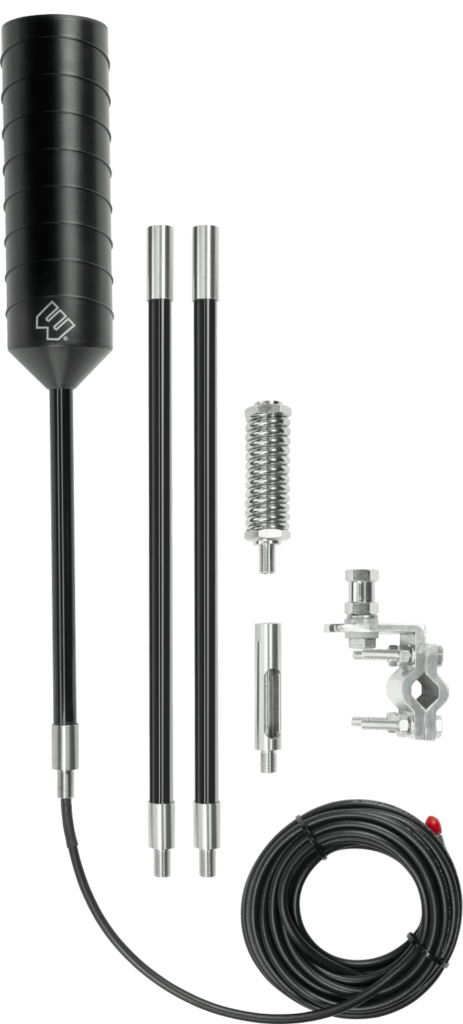 weBoost's 4G OTR Truck / X RV cellular antenna is a classic omnidirectional shaft-mounted design that does not require a ground plane. It comes in two different form factors for semi-truck and RV installation.
This antenna is available separately or kitted with the weBoost Drive 4G-X OTR or weBoost Sleek OTR or weBoost Drive X RV cellular boosters. It is also often included in other bundles from some of the distributors that sell it.
Specifications
Revision Status:
---
Included in this Review
Free/Public:
Member Exclusive Content / Review:
---
Review & Testing Status
We have tested both the original 24" rigid version as well as the 2018 revised OTR kit version. We tested it extensively in pairing with weBoost and HiBoost boosters, as an independent antenna and using two in a 'mock-MIMO' configuration. It's a solid top performer.
Here are some recent rounds of field testing (testing data available to our members):
---
Related News Articles & Videos:
Potential Alternatives to Consider:
For other popular cellular antennas on the market we are tracking - here are our featured options:
Learn More About Selecting Cellular Antennas
---
This Review Contains Additional Member Exclusive Content

We are honored to be able to present the above overview for free without 3rd party advertising or sponsorships. We are not paid by the manufacturer of this product to provide this listing or review, and nor are we selling this equipment or plan (purchasing links are provided below as a courtesy and some may be affiliates).
Our members have funded this resource center and any extensive hands on time
we have spent with the product to review it.
The in-depth portions of this review are made available to them which might contain: hands on testing notes, field testing data, user interface tour, product analysis, comparison to alternatives, setup tips, video tutorial, insider tips, vendor discounts and fellow member experiences.
If you're a member, please log in to continue with this review.
If you're not a member.. please consider joining us!
Purchasing Options
MobileMustHave | Waveform | WilsonAmplifiers | 5GStore
If you want to use this antenna with the newer weBoost Reach booster, you will need an SMA Male to SMB Adapter (970030).
The guides below have been hand-picked to help further your education about selecting & using cellular antennas.