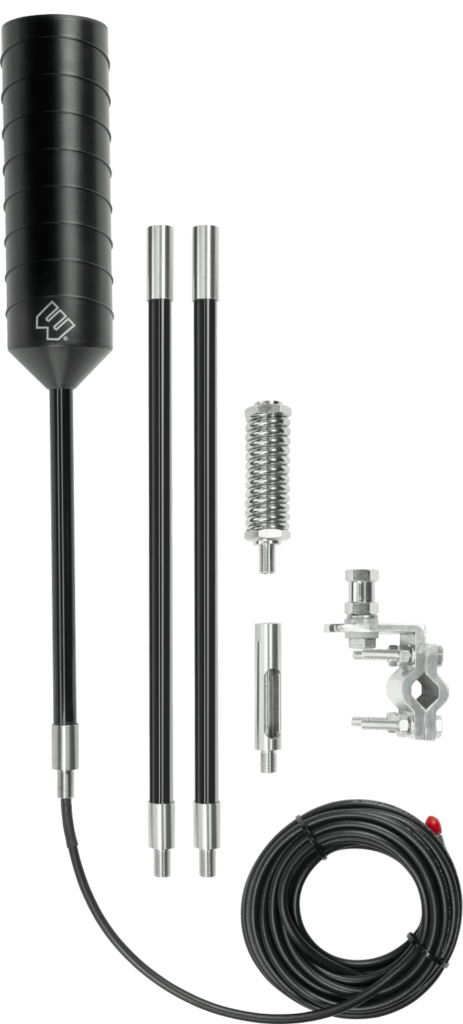 weBoost's 4G OTR Truck / X RV cellular antenna is a classic omnidirectional shaft-mounted design that does not require a ground plane. It comes in two different form factors for semi-truck and RV installation.
This antenna is available separately or kitted with the weBoost Drive 4G-X OTR or weBoost Sleek OTR or weBoost Drive X RV cellular boosters. It is also often included in other bundles from some of the distributors that sell it.
In October 2020, weBoost has released an updated version of these antennas called the Drive RV and Drive OTR Antennas, with a sleeker design and improved specifications. They are designed specifically for use and are kitted with the Drive Reach and Drive Sleek boosters with SMB connectors.
Specifications
Model:

4G OTR: 304415
X RV: 311224

# of Antennas: Single

Direction:

Omni-directional
Frequency Range: 700-900 / 1710-2270 / 1850-2160 MHz

Impedance:

50 ohms

Cable Type & Length:

4G OTR: RG-58 / 14'
X RV: 30" RG-58 - includes 25' RG-6 extension

Connector:

SMA Male
Internal Ground Plane: Yes

Dimensions:

4G OTR: 17" - 43"
X RV OTR: 9.5" - 28.5"

Weight: 2.5 pounds

Mounting:

3-way Bracket, spring or rigid base.
Outdoor Rated: Yes
Frequency / Gain: 2.5-3.5 dBi

Retail Price:

$109.99 (Frequently found for ~$70)
Revision Status: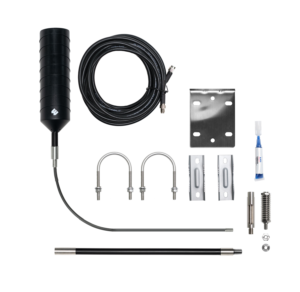 In summer 2018, weBoost discontinued selling two versions of the trucker OTR antenna and replaced it with a singular kit that provides multiple installation options. The newer version is 17" tall (the former options were 19" and 24") and includes two extension poles and both the rigid & spring mount. The antenna itself remains identical.
In July 2019, weBoost released the Drive X RV kit which includes the same antenna with a more RV friendly shorter stalk at just 9.5". The kit includes a spring mount and extension pole, with options for 9.5" and 28.5" in total height.
In April 2020, the antenna became available ala carte as well as kitted with the booster.
In October 2020, weBoost released an updated version of these antennas with SMB connectors, a more sleek design, and improved specifications.
---
News, Videos & Status
We have tested both the original 24" rigid version as well as the 2018 revised OTR kit version. We tested it extensively in pairing with weBoost and HiBoost boosters, as an independent antenna and using two in a 'mock-MIMO' configuration. It's a solid top performer.
Here are some recent rounds of field testing (testing data available to our members):
weBoost Drive X RV Video
News Stories
---
Potential Alternatives to Consider:
For other popular cellular antennas on the market we are tracking - here are our featured options:
Learn More About Selecting Cellular Antennas
---
Member Exclusive Content Below
Deep Dive

Installation Challenges & Photo Examples
Mock-MIMO
4G OTR vs X RV Cabling Impedence Differences
Purchasing Options
Special 5% Savings for
Mobile Internet Resource Center Readers
Use 'weboostMIRC' at checkout at weBoost.com
While this site is not reliant on affiliate funding, our weBoost links are affiliate links (only way they'd offer us a discount code, and their gear is constantly the top performer in our extensive field testing) - the little extra ka-ching if you use our link/discount is a nice thank you to support our work!
Buy Direct from weBoost:
MobileMustHave | Waveform | WilsonAmplifiers | 5GStore
If you want to use this antenna with the newer weBoost Reach booster, you will need an SMA Male to SMB Adapter (970030).