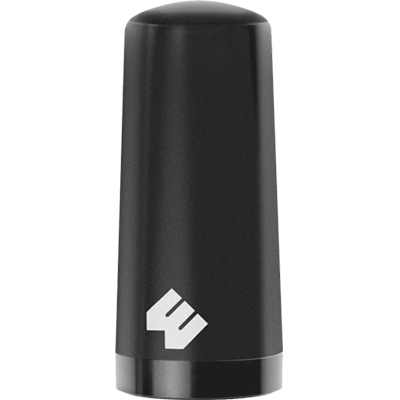 weBoost's NMO antenna is an outdoor omnidirectional antenna designed to attach to a vehicle with an NMO mount.
An "NMO" (an acronym for "New Motorola") antenna is designed to work with a standard antenna mount common on fleet vehicles. NMO mounts come with a standard threaded connector that can accept any NMO antenna. The mount also provides the antenna cable, which makes swapping for another NMO antenna easy in the future.
The weBoost NMO antenna is available separately or as part of the weBoost Drive 4G-X and Drive Reach Fleet kits. This antenna does not require a ground plane.
Note that the antenna, when sold separately, does NOT include an NMO mount, only the antenna. weBoost, however, does sell NMO mounts that are compatible and certified for use with their boosters.
---
Specifications
Model:

314405
# of Antennas: Single

Direction:

Omni-directional
Frequency Range: 698 – 960 & 1710 -2700 MHz

Impedance:

50 ohms

Cable Type & Length:

N/A - directly connects to NMO mount.

Connector:

NMO

Internal Ground Plane:

Yes

Dimensions:

3.3" high, 1.4" diameter
Weight: unknown

Mounting:

NMO mount
Outdoor Rated: Yes
Frequency / Gain:
700-800 MHz - 3.2 dB
824-894 MHz - 3.1 dB
880-960 MHz - 3.1 dB
1710-1880 MHz - 1.9 dB
1850-1990 MHz - 1.9 dB
2110-2170 MHz - 0.9 dB

Retail Price:

$49.99
---
News, Videos, & Status
We do not currently have this antenna for testing.
News Stories:
---
---
---
Purchasing Options
Buy Direct from weBoost:
Can be purchased as part of a kit, or as a standalone (antenna only with no mount).