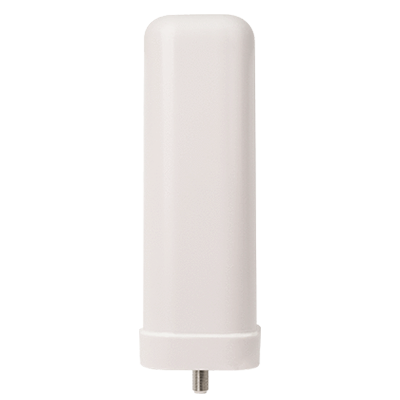 The weBoost 4G Omni-Directional antenna has been available as an option with weBoost's residential boosters for a while now. It is also kitted as the 'outdoor antenna' with the weBoost Drive 4G-X RV cellular booster kit.
Traditionally, it is an omnidirectional antenna meant for building installations.
Specifications
Model:

304421

Type:

Omni-Directional

Impedance:

50/75 Ohms

Cable Type & Length:

20'

Connector:

F- Female to SMA Male with adapter
Internal Ground Plane: Yes (no external needed)

Dimensions:

7.5 x 2.6 x 2.6 in

Mounting:

pole or wall
Testing Status: We tested the 4G-X RV cellular booster kit, and also the Omni Building antenna directly against the 4" Mag Mount and 24" 4G OTR antennas that come with the other 4G-X kits.
Here are testing rounds that this antenna can be found in:
More information on our initial impressions of this antenna (and the 4G-X kit) can be found here: weboost Launches Drive 4GX RV Cellular Booster Antenna Kit
A Full Review of this Product is Available to our Members

We are honored to be able to present the above product overview for free without 3rd party advertising.
In thanks for funding this resource center our members have access to the in-depth unbiased review of this product based on our extensive hands-on time and testing.
If you're a member, please log in above to read the review.
Purchasing Options