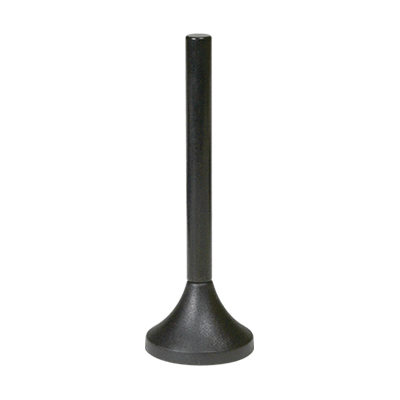 The classic 4" tall magnet mount mini antenna that comes bundled with most weBoost mobile boosters vehicle kits, is actually an overall relatively solid performer.
We lovingly refer to it as 'the stubby'.
The small unobtrusive size makes it easy to mount on magnetic surfaces. For non-metal surfaces (such as an RV's roof) a ground plane does need to be provided.
Specifications
Model:

301126 , 301113, 314418
# of Antennas: Single

Direction:

Omni-directional
Frequency Range: 700-800 / 824-894 / 880-960 / 1710-1880 / 1850-1990 / 2110-2170 MHz

Impedance:

50 ohms

Cable Type & Length:

301126: LMR100 / 10'
301113: RG-174 / 12.5'
314418: LMR100 / 10'

Connector:

301126: SMA Male
301113: FEM Female
314418: SMB

Internal Ground Plane: No

Dimensions:

4.18" tall
Weight: 2.5 ounces

Mounting:

Magnetic
Outdoor Rated: Yes
Frequency / Gain:
700-800 Mhz: 1.7 dBi
824 - 894 Mhz: 2.1 dBi
880 - 960 Mhz: 0.5 dBi
1710 - 1880 Mhz: 2.2 dBi
1850 - 1990 Mhz: 3.1 dBi
2110 - 2170 Mhz: 1.4 dBi

Retail Price:

$18.99 - $29.99
---
Review & Testing Status
We have tested this antenna in a variety of situations, both in use with a weBoost booster, and in various antenna-only configurations, including:
---
Potential Alternatives to Consider:
For other popular cellular antennas on the market we are tracking - here are our featured options:
Learn More About Selecting Cellular Antennas
---
This Review Contains Additional Member Exclusive Content

We are honored to be able to present the above overview for free without 3rd party advertising or sponsorships. We are not paid by the manufacturer of this product to provide this listing or review, and nor are we selling this equipment or plan (purchasing links are provided below as a courtesy and some may be affiliates).
Our members have funded this resource center and any extensive hands on time
we have spent with the product to review it.
The in-depth portions of this review are made available to them which might contain: hands on testing notes, field testing data, user interface tour, product analysis, comparison to alternatives, setup tips, video tutorial, insider tips, vendor discounts and fellow member experiences.
If you're a member, please log in to continue with this review.
If you're not a member.. please consider joining us!
Purchasing Options
Amazon | weBoost | Wilson Amplifiers | Powerful Signal | 5G Store
The guides below have been hand-picked to help further your education about selecting & using cellular antennas.