Getting Better Cellular Data Speeds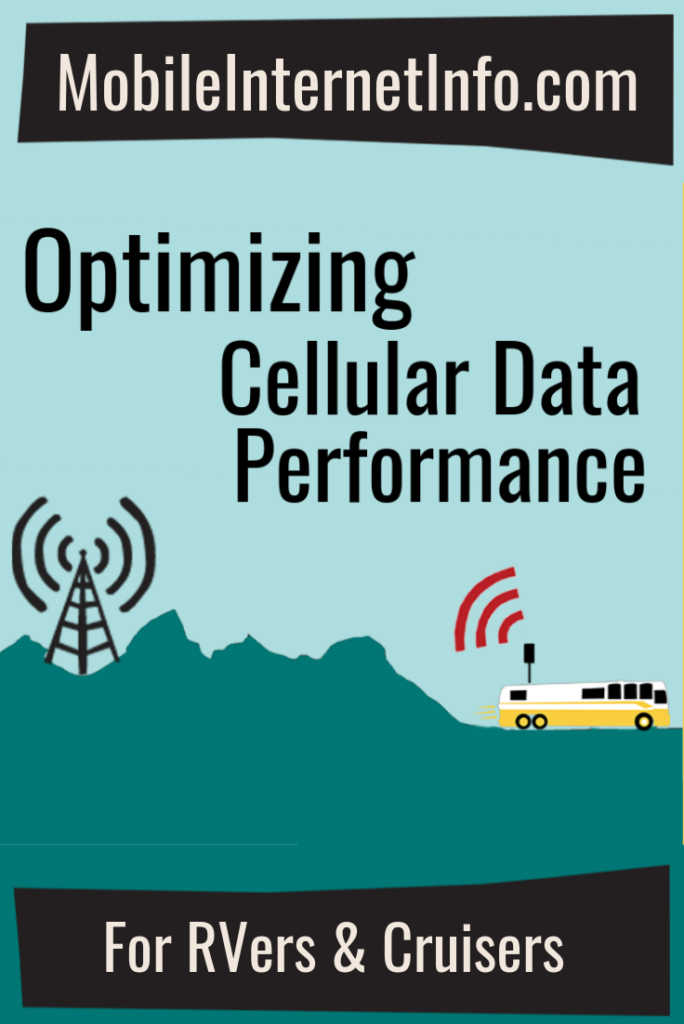 Further, faster.
Connectivity challenged nomads are constantly wishing for just a bit more range and better speeds with their cellular data.
But understanding all the things that can impact your cellular signal and speeds can quickly become overwhelming.
And while it seems it should be as simple as getting as many bars as you can, it's usually not that easy.
One bar is bad, five bars is good - right?
But bars are only the tip of the iceberg - and when it comes to actual performance it is not at all unusual for a one bar signal in one location to outperform five in another.
And sometimes the simplest tweaks can make a huge difference in your real-world performance, even though the bars may not change a bit.
.
This Guide Brought to You by Our Members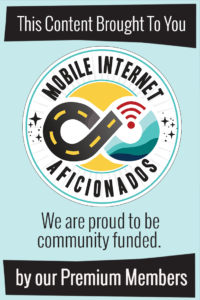 We are honored to be able to present the basic sections of this guide for free without 3rd party advertising.
This content is brought to you by funding from our premium members.
Our members have access to the entirety of this guide, interactive guidance, product reviews, alerts, vendor discounts and more.
If you're a member, please log in above to see the member exclusive portions of this guide.
If mobile internet is an important part of your lifestyle, here are ways you can help:
---
Things That Impact Wireless Signals
The quality of the wireless signals you receive is influenced by many things.
A lot of these things may be out of your control – but it helps to understand all the things that may be impacting your signal in any given situation.
Things that Help
Line of Sight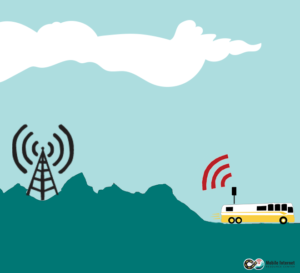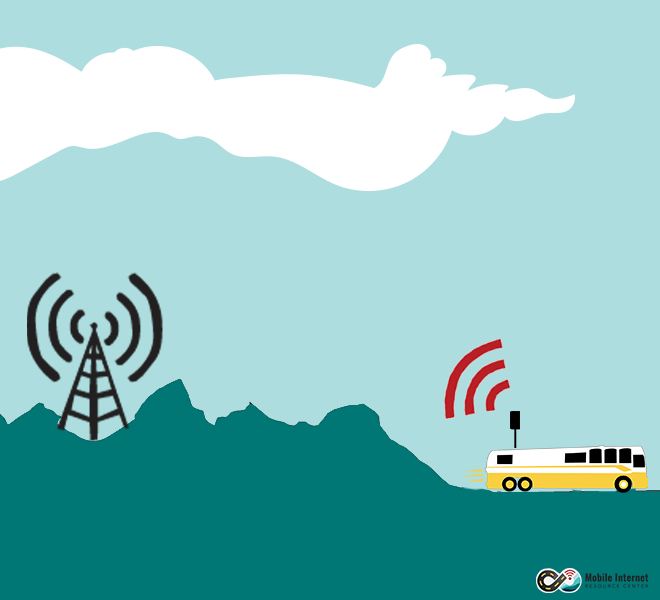 Nothing improves a wireless signal more than having nothing but air between the sender and receiver.
If you can visually see the cell tower (or the Wi-Fi hotspot), there is a good chance your wireless device can too. The fewer obstructions between you and the tower, the better.
This is what makes it important to put antennas above any obstructions like air conditioners, solar panels or other stuff or on the top of your boat or RV.
An antenna at the top of a mast has nothing but clear air around it. But go too high, and you start to contend with signal loss over the cabling. It's a balance.
The Right Data Plan
If your plan has built-in speed limits, video throttling, or network management - these can all impact your actual performance. And getting a better signal will not do anything if these carrier policies are why your connection is slow.
Once you hit your cap, or the network management threshold, poor performance is usually the carrier slowing down your connection on their end or giving your connection a lower priority than others.
Select your data plans carefully to make sure they will meet your needs.
Up to Date Technology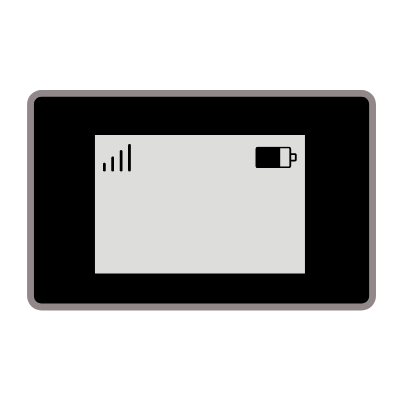 Cellular technology is moving at a rapid pace and carriers push to compete against each other and meet customer demand.
This means they deploy more advanced technology all of the time with better devices, more capable cellular towers, deploying on different frequency bands and support for more advanced cellular features.
A current cellular device can use that newer technology to enhance your ability to keep connected to your carrier and also deliver the best data speeds possible.
It's worthwhile to evaluate your cellular gear every year or two to see if it's time to update your equipment.
Understanding Cellular Modem Specifications
Things that Hurt
Network Congestion
If there are more people using cellular devices in a particular area than the local tower can handle - then things slow down for everyone.
This is called network congestion - and it's like rush hour traffic on roadways.
Wireless signals can only carry so much data, cell towers can only serve so many devices at once, and the carriers may only have so much internet capacity in a given area to share. This is why many data plans have network management policies, so the carriers can juggle the demands of their customers and prioritize data use on their network.
Obstructions & Interference
Barriers between you and the cell tower negatively impact the signal you can receive. Metal barriers are even worse.
Radio waves do not easily pass through metal, which makes it difficult to get a signal to those living inside metal buses, vans, boats, or shiny Airstream trailers.
Want to test this? Place your wireless device in the microwave (but don't turn the microwave on!) and try to connect to it. The microwave's metal shielding is designed to keep wireless signals isolated - keeping the microwave signals generated by the oven inside your food, and not broadcast into your kitchen!
But other objects can block signals - such as buildings, nearby taller RVs, or even metallic coatings on your windows.
Signals can also cause congestion and interference in the airwaves - signal crowding and noise can impact other signals. If you've ever tuned to an FM radio station and heard two stations simultaneously, that is an analogous example. With cellular signals, the noisier it is, the harder it is for your device's voice to be heard. Think about the difference between trying to have a deep conversation with a friend in a nice quiet park versus a loud bar with music playing - which is easier?
Wireless signal noise can originate from other cellular devices, or it could be background noise from microwave ovens, hairdryers, other wireless devices, or even radiation from the sun.
Distance
Radio waves can only travel so far and they grow weaker the further they go. Cellular signals tend to travel 5-20 miles at most in range, depending on the frequency and the power of the transmitter (both on the tower and your device).
The further you are from the tower, the weaker your signal might be and thus your performance declines.
Every cell tower also has a software defined maximum range that it can communicate, and if you are even an inch out of range you will not be able to connect no matter how much boosting capability or a clear line of sight you have.
---
Booster or Antennas?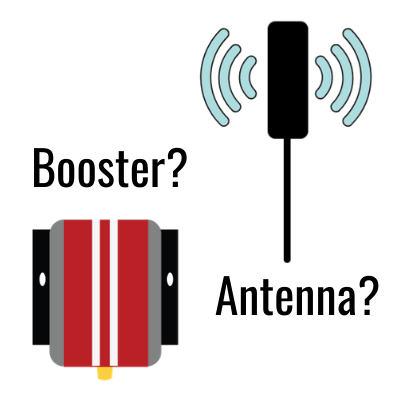 Before we get into the nitty-gritty of understanding your signal performance, we're often asked one basic question - are boosters or antennas better for enhancing your cellular data performance?
In our extensive field testing over the years, external antennas - especially MIMO antennas - outperform amplified boosters about 70-80% of the time.
But it really comes down to the gear you're using for your cellular data access, as not all devices have antenna ports that can utilize external antennas. Mobile hotspots and cellular embedded routers tend to have this feature, whereas smartphones don't.
We have separate guides going over the advantages of each approach, but here are the basics:
Price Range
# of Devices Supported
Works Best For
Power Required
# of Devices Supported
:
Multiple
Antenna Ports
:
Not Required
Works Best For
:
Smartphones & Hotspots
# of Devices Supported
:
One at a Time
Works Best For
:
Hotspots & Routers
Power Required
:
None Needed
Also, here's a quick video overview on MIMO Antennas vs Boosters:
Regardless of what signal enhancing tools you're using (assuming you're using any), there is still a lot to understand about optimizing your signal to get the best cellular data performance you can.
Let's dig in...
---
Measuring Your Signal Enhancing Efforts — Bars vs Speed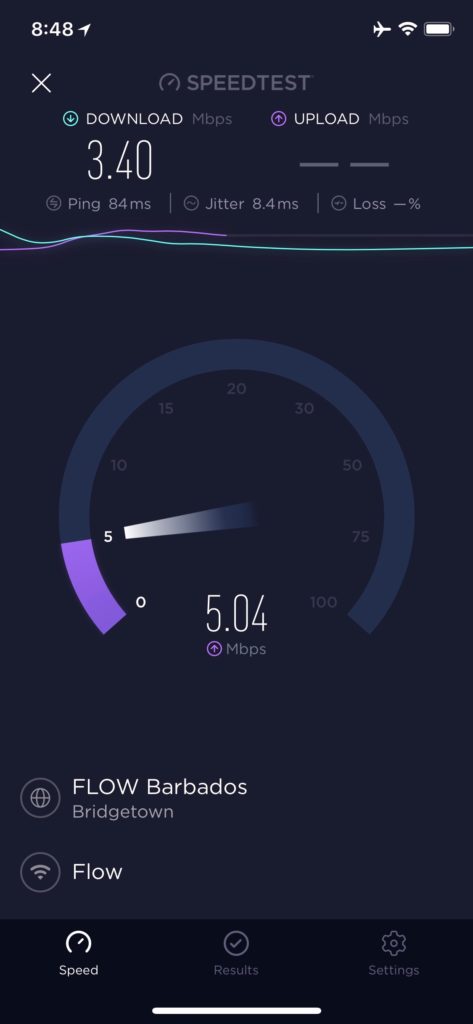 Bars are relatively meaningless in the effort to determine your actual cellular data performance. They're a nice visual indicator of relative signal strength, but each device manufacturer uses their own formulas to determine what kind of signal equates to 1 bar versus 4 bars.
Bars on your device usually have little correlation to how fast your connection will be since there is a lot more going on behind the scenes that impact data speed.
Data speed, reliability, and consistency are what really matter when considering a mobile internet connection.
So if bars aren't a reliable indicator of data performance, what is?
To truly optimize your connectivity, you need to learn how to measure your real-world data performance. Then, you can do additional measurements with any of your signal enhancing gear to see if they have a positive impact.
And the best quantitative measurement of this is your actual download and upload speeds.
To learn more about testing your data speeds and also understand other aspects like raw signal strength - head on over to our companion guide:
Testing Your Mobile Internet Speeds Guide
---
Additional Member Only Content :

Has this guide been helpful so far?
Well.. there's a lot more below available to our members - as well as dozens of other guides like this, videos, a classroom, forums, webinars and more. All specifically created for helping keep RVers, cruisers and nomads online.
---

Hopefully you've noticed that our content isn't cluttered with 3rd party advertising, we're not sponsored and we're not reliant on selling you plans or gear to make our content possible.
We are instead community funded via our premium membership program - allowing us to focus on creating unbiased quality, in-depth, constantly updated content.
If mobile internet is an important part of your lifestyle, here are ways you can help:
Become a Member Support this Content
If you're already a member, please log in to see the rest of this guide.
Here's a sneak peak at the member exclusive topics in this guide:
Frequency Bands Explained
Each carrier has its cellular network deployed over a variety of wireless frequency bands. If you want access to a carrier's entire network, it helps to understand your carrier's roadmap and cellular frequency bands so you can select the right signal enhancing gear.
Hidden Multipliers: MIMO & Carrier Aggregation
Understanding these core cellular technologies will help you better select gear to optimize cellular data performance.
Strategies For Signal & Performance Enhancing
Building on the previous sections, this section goes over the specific strategies for improving cellular data performance - ranging from the extremely simple to the most complex.
Booster & Antenna Considerations
This section continues the theme but goes deeper into ways that cellular boosters and antennas can help or hurt cellular data performance. For example, the costs and benefits of using 2x2 MIMO in a 4x4 MIMO world, tips for utilizing directional antennas and finding cell towers.
Dealing With Network Congestion
When the cellular towers at your current location are experiencing high traffic, your data performance can suffer. This section goes over what you can (and can't) do to get around this.
Troubleshooting Guidelines
Getting poor cellular data performance? This section walks you through things to look at it in diagnosing where the issues might be - and how to counteract them if you can.
Video Overview
This is an in-depth video archive of a member webinar, recapping this guide.
---
Conclusion: Analyze Before You Optimize
There are a few different options for optimizing cellular data performance, but before you know how to proceed you need to be aware of things that could be affecting your current performance.
Line of sight to towers, distance, technology supported by your equipment, network congestion, and data plan restrictions are just a few of the things that could have an effect.
There are easy solutions, like moving your equipment or using an indoor antenna, or more advanced solutions like a directly wired antenna or a cellular booster.
And sometimes.. there's just no solution to getting better speeds at your current location and you either need to move or find something else to do.
The guides below have been hand-picked to help further your education about the complicated topic of signal enhancing and utilizing cellular boosters.
Explore the Resource Center
The MIA is our premium membership - designed for those who consider mobile internet an important part of their lifestyle.
In thanks for making content like this possible, we offer a bunch of additional perks. From interactive guidance, in-depth member exclusive content, discounts, alerts, classroom and more.
We totally understand that a membership isn't right for everyone.
However you can still support this content with our supporter level for just $25/year.
With our gratitude, you'll get access to all our free content without the 'nags'.

Have Questions? Stay In the Know
Join our 'Library Desk':
Internet for RVers & Cruisers Facebook Group
We cross post news articles and guides, and can help point you in the right direction to our content here on the resource center.
It is with gratitude to our premium members that we're able to offer our free content - and for that, they also have access our private Q&A areas for more in-depth guidance.
Stay in the Know
We're constantly tracking the industry and analyzing new developments for mobile travelers. If you'd like to receive updates, we offer several ways: