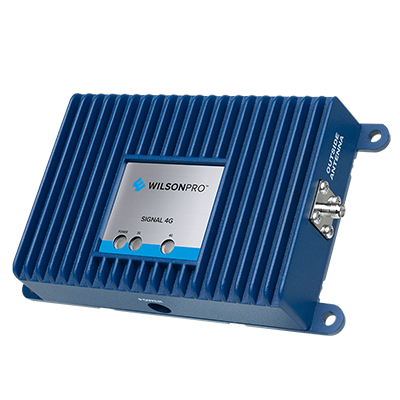 A "direct connect" or M2M (machine-to-machine) booster skips over the interior antenna, and connects directly to the input antenna jack of a single target device - which means that phones and tablets without an antenna port will not be able to benefit.
The Pro Signal 4G is is a M2M booster - typically intended for fixed installations like providing connectivity to the modem located in an ATM or a RedBox.
The Pr Signal 4G has an antenna that goes on the roof, an amplifying unit that is kept indoors, and then the interior output cable plugs directly into a single target device with an antenna port.
Of particular interest to RVers is the potential for using two of these in a dual-booster configuration to go into a device with MIMO antenna ports, such as many cellular routers and some mobile hotspot (like the Verizon AC791L and AT&T UnitePro).
More Information on MIMO and boosters: Understanding MIMO (Multiple Input, Multiple Output) – LTE Speed & Cell Booster Implications
NOTE: The weBoost Signal 4G has been discontinued and replaced by the identical Wilson Pro Signal 4G, only now with a blue casing to better fit into weBoost's commercial focused sister company WilsonPro.
Specifications
Gain: 15dB
# of Devices Boosted: One
LTE Bands Supported: 12 (17), 13, 5, 4, 2, 25
Exterior Antenna: 4" Magnetic Mount - 15' Cable
Internal Antenna: None - Direct Wired
Range of Interior Coverage: Direct Wired
In Motion Usage: Not Certified
Warranty: 3 Year
List Price: $249
Testing Status: weBoost had sent us two Signal 4Gs, and we conducted extensive testing with the pair as part of our Spring 2016 round of Cellular Antenna Testing.
Related News Articles:
The Rest of this Review is:
Member Only Content
We are thrilled & honored to be primarily member & reader funded - allowing us to present unbiased content. The in-depth review section of this product listing is part of the premium membership benefits of joining. Members can also leave their own reviews on products.
If you're a member, please log in above to read the in-depth review for this product and/or leave your own review. If you've not joined yet, learn more about membership at:
Purchasing Options
Repeater Store | Wilson Amplifiers | Uber Signal | Wilson Signal Booster
weBoost Signal 4G Ratings
Quick Take
A direct-wired amplifier eliminates concerns of signal oscillation, and delivers a boosted signal to a single cellular device with an antenna port.
But overall - we just haven't seen much advantage to using the Signal 4G booster versus other alternative options.
Comments Rating
( reviews)