Key Points:
The top-rated weBoost Reach booster finally has a bundle with an antenna for RVs and over the road trucks.
The new exterior antenna is similar to the popular OTR/X antennas, offering greater installation flexibility and "slightly improved" performance.
Kits include mounting and power hardware more appropriate for RV or truck installations.
After an almost 18 month wait since launching the new Drive Reach mobile booster in May 2019, weBoost has finally released new bundles that package the booster with antennas more appropriate for installation on RVs and big trucks.
The two new antenna kits are called the Drive Reach RV and the Drive Reach OTR.
The notable changes in these kits are the antenna packaged with each kit, mounting hardware and power supply. The new Drive RV Antenna and Drive OTR Antenna share the same basic antenna design and sleeker look, but come with different cabling and mounting options.
Video Version
Subscribe to our YouTube Channel
Drive Reach Cellular Booster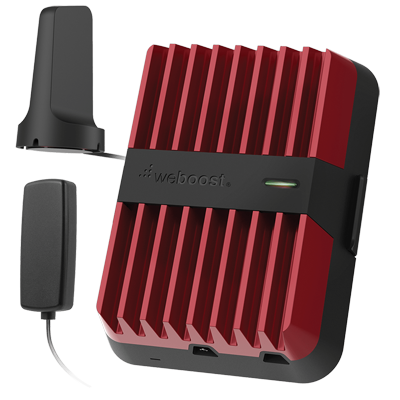 The weBoost Drive Reach cellular booster was billed as "weBoost's most powerful, in-vehicle cell signal booster yet" when it launched in May 2019 and it included substantially more uplink power than any of weBoost's prior mobile boosters. And in our independent testing, it has been an improvement over their former flagship Drive X (formerly called Drive 4G-X) booster.
The Drive Reach was initially offered in two different kits: the Drive Reach Vehicle and the Drive Reach Fleet.
The Reach Vehicle Kit was primarily designed for cars as it came with a magnetic-mount exterior antenna and a plug-in cigarette lighter style power supply. The Fleet version was intended for fleet vehicles and included the 4G NMO antenna and a 12v hardwire power harness.
We were disappointed there was no kit option with the popular and top-performing OTR-style antenna, and that in summer 2019 weBoost opted to instead release the Drive X RV kit with a RV specific version of the antenna with the older Drive X booster.
Anyone wanting the Drive Reach booster with the OTR or RV X antenna design had to instead purchase the antenna and an SMA to SMB adapter seperately for around $70, on top of the $499.99 vehicle kit.
The New Kits: Drive Reach OTR & Drive Reach RV
Now, 18 months since the initial launch, weBoost has finally released an RV and OTR kit with their flagship Drive Reach booster.
The two new packaged kits are:
Drive Reach OTR
Drive Reach RV
Both kits feature a new and improved version of the 4G-OTR and RV X antennas, and are differentiated mostly by their antenna installation components and power supplies.
Drive Reach RV Kit (470354)
Price: $499.99 - Available on weBoost (use our 5% discount code below) and Amazon, and other retailers soon.
Exterior Antenna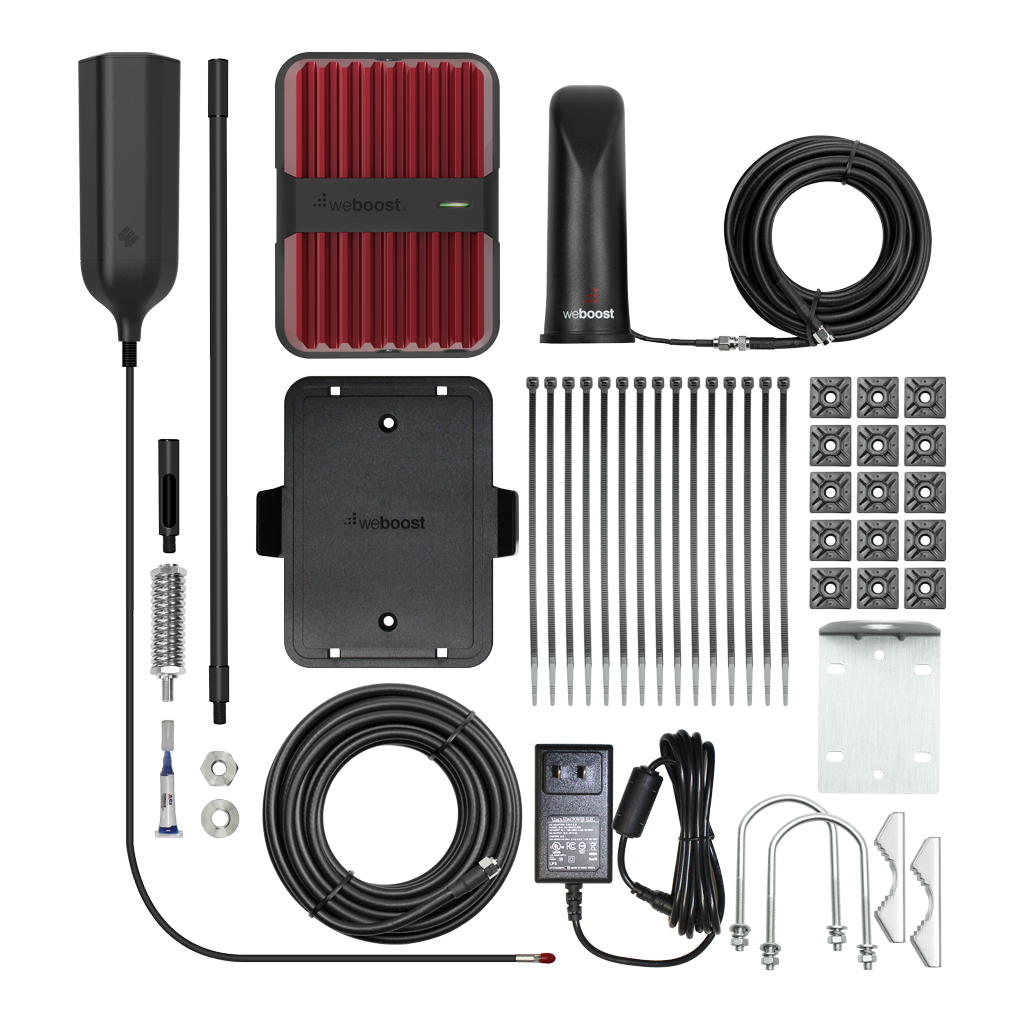 This kit comes packaged with a newly updated Drive RV Antenna.
Specifically meant for installation on RVs, this kit allows heights of just 7.5" (2" lower than the previous model), or you can add on an additional 13" of height with the included extension stalk. An optional spring mount & side exit cable adapter is also included. It comes with a ladder/pole mount for attachment.
Another change is the cabling - the antenna has a 30" integrated pigtail of low-loss LMR-195, and then comes with 25' of RG-6 that attaches via SMB directly to the booster.
This allows for more flexible installation options for routing the longer cabling as needed, and then just attaching to the antenna. It also means that customers can swap out the RG-6 for other cabling choices (such as different lengths or types), change out just the antenna without re-routing cabling in the future or more easily relocate the antenna.
The downside of the RG-6 is that it is at 75 Ohms, which is a mismatch with the booster and antenna's 50 Ohms of resistance. weBoost claims that with the amplification of the booster - which is tolerant of 75 Ohms - this shouldn't be a concern in performance.
However it should be noted that for passive antenna use to a directly connected router or hotspot, this would be a concern.
Other Parts
The kit also includes the desktop style interior antenna and AC power adapter. The kit we received in advance of release did not include any 12v power options - however we noticed weBoost's official website release shows a direct connected 12v adapter included too. We're awaiting confirmation on if there was a final product change. weBoost has updated their listing to no longer include the 12v power adapter. Customers designing for use while offered without inverters should consider purchasing a 12v power adapter separately.
Drive Reach OTR Kit (472154)
Price: $499.99 - Available on weBoost (use our 5% discount code below) and Amazon, and other retailers soon.
Exterior Antenna
This kit comes packaged with a newly updated Drive OTR Antenna.
The antenna itself is the same as the new Drive RV, but comes with an additional 18" extension stalk. The cabling is an integrated 15.5' run of LMR-195 with a SMB end for use directly with the Drive Reach booster. It comes with a 3-way mount for attachment.
The OTR stands for 'Over the Road' and this form factor is intended for mounting to the side mirror of a semi-truck. It also might be more ideal for marine installations than the RV version for mounting to railings and getting additional height.
Other Parts
The kit also includes the slim candy bar style interior antenna and a cigarette style 12v power adapter.
New vs Old Antennas
The new antennas are similar to the original 4G-OTR and X RV antennas, but with some improvements in look, weatherproofing, installation options and even gain. Here's a comparison of the antennas we put together: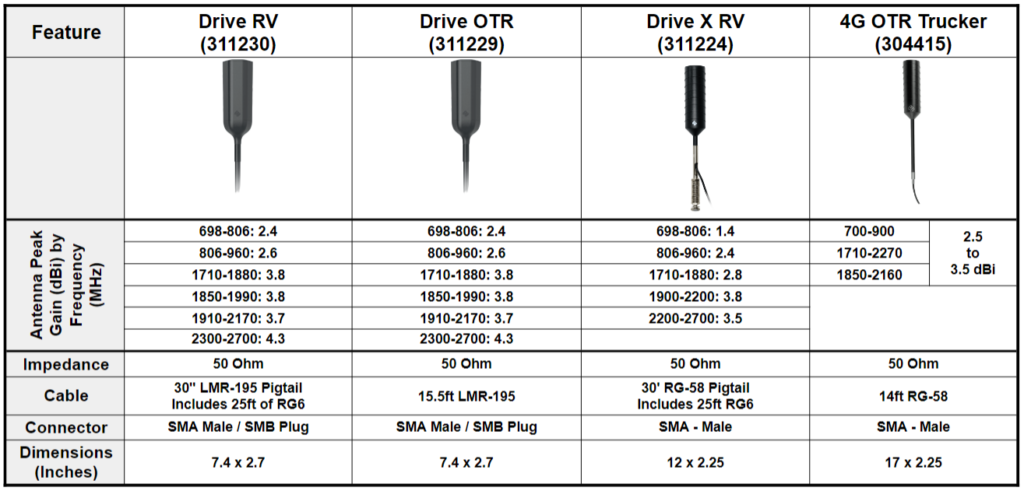 We asked weBoost what their drive was for redesigning the antenna from the classic RV/OTR style. They replied:
"We made big improvements in durability and weather resistance, with IP66 and MIL-STD-810. We also improved aesthetics with the new random design and all black masts and ferrules. We made some improvements to at antenna performance with updated design and improved cable. We adjusted mast lengths to accommodate more installations."
Additionally, we noticed some improved gain ratings across the board in their specifications and asked about that. They said the two antennas are actually very similar in their specifications, but with a 'slight edge' for the new versions. Our initial testing so far with the evaluation kit they shipped us in advance of launch seems to confirm this.
Our MIA members can follow along with our testing notes and results.
The new antennas are also available separately for a list price of $109.95 (but can historically be found cheaper on Amazon), and the original OTR & X RV antenna designs will be retiring by the end of 2020.
What Does 5G Ready Mean?

Booster manufacturers may state their products are "5G ready." Which is a bit misleading. 5G is being deployed on a myriad of low, mid and high frequency bands. Current boosters only cover a handful of frequency bands in the low range spectrum (12, 13, 5, 4, 2 and sometimes 25). Where 5G is being deployed on those bands, they will work. But they will not work on the newer bands, thus only offering relatively limited 5G support.
This is a complicated topic, for more:
Conclusion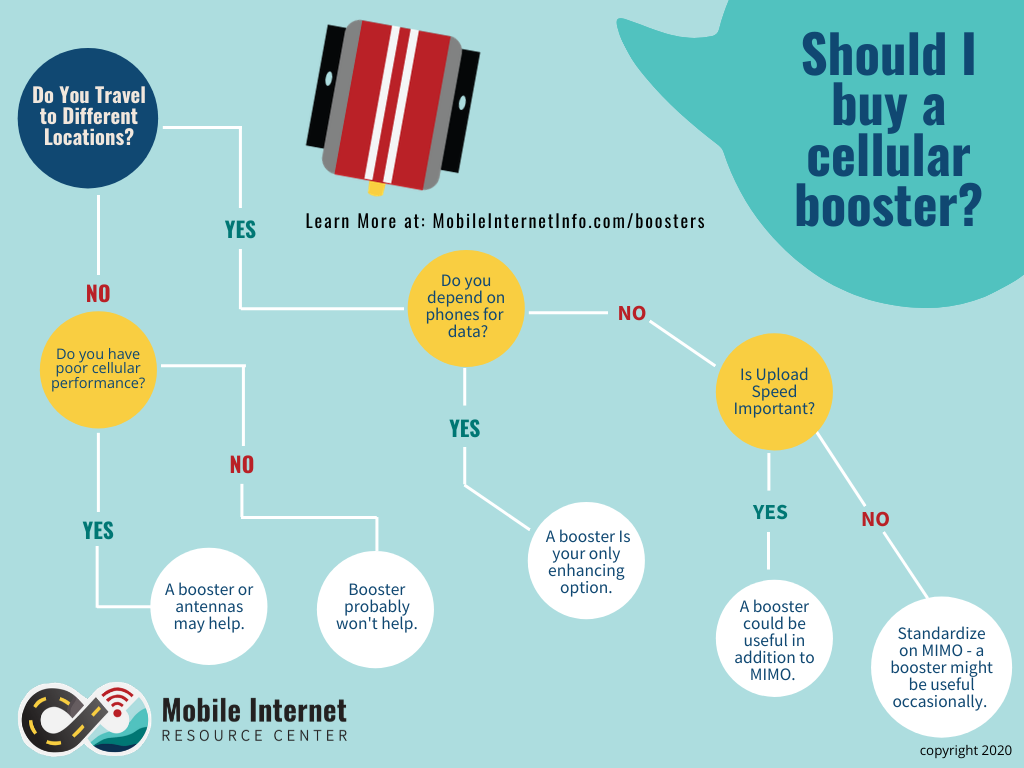 It's been a long time coming for weBoost to finally release a kit that includes their current flagship booster with an RV optimized antenna and installation hardware.
Keep in mind however, as far as cellular data performance is concerned, boosters are not always the optimal signal enhancing strategy. While a booster can play a role in a mobile internet setup in weak signal areas and when upload capacity is of importance - many cellular reliant nomads depend on directly connected MIMO antennas for use with routers and mobile hotspots.
For smartphones and tablets however, cellular boosters are the only option.
Carefully consider before clicking buy if you need a booster - you can learn more in our Mobile Cellular Boosters Guide.
But if you've decided that a cellular booster is a worthwhile investment for your needs, the weBoost Drive Reach has been a consistent top performer amongst all of the cellular mobile boosters we have independently field tested.
Purchasing
Both kits are available from weBoost and other retailers for $499.99.
5% OFF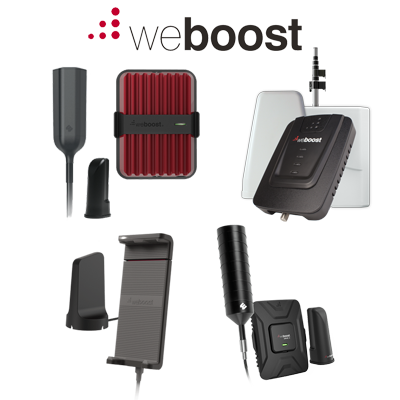 While this site is not reliant on affiliate funding, our weBoost links are affiliate links (only way they'd offer us a discount code). All affiliate incomes goes towards funding this site and other great causes.
---
Buy Direct from weBoost:
Other Vendors:
TechnoRV | Amazon -RV Kit | Amazon - OTR Kit | MobileMustHave | Powerful Signal | Waveform | 5GStore
Members, please check your Member Discounts page for special vendor discounts greater than the weBoost direct 5%.
Further Reading
And here is all of our recent weBoost related news coverage: