Ethernet, Coax, SMA, SMB, FME, N, TS-9, and more!
One of the most confusing aspects of hooking up mobile internet gear is figuring out what cables, connectors, and adapters are needed.
All these come in a wide range of sizes and flavors - just what are the differences?
Adapters are available to bridge the gaps, but they aren't always easy to find - particularly if you don't even know the proper for the connectors.
Is it SMA, FME, and TS-9? Is the end male or female? Is the polarity reversed? What does that even mean?!?
We're here to help...
---
Cables for Mobile Internet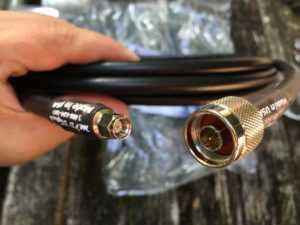 Outdoor antennas are connected to indoor receivers using coaxial cable that aims to minimize signal loss while covering the required distance.
With the onset of 5G networks, we are now seeing more modems placed outside with an integrated antenna and an ethernet connection to the indoor router.
And then there is Wi-Fi. Wi-Fi signals tend to degrade rapidly over cables, even short wire runs between the receiver and the antenna. This is why it often makes a lot of sense to put the entire Wi-Fi radio and antennas up on the roof together and then connect to it via Ethernet, which does not suffer attenuation with distance.
So the two primary types of cable used in mobile internet are coax and Ethernet, and they serve very different functions, as explained below.
Coaxial (Coax) Cables
There is a wide variety of coax cables, each with different strengths and weaknesses - not all coaxial cables are created equal.
You need to use good quality coax and good connectors or the signal will be compromised, defeating the benefits of using a high-quality external antenna or signal booster. Consider cables to be an essential part of your overall system.
Many cellular antennas take the choice out of your hands - with a set length of cable permanently attached to the antenna that is not changeable by the user.
But other antennas leave the wiring up to you, and you'll want to pick an appropriate cable for the job - paying particular attention to the length needed, and the connectors on each end.
The reason is that signals degrade rapidly over distance (this is called 'attenuation') - and if you need a long cable run, then a thicker, high-quality cable designed for longer runs is essential. But we always advise keeping cable lengths as short as possible in order to minimize signal loss.
Cable attenuation is expressed in decibels of loss – so it is typical to see a cable extension specified as "attenuates signal 2dB" (if it is expressed at all).
Most cellular antennas come with RG-58 or RG-174 cable in varying lengths, hardwired to the antenna. These wire types are thin and flexible, but for extension cables and longer runs, heftier cables should be used.
Higher-end antennas can have better cables, or even the option for custom cables, lengths, and connectors (for a price!).
Here is a chart showing the differences between common antenna cable types: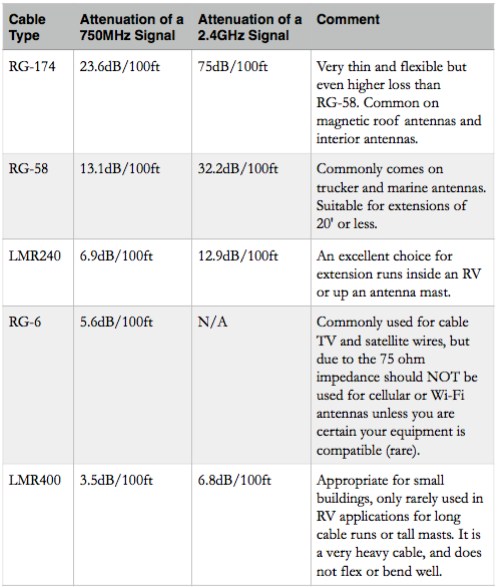 In general, any cable run over 30' needs to be looked at very critically to manage signal attenuation.
Remember that the dB scale is logarithmic – a cable with 6dB of attenuation over a wire run will result in half the signal power getting through as a cable with 3dB of attenuation over the same distance.
Coax Cable Installation Tips:
Cables and antennas are rated at either 50 or 75 ohms. For the best results, use 50ohm cable and antennas and don't mix 50 and 75-ohm gear.
Keep your coax cables as short as possible. Cables can be cut down to shorter lengths, but do not do this unless you have the skills, tools, and experience to professionally crimp new ends onto cables.
Every coax cable connection point adds roughly 0.5dB attenuation per junction – so it is always better to use a single long cable than to chain two or more cables together.
You should never ever use a coaxial splitter with cellular and Wi-Fi antennas – splitting a coax signal will cut the power received in half, and two transmitters connected to one antenna is a recipe for trouble.
Your goal for any antenna cable should be a total attenuation loss of less than 4dB over the distance you want to cover.
Low-loss cables are more expensive and are stiff and harder to work with – all things to keep in mind when planning your antenna cable runs.
Ethernet Cables
In short, Ethernet cables are the wires and connectors that make Ethernet possible. They are what connect two Ethernet devices together.
Ethernet is an old standard that's evolved and grown over the years as network speeds and computing power increased.
Ethernet is actually a large collection of network protocol standards. Ethernet is not really a physical media or cable standard - it can run on many physical media types. People commonly misuse the terms Ethernet and Category 5/Category 6 cabling interchangeably but they are different things.
Although it is commonly used with category 5e, category 6, or fiber optic cable today, in the past Ethernet ran on coax cable. Coax cable was abandoned mainly for cost reasons and because buildings were already often wired with twisted-pair cables for use with telephony.
Ethernet cables are divided into categories that determine their specific capabilities. The first Ethernet cables in the 1980s were Cat-1 Coax cables. Today most people use the Cat-5 or Cat-5e standard that was adopted in the 1990s with Cat 6 as the newer standard that many are moving to.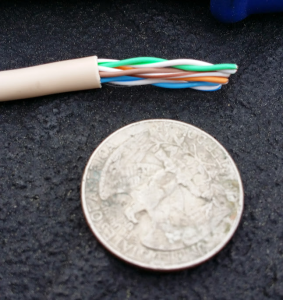 These modern cables consist of a series of "twisted pair" wires that make a single cable. The connectors for modern Ethernet cables are called RJ-45 connectors - they are similar to the RJ-11 connectors that wired telephones use (for those who still remember wired telephones of course!).
Here's a quick rundown of the cables you are most likely going to run into:
Cat 5 - Can support 100Mbps speed (the "Fast" or 10/100 Ethernet standard).
Cat 5e - Most common today, this supports 1Gbps speed (aka Gigabit or 10/100/1000 Ethernet).
Cat 6 / 6a - A newer standard that hasn't displaced Cat 5 yet - supports up to 10Gbps speeds.
Cat 7 / 7a - Made obsolete with the adoption of Cat 8 standards - supports up to 40Gbps speeds.
Cat 8 - Latest standard currently designed for data centers - supports up to 40Gbps speeds.
If you're unsure, virtually all cables will have printing on the side that will tell you what Category they are and the standards they support.
For RV and marine use, it is rarely beneficial to run category 6 or above cable unless you need 10 Gigabit speeds. For all speeds up to 10-gigabit category 5e suffices. However, if you are installing wires that cannot be removed and will remain in place for a long time, then Cat-6 cable might be worth it.
Power-Over-Ethernet
Power-Over-Ethernet (POE) uses an Ethernet cable not only to connect two devices but also to provide power to a device.
The POE standard is widely used to power devices, and you can buy switches or routers that have built-in POE ports, or you can buy dedicated POE power supplies which are colloquially known as "injectors".
These are the basics for cables used for mobile internet. In the member section below, we dive deeper into each as well as cover the large variety of connectors in use today.
Coax Cables Deep Dive
A technical deep dive into antenna cable design and the importance of matching impedance, focused on mobile internet uses.
Antenna Cable Recommendations
What type of coax cable should you select for the application? This section goes into the type of cables recommended and which type to pick.
Cable Connectors Guide
There are a wide variety of different connectors that can be found on the ends of cables and on the sides of routers, hotspots, and cellular boosters. This section helps you identify them with pictures and typical devices each type is found on.
Cable Adapters And Pigtails
Looking for an adapter or pigtail to change from one connector to another? This section goes over different common combos, with shopping links.
Ethernet Cables Deep Dive
A technical deep-dive into all things Ethernet, with a focus on mobile internet uses and applications.
Building Ethernet Cables Guide
Want to build your own Ethernet cables? This section goes into the tools, equipment, and detailed steps needed to build your own custom Ethernet cables.
---
Conclusion: Do Not Be Afraid to Adapt
All these different cables, connectors and adapters can be overwhelming, but if you take the time to identify what you have and what you want to get connected - it will not be hard to put together a shopping list to find what you need - or even build your own cables with some tools and skill built through practice.
The best thing about being able to build your own network cables is that it gives you options. It is easier to route wires in an RV or boat without connectors and gives you the opportunity to make a cable that is just the right length. And, over the long-run, it can save you money over store-bought cables.
But don't be afraid from using store-bought cables - they work great for most. You can shop Amazon for quick delivery and easy returns, or for more handholding you can go to places that specialize in cellular gear like MobileMustHave, 5G Store, Powerful Signal, AntennaGear, or WPS Antennas.
With just a little energy and effort, just about anything can be made to connect.