Cellular Data Use for RVers and Boaters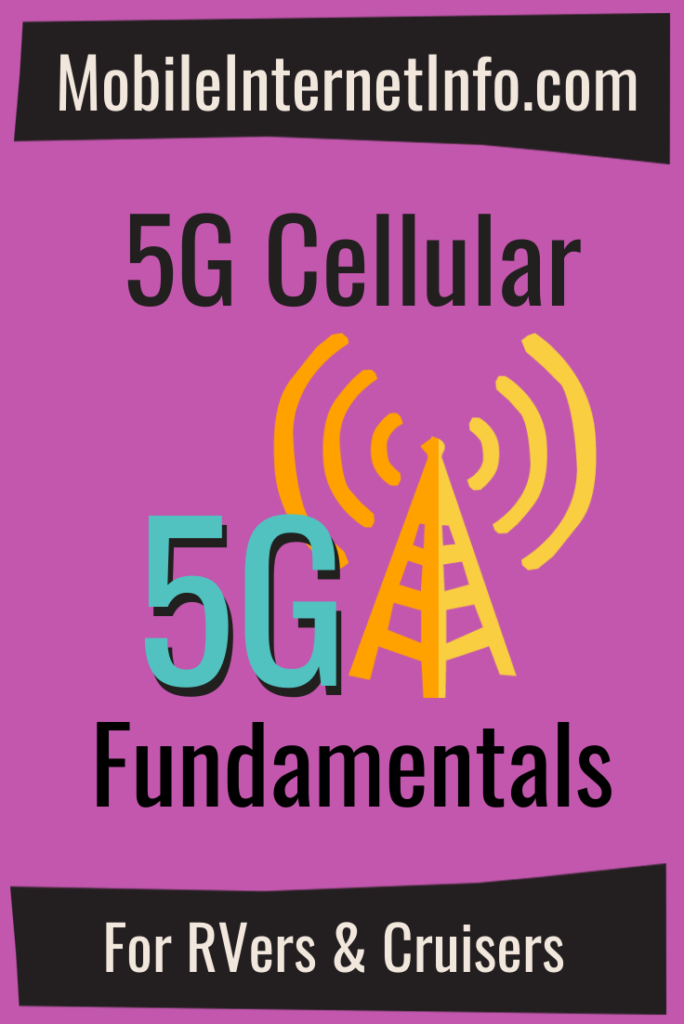 5G is shorthand for "fifth generation" cellular technology - and starting in 2020 this technology will become increasingly important in the market, laying the foundation for the next decade of evolution in cellular speeds and capabilities.
In this guide we'll be bringing together information covering 5G and how it will impact RVers and cruisers relying on cellular data for their mobile internet needs.
We'll be actively updating this guide, and all of our content, for this rapidly evolving technology shift - and helping our audience decide when the right time is to design their mobile internet arsenal around 5G.
This Guide Brought to You by Our Members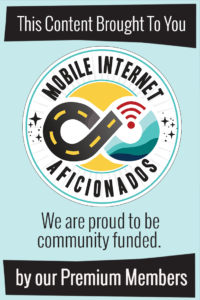 We are honored to be able to present the basic sections of this guide for free without 3rd party advertising.
This content is brought to you by funding from our premium members.
Our members have access to the entirety of this guide, interactive guidance, product reviews, alerts, vendor discounts and more.
If you're a member, please log in above to see the member exclusive portions of this guide.
If mobile internet is an important part of your lifestyle, here are ways you can help:
---
What is 5G?
Roughly every ten years, a new generation of cellular technologies comes to market.
In 2010 - the 4G/LTE era began when Verizon became the first United States carrier to embrace fourth generation cellular technologies, starting the move from the limited mobile data capabilities of the 3G era towards the seriously fast speeds enabled by 4G.
A decade has passed, 4G/LTE is everywhere, and it's time for another cellular generation - laying the foundations for the next decade of technological advances.
For more on the past and to better understand the evolution of cellular technology, check out our guide:
What is in a Generation?

The changes between different generations of cellular technologies comes down to redefining the rules of how towers and devices communicate with each other - which then allows new gear to be developed under those new specifications.

Think of it kind of like being back in the 1960s when the max highway length for a vehicle was 35' - limiting how long buses and motorhomes could be made to legally operate on US roadways. These days, that max length is 45' - which means we have can have larger vehicles transporting more commercial goods across the country, buses that move more people, and motorhomes with more luxuries.

In other words - evolving the standards to take advantage of newer technologies enables a whole new generation of more advanced devices than would have been impossible before.
Benefits of 5G
Fifth generation cellular rethinks cellular networking to allow for much faster peak speeds, substantially lower network latency, and for cellular networks with vastly more connected devices than were possible in the 4G era.
Some examples of the capabilities that are changing thanks to the new 5G specifications:
Speed: The largest 4G channels are 20MHz wide (think of them as a 20 lane highway), and carrier aggregation allows the most advanced 4G/LTE modems to combine up to eight channels together for more capacity. This has enabled peak theoretical LTE speeds to reach over a gigabit per second, but this is as far as 4G technology can be pushed. 5G on the other hand allows for 100 - 400 MHz wide channels (imagine 100 lanes of traffic!), even more of these channels can be bonded together, and 5G radios can use these invisible airwaves more efficiently too. These advancements combine to open the door to peak theoretical 5G speeds of over 10Gbps - with real world speeds substantially over 1Gbps are likely in many areas.
Latency: LTE networks have a lot of built in overhead that makes latencies (the round trip delay in the network) of less than around 30ms nearly impossible to achieve. 5G networks have been redesigned to allow latencies to reach as low as 1ms, enabling cellular to match even the fastest cable and fiber networks. Low latencies will enable everything from virtual reality and augmented reality headsets, to self-driving cars that can communicate directly with each other.
Capacity: Not every device needs crazy fast speeds or low latencies, and 5G networks are being designed to also enable millions of low cost and lower performance devices too. Imagine cellular devices as basic as temperature sensors in a garden, with a battery that lasts for years without a recharge.
5G builds on top of 4G/LTE, and in fact early 5G networks will still require 4G as a backbone.
But eventually 5G networks will rise well beyond 4G/LTE - and 5G technology will be used for everything from home internet service to private corporate networks to enabling a whole new generation of mobile devices.
---
Additional Member Only Content :

Has this guide been helpful so far?
Well.. there's a lot more below available to our members - as well as dozens of other guides like this, videos, a classroom, forums, webinars and more. All specifically created for helping keep RVers, cruisers and nomads online.
---

Hopefully you've noticed that our content isn't cluttered with 3rd party advertising, we're not sponsored and we're not reliant on selling you plans or gear to make our content possible.
We are instead community funded via our premium membership program - allowing us to focus on creating unbiased quality, in-depth, constantly updated content.
If mobile internet is an important part of your lifestyle, here are ways you can help:
Become a Member Support this Content
If you're already a member, please log in to see the rest of this guide.
Here's a sneak peak at the member exclusive topics in this guide:
The Three Tiers of 5G & Dynamic Spectrum Sharing
5G will eventually be deployed on Low, Mid and High band frequencies - this section goes deeper into how this impact range and speeds. We also discuss how 5G will cooperate with existing 4G spectrum.
Fixed vs Mobile 5G
Not all 5G will be mobile compatible.
5G Cellular Gear
5G is an upgrade on the carrier side, but will also require new gear for consumers. This section discusses 5G compatibility with modems, antennas and boosters.
Data Plans
How will 5G impact legacy data plans, and will 5G bring about real unlimited data?
Race to 5G
All of the carriers are actively deploying 5G - in this section, we chronicle where Verizon, AT&T, and T-Mobile/Sprint are in their race.
Is it Time to Embrace 5G?
When is the right time for RVers and boaters to embrace 5G? In this section, we talk about the viability of the LTE network into the future and are keeping our advisement updated.
---
Concluding Thoughts
Unless you are desperate for geek bragging rights (and there is nothing wrong with that!), there is NO reason to rush out to invest in 5G devices just yet.
But now that the second wave of 5G devices are starting to come to market, there is also no reason to avoid 5G hardware anymore either.
Eventually, 5G will indeed be a big deal - and a must have.
Just not quite yet.
So for now, sit back and enjoy watching the race - but don't get too caught up in it!
Additional Reading
Related Guides
Explore the Resource Center
The MIA is our premium membership - designed for those who consider mobile internet an important part of their lifestyle.
In thanks for making content like this possible, we offer a bunch of additional perks. From interactive guidance, in-depth member exclusive content, discounts, alerts, classroom and more.
We totally understand that a membership isn't right for everyone.
However you can still support this content with our supporter level for just $25/year.
With our gratitude, you'll get access to all our free content without the 'nags'.

Have Questions? Stay In the Know
Join our 'Library Desk':
Internet for RVers & Cruisers Facebook Group
We cross post news articles and guides, and can help point you in the right direction to our content here on the resource center.
It is with gratitude to our premium members that we're able to offer our free content - and for that, they also have access our private Q&A areas for more in-depth guidance.
Stay in the Know
We're constantly tracking the industry and analyzing new developments for mobile travelers. If you'd like to receive updates, we offer several ways: