Sample Mobile Internet Setup Explorer
Here you can explore some common mobile internet configurations, including some of the mobile internet setups of other RVers and cruisers.
Use the hover points to learn more about each component of a setup. And then browse the current featured options for each.
Remember - the sky (sometimes literally) is the limit in possibilities - so don't restrict yourself to just these samples.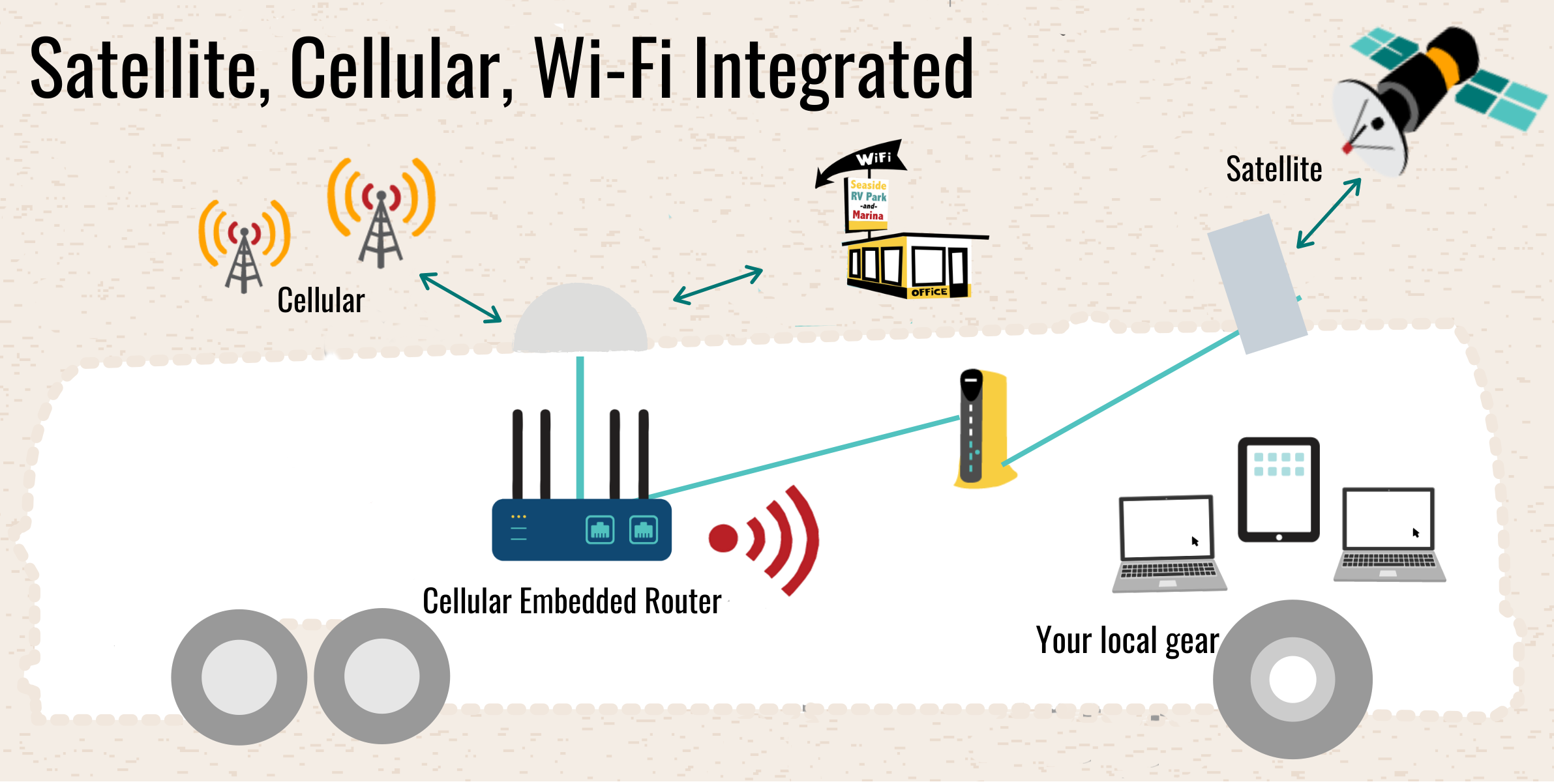 Antenna
A cellular antenna can help your cellular device get a better signal, and thus potentially better performance. They must plug into something with antenna ports - such as a router or hotspot device. They can also work with cellular boosters.
Carrier
Cellular service comes from the local tower managed by your carrier. You'll need a data plan to subscribe to service.
Router
A mobile router is the central conductor of multiple sources of internet to supply a connection and local area networking to your laptops, TV devices, tablets and more.
Starlink
Internet... from.. SPAAACE! Satellite based internet allows you to connect from anywhere you are. Well, almost. There are some considerations that make keeping other internet sources in your arsenal a wise decision.
This setup will give you access to just about every mobile internet option out there. Multiple cellular carriers, Wi-Fi access points and internet from space!
With Starlink now a reality for portability in North America, it can be a powerful component of a redundant. mobile internet option.
High end options built for redundancy to keep you connected just about anywhere
Integrated options through one central router
Individual components all add up in price - in gear and plans
Can become a complicated setup with multiple devices, wiring, power, installation, storage of larger components (like Dishy) etc.
Will take some trial and error at each location to optimize what works best
For those who feel they need to have all of the options for a truly redundant setup with maximum reliability.
Cellular & Wi-Fi Combo Antennas
Below are combo antennas that provide Cellular, Wi-Fi and/or GPS capability to cellular enabled router.
Data Plans for Data Devices
Below are some top data plans that are specifically for data only devices that you might want to consider. Or shop all the plans we're tracking.
Cellular Embedded Mobile Routers
Below are mobile routers that have at least one embedded cellular modem and Ethernet WAN for bringing in an additional internet source like Starlink. Some might also offer USB tethering or additional WAN Ethernet.
Geostationary options and global communicators are today's options for RVers and boaters. But with Starlink going into beta by the end of 2020, the future is hopeful for a faster and more affordable option.
Our guide below goes into far more information, and below are also options currently available to consumers.